11 Content Marketing Misconceptions That Make You Sound Dumb 72
Headline Analyzer
The blog post headline analyzer will score your overall headline quality and rate its ability to result in social shares, increased traffic, and SEO value.
Test every headline before you publish. Try the Headline Analyzer »
Content marketing is as popular as ever. According to Google Trends, it is actually more popular than ever. Despite that popularity, how do you know that you are doing it right? You might be repeating some of these common content marketing misconceptions. Even worse, they might be making your sound dumb.
You don't want to sound dumb, do you? Of course not!
Here are 11 of the most commonly repeated content marketing misconceptions that will make you sound dumb and (more importantly) how to avoid them.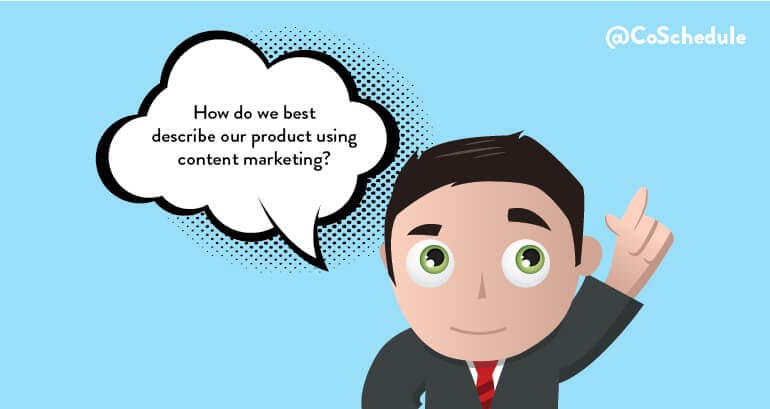 #1 ) "How do we best describe our product using content marketing?"
Why you sound dumb: You're doing it wrong. Content marketing isn't about your product, it's about the people that use your product. Give them what they really want.
Content marketing has brought on a major shift from the status quo. It is no longer about you and your product; it is about the people who use your product.
You see, we used to create marketing materials that covered the features and benefits of our products, highlighting every mindless detail. That doesn't work anymore.  Your audience wants more.
Content marketing is about providing our audience with value in exchange for their time. This means giving them advice and helpful materials that enrich their lives and build trust with our brand. If you are trying to describe your products using content marketing, then you are definitely doing it wrong. Even if your product can technically "enrich your customers' lives."
Focus your content marketing efforts on the subjects that your customers care about. What do they want to hear? What are the most common questions that they ask you? How you can answer them with content marketing?
Read more: What Is Content Marketing (Really)?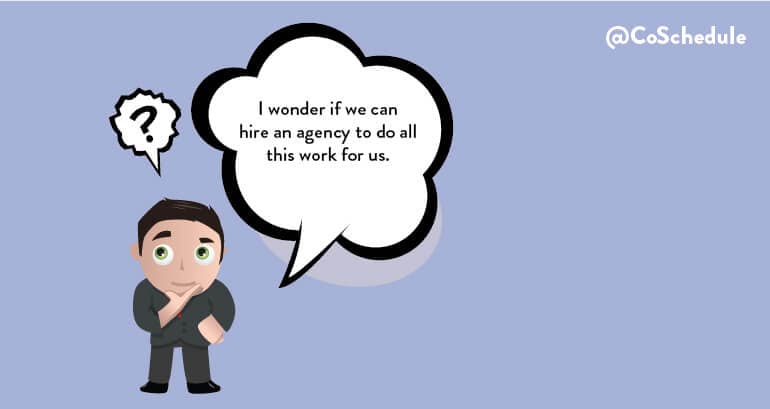 #2) "I wonder if we can hire an agency to do all this work for us."
Why you sound dumb: The best content marketing will almost always come from you. Find the experts in your own team first.
There are plenty of good agencies out there that can help you with your content marketing, but that doesn't necessarily mean they should be your first resource. Before you outsource, make sure you try things out on your own. Often the best content marketing is provided by the industry experts right within your own team.
We all have industry experts on our team. They know what your customers want and how to talk to them so that they understand. Who are your experts, and and how can you get them involved in your content marketing efforts? Don't give up on this too soon.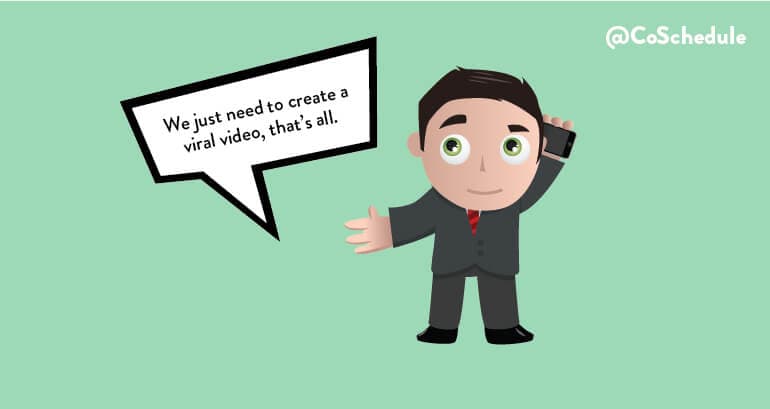 #3) "We just need to create a viral video, that's all."
Why you sound dumb: Content marketing is a marathon and not sprint. You can improve your likelihood of virality, but it can't be manufactured. Don't look for a quick-fix solution.
Viral videos are great, but don't think that you can turn and create one on a dime. While companies like Upworthy have proven that the chances of making something viral can be increased, it is not an exact science. In other words, you can't manufacture a viral video, and you probably shouldn't try.
In marketing, it is tempting to become distracted by the "one size fits all" solution that feels like an easy way out. In reality, it probably won't work. Content marketing is about the long haul and the slow build. Concentrate on providing value and building trust, rather than being an overnight sensation.
Read more: 25 Growth Hacks Your Content Marketing Desperately Needs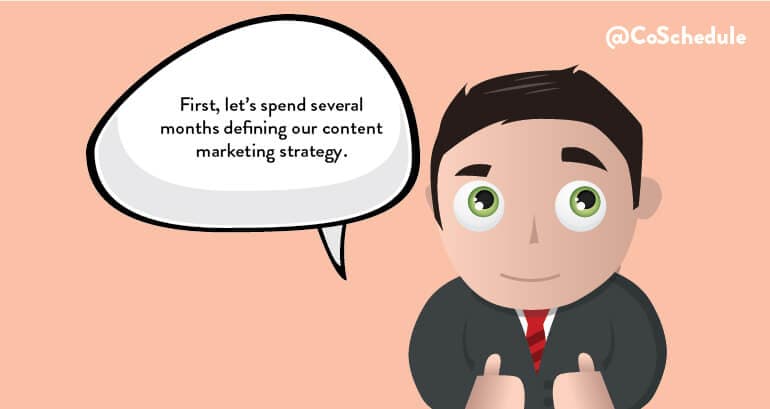 #4) "First, let's spend several months defining our content marketing strategy."
Why you sound dumb: This is a decision that is made by fear. You don't need a strategy, you need to make a commitment to trying new things and learning while you do it.
The word "strategy" gets thrown around a lot in marketing, and usually it paints the wrong picture about what we need to do as marketers. The "strategy" term generally assumes that we can make a grand plan and execute it perfect. Both of these assumptions are incorrect. First of all, we don't always know that our marketing strategy will actually work. Secondly, we don't know what we are going to learn once we started executing our plan.
The right way to do marketing is to simply start with something, learn from the results, and make constant revisions to our plan. We should never write out a step-by-step checklist and assume that we have it all figured out. We don't.
Read more: Here's Why You Don't Need A "Content Marketing Strategy"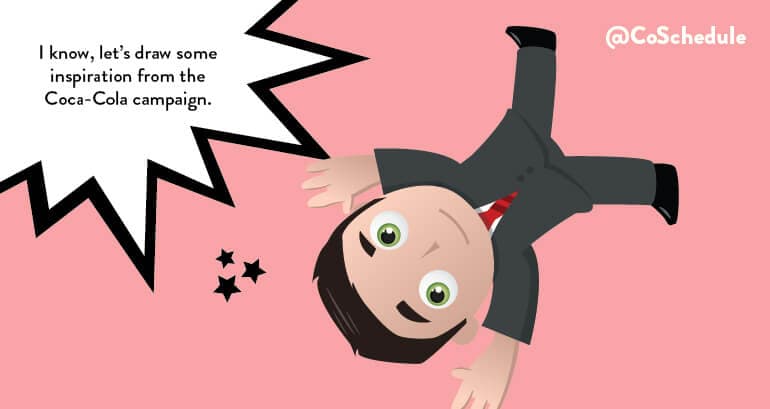 #5) "I know, let's draw some inspiration from the Coca-Cola campaign."
Far too often marketers emulate the big advertising that they see around them rather than serving their own audience in a unique way. This is why so many advertising agencies attempt to make "funny" commercials that simply try and build brand awareness rather than building trust. It's an easy mistake to make, because it is the type of marketing that we see every day.
Take the Coca-Cola site ahhhh.com. It includes hundreds of web based games that are fun, addictive, and filled to the brim with iconography relating to the Coke brand. It is a great example of content marketing, but that doesn't mean that you need one too.
Don't try to keep up with the big brands. Get to know what your audience wants, and give them what they need. Don't go chasing the big timers.
Read more: 5 Ways To Find Truly Unique Blog Ideas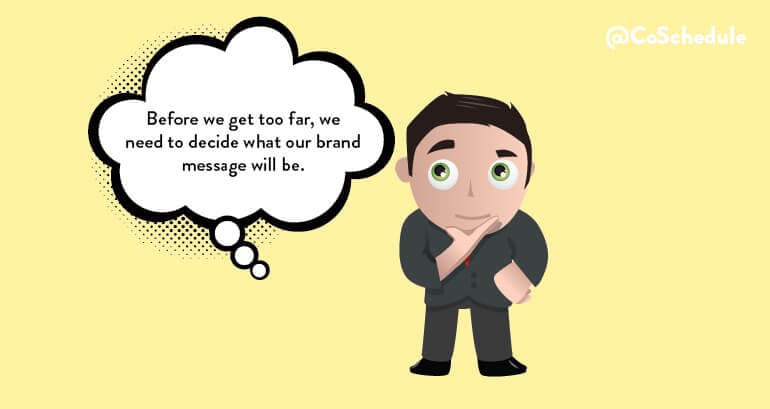 #6) "Before we get too far, we need to decide what our brand message will be."
Why you sound dumb: Don't you see? You are not longer in charge of your message. Find the conversation that already exists and work your way into it. That or, simply provide big value and go from there.
More than anything, social networking has changed how much control we have over our company's brand. With nothing more than a Facebook profile or Yelp account, your customers are now inventing your brand's message on the fly. What your customers say about you is no longer up to you. You're simply along for the ride.
As content marketers, it is important that we focus our efforts on entering the conversation that is already happening rather than trying to invent our own.
What are the hot topics surrounding your brand? What topics do people talk about the most within your industry? Attaching yourself to these discussions will be much more attainable than defining the messages yourself. Invest in the community that your brand serves, and they will probably invest back in you.
Read more: Should You Start A Google+ Community?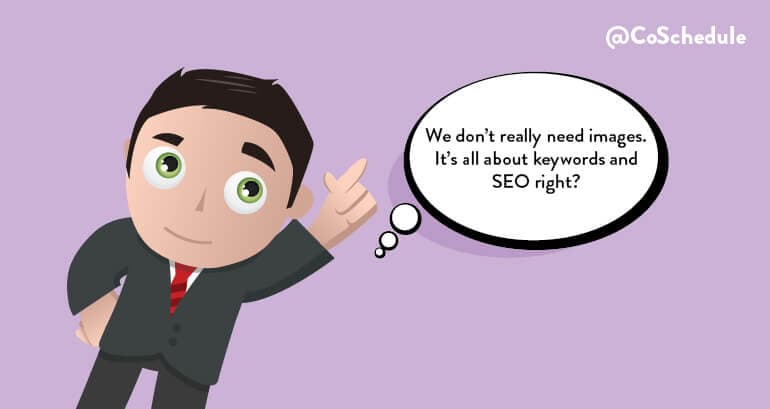 #7) "We don't really need images. It's all about keywords and SEO right?"
Why you sound dumb: Images add SEO value all by themselves. They also make your content better and more engaging. They are a big part of the content marketing puzzle.
Images are hard. It can take a lot of work to come up with unique and interesting images for your blog, but it is probably worth the effort. Google Image search is often a large contributor to overall search traffic, and images themselves make your content more enjoyable and easier to digest. The big trick is to make sure that your images are unique, and not breaking any copyright laws.
Read more: Are You Sure You're Using Copyright-Free Images On Your Blog?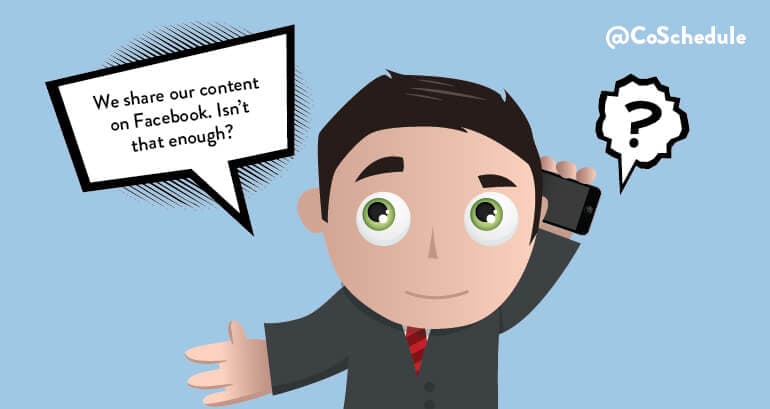 #8) "We share our content on Facebook. Isn't that enough?"
Why you sound dumb: You need to spend as much time on promotion as you spend on the content. This should include a social sharing schedule.
A lot of effort in content marketing is wasted when content is created and not shared properly. The most common (and frustrating) scenario is a blog post that goes live only to be shared once our twice on social media. There is so much more that you can do! You simply must share your content more than once on social media.
The strategy that we recommend actually includes creating a social media promotion schedule that happens every time you complete another blog post or publish another article on your site. The schedule could look something like this:
On publish – Social message sent when blog post goes live
Same day – Initial social messages trickle out to your accounts over the next 2-3 hours.
Next day – Messages are shared again on the appropriate social channels.
Next week – Another series of messages are pre-scheduled and sent the following week.
Next month – Even more social messages are pre-scheduled for the following month.
Next _____ – Additional messages can optionally be scheduled for the three-month mark or beyond.
By incorporating this type of schedule, you can nearly double the number clicks and shares that your post will see. It is a win-win scenario that many of us fail to execute.
Read more: How To Promote Your Blog With Social Media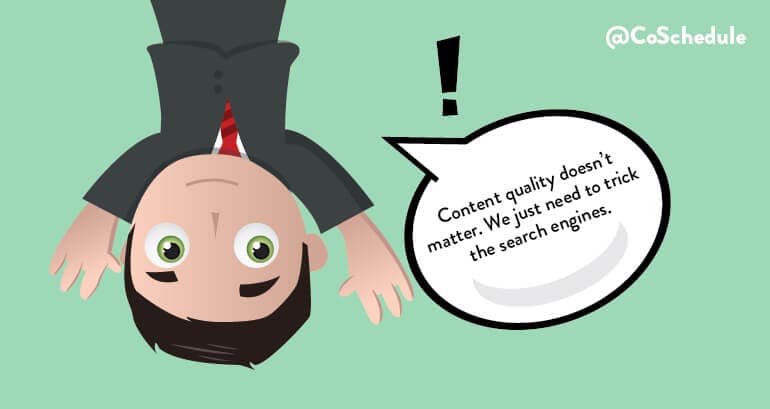 #9) "Content quality doesn't matter. We just need to trick the search engines."
Why you sound dumb: You can't trick the search engines. They actually care about quality more now than ever.
With every update to their algorithm, Google is putting content quality at the forefront of their process. Blogger Neil Patel does a great job outlining Google's algorithm changes over that last several years. It is very clear that Google likes good quality content, and even more importantly, knows it when it sees it. The question is, do you?
Many times, we look to take a quantity over quality approach to creating content. We publish more content with fewer words and hope to break through in the Google rankings. Not so fast. Content marketing is not a race for more content, it is a race for better content. In fact, many bloggers are choosing to cut back on the amount of content they create just so they can focus on creating better content from the get go.
Read more: The 'Skyscraper Technique' May Actually Improve Your Content Marketing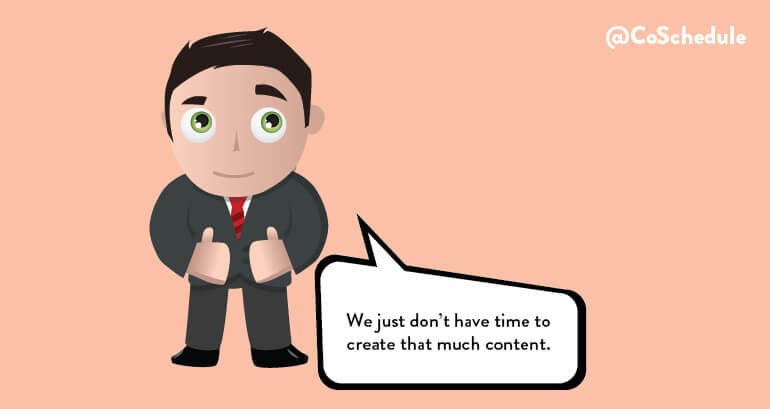 #10) "We just don't have time to create that much (or that good of) content."
Why you sound dumb: This is just lame. You don't have a time problem, you have a priority problem.
The late comedian Mitch Hedberg has a great bit about priorities. It goes, "Get your priorities crooked. That's my sister. That's what I tell her — she's too straight-laced. I say, 'Get your priorities crooked.'" If you believe that you are too busy to create great content, then you might have your own priorities crooked.
Content creation has to be a priority for all of us. If we aren't getting it done, then we need to a find a way to make it happen, and fast. Don't let yourself fall into this tired excuse.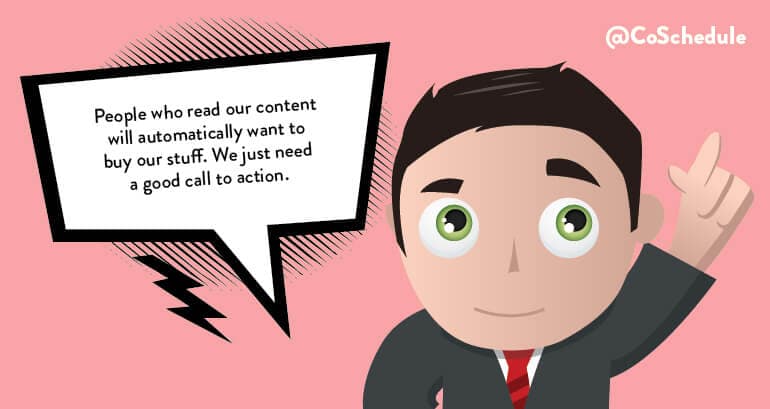 #11) "People who read our content will automatically want to buy our stuff. We just need a call to action."
Why you sound dumb: Content marketing is a long-term strategy, not a short-term shot in the arm.
This is a big one. With all the recent hype about content marketing, there are a lot of misconceptions. One includes the idea that all content marketing should instantly lead to a call to action and a sale. This is just wrong. That's not how content marketing works.
Rand Fishkin of Moz recently created an entire video on this subject alone. He says, "People think that the reason you're putting out content is so that someone will consume that content and be inspired from it to go and make a purchase. That almost never happens."
Sure, your content marketing should lead to some kind of a call-to-action, like an email address collection, but don't expect that action to necessarily be a purchase. And, more importantly, don't expect it to work on the first visit. Most visitors will need to come to your site several times before they finally convert to an email subscriber.
Content marketing is a long-term strategy that is about building trust by developing an audience. As Rand points out, "most fail to invest in the practice long enough, and give up too early." This eventually causes them to give up the practice and lose the opportunity for real success.
May 21, 2014