There are tons of content marketing tools and software platforms out there.
Not to mention other free resources.
And guides. So many guides.
Oh, and let's not forget books, courses, and other knowledge and skill-building resources.
What can we say? It's a complex and fast-moving business.
Keeping organized while covering skill gaps and staying on top of the latest trends isn't easy.
But, nor should it be. If it were easy, everyone would be crushing it.
So, how can you give yourself the edge?
Start by narrowing down your tools and learning resources to the essentials. The things you absolutely need that will help you succeed.
In this post, we've brought together everything you need in one place. Consider this your catalog for a better future.
Want to use Click to Tweet on your blog?
Get Organized With CoSchedule
CoSchedule is the industry's leading marketing calendar platform.
But, what does that mean, exactly?
It means it's ideal for:
And a whole lot more.
In short, it's your marketing department's organizational hub to collaborate on every project and overcome makeshift marketing.
It all adds up to more success and less stress for your marketing team.
Curious? Try it free for two weeks …
… or, schedule a demo with our expert team.
So, You Know You Need Some New Tools …
… but you can't convince your team to switch.
Or get your boss to open the checkbook.
Solve both those problems with these three free resources:
Marketing Tool Proposal Template

: Build a quick presentation to show your team (and your boss) why your selected tool is critical to your success.

How to Convince Your Boss to Use CoSchedule

: If you're thinking about CoSchedule, this template might help seal the deal.

Content Marketing Calendar Template

: Here's one free tool, on the house, to help organize your marketing projects and team members.
Get Your Download Now
Plus, join our email list to stay up-to-date.
Success! Your download should start shortly.
Tired of the marketing mess?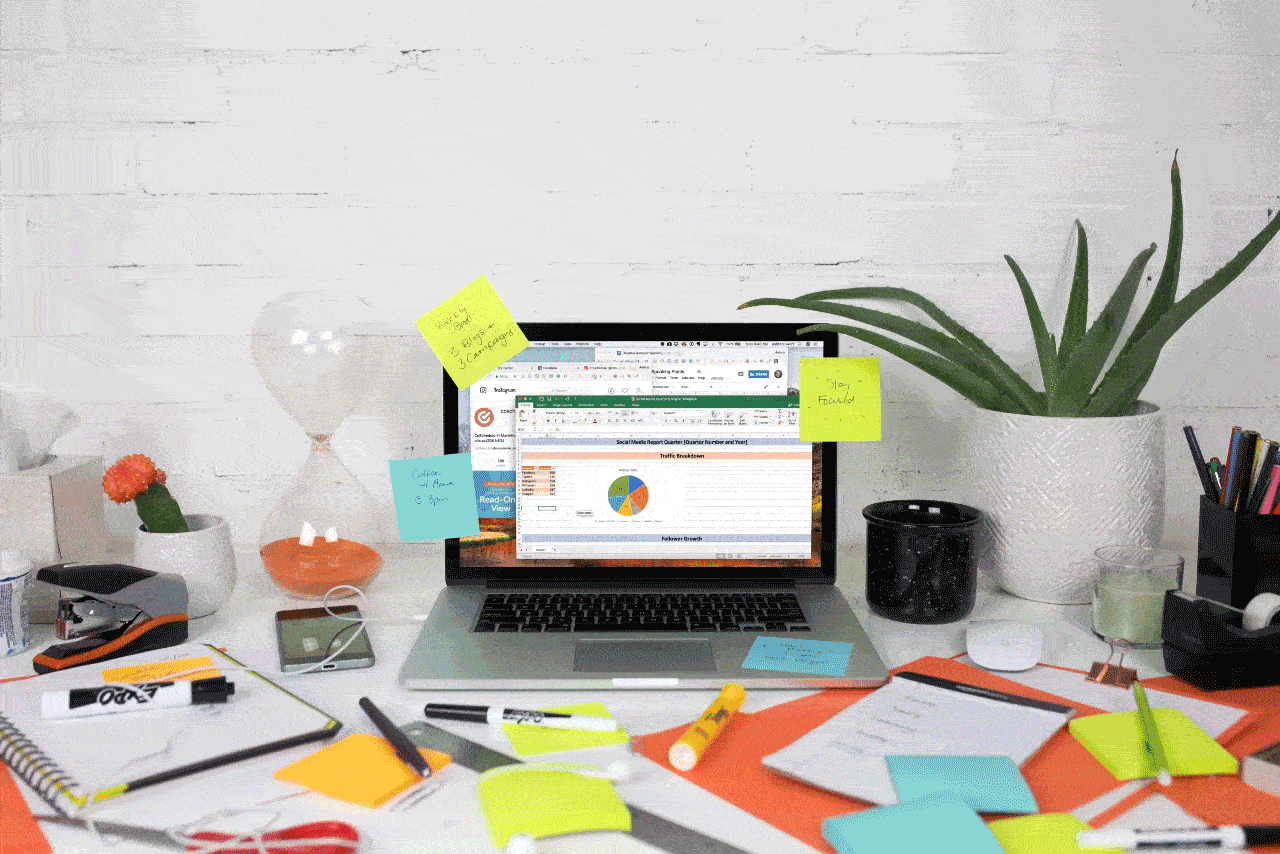 Awesome news! You're invited to a 1-on-1 marketing demo of CoSchedule! In 30 mins or less, you can see how to:
End the frustration of missed deadlines.
Get total visibility into ALL of your marketing in one place.
Save 20 hrs this week alone (and every week after).
If you've ever kicked the tires on CoSchedule, now's the time to see what it's really like.
Success! Your download should start shortly.
Clean up the chaos with your CoSchedule editorial calendar!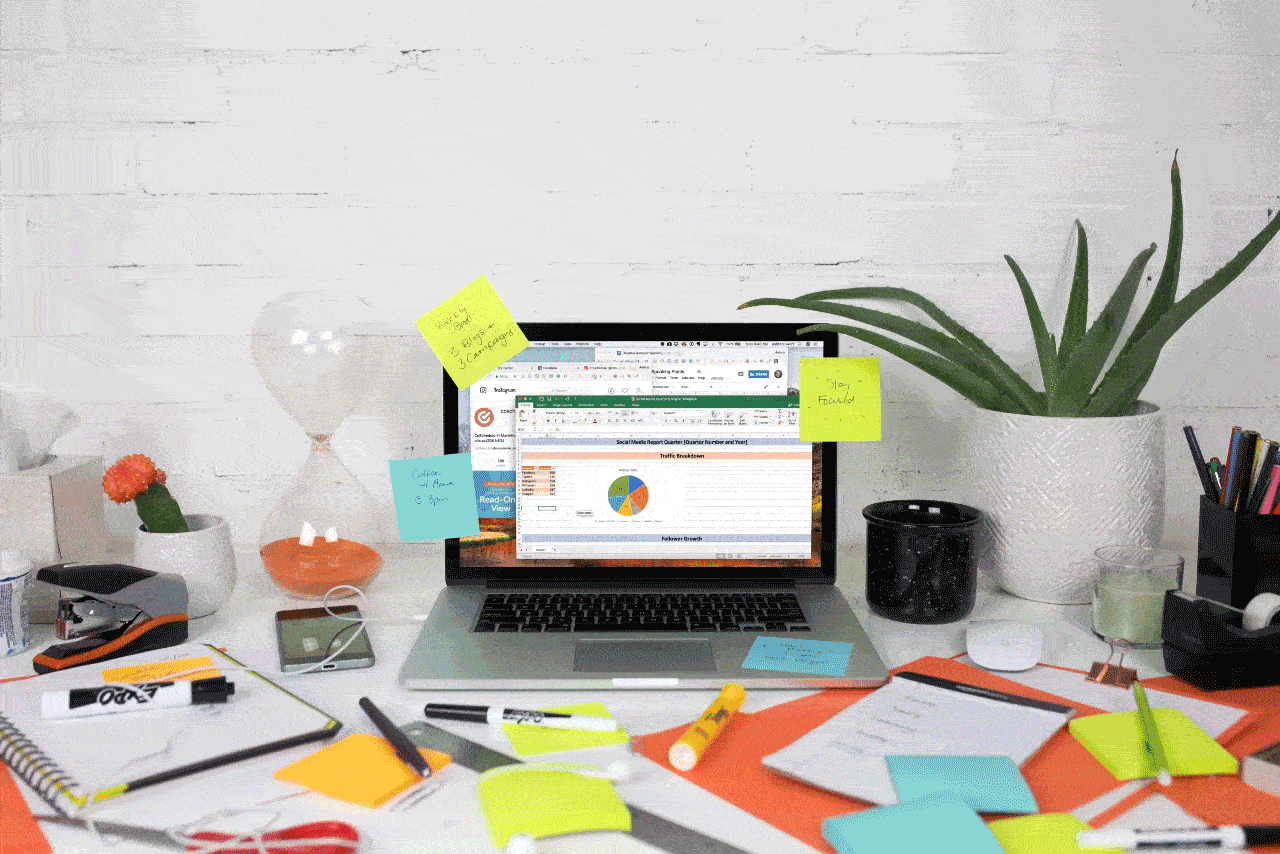 With CoSchedule, you'll:
Save time with blogging, social, and email (think HOURS every week)
Schedule your social posts in batches (and increase your posting frequency) super easily
Get your sh*t together (and hold yourself accountable to publishing like the boss you are!)
Now's the perfect time to start your 14-day free trial to see for yourself!
Getting Your Marketing Team to Adopt New Tools
There's more to building your content marketing toolbox than simply selecting stuff you want, and getting the company credit card out. Once you've narrowed down solutions you know you need, you'll likely be faced with two challenges:
Convincing your company to pay for it

. If things seem to be going okay without the new tool, you'll need to demonstrate how the new tool will improve your business.

Convincing your coworkers to use it

. If the tool isn't just for yourself, you'll need to convince your team it's better than what you're using right now.
In both cases, understanding how marketing change management works can help you effectively build the case to upgrade your toolset.
This is something Nathan Ellering, who you may know as the Demand Generation Lead at CoSchedule, knows a lot about. In fact, he literally wrote the guide to getting past this roadblock (scope out the link in the paragraph above).
For our purposes here, though, we can summarize his key takeaways in three points:
Step 1: Show There's a Need For Change
Odds are, something currently isn't getting done right, or possibly even at all, because you don't have the right tool to get the job done. Wouldn't eliminating that struggle be better than banging your head against the wall?
Here's how to do just that:
Gather data on current performance

. Use a time-tracking tool like Toggl to measure how much time gets spent doing a certain task using your current process.

Then, start a trial with a new tool and track how much faster that task gets completed

. Compare your results and other metrics as well.

Show examples

. Back up first-hand experience with case studies and research from other companies. Most tool providers will have this type of content somewhere on their site.

Cite industry trends

. Is the marketing industry moving in a direction that requires new technology to keep up? Find research and articles to support your case.
Step 2: Show How You'll Thrive Once the Change Happens
It's easier for people to see a better future for themselves when you, well, show them what it'd look like. It sounds simple, but having some actual evidence to demonstrate how a tool will make work better can be powerful for building a case.
Here's a simple framework you can use to communicate this:
"When we do [X], we will achieve [Y]."
Framing your case this way indicates that achieve the goal is impossible without taking the stated action. The implication here is that the tool is necessary to complete that action, too.
So, how can you demonstrate this? Follow these two steps:
Visualize your current workflow without the tool you need.
Do the same exercise with the tool you're after.
This can be as simple as opening up a document and listing out the steps to complete the task. Here's an example of creating a whitepaper without CoSchedule (on the left) and with CoSchedule (on the right):
By doing this, you can help your team see exactly how their work will change (for the better) with the new tool.
Step 3: Show the Roadmap to Change
Tools only work as well as your ability to use them. And, obviously, positive change isn't going to happen just because you spent money on a solution. Those are two pieces of resistance you can expect to hear, but can easily counter by showing you have a plan.
However, that pushback might not be without reason. Adopting new tools means adopting new workflows, and people are often resistant to change.
A good way to ease concerns that change will be hard is to show exactly what steps need to be taken to enact that change. You can do this by mapping out a timeline of steps that will be required to get the new tool up and running, and integrated into your team's workflows:
If you need an outside opinion to help build your case, software review directories like G2 Crowd make excellent resources to support your decision.
That's a high-level of summary of how to get folks on your side, and be more successful with better software. For a more detailed breakdown, bookmark Nathan's guide.
Now, let's get down to what you came here for: a directory of the most essential tools and software content marketing teams need to do their best work.
Free Content Marketing Tools
Free doesn't have to mean low-quality. You'll need to spend some money to build a full marketing tool stack, but you might be surprised how far you can get without dropping a dime.
What Can I Do With Free Content Marketing Tools?
Quite a bit. While most of the tools we'll cover in this post are paid (or have paid options), any marketer's content toolbox will likely include some free gadgets for completing routine tasks.
What Are Some Free Content Marketing Tools to Consider?
Here's a (by no means complete) list:
Marketing Calendars
Content marketers sink or swim with their editorial calendars. There are a lot of different ways to build and maintain them.
What Can You Do With a Marketing Calendar?
If you're not using a calendar already, this is likely your first question. The answers, though, are as numerous as the benefits to using them for getting organized.
Provide teams with one version of truth

. When everyone knows what's coming up ahead, and what they should be working on right now, teams function more efficiently and effectively.

Plan deadlines ahead of time

. Overcome the fear of missing deadlines by mapping them out strategically.

Prevent last-minute fire drills

. Coordinating projects on a clear calendar or timeline dramatically reduces the number of last-minute surprise projects that raise stress and derail productivity.
Here's a visual breakdown behind the what, why, and how of managing marketing with a calendar:
What Are Some Different Marketing Calendar Tools?
From Office templates to full-blown apps, you have plenty of options.
CoSchedule: The only marketing calendar on this list that's purpose-built for marketing teams. Organize, execute, and measure projects and campaigns, all in one place.

Spreadsheets

: The free (but not necessarily easy) option. This option is a good place to start (but will require a lot of copying and pasting, and won't allow for time-saving automation).

PDFs

: The old-school pen-and-paper option. May work well for jotting down notes and planning a simple calendar at your desk.
Content Marketing Platforms
Content marketing is much easier when you have one single hub to manage your team and projects. That's exactly what you get with a content marketing platform.
What Can You Do With a Content Marketing Platform?
Here are some common features:
Manage projects from start to finish.
Map content to an editorial calendar.
Create and publish content.
Promote that content through multiple channels.
Communicate on projects with team members.
Measure performance and analyze productivity.
This illustration from Curata outlines this more clearly: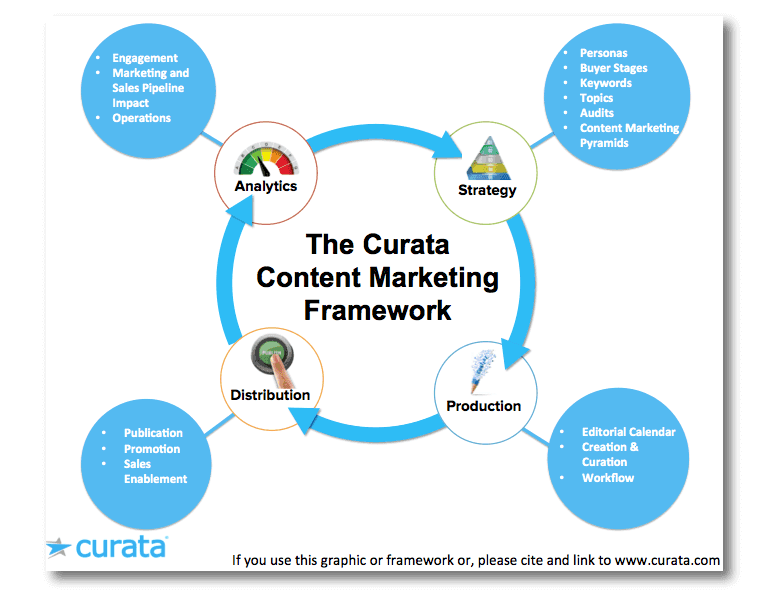 What Are Some Content Marketing Platforms?
Here are some options to consider:
Social Media Scheduling Tools
Creating social content at scale without automation or tools is nearly impossible. Fortunately, the market has more than met that need, with tons of different software options out there.
What Can You Do With Social Scheduling Tools?
The short answer is exactly what you think, and a whole lot more.
Automate social posts

. Instead of sitting on your computer 24/7.

Reshare top-performing posts

. Great content should be seen more than once.

Measure results

. Analyzing post performance is easier using one tool.
What Are Some Social Media Scheduling Tools?
There are a lot out there. Here are some well-known options:
Here's a quick feature comparison between the tools listed above, and more:
Marketing Project Management Tools
A typical content marketing campaign will include lots of moving parts. Keeping your team on track to get them all done might require some help. That's where project management software comes in.
What Can You Do With Marketing Project Management Software?
The right tool can make streamlining project management easy. That means more productivity with less stress. Sounds awesome, right?
Reduce endless email strings

. Managing communication in a purpose-built platform helps avoid losing things in inboxes.

Keep project timelines in order

. Make sure every step in every project gets done on time.

Monitor team productivity

. Know who's getting what done, and when it's getting done.
What Are Some Marketing Project Management Tools?
There are a number of different project management apps out there that can work for marketers. However, most aren't necessarily marketing-specific or designed with content needs in mind.
Email Marketing Tools
Once you've created content, you'll need to promote it. Email is one of the best ways to do just that, delivering 4,000% ROI.
What Can You Do With Email Marketing Platforms?
There's quite a bit you can do (beyond just sending emails). From creating email content to measuring the results, there's no other way to do email marketing right.
Create designed emails easily

. Hand-coding email newsletters can be extremely tedious.

A/B test headlines and content

. Part of getting good at email marketing means split-testing different elements of newsletters to see what performs best over time.

Measure performance

. Track open rates, CTR, bounce rates, and more.

Schedule emails in advance

. Set it and forget it. Make sure to schedule emails at optimal times, too. Use the following starting points, and tweak from there:
What Are Some Popular Email Marketing Tools?
Let's take a look at some of the top platforms out there.
MailChimp: One of the most popular email tools out there, and for good reason. Their plans start at free and go all the way up to enterprise accounts.
Campaign Monitor: Powerful yet easy to use.
Active Campaign: Offers email marketing and integrated CRM and marketing automation features.

CoSchedule

: Integrates with all of the services above so you can plan and send all your email marketing campaigns alongside the rest of your content, all on one calendar.
Video Content Marketing Tools
The popularity of video content has been on the rise for years. It's not showing any signs of slowing down, either. That means your marketing team needs to be equipped with the right technology to produce video (even if you don't have a full video marketing team at your disposal).
What Can You Do With Video Marketing Tools?
There are tons of different tools out there, covering everything from video planning to production. We couldn't possibly include all of them here, but let's go over a handful that might be helpful.
Which Video Tools Do You Need?
Here's a small selection:
Content Writing Tools
Marketers do a lot of writing. Having the right resources easily at hand can make producing high volumes of quality copy easier.
What Can You Do With Content Writing Tools?
We're talking about more than just simple word processors here. From cleaning up content to guarding against copying other people's work, here's a small collection of useful tools for marketing wordsmiths.
What Are Some Content Writing Tools to Consider?
Round out your toolbox with some of the following.
SEO Tools
If you create content and it doesn't rank, does it even make a sound? So, that might not be exactly how that metaphor works, but you get the point.
What Can You Do With SEO Tools?
If you're going to spend time creating content, odds are you'll have pieces you want ranking on search engines. This also means you'll need the right tools to make sure your content is properly optimized so it'll stand a chance at getting seen. Plus, you'll need to measure your results to prove your SEO chops are actually driving results.
Which SEO Tools Do You Need?
There are lots of options out there, but here are some we recommend.
WordPress Plugins For Content Marketers
If you're doing content marketing, the odds are high you're using WordPress. With the right plugins, you can take WordPress from being a good blogging platform, and turn it into an excellent content marketing homebase.
What Can You Do With WordPress Plugins?
It's important to be careful not to overload your WordPress installation with unnecessary plugins (too many can slow down performance). But, the right ones can add all kinds of functionality, from basic SEO tasks to scheduling content.
Which WordPress Plugins Do Content Marketers Need?
It's a big market for plugins out there. Here are some to start with:
Landing Page Building Tools
If you don't always have a developer handy to help build landing pages, then having a platform to create them is going to be necessary. Fortunately, there are plenty of quality options out there, and you don't even need to learn code.
What Can You Do With Landing Page Builders?
The obvious answer is build landing pages.
But, why exactly is this important for content marketers? If you want to capture leads and convert more sales, well-written and designed landing pages are essential. Whether you're targeting paid or organic traffic, they make it possible to create conversion-focused pages to help move users through your marketing funnel.
Which Landing Page Builders Are Best?
Here are some of the leading options in the business:
LeadPages: Based out of CoSchedule's neighbor to the east in Minneapolis, Minn., LeadPages has long been one of the best options for building landing pages efficiently.
Unbounce: Not only is Unbounce CEO Oli Gardner one of the most entertaining speakers in the industry, they also make a great landing page tool, which they describe as a "conversion platform."
Instapage: Another landing page platform, focused on teams and agencies.
Content Design Tools
Poorly designed content is bad content. It doesn't matter how strong any other element may be. But, you might not always have access to a designer. If that's the case, these tools should help.
What Can You Do With These Design Tools?
If you're not a designer by trade, these tools will help you create good-looking graphics without much trouble. From social images to full-on infographics, you might surprise yourself with what you can get done.
Content Analytics Tools
Measuring content marketing ROI can be a challenge. Having the right tools on your side, however, can help immensely. Fortunately, you have more and better options available today than ever before.
What Can You Do With Content Marketing Analytics?
Proving your work is driving results is essential if you're going to say in business (and keep your job). Here are some specific things you can (and should) measure:
Blog and website analytics

. On a basic level, this means stuff like traffic, bounce rate, and conversion rate. But, you can also gather data about your audience, track where traffic is coming from, identify where visitors are dropping off in your funnel, and more.

Social media analytics

. Share counts, engagement rate, referral traffic, follower growth, and ROI are all basic items any marketer should be paying attention to.

Email marketing analytics

. Subscriber growth, open rates, and click-through rates are common email marketing metrics to monitor.
So, this is all simple stuff. But, with more powerful platforms (like Kissmetrics), you can go deep down the rabbit hole of figuring out exactly how your content is influencing conversions.
Content Marketing Analytics Tools to Consider
Here are some options to check out (including some we use at CoSchedule):
Marketing Dashboarding Tools
Successful marketing is driven by data. But, in order to make use of data, you need a way to communicate it. Marketing dashboard tools make this possible, connecting multiple services into one hub to create visually appealing charts and real-time reports.
What Can I Do With a Marketing Dashboard?
Dashboards help simplify sharing data across an organization by pulling metrics into one place, and making them easy to understand.
Not everyone might know what you mean when you drop terms like "63% month-to-month increase in ROI" (just for example), but they will understand it's a good thing when a chart or graph shows positive movement up and to the right. This is especially useful for demonstrating performance to clients or executives outside of marketing.
Here's an example of one might look like, from Klipfolio: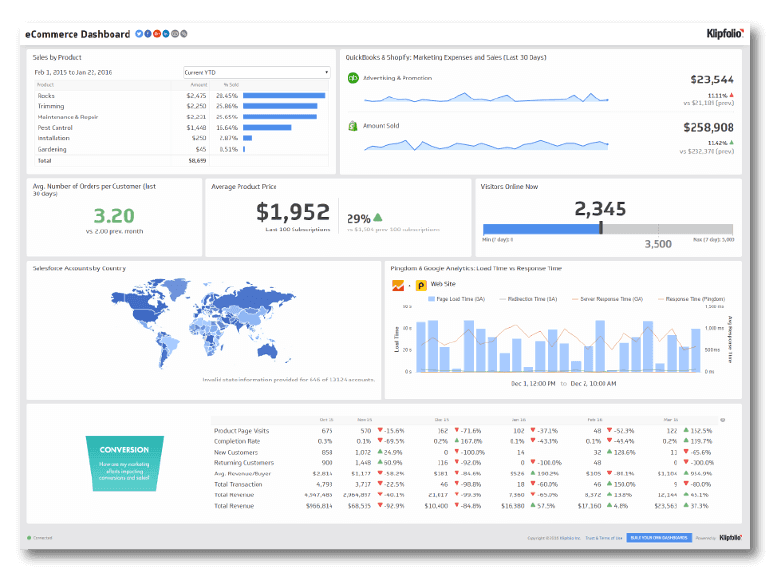 Which Dashboards Are Worth the Money?
There are few strong and decently affordable options out there:
Klipfolio: This powerful dashboard platform also includes templates that make it easy to set up reports that connect data from disparate tools.
Cyfe: Easy to use and connects tons of different services to one dashboard.
Grow: Another business intelligence and dashboarding tool that says its best for teams that rely on three or more data sources to make decisions.
Team Communication Tools
From content creation to project management to analytics, content marketing projects often span multiple teams. Keeping them all in sync with one centralized communications platform is critical for avoiding missed messages and unwieldy email threads.
Why Use Dedicated Communication Tools?
These kinds of tools might seem like a waste if you're already used to living in your email inbox. But, most people would probably agree that managing your entire workday and internal communication with nothing but email isn't exactly efficient. When things get missed because they're sandwiched between 84 other unopened emails, it's not exactly effective either.
What Are Some Communication and Chat Apps to Consider?
There are plenty, but we'll narrow it down to three.
Slack: Widely used throughout the tech industry (and beyond). It's tagline is "Where Work Happens," and though it may not be a replacement for email, it will dramatically cut down your reliance on it for internal communication.
HipChat: This is another popular chat app option (and also the one used at CoSchedule).
CoSchedule: Discussion Threads in CoSchedule make it easy to keep project-based communication organized on your marketing calendar. Instead of tracking down messages in your inbox, you can find the appropriate content or project in CoSchedule, and not worry about losing notes. You can also tag other users, and set desktop notifications to stay on top of new messages.
Content Research and Curation Tools
The most authoritative content often starts with strong research. To get it done, you'll need a little bit more than Google and Wikipedia.
What Can You Do With Content Research Tools?
Tons of stuff, like:
Surface trending topics

. What are people talking about, both inside your industry, and out in the world at large?

Find influential writers

. Who's creating great content that you should consider partnering with, or getting to write something for you?

Spy on competitors

. You can even scope out what your competition is up to, so you can zig when everyone else zags.
Here's the full scoop on how to plan a curation schedule and get real benefits from it:
Which Content Research Tools Should You Try?
We'll group some different types of tools together under this one header. But, they'll all help you do at least one thing, and that's do better research, to create better content.
Note-Taking and Personal Organization Apps
From storing research, to writing outlines, to creating to-do lists, note-taking apps offer marketers a lot of utility for getting organized.
What Can You Do With Note-Taking Apps?
More than you might think. Some are perfect for taking down notes and reminders, while others offer more power, like the ability to clip and save entire webpages.
What Are Some Note-Taking Apps to Consider?
The best option here is whichever one suits the way you work. Each offers a free version, so trying them out won't cost much more than your time.
Recommending Reading and Resources For Content Marketers
We've covered tons of different software and tools you can use. But, in order to put them all to use, it helps to have the knowledge necessary to do the work.
In that spirit, here are some excellent learning resources we suggest checking out.
Read These Marketing Books
Bookmark These Marketing Guides
Take These Marketing Courses
Thinking About Consolidating Marketing Tools? Think About CoSchedule.
You may have noticed a recurring theme throughout this post.
CoSchedule helps marketing teams consolidate tools and processes, all on one marketing calendar. It's your hub for starting and finishing every project and campaign.
Let's summarize some of the things we've covered that you can accomplish with CoSchedule:
That's a long list. But, it should be. CoSchedule is built to be an all-in-one marketing calendar to plan and execute every project, right?
Sure, we're biased. But, CoSchedule has built its marketing processes around CoSchedule itself. The results speak for themselves:
Website Traffic

: Over one million hits per month.

Total Social Followers

: 108,000 across Facebook, Twitter, Instagram, Google+, Pinterest, and LinkedIn.

Email List

: 322,049 active subscribers.
And we're continuing to add more features to deliver more value all the time.
Or schedule a demo with a CoSchedule expert.
Which Tools Will You Choose?
This isn't a full list of every tool or piece of software you could choose. But, it should give you several strong starting points for figuring out which ones fit best with your needs. And, if there are any you're passionate about that we've missed, drop us a comment below!