Today CoSchedule Celebrates Our Best Birthday Yet
Headline Analyzer
The blog post headline analyzer will score your overall headline quality and rate its ability to result in social shares, increased traffic, and SEO value.
Test every headline before you publish. Try the Headline Analyzer »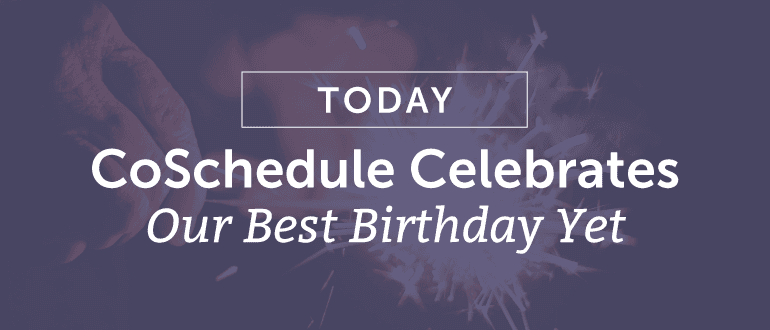 Today marks the third anniversary of the day CoSchedule came to be!
We're incredibly excited about the journey we've had, and even more excited about what's coming up next!
Now you have a perfectly good excuse to pause and go grab some cake before diving in further….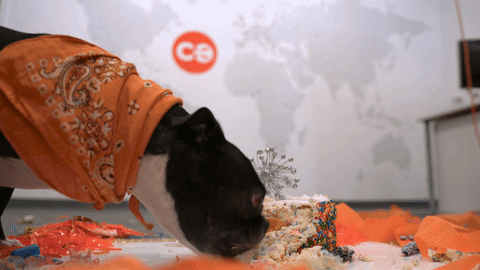 We Couldn't Do This Without You
First and foremost, we have so much gratitude for everyone that has helped us grow from a little startup to a world-wide used marketing calendar.
Thank you to our 7,000+ customers that allow us to do what we love each and every day. Your awesome ideas, feedback, and encouragement continually shape what CoSchedule will become. Not to mention, the 100,000 blog subscribers that motivate us to continually create helpful content—you are our inspiration!
Thank you to all of our marketing heroes that have taught, shared, and helped us along the way. The Jay Baer's, Seth Godin's, Neil Patel, and so many more. You have guided us through your shared experiences and support, and we wouldn't be where we are without your kind, wise advise.
Thank you to the original crew that took a risk and made a completely new product. You were like so many small teams that came across a problem, but rather than stopping there and accepting defeat, you chose to move forward with finding your own solutions and making a calendar that can be used not only by us, but by so many more. Your risk and ideas have shaped the vision of what CoSchedule is today.
Thank you to our extended CoSchedule family, the ones that drop off surprise, delicious treats for breakfast, the ones that support us while we work above and beyond at home, and continually support the passions we love to invest in. Our annual Bratwurst Blowouts and Christmas Party wouldn't be nearly as chaotic and fun without you; we love you!
Last, but not least, thank you to our current team and those that have joined us over the past three years. You've all had a very unique role in shaping the calendar that we all know and love. You've given us your very best, your specialized craft and artistry, and your positive, ship-it attitudes. CoSchedule's culture wouldn't be what it is without your sense of humor, endless GIF's in HipChat, or the many, many office shenanigan traditions that have developed over time.
We can't express enough just how much we appreciate each and every one of you. Thank you for your hard work.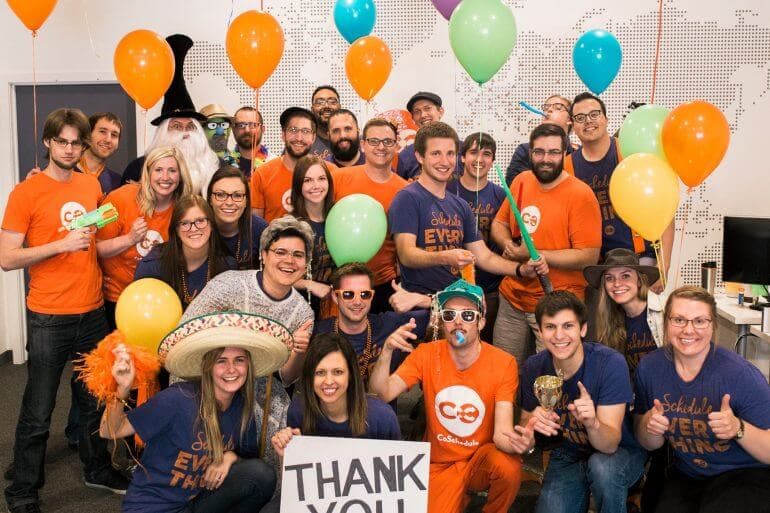 Our Humble Beginnings
CoSchedule started out as a 6 person team in Bismarck, North Dakota with a problem: Blogging and scheduling social as a team was unorganized, involved too many tools, and was extremely hard to manage.
But, together, in a 175 square foot office space (that was basically just a large conference room) they collaborated, and came up with a solution called CoSchedule. With their 8 beta users, a big idea, lots of coffee and candy, and a ton of hard work, they successfully created and launched CoSchedule three years ago, today.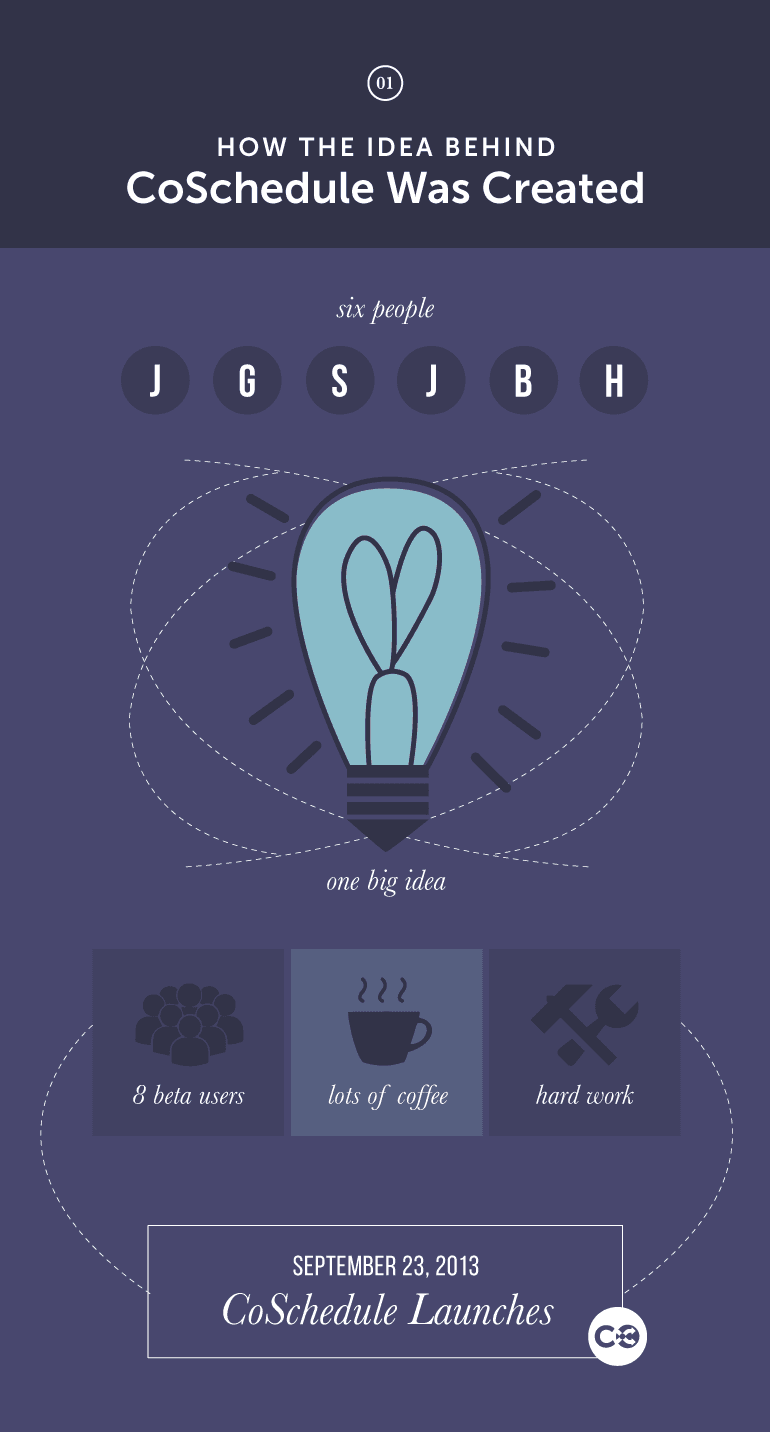 Where We Are Now
Today, CoSchedule is the #1 marketing calendar for everything you need organized.
Our team has grown to 26 employees with three interns, and even one office dog! (Shout out to Beans!) We've grown beyond the initial conference room to not only a much, much larger space in Bismarck, ND but we've also added another location in Fargo, ND. Some things are the same though… for instance, we still LOVE working from North Dakota and we've continued to consume more starbursts and coffee than imaginable: 27,840 Starbursts and 6,092 K-Cups to be exact.
Thankfully, the sugar and caffeine have fueled the team to develop 32 new features thus far in 2016, such as:
Plus, we added Pinterest integration. We've also completely redesigned our entire website to make CoSchedule even more helpful to our audience, and to help reach those that are still in need of organizing their marketing. The team has continually modified and revamped the app, time and time again, to make it faster, more efficient, and easier to use with a mere 971,150 lines of code. We love our product, and continually strive to make it even better.
Of course, we couldn't do this without you, our audience! We've chatted with you on social media hundreds of times each day, sharing and learning together. (We especially love the GIF's you send us!) You've given us your feedback and help us find any issues with the app so that we can find it, fix it, and improve it. Between you all and the CoSchedule crew, we certainly make a good team.
And because we work so well together, we've spent countless hours creating helpful content to make sure your marketing is awesome.
We both experience challenges, whether it be how to grow an email list or when to share on social, and so we want to share our lessons, insights, and knowledge as often and easily as possible. We've done so by creating weekly blog posts with actionable content; 438 blog posts so far, to be specific. (You know, advice that you can actually try out!)
Our blog family has grown to 100k+ subscribers over the past three years, and have been oh so good to us. Because of your support, we've been able to create a video series, a new podcast, a Kindle ebook, and countless webinars and demos. We can't wait to continue to create awesome content, and share it with all of you.

Things To Come

While we've loved our three-year journey with you thus far, we know that there's only room for growth.
We can't say too much yet, but we want you to know we've got BIG plans for the future. And, as always, between our CoSchedule crew and your awesome encouragement and feedback, we know we'll get them accomplished and celebrate together with the best, most organized content, ever.
Goodbye For Now
Thank you, again, for being such an amazing audience and supporting CoSchedule over the years. We couldn't do what we love each day without you. The CoSchedule crew is so excited to celebrate our birthday with you today, and know that the next one will be even sweeter.
Cheers to another great year!
September 23, 2016