How to Use CoSchedule Without WordPress [Demo]
Headline Analyzer
The blog post headline analyzer will score your overall headline quality and rate its ability to result in social shares, increased traffic, and SEO value.
Test every headline before you publish. Try the Headline Analyzer »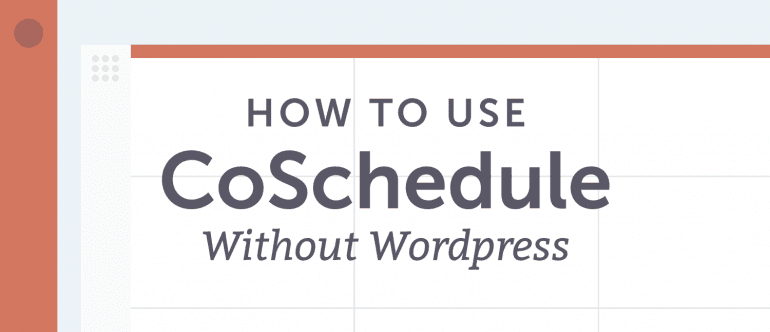 Everyone that has used CoSchedule with WordPress knows that the two work together seamlessly. Together, they help you promote and work on your blog posts with ease. However, the functionality in CoSchedule does not stop there.
What happens if you don't work with WordPress?
CoSchedule is also great as an all-in-one solution for managing whatever type of marketing you and your team happen to do. That includes blogging on non-WordPress platforms.
Use CoSchedule's team workflow and project management tools to plan and manage your email campaigns, feature launches, events, videos, webinars and more!
CoSchedule Is The Perfect Tool No Matter What You Do
Social Media Manager: Use Social Campaigns to schedule all of your social media.
Content Marketing Strategist: With our Content feature, you have all of the tools to plan and manage newsletters and webinars.
Marketing Project Manager: Collaborate with your team to manage landing page launches, A/B testing designs for your website, or even create videos. Whatever your team does, you can manage it with the CoSchedule calendar.
This post was originally published on Aug. 4, 2016. It was updated and republished with new information on Feb. 16, 2017.
February 16, 2017