Campaign Monitor
Campaign Monitor is an email marketing software for growth obsessed companies. Over 200,000 companies worldwide love and use Campaign Monitor for powerful email marketing, automation, and online surveys.
Visit Website
Industry
Software
Company Size
200 Employees
Size of Marketing Team
24 Employees
Director of Content & Social Media
Kim Courvoisier
Features Highlighted
Task Templates, Color Labels
Campaign Monitor is focused on helping customers produce beautiful email campaigns with software that looks, feels and works just right. With customers like Buzzfeed, Sephora, and Adidas, their email tools are used by over 2 million people and 200,000 businesses worldwide.
The company has seen significant growth over the past decade, and the marketing team has evolved through it all – adding new team members and marketing tools to the mix along the way.
Including CoSchedule, a tool Campaign Monitor uses to…
Orchestrate The Entire Editorial Calendar As A Team
Campaign Monitor's marketing team is made up of employees with various roles and responsibilities: content marketing, demand generation, product marketing, SEO, etc. In order to create an editorial calendar that works for the entire team, they hold meetings to provide feedback, collaborate on campaigns and plan content.
"I hold an editorial calendar review meeting with all the key stakeholders. My SEO manager, our SEO agency and key people throughout the organization – we go through that editorial calendar and sign off on it," says Kim Courvoisier, Director of Content Marketing & Social Media.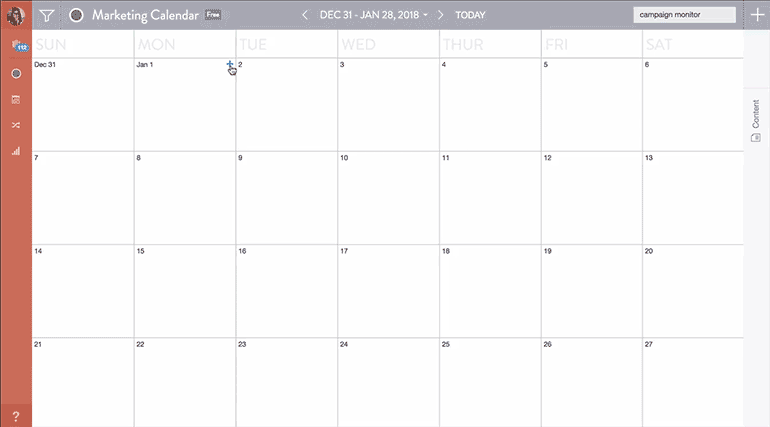 From that point on, Kim is able to assign projects and tasks to her contributors – both internal and freelance – so they have the details they need to get their projects completed.
"We're about producing content in a timeline, real-time basis."

Kim Courvoisier,

Director of Content Marketing & Social Media
By managing everything in CoSchedule and collaborating during monthly meetings, Kim and her team are able to consistently plan one to two months in advance.
Define & Execute A Unified Workflow For Every Major Recurring Project
Producing and publishing high-quality content is a priority for Campaign Monitor. To connect with prospects and customers, the team writes and designs a diverse collection of user guides, blog posts, social campaigns, and emails.
Due to the wide variety of projects, it was vital to develop repeatable processes for recurring projects. Kim has defined and implemented custom task templates for each recurring content type inside CoSchedule to save the team time and create better visibility and accountability.
"Blog posts have a different workflow than ebooks, social campaigns, our newsletter or infographics. But with project task templates, everybody knows each step of the process," says Kim.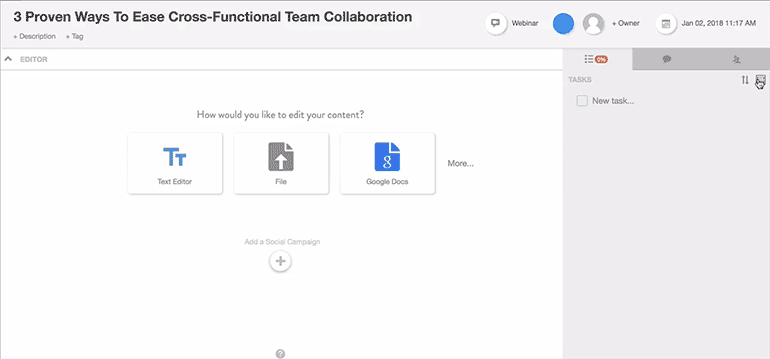 "CoSchedule makes it super easy to manage our team of internal and external contributors. We can assign content, comment, and share files nearly effortlessly."

Kim Courvoisier,

Director of Content Marketing & Social Media
Contributors submit their content two weeks before things go live on the calendar. Allowing Kim, the Director of Content Marketing & Social Media, enough time to review, edit and format everything prior to publish.
Provide A Transparent View Into Their Marketing Strategy
To give the team even more visibility to their marketing calendar, Campaign Monitor uses custom color labels inside CoSchedule.
"We have content pillars at Campaign Monitor, and the projects in our editorial calendar are color coded by content pillar," continues Kim.

"This snapshot of the editorial calendar helps the entire organization know what's going out when. We're completely transparent about what we're producing and publishing, and the color coding helps everyone tell what's up."

Kim Courvoisier,

Director of Content Marketing & Social Media
Pink indicates demand generation content and purple for education and so on. Now when someone from their team views the calendar, they can visualize the balance of content by topic. Making it simple to understand the overall marketing mix for the organization.
As they continue to grow and evolve, Campaign Monitor relies on CoSchedule to organize and manage their team's entire marketing workflow; ensuring projects go from idea to publish on time and with precision.
Plan, Collaborate, and Publish Marketing Campaigns With CoSchedule
Start Your 14-Day Free Trial. No Credit Card Required.
Or Talk To An Expert