Discovery Benefits
Discovery Benefits is a third-party administrator for consumer driven health plans. They specialize in HSAs, FSAs, HRAs, Commuter Benefits, COBRA and more with innovative technology solutions.
Visit Website
Industry
Health, Wellness, and Fitness
Company Size
800+ Employees
Size of Marketing Team
7 Employees
Director of Marketing & Creative Services
Abby Boggs-Johnson
Features Highlighted
ReQueue
Discovery Benefits has over 800 employees company-wide, but their marketing department is made up of only 7 team members. Due to their small size, they need to be agile, efficient, and organized.
They function like a small agency and field requests to create internal communications and customer facing collateral. Without strategic planning, their social channels were often the first thing to get overlooked when things got busy.
But with CoSchedule, the team has been able to amplify and transform their social by…
Building the company's brand with a proactive social strategy
In 2016, Discovery Benefits' social media was solely reactive and responsive. Activity was posted on the fly or scheduled natively to Facebook. But there was no formal strategy or consistency in place.
After Abby Boggs-Johnson joined the team as the Director of Marketing and Creative Services, she quickly implemented CoSchedule and launched a formal social strategy.
"Before, leadership would comment on the lack of activity on our Facebook page. But then upper management saw us shift to a more strategic presence," Abby Boggs-Johnson, Director of Marketing and Creative Services.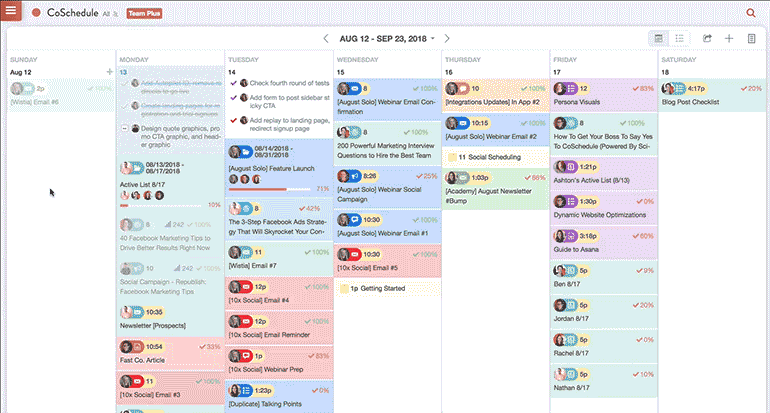 Now the team plans and schedules social messages in CoSchedule seven weeks in advance. They meet weekly to add upcoming events, promotions, and ideas to the calendar.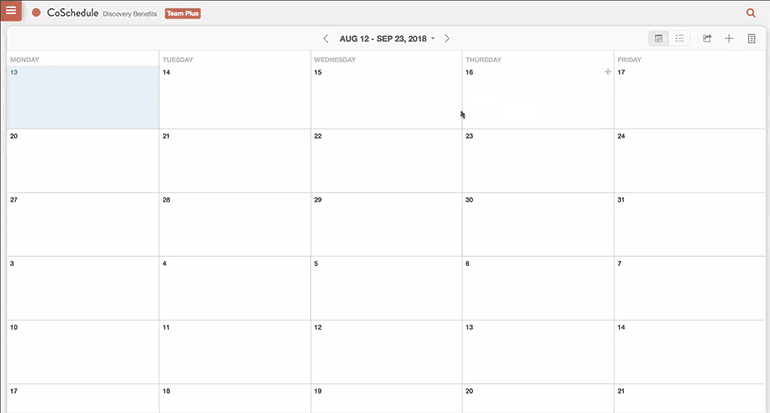 "A few times a year HR attends career fairs. We can see those events coming up on the calendar, and we can post about our culture. So when potential employees come to our Facebook page, they can see why they may want to work for us," continues Abby.
Better visualization and planning makes it easier to know what's happening across the company. So the marketing team can be more intentional and consistent with messaging on social.
Amplifying brand reach through social advocacy programs
One of Discovery Benefits' primary marketing goals is to increase brand recognition nationwide. To extend reach, the marketing team launched a social advocacy program for sales staff and executives.
Employee-run Twitter and LinkedIn accounts get added inside Coschedule. And the marketing team supports employees by posting recent blogs and important industry news on their behalf.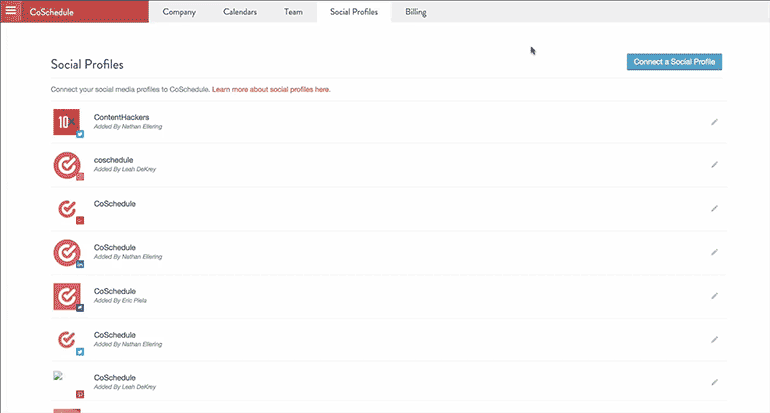 "This way employees can focus on culture, travel, or their personal business philosophies. It's less overwhelming for them when we handle the industry messaging." Abby Boggs-Johnson.
Discovery Benefits has 55+ social media accounts connected to CoSchedule. By posting via CoSchedule, they've been able to boost their social traffic and engagement and reach a broader audience on LinkedIn and Twitter.
Maximizing the impact of evergreen content with ReQueue
As a key part of their content marketing, Discovery Benefits writes and publishes blogs focused on educating customers about FSAs, HSAs, HRAs, COBRA, commuter benefits, and their company culture.
Before ReQueue, they would share a new blog on social media. But after the scheduled campaign went live, it would fall off their radar. Which left them underutilizing quality, evergreen content.
"We generate a lot of blog content, and ReQueue helps us get more longevity out of that content."

Abby Boggs-Johnson,

Director of Marketing & Creative Services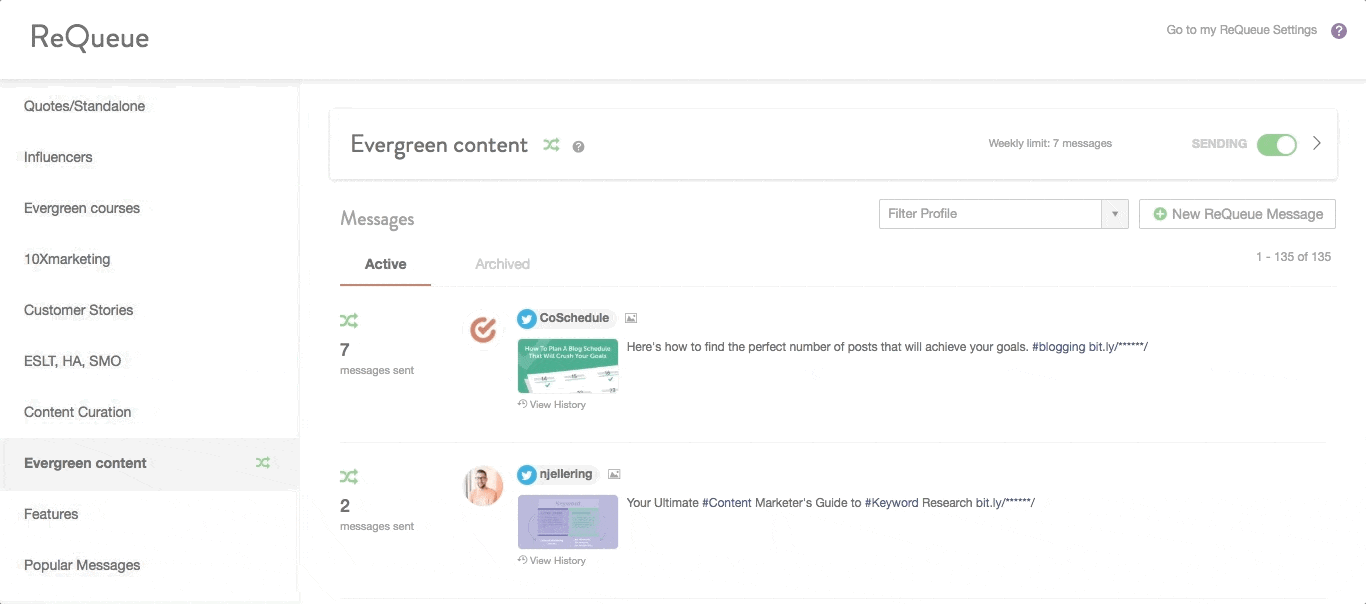 Best of all, their ReQueue settings make sure they meet their post frequency goals.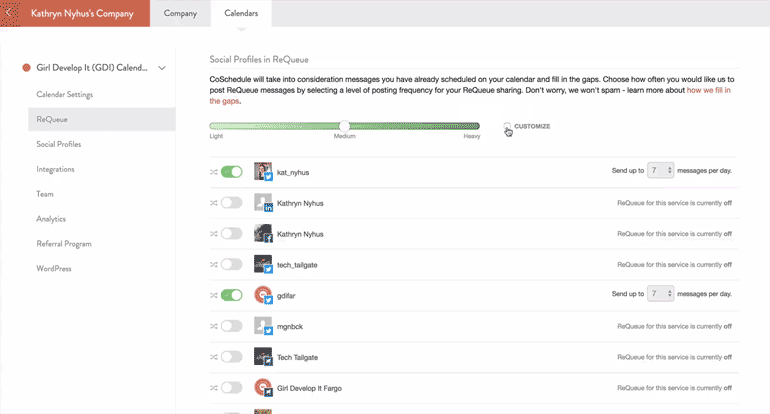 Adding social messages that promote their evergreen blog posts to ReQueue lets Discovery Benefits round out their social strategy, drive more social traffic, and get a higher ROI on their blogging strategy.
Ready to Pre-Plan Social Campaigns 2 Months In Advance?
Start Your 14-Day Free Trial. No Credit Card Required.
Or Talk To An Expert