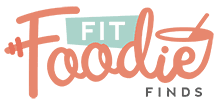 Fit Foodie Finds
Fit Foodie Finds is a website and online resource hub focused on promoting a healthy and balanced lifestyle through delicious and beautiful recipes, challenging workouts, travel, and everything in between.
Visit Website
Industry
Heath & Wellness
Company Size
4 Employees
Size of Marketing Team
2 Employees
Founder
Lee Hersh
Features Highlighted
Notes, Editorial Calendar
Lee launched Fit Foodie Finds while in college to chronicle her life as a healthy college student. As her blog and social media popularity grew, she expanded her team and turned her passion into a successful business.
She credits CoSchedule to playing a vital role in her success. Since 2011, her team has used CoSchedule to…
Craft Engaging Headlines To Capture Readers' Attention
As a lifestyle experts, Fit Foodie Finds is focused on writing and sharing blogs and resources that their readers will find valuable, helpful, and inspiring. But finding the right words to capture their attention hasn't always been easy for Lee and her team.
CoSchedule's Headline Analyzer helps the team write more intriguing, fun headlines that resonate with their audiences.
"My favorite feature is the headline analyzer. It makes you think differently about what you're saying. It's been a really helpful, cool tool for us to use."

Lee Hersh,

Founder of Fit Foodie Finds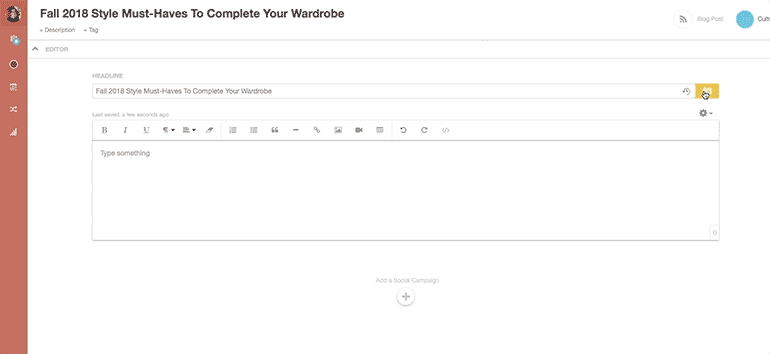 Using CoSchedule's Headline Analyzer has provided Lee and her team inspiration for new blog content. Including some fan favorites like: 50 Healthiest And Most Delicious Holiday Cookie Recipes, The Ultimate Guide For Holiday Gift Ideas, and Why I Lift + 15 Bodyweight Exercises You Can Do Anywhere (Without Weights!).
The headline analyzer is built into CoSchedule. Making it easy for the team to simultaneously draft and test effective headlines for their upcoming blog posts.
Develop 8-12 Weeks Of Content In Advance
Every marketing team strives to plan ahead and think more strategically about their content calendar. But for many, it's easier said than done.
By using CoSchedule as their editorial calendar, Fit Foodie Finds can plan ahead and rearrange content seamlessly as changes and updates occur.
"We still do your classic brainstorming session with a whiteboard. Where we're all in the same room talking about the next season or the next few months. Then, we literally open CoSchedule and slot things in the calendar. It makes it really easy to move things around as things come up," says Lee Hersh.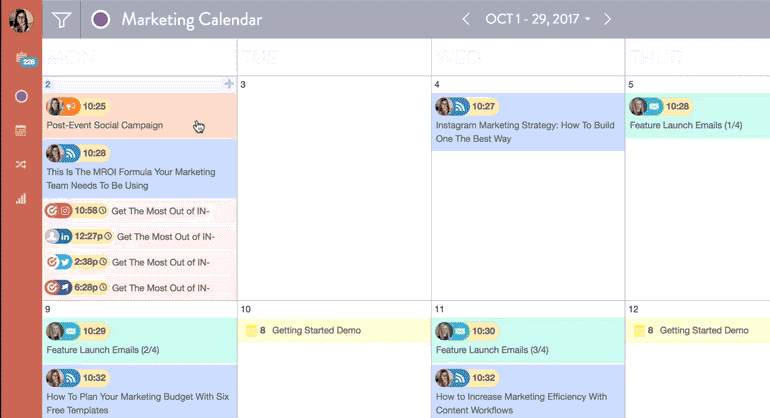 "CoSchedule has allowed us to plan and stay ahead 8-12 weeks. It's the best thing we've done to get ahead of ourselves; especially with so many last minute projects popping up."

Lee Hersh,

Founder of Fit Foodie Finds
Instead of stressing over these last minute projects, Lee and her team can quickly collaborate on the fly. Even while they're on the move.
"I always say I just need my laptop with me to get things done. We really so rely heavily on CoSchedule for everything that goes live on Fit Foodie Finds: our blog, our email and Instagram. It's where I organize my business," continues Lee.
With CoSchedule, Fit Foodie Finds has visibility into when things are going live, dates for upcoming events, and other important details. It's been a game-changer to visually organize and execute their marketing strategy.
Oversee + Review Branded Content By Contributors
Strong branding is key to creating recognition and awareness for any organization. Fit Foodie Finds is no different.
As a business owner, Lee knows the value of strong brand voice and imagery. And the women behind the content are dedicated to making Fit Foodie Finds a leader in lifestyle, fitness and nutrition resources.
The team includes a Community Manager, a Brand Manager, Content Manager, and an Intern.
To keep the team aligned, Lee coordinates every detail inside CoSchedule.
"The first thing we do is get new team members a CoSchedule account. Then walkthrough and review the marketing plan with them for the next few weeks. It's been really smooth and intuitive."

Lee Hersh,

Founder of Fit Foodie Finds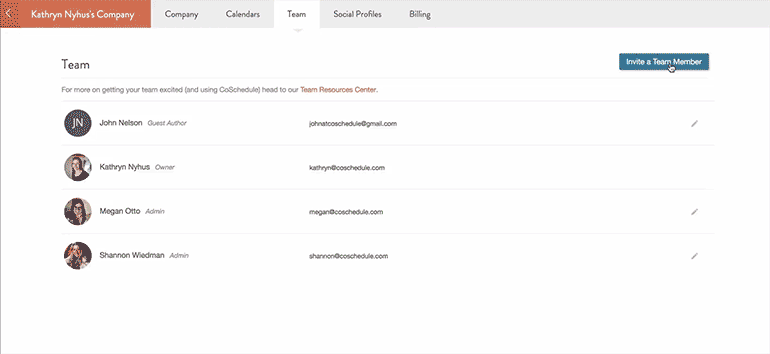 CoSchedule serves as a project hub for the Fit Foodie Finds team. And gives Lee a space to oversee and review projects as they're in progress.
"I know a lot of bloggers who use Google Calendar or spreadsheets. And I'm like, 'How do you communicate with people or know when things are due or who's doing what?,'" continues Lee.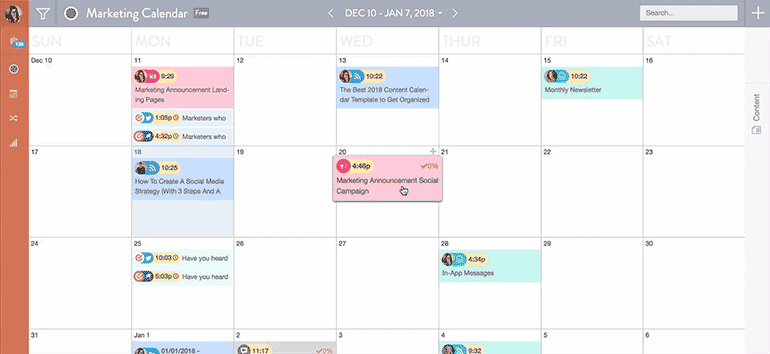 "It's easy for me to assign the content owners so I can see who the authors are on each project," says Lee Hersh.
Through mapping out these projects in CoSchedule, Lee has full visibility into her brand's messages before anything goes live; giving her certainty that her team is producing content that will continue Fit Foodie Finds' strong reputation and loyal fan-base.
Map Out Your Entire Marketing Strategy With CoSchedule.
Start Your 14-Day Free Trial. No Credit Card Required.
Or Talk To An Expert