Florida Realtors
The mission of Florida Realtors® is to advance Florida's real estate industry by shaping public policy on real property issues; encouraging, promoting and teaching consistent standards for ethical practice and professionalism; and building on the efforts of local Boards/Associations to provide the information and tools members need to succeed.
Visit Website
Industry
Real Estate, Association
Company Size
120 Employees
Size of Marketing Team
16 Employees
Marketing & Engagement Manager
Ivey Smith
Features Highlighted
Marketing Campaigns
Florida Realtors® is the largest trade association in the state, with 170,000 members.
The association also offers members a number of programs, products and services ranging from tech support, legal advice and continuing education.
Their 15-person marketing + communications team is responsible for all offline and online marketing projects – including email campaigns, Florida Realtor® magazine and everything in between.
Managing all of these projects is not easy.
The marketing manager has saved 5+ hours per week on marketing projects by using CoSchedule.
Find out how they've improved their processes, efficiency and project visibility by…
Maximizing Their Team's Resources From One Centralized Location
Marketing managers need to know anything and everything their team is working on to keep projects moving forward.
Florida Realtors® used to manage their projects through a series of documents, spreadsheets and numerous social media scheduling tools.
"Our goal was to find organization with all of the marketing projects and things we have going on."

Ivey Smith,

Marketing & Engagement Manager
Their old workflow process was very disconnected – which caused visibility issues for their management team.
"It became really clear, really quickly in conversations with the Senior Director of Communications and our Senior VP that there wasn't one place that consolidated all the different things going on in our department," said Ivey Smith, Marketing & Engagement Manager.
Now, Florida Realtors® can ramp up projects faster, manage all the moving pieces in one project, accurately gauge timelines and know who's working on what – at any given moment.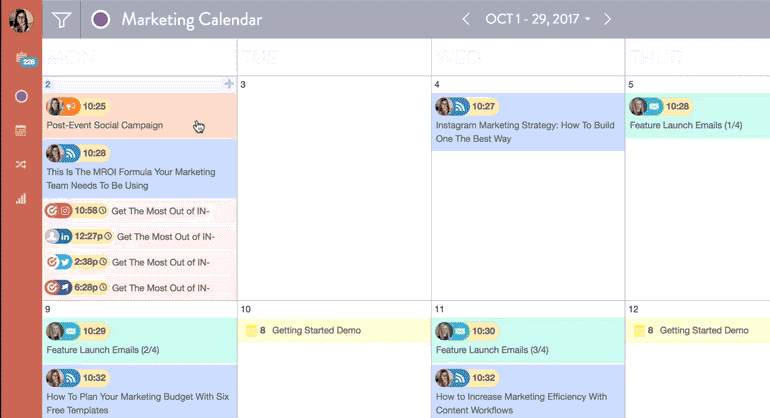 Improvements in their process helps their team work faster than before-saving them 20+ hours per month.
By moving these projects (and processes) into one tool, they…
Know How Much Bandwidth Their Team Has to Field New Project Requests
Florida Realtors®' marketing team is responsible for fielding project requests for every department – serving as an internal agency for the association.
They get a high volume of requests coming in from every department – making it tough to set reasonable timelines and expectations for new projects.
Especially when trying to manage these requests through multiple solutions.
"Now we can go to the calendar and see, 'well this person has 12 things going on today.' And we're not going to be able to field that request until next week. Of course, prior to that, it was really hard to set those expectations," explains Ivey.
Ivey can monitor the team's progress + make adjustments faster. Managing huge projects is an artform AND staying on top of all those deadlines can get tricky. With Marketing Campaigns, she can quickly see her team's overall progress and make adjustments faster, so they never miss a deadline.
Managers no longer find themselves over promising. Marketing employees aren't overwhelmed and overworked with projects they're stressing to finish on time. And project requesters receive higher quality marketing collateral, delivered on time. Every time.
Best of all, their team has been able to get more organized. So organized, they can…
Proactively Plan Their ENTIRE Project Roadmap.
Adding marketing projects in CoSchedule gives Florida Realtors® a visual timeline of every project on the calendar, so their management team can effectively plan out days, weeks and months in advance (without overbooking their team).
"It's this live, dynamic, interactive calendar that integrates with our social channels. And for us, that's really, really powerful."

Ivey Smith,

Marketing & Engagement Manager
"I like to work in advance. Whatever is on my docket of things, I'm plugging that into CoSchedule. As far out in advance as I can. It makes our team more organized," continues Ivey.
By maximizing their team's resources and proactively planning their marketing projects, Florida Realtors® has been able to transform the way their Marketing and Communications departments work.
Want to transform your marketing team's processes and gain 5+ hours per week?
Start Your 14-Day Free Trial. No Credit Card Required.
Or Talk To An Expert