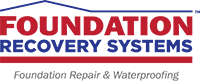 Foundation Recovery Systems
Foundation Recovery Systems is a leader in the foundation repair industry. Helping customers with foundation repair, concrete repair and basement waterproofing, their team is dedicated to providing cost-effective solutions with high customer satisfaction.
Visit Website
Industry
Construction Industry
Company Size
60+ Employees
Director of Marketing
Shannon Sehnert
Marketing Coordinator
Lindsay Dahl
Keeping strategy at the core of their diverse marketing mix.
Every industry has its own unique marketing challenges, and the construction and contracting industry is no different.
Foundation Recovery Systems is a two-person marketing department. And their team is in charge of everything related to marketing – posting to social media, ordering swag, buying media, managing budgets, writing case studies – the list goes on.
With a relatively seasonal marketing cycle, Foundation Recovery System's marketing mix needed a strategy…
And with CoSchedule, they've been able to…
Proactively plan their entire marketing roadmap.
Creating content should never be random. Blogs, social posts, emails, advertisements – every project needs a goal.
Foundation Recovery Systems knew the importance of a solid AND strategic marketing roadmap, but planning was difficult before they had the right toolkit.
"Before CoSchedule, I would be sitting at a computer thinking, "Oh my gosh, I don't have anything to post about today." It was my fear every single day. I had no organization. No way to pre-plan. There was no urgency or consistency," Shannon, Director of Marketing.
Now with CoSchedule, Foundation Recovery Systems can see their entire marketing schedule at a glance; syncing their team inside a collaborative cross-functional calendar for social, content, email, events and more.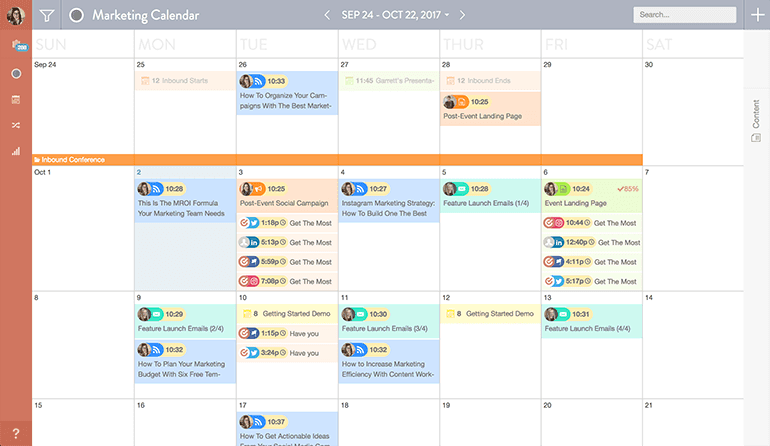 "I'm a visual person, so seeing our content mapped out in front of me really helps me know what I have planned. When I have it ready to go, I can focus on other things. It's a great feeling."

Lindsay Dahl,

Marketing Coordinator
Maintain control (and keep their sanity) in time-sensitive situations
Marketing is very public. Time-sensitive matters come up that affect messaging. Current events, relevant news, awards and achievements…
With CoSchedule, Foundation Recovery Systems kept their sanity and reacted fast to unexpected weather changes…
"Typically in Missouri, August is ridiculously hot and dry. As we saw the rains coming in, we easily moved everything scheduled for August to September and focused on creating waterproofing content. It wasn't chaotic. It wasn't hectic. CoSchedule makes us work so much more efficiently – not necessarily harder. It's been amazing," explains Shannon.
Utilizing CoSchedule's drag & drop scheduling, empowers Foundation Recovery Systems to swiftly move crucial publish dates at a moment's notice; keeping their content relevant and actionable to their immediate audience.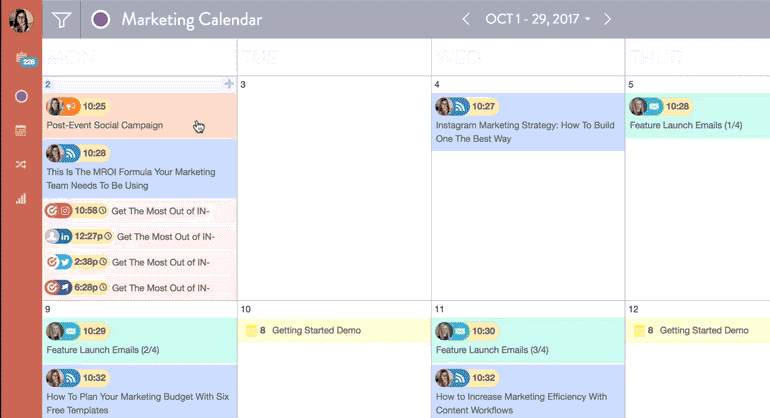 "CoSchedule makes us work so much more efficiently – not necessarily harder."

Shannon Sehnert,

Director of Marketing
Bring their marketing team's A-game to every stakeholder meeting.
Execs expect results. And Foundation Recovery Systems' management team expects marketing to generate credible leads + grow business.
With CoSchedule, Foundation Recovery Systems gains instant visibility into every project their team is working on. Now Shannon can easily share updates with stakeholders with confidence – making her work (and her team) look top-notch with the company's bigwigs.
"I should know anything and everything that has to do with my department at all times, and CoSchedule has given me the ability to do that."

Shannon Sehnert,

Director of Marketing
Shannon meets with the management team every Monday. And using CoSchedule gives her the ability to answer any of the execs' questions and show her team's progress.
"Our sales manager will ask things like "we have been getting a ton of leads for foundation repair – what are we doing? " Now I can just filter out "foundation repair" on our calendar and am able to see exactly what we did last month, the month before and even what we have planned in the coming months. It's been great from a reporting aspect to have that snapshot of what our marketing mix actually looks like."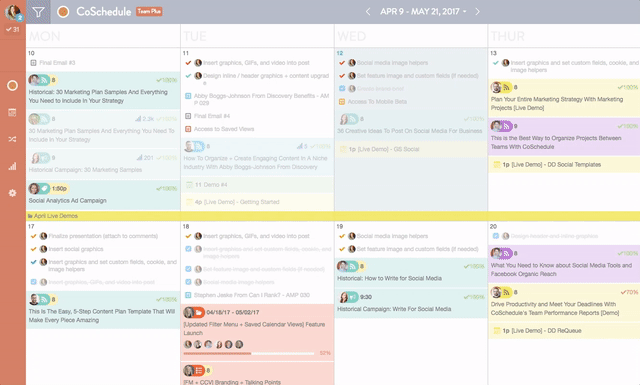 With saved calendar views, color labels, and tags inside CoSchedule, Shannon can locate the answers to exec's questions quickly. Making it easier than ever to demonstrate and prove their team's expertise + value with a few clicks.
Get your entire marketing strategy organized in ONE place.
Start Your 14-Day Free Trial. No Credit Card Required.
Or Talk To An Expert