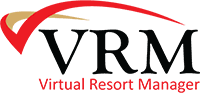 Virtual Resort Manager
Virtual Resort Manager provides a complete and fully integrated Vacation Rental Management solution for companies of virtually any size. With its integrated online booking engine and search marketing tools, VRMs system functions as one unit making your web presence easier to establish and maintain without breaking the bank.
Visit Website
Industry
Hospitality Agency
Size of Marketing Team
6 Employees
Social Marketing & Media Manager
Brittany Thompson
Virtual Resort Manager provides customers with vacation rental management software systems, marketing services, website development and customer support.
The marketing team at VRM is responsible for their own marketing projects PLUS blogging, social media management and email marketing for their many customers in the hospitality industry.
Having the right all-in-one tool for managing their projects is necessary for driving business for their company AND their clients.
"For me, it's come down to the fact that I've been able to take on more clients and make more money."

Brittany Thompson,

Social Marketing and Media Manager
To reach their goals, their marketing team needed a tool that could…
Improve Client Retention With Results Driven Campaigns
Every minute saved on project management and processes is time spent creating better posts. So efficiency is a top priority for Brittany Thompson, Social Marketing and Media Manager at VRM. Her team of 6 is responsible for posting to 30+ social profiles multiple times per day.
And post performance is important. So Thompson and her team are laser focused on creating campaigns that provide results.
They wanted a tool that would…
Eliminate The Guesswork In Their Social Scheduling
Virtual Resort Manager uses Best Time Scheduling to share their messages at the highest traffic times for each network – according to social media best practices – every time they post.
"When I was manually scheduling, I wasn't getting as good of results as just using the best time feature. Which is on every single post that we do. I'm really appreciative of that feature," explains Thompson.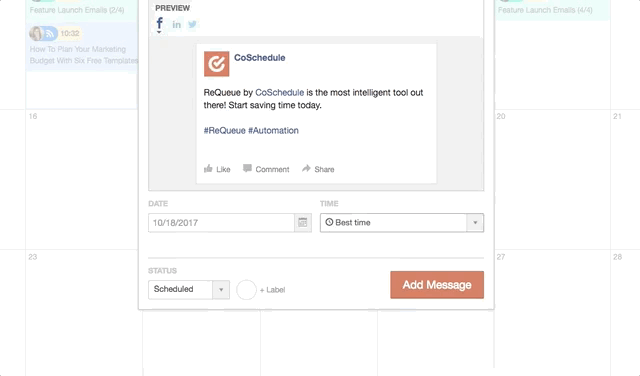 Since using best time scheduling, her team has been able to…
Get More Clicks + Drive Sales With Every Social Post
With so much competition, it's tough to get through the noise. Best Time Scheduling spaces out their messages for maximum coverage, getting their clients the most social engagement every time.
"Last summer we posted for one of our clients using CoSchedule and best time scheduling. It went 'mini-viral' It was something we never expected,", exclaims Thompson.
The post had over 16 million views, 550,771 post clicks and 956,704 reactions, comments and shares on Facebook. Giving Virtual Resort Manager's client better results than they could've imagined.
"Overall, our engagement across the board has increased phenomenally with our client's stuff. We're getting way more clicks on content we're posting for them," Thompson continues.
Managing these 30+ social profiles is no easy task, but CoSchedule has allowed her team to…
Instantly Create Dozens Of Social Messages (In Seconds)
With reusable social templates, they can share posts faster and drive more traffic to client's blogs.
The Virtual Resort Manager team uses social templates to eliminate the tedious process of manual scheduling. They can create the perfect social sharing plan, fine tune messages for maximum engagement and apply the reusable templates to any content they create.
"I absolutely love social marketing templates. Being able to create something that I can apply quickly and easily to all of my social media campaigns makes it so much easier for me. For our blogs, I can actually see that the language is good on all the social posts and the timelines measure up. It's quick and easy. And I love that," says Thompson.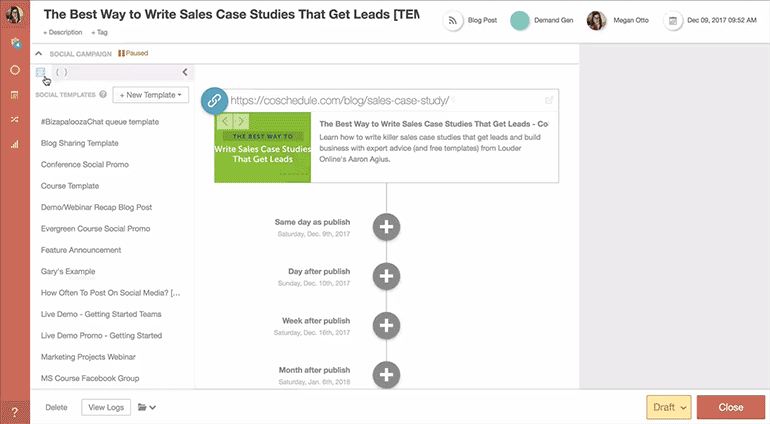 "It's just one button. I don't have to go in and manually schedule those every single time. It's an extreme timesaver," Thompson says.
Social templates aren't the only way CoSchedule has helped Virtual Resort Manager save time. Thompson's team also used CoSchedule to…
Double The # Of Clients They Manage (Without Hiring MORE People)
As a marketing manager, Thompson is responsible for overseeing every task and project her team is working on. By using custom task templates, she's able to assign tasks to her team + track the progress of every project her team is working on.
Before CoSchedule, her team used a combination of tools like Hootsuite, MeetEdgar, Evernote and calendar reminders to track, complete and publish projects.
"We've actually been able to take on additional clients because of what we do being so much more organized and streamlined," explains Thompson.
Since they started using CoSchedule, Brittany and her team have been able to double the number of clients they work with due to increased bandwidth.
"We are able to grow as quickly as we've grown because we have the right tool. That's what it all comes down to."

Brittany Thompson,

Social Marketing and Media Manager
"We all talk about how we want to be powerful and effective. And we want to get as many likes as we can. But the reality is at the end of the day, if you're not making money, then your business is not sustainable. For me, it's come down to the fact that I've been able to take on more clients and make more money. And I haven't had to spend as much time as I would have had to spend with other tools," Thompson added.
Want to grow your audience by 10x?
Start Your 14-Day Free Trial. No Credit Card Required.
Or Talk To An Expert