Planning, organizing, and executing a successful content marketing workflow can be difficult. Challenges stem from a myriad of moving pieces requiring management and oversight. From the planning phases of each project to analyzing the results, content teams are faced with a broad scope of tasks that must be handled efficiently and effectively.
Thankfully, there's CoSchedule, a simple-to-use content marketing management software platform. This all-in-one solution simplifies and organizes your entire content marketing process, from ideation to execution. It achieves this by integrating collaboration, project management, and publishing tools together with an easy drag-and-drop calendar interface.
If simplifying your marketing management while improving efficiency and effectiveness is your goal, CoSchedule may be what you need. Our web-based software app will help you:
Manage all your content projects.

. CoSchedule integrates with a variety of tools, including Google Docs and Evernote. Plus, it offers the flexibility you need to manage any type of project or content.

Make your team more productive.

. CoSchedule connects every member of your team to one centralized hub. You can communicate, store projects, and create content all within one dashboard.

Simplify your workflow.

CoSchedule marries efficiency with simplicity. The easy-to-use drag-and-drop interface keeps everything organized and effortless to manage.
Keep Every Content Project Organized
One Easy Drag-and-Drop Calendar For Everything
CoSchedule's intuitive calendar interface allows you to see every content project you have planned. It also allows you to delegate tasks to team members, set publish dates, and view the completion status of each project. This makes it easy for managers to keep their teams organized and lead them to success.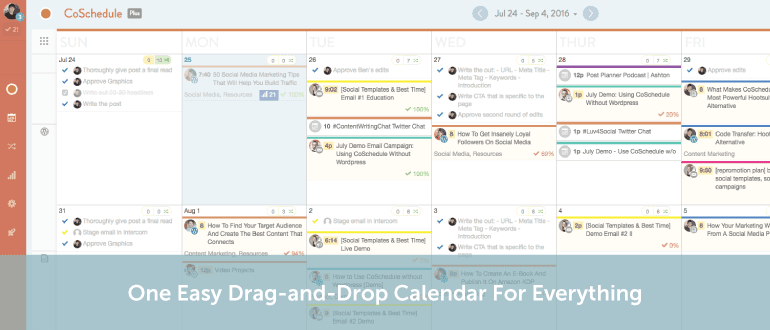 The calendar interface also makes cross-team collaboration easy. Your team members likely have different talents and responsibilities. They may even assist other teams within your organization. With so many team members to manage, it may be challenging to facilitate effective collaboration. .
This is where CoSchedule comes in. Each team member can quickly see which tasks they're responsible to complete. Each project can be color-coded for clear and simple visual organization. To help find specific projects, you can also filter the calendar by color, author, and project type.
To protect projects from being edited, calendar settings can be adjusted so that certain team members have limited editing abilities within CoSchedule. This keeps project leads in control (and ensures a rogue intern won't accidentally destroy valuable work).
Within CoSchedule you're able to view not only your own projects, but every project across your entire team. Using the percentage metrics to gauge the completion of each project, you can focus your efforts on projects that need work. This helps teams hold each other accountable for hitting deadlines and ensuring project success.
CoSchedule Conveniently Integrates With Your Social Media Networks
Managing social media messages can get tedious, especially if you have multiple profiles on multiple networks. CoSchedule makes publishing to multiple profiles easy.
Plus, CoSchedule integrates with your most important social networks, including:
Facebook
Twitter
LinkedIn
Pinterest
Google+
Tumblr
Connect Your Favorite Content Writing Tools With CoSchedule
CoSchedule allows you to create your blog posts, landing pages, website copy and stand-alone content from the CoSchedule editing dashboard directly in WordPress. CoSchedule can also convert Google Docs and Evernote docs into WordPress posts or downloadable HTML files. Use the tools and processes you're most comfortable with.
Plan And Manage Successful Marketing Projects Easily
Save All Your Great Ideas In The Drafts Bin
It can be frustrating to have a great idea, only to forget about it when it's time to write. CoSchedule's drafts bin allows you to save rough ideas before placing them on the calendar, ensuring you'll never forget another genius idea again.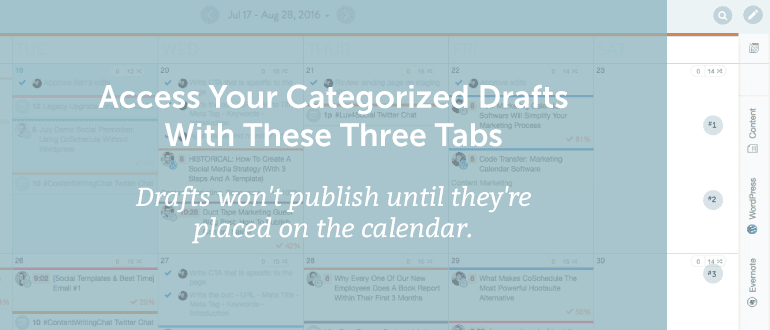 CoSchedule automatically organizes your drafts into three categories:
Content: Unscheduled calendar items.
WordPress: Unscheduled blog post and content drafts in WordPress.
Evernote: Drafts stored in shared Evernote notes.
You can save as many drafts as you like within the drafts bin. They will not publish until they are placed on the calendar itself.
Easily Collaborate With Your Entire Team
Team communication is of vital importance for content marketing teams. CoSchedule facilities open team communication with an intuitive commenting system within the dashboard. Email notifications ensure no comment gets missed.
Team members can also attach documents to comments, making it easy to share files.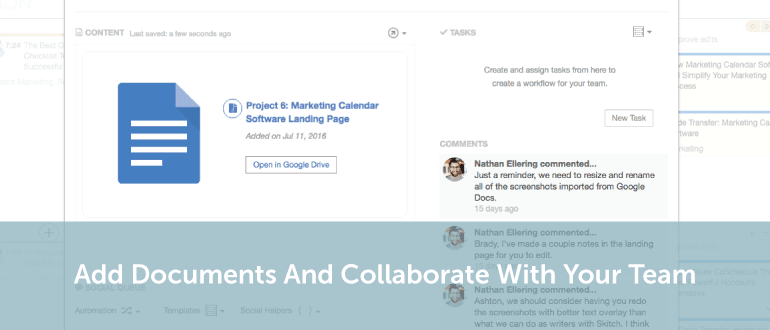 You can store your main document directly within the project dashboard. All other documents such as graphics can go in the comment section. Every team member will still have access to each of them.
Efficiently Execute and Analyze Marketing Projects
Do It Right The First Time, Every Time With Task Templates
With Task Templates you can create reusable workflow checklists for every project.
Task Templates define who is responsible for each task within a project. They also display when the project is due, relative to the publish date of the project.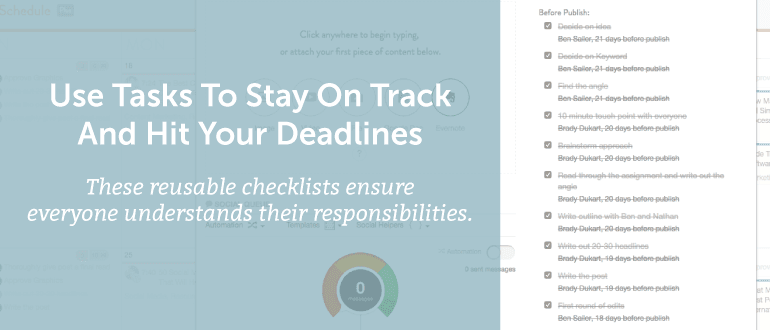 This helps create consistent workflows and ensure that deadlines are met, making delegating work and tracking project completion easy.
Monitor Social Success With Built-In Sharing Stats
Every marketer understands the importance of data. That's why CoSchedule makes it easy to see social sharing stats on every content project. It also shows your top ten best-performing posts based on social shares.
Use your most successful posts to get an idea of what your audience enjoys most and consistently create great content and social messages.
Consistently Create Awesome Content In Less Time
CoSchedule's tools allow you to create amazing content from beginning but we want you to continue to create awesome and effective content. With CoSchedule's Best Time Scheduling and Social Automation features, you can make sure you reach your audience at the most optimal times.
Best Time Scheduling allows you to publish your content when it will reach your audience best. CoSchedule uses the best practices from each social network to strategically reach your audience when it is most effective. If you'd still like to maintain some control over the scheduling you can choose from four time frames:
Morning (8-11 a.m.)
Midday (11-3 p.m.)
Afternoon (3-7 p.m.)
Evening (7-11 p.m.)
Social Automation fills the gaps in your posting schedule by publishing older social messages or messages saved in a bank. You can regulate how often your social messages get sent out. Sharing your older messages and resharing messages will can easily increase traffic and ROI.
Choose Solo And Team Plans To Suit Your Needs
CoSchedule offers different plans for different marketing needs. Whether you're working on solo projects or with a team, you can use CoSchedule to create great content. Your calendar will never be empty again.
Try CoSchedule Free For 14 Days
It's time to plan, organize, and execute your content marketing better than ever before. Try CoSchedule free for 14 days now.