Enabling the Microsoft OneDrive integration allows you to easily add content from OneDrive as attachments inside of projects or as social messages directly in CoSchedule. You can connect multiple OneDrive accounts and manage permissions on individual documents to make sure your team has access to everything they need without compromising privacy.
---
Enable the Microsoft OneDrive Integration
Follow these steps to enable the Microsoft OneDrive Integration:
Click your name in the upper left of your screen.
Click Integrations in the dropdown menu.
You'll see a page displaying any integrations that are already enabled. In the upper right, click the teal Add More Integrations button.
Click the Microsoft OneDrive tile.
A window will open with an explanation of what you can do by integrating Microsoft OneDrive with CoSchedule. Click the Enable button.
If you're ready to connect a OneDrive account, click Set Up Microsoft OneDrive on the next screen and follow the directions is the Connect a OneDrive Account to CoSchedule section below. You can opt to connect a specific account later by clicking I'll do this later, but keep in mind that you won't be able to use the integration until you have at least one account connected.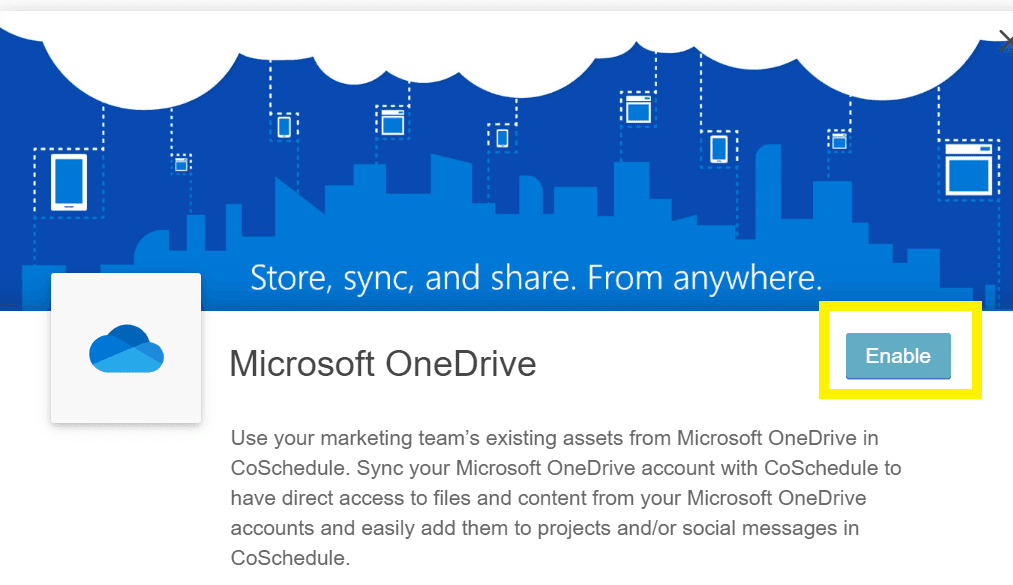 ---
Connect a OneDrive Account to CoSchedule
Once you have enabled the OneDrive integration you and other users can connect individual OneDrive accounts to use with CoSchedule.
From the Microsoft OneDrive page in the integrations section, click Connect to Microsoft OneDrive
A new window will open where you can sign in to the Microsoft account you'd like to connect.
Once your account is verified, you'll be able to access files in that OneDrive account directly through CoSchedule.
---
Disconnect a Microsoft OneDrive Account from CoSchedule
If you would like to disconnect a specific account from Coschedule, scroll to the bottom of the Microsoft OneDrive page in the "Integration" section. You'll see a list of all the accounts that are currently connected.
Click Disconnect next to the account you'd like to remove.
When you disconnect an account it will no longer sync with CoSchedule and users will no longer be able to access any documents you have previously added from that OneDrive account. To confirm that you want to disconnect an account, type DELETE Confirm.

Was this article helpful?
Click on a star to rate it.
Average rating 1 / 5. Vote count: 1
Thank you for your rating!
Thank you for your feedback! If you have any additional feedback, please email us at support@coschedule.com.
Thank you for your feedback!