Use the Buffer Integration to publish social messages and campaigns created in CoSchedule via your Buffer Queue.
---
Connect CoSchedule to Buffer
Before you can connect your CoSchedule social profile to Buffer, you must already have your social profiles connected to Buffer and CoSchedule.
You can connect these types of social profiles to Buffer:
Twitter: Profiles
Facebook: Profiles, Pages, and Groups
LinkedIn: Profiles and Pages
Instagram: Business Accounts
To connect your Social Profile to Buffer, go to Settings > Integrations and enable Buffer.
In the Buffer integrations page, scroll to the bottom and click Enable 'Add to Buffer'.
Click Allow access to accept authorization. If you have the social media account already in Buffer, CoSchedule will automatically find the correct account and make the connection.
If you do not have the account already in Buffer, you will see an error message. The account must already be in Buffer before you can connect with CoSchedule.
---
Schedule Messages to Buffer
To add a message to your Buffer queue inside of CoSchedule, create your social message, select the Add to Buffer option inside the "Time" option.
If your message is scheduled on the current day, it will instantly be sent to Buffer. If the social message is scheduled on a future date, it will be sent to Buffer at 12:00 AM on that date.
Note: Buffer does not allow multiple images to be sent from CoSchedule. If a social message is scheduled with multiple images, it will only contain the first image uploaded.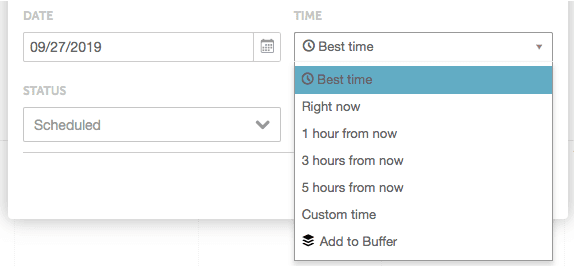 ---
What happens to my social message once it's sent?
Posts that you send to Buffer will show on the CoSchedule calendar, indicating the day you sent them to your Buffer account. If you send a social message to Buffer from CoSchedule, the message will be published based on your Buffer queue settings.
In other words, once the post is sent to Buffer, Buffer handles the publishing date and time from then on. The actual publish time may not be reflected on the CoSchedule calendar.
Do you have any specific feedback for us?
We appreciate any feedback you're willing to share.