CoSchedule offers the ability to publish Instagram posts with the help of Buffer.
The setup is different compared to other social profiles, so please take the time to go through all the steps to make sure the account is connected successfully.
Note:
Direct Publishing to Instagram via Buffer is only available for 
Instagram business accounts
and can only publish messages with a single image.
---
Connect Instagram to Buffer
1. First, Add your Instagram Business Account to Buffer.
First, to publish directly to Instagram, you will first need a Buffer account that has the Instagram Business account connected to it.
If you run into any errors connecting Instagram to Buffer, Buffer has a well-documented error log to help troubleshoot your connection error.
2. Haven't added your Instagram profile to CoSchedule? Begin connecting to CoSchedule.
In CoSchedule, go to Settings > Social Profiles. Click on Connect a Social Profile then choose Instagram.
Follow the steps to connecting your Instagram account, to CoSchedule.
When finished, to publish directly to Instagram, you will need to connect CoSchedule to Buffer.
---
Connect CoSchedule to Buffer
To finalize direct publishing, go to Settings > Social Profiles. Then select the Instagram profile that you would like to schedule directly via Buffer and click Setup Buffer Integration.
The direct publishing modal will open, click Enable Direct Publishing Through Buffer.
Next, you will need to allow CoSchedule to have access to your Buffer account. Follow the steps to allow access between Buffer and CoSchedule.
After you click Allow Access, your account will be connected successfully. You can now begin to publish directly to Instagram business profiles via Buffer.
---
Directly Scheduling to Instagram Via Buffer
Once you have connected your Instagram Business account to CoSchedule via Buffer, you can begin directly scheduling to Instagram.
To schedule an Instagram post, select your Instagram business profile, then upload an image. Then choose a scheduled time. The time scheduled will be when the message is published.
The message will not be added to your Buffer queue.
Scheduling posts directly to Instagram will be exactly like scheduling to other social networks, but there will be some restrictions. These restrictions can be solved with Instagram Push Notification scheduling. View the infographic below to see how all of your posts will be scheduled.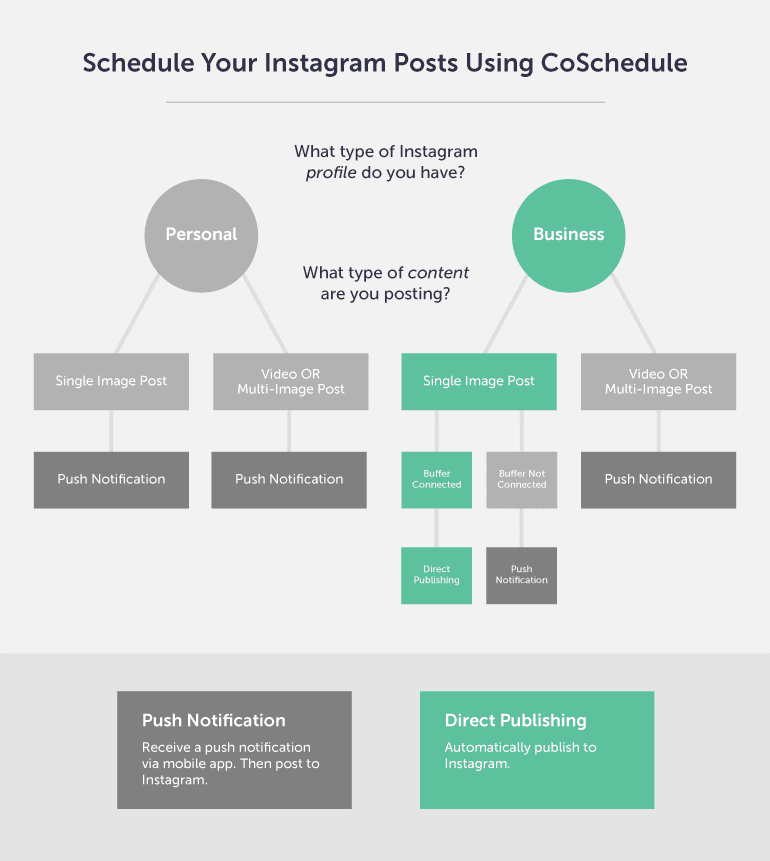 Do you have any specific feedback for us?
We appreciate any feedback you're willing to share.