With ReQueue Groups, you can create categories of social messages that will automatically be scheduled to your calendar. There are two types of groups: Intelligent groups and Placeholder groups. Intelligent groups will intelligently fill the gaps in your social schedule with messages using your customized Intelligent settings. Placeholder Groups let you manually select the block of time and frequency. For example, sending a message from this group every Monday at 10:00 am.
---
You can go to ReQueue Setting right from the Groups Page.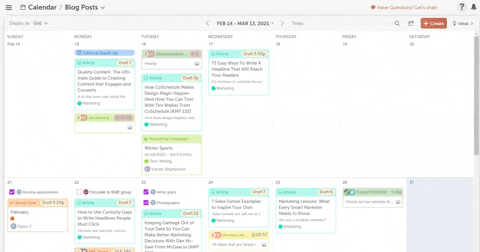 Any changes or updates made in ReQueue's Global Setting will impact ReQueue as a whole and will affect all Groups.
Enable/Disable ReQueue
The Enable/Disable toggle will let you turn ReQueue on and off. When toggled to Enabled, ReQueue will be on, messages in your ReQueue Groups will be scheduled, and you will be able to add messages to your ReQueue Groups. Also, you may see ReQueue Gaps on your calendar.  When ReQueue is toggled off, messages in your ReQueue Groups will not be scheduled, and you will not be able to add messages to your ReQueue Groups.
Message Sending Limits
Avoid sending the same message too often. The Message Sending Limits let you choose if the same message can be sent up to a maximum of one or two times a month.

---
Intelligent Group Settings

Tell ReQueue When To Automatically Fill Messages
To choose what time slots your Intelligent ReQueue Groups can schedule message in, click the appropriate time slot until it is green. These time slots will coordinate with the timezone that your calendar is currently in.
Configure Your Sending Goals 
Choose how often you would like to post ReQueue messages from your Intelligent ReQueue Groups by selecting a post frequency for each listed profile. ReQueue will look at the calendar and check for manually scheduled social messages then will add additional messages from your ReQueue groups depending on your sending limits.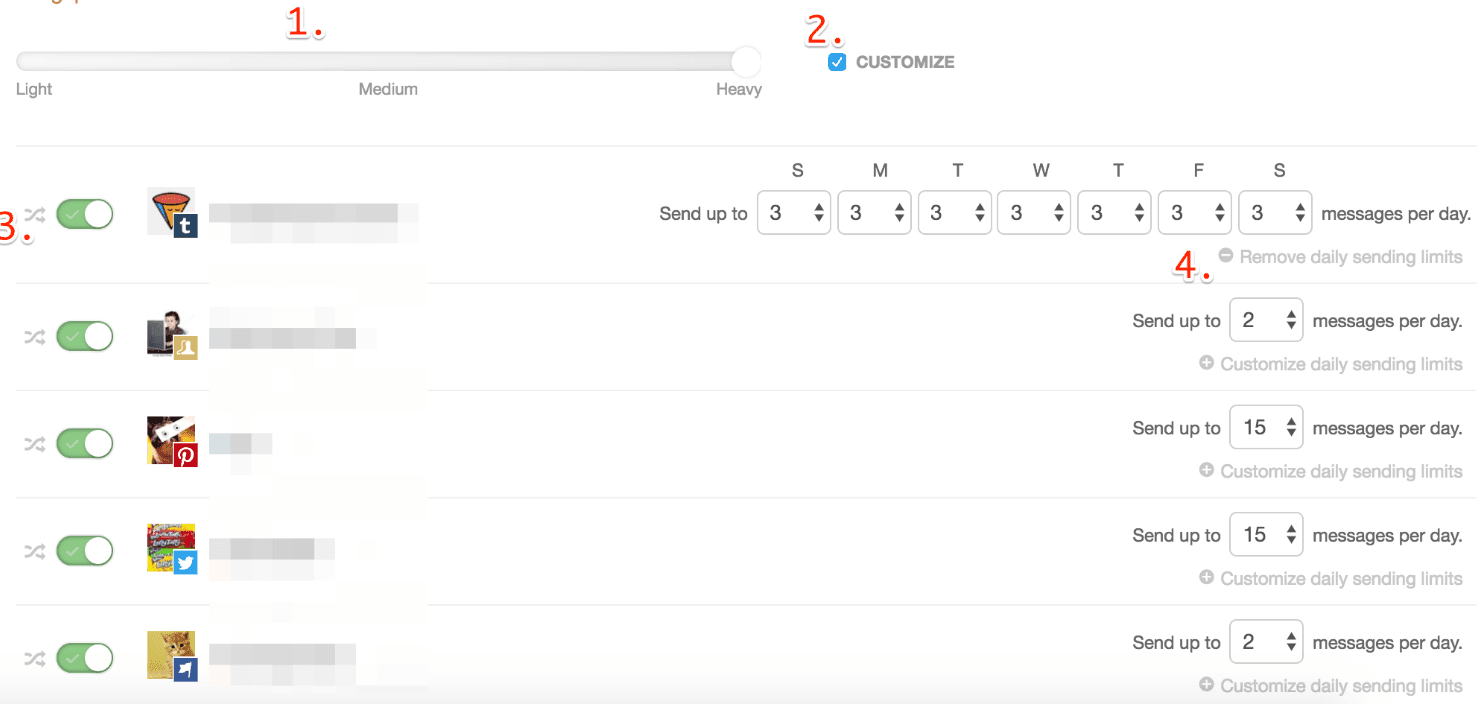 1. Preset Scheduling Options – Let CoSchedule do all the work and choose one of our preset scheduling frequencies to help automatically schedule your messages.
2. Turn on Total Customization – Click the Customize Checkbox to turn on the ability to customize a number of times that each social profile schedules a message.
3. Toggle Social Profiles On/Off – Toggle the scheduling for each social profile On/Off. Turning a social profile Off causes ReQueue to schedule zero messages for that Social Profile.
4. Per Day Scheduling Limits – Choose a number of messages you would like to send to each social profile per day or click Customize daily sending limits to choose how many messages go out for that social profile every day.
---
Create A ReQueue Group
To create a new ReQueue group, go to the ReQueue Groups page.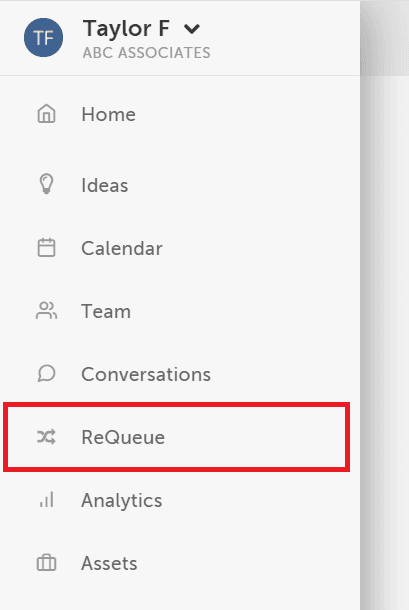 Click New Group and select what type of Group you want to create. You can create either an Intelligent Group or a Placeholder Group.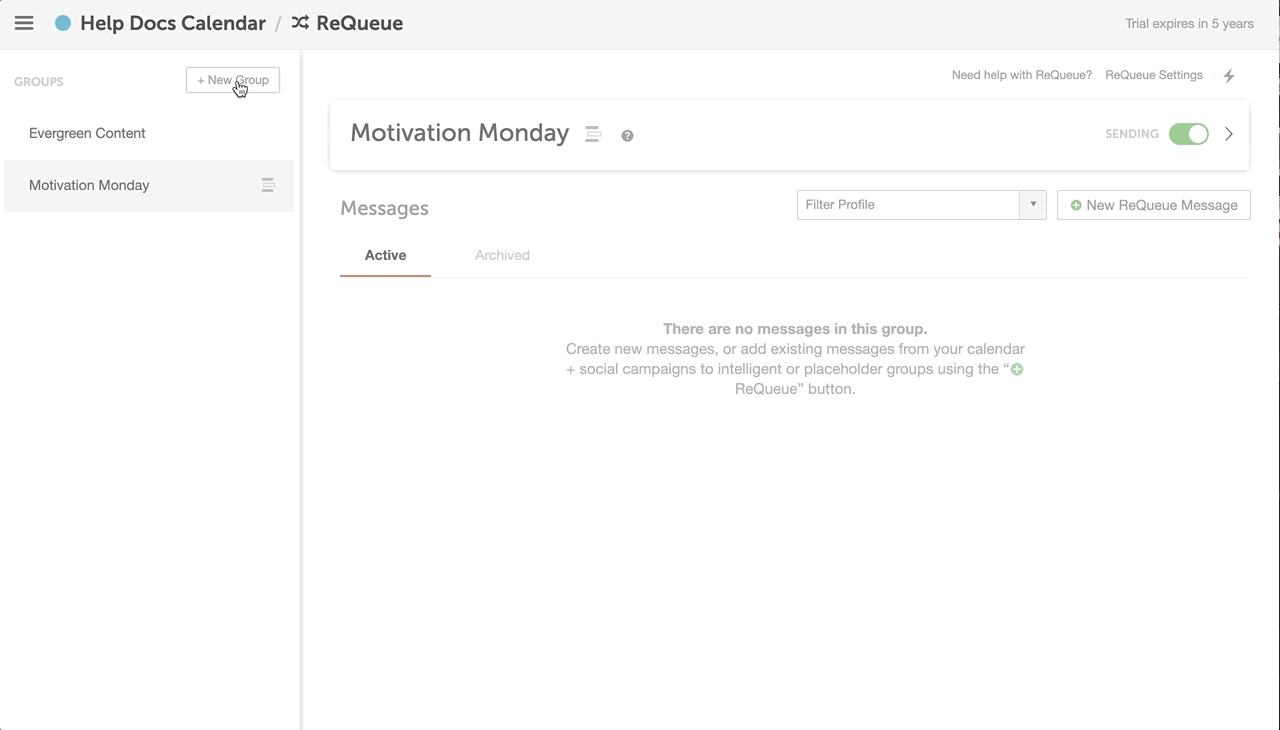 You can also create new ReQueue groups from inside of any social message. To do this, select the ReQueue option from inside the message and at the bottom of the group list, select Create new group.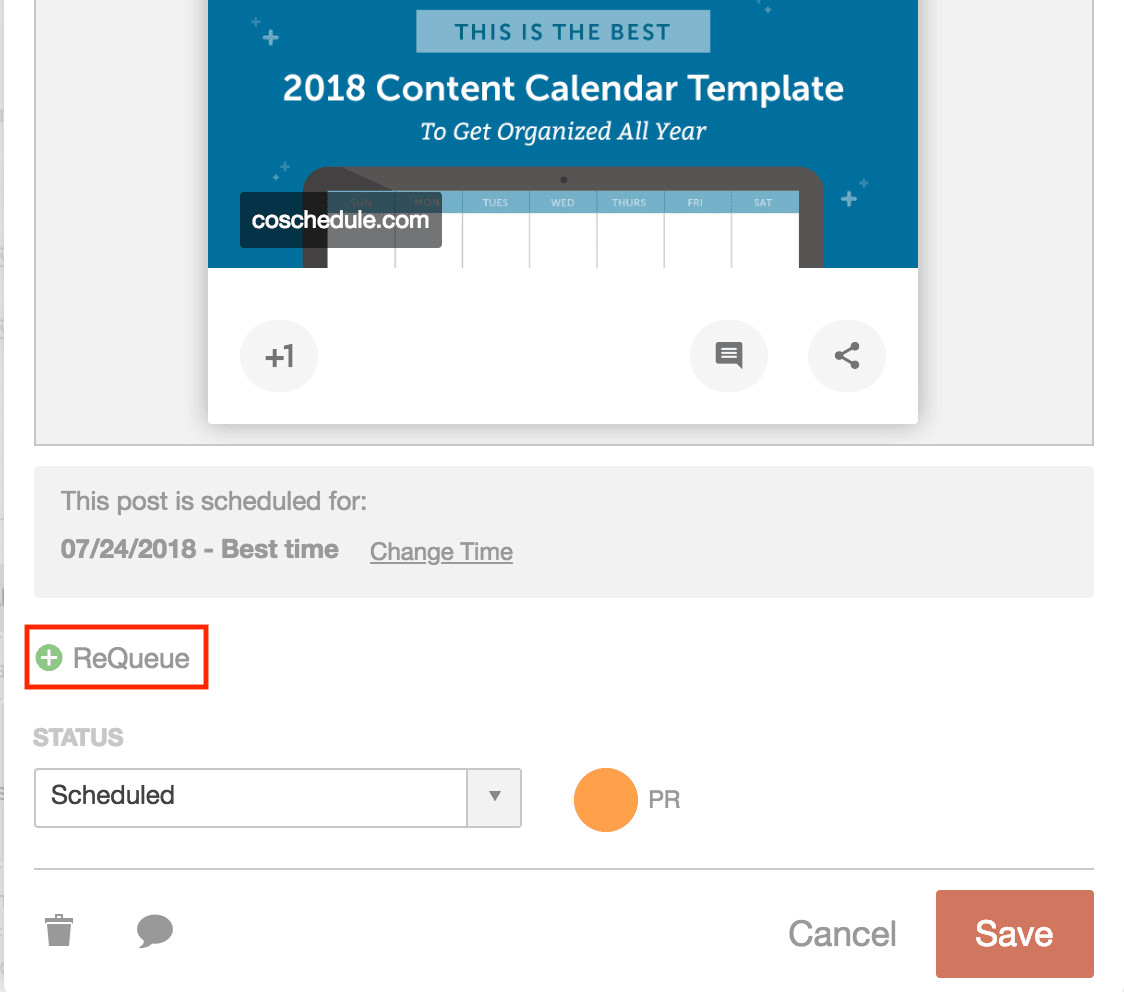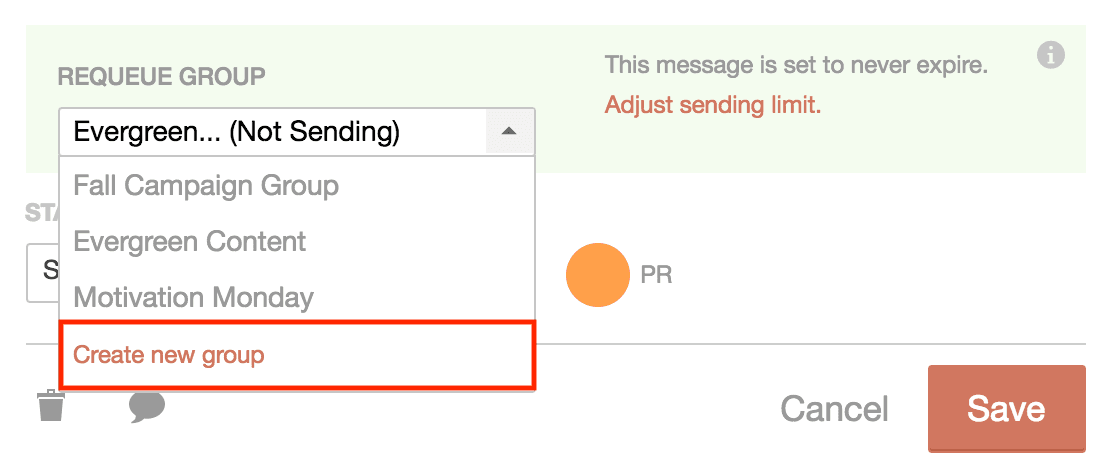 ---
Manage ReQueue Groups
You can manage Groups in the ReQueue Groups page.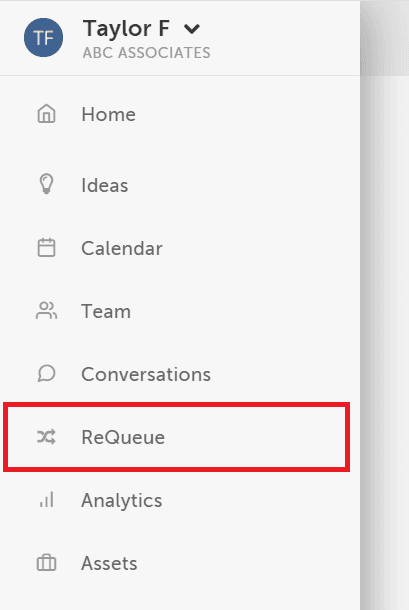 A Group can be toggled to Not Sending status to pause it. You can toggle the status back to Sending at any time and the Group will start scheduling messages again.

To edit the Group settings, click the arrow icon.

In an Intelligent Group, edit the Group name, add/edit custom dates, add/edit group sending limits, and/or archive the Group.

In a Placeholder Group, edit the Group name, add/edit custom dates, edit the Group schedule, and/or archive the Group.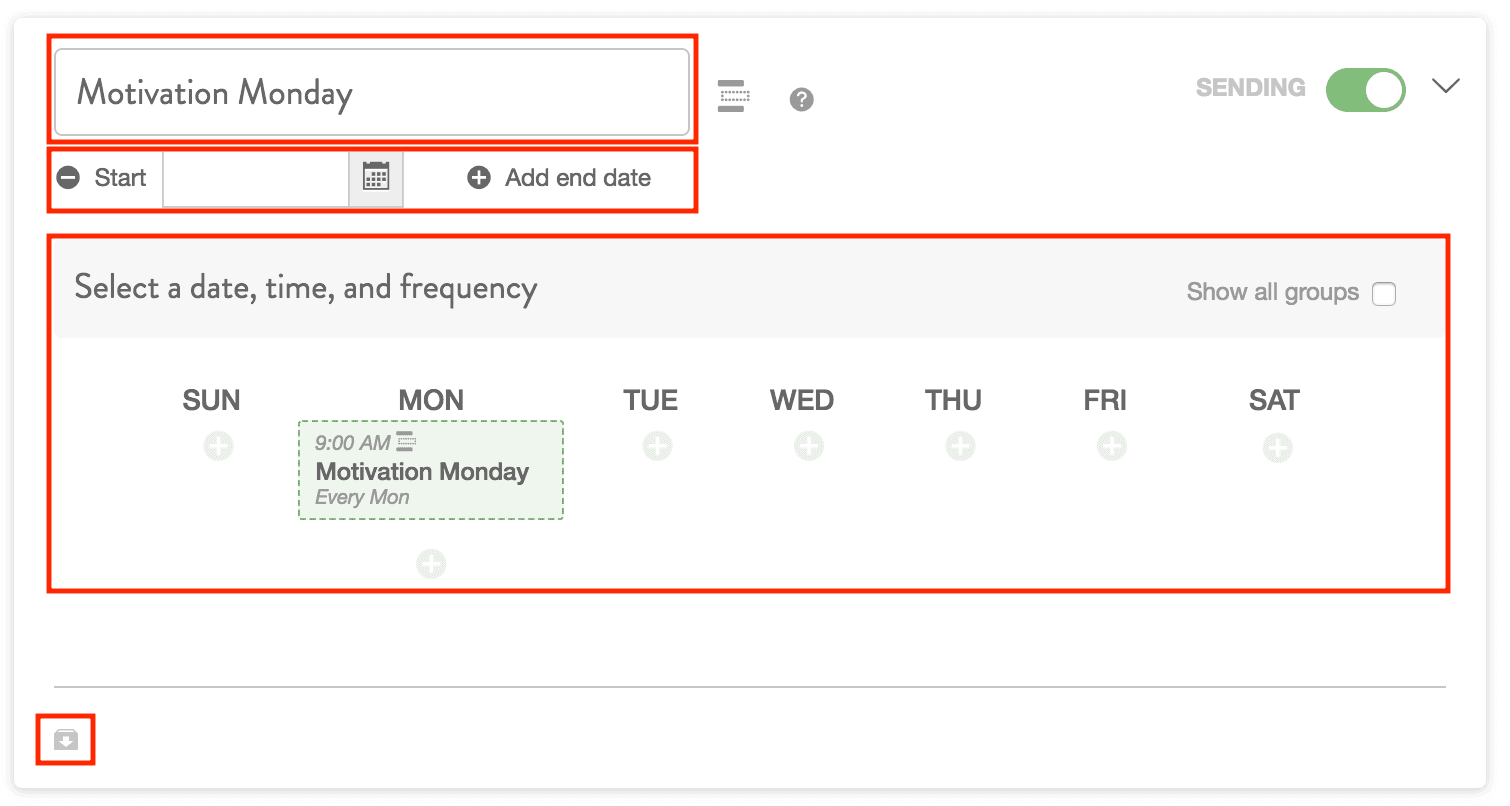 Archive a Group
To archive a Group, click on the archive icon 

 and it will automatically be moved and stored in the Archived Groups section on the ReQueue Groups page. Once it is in the Archived area, you can unarchive the Group by selecting 

or permanently delete the Group by selecting

.

When you unarchive a Group it will be set to Not Sending status by default.
---
Add Social Messages To ReQueue
To add social messages to a ReQueue Group, click Add ReQueue Message.

Choose the social profile(s) you'd like to schedule the message for, and enter your content. You can also adjust sending limits for the message. The sending limit allows you to set the maximum number of times a message can be sent from the group. Once the limit has been reached the message will automatically be archived in the group. When you're finished with the social message, click Add Message.
You can also select ReQueue, to add a message to a Group, when creating social messages on your calendar.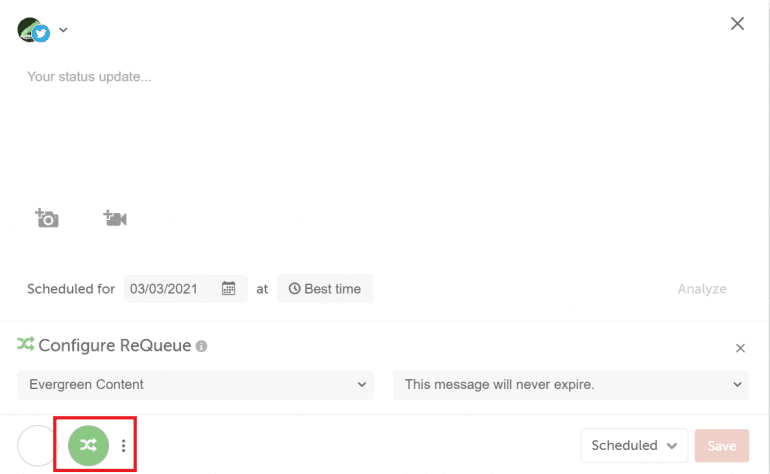 To add a published social message to a ReQueue Group, click the ReQueue symbol and choose a ReQueue Group.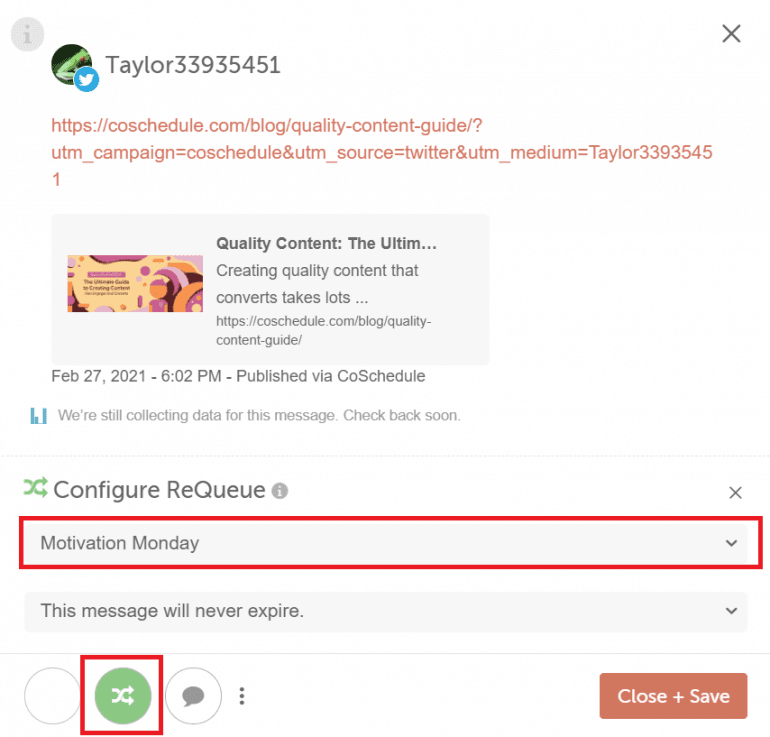 ---
Manage Messages In A Group
When managing messages in a ReQueue Group, you will see a few different options.
1. Active/Archived Tabs – Social messages in your groups will appear in the Active tab unless they have been archived. All messages that have been archived will appear in the Archived tab. You can unarchive messages at any time and they will automatically be moved back to the Active tab.
2. Sent Number – CoSchedule will show you how many times a message has been published from this group.
3. View History to see when a message was added to ReQueue  and the date(s) it has already been sent by ReQueue.
4. To edit and/or archive a message in a group simply click into the message you want to change.
You are able to move messages from one group to another. To do this find the message you want to move, click on it, and dragging it over (to the left) to the group you want to move it to in the ReQueue Groups page.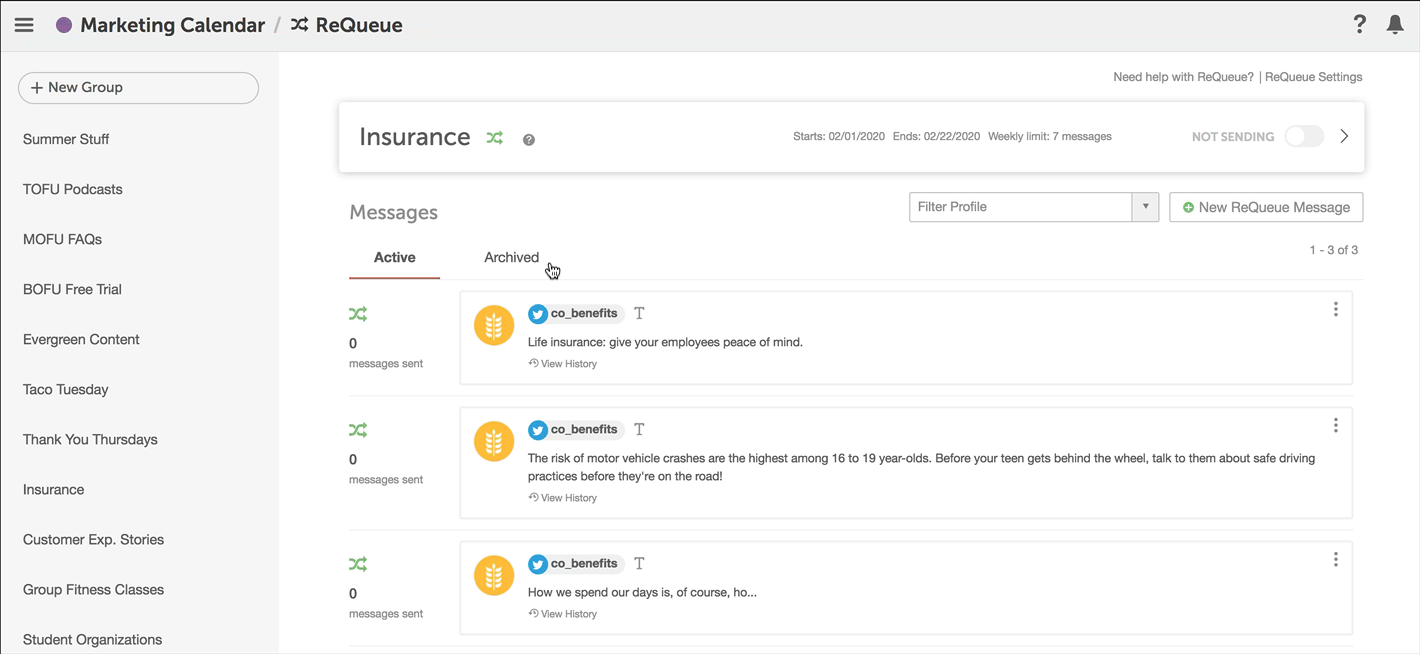 Note, it is only after a message is published for the first time that it will officially be available in your group. Once a message is available in a group it will be paused for at least 2 weeks so it does not get posted too many times that month.
---
What Do ReQueue Messages Look On My Calendar?
ReQueue messages will show up on your calendar with a green shade. You may also see empty ReQueue Gaps on your calendar. You will only see social messages scheduled for the current week and the following week. All ReQueue scheduled and published messages will also have the ReQueue icon next the time stamp. ReQueue messages will shuffle when scheduling Best Time scheduled messages.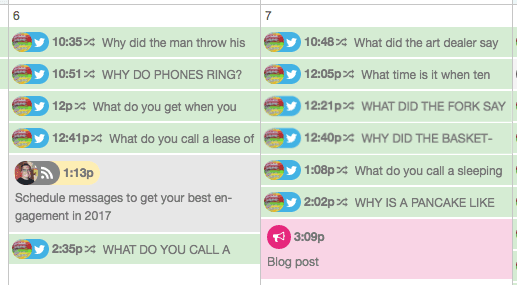 To edit a ReQueue message that is scheduled on your calendar, simply click into it and make any necessary changes. Updates made this way will update all future posts for that ReQueue message.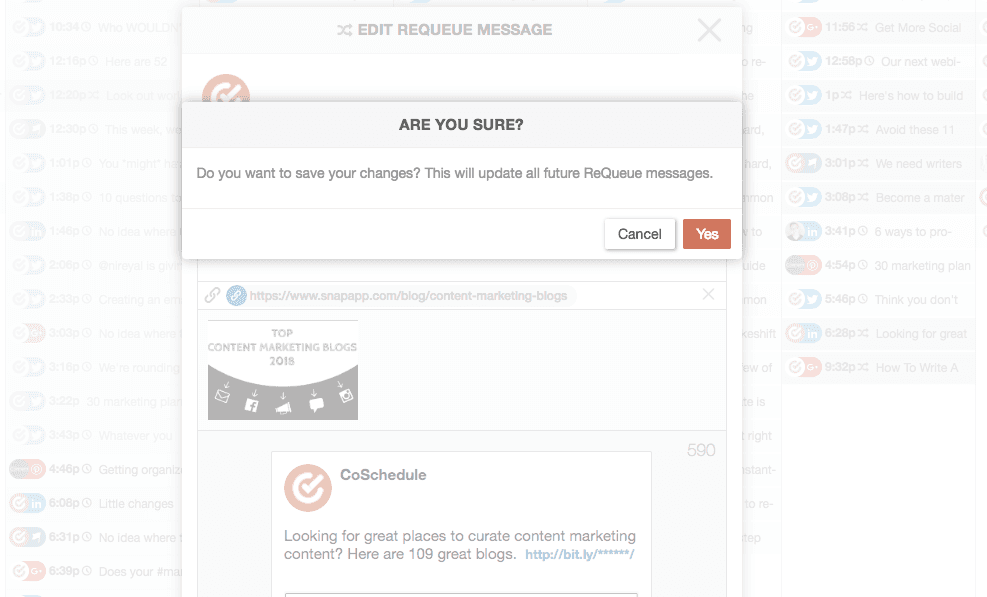 ReQueue will only schedule up to two weeks of ReQueue messages on your calendar at any given time.
Do you have any specific feedback for us?
We appreciate any feedback you're willing to share.