Integrate Headline Studio with your CoSchedule calendar to confidently create headlines that drive maximum traffic, engagement, & SEO rankings without ever leaving your projects on your calendar.
---
Enable Headline Studio in App
Only an Admin user can enable Headline Studio. To enable the integration, follow these steps:
Go to your Integrations catalog.

Follow the directions to enable Headline Studio.

Use your CoSchedule credentials to log in to Headline Studio, or enter your credentials to connect an existing account. Headline Studio accounts are associated with a Calendar rather than a specific CoSchedule user.
---
Analyze Headlines Using Headline Studio
Follow the steps below to analyze the effectiveness of a headline in a project using Headline Studio:
Open or create a project 

with a headline attachment (text editor, wordpress, hubspot, etc.).

In the Headline attachment, type your headline.
Click Analyze. Headline Studio will calculate an overall headline score for your headline and identify targeted ways to improve it.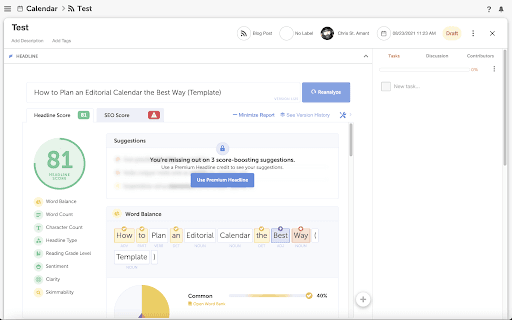 ---
Headline Studio Integration FAQs
What is Headline Studio?
Headline Studio is a premium headline-analyzing tool that helps you write better blog headlines. It provides suggestions based on over 4 million headlines to maximize your traffic, shares, and search rankings. And it's free to get started! Headline Studio is an integration that can be enabled in your Marketing Calendar or Marketing Suite account.
I don't yet have a Headline Studio account to integrate, where do I start?
Marketing calendar users do not need a Headline Studio account in order to enable the integration. If you already have a Headline Studio account, your account will be connected. If you do not yet have an account when you enable the integration, an account will automatically be created for you using your existing username and password. If you have a Marketing Suite account and would like to add the integration, please contact your Customer Success Manager.
How many HS accounts can I connect?
One
Who can access my HS account when it's connected?
Your entire team within your Marketing Calendar or Marketing Suite account will be able to use your Headline Studio account once it is integrated. 
How much does Headline Studio cost?
Headline Studio is completely free with Pro plans available. With Headline Studio Pro, you get access to premium features, which include: a complete SEO analysis to help your headline rank higher in search, helpful suggestions to boost your score and get more clicks, shares, & traffic, saved history of all your past headlines & versions for easy comparison, and curated word banks filled with hundreds of click-boosting words.
Can I switch to a different Headline Studio Pro plan once I have a subscription?
Absolutely! You can switch to a different plan from the subscription page of your CoSchedule account.
Will my unused headlines roll over to next month?
No, your headline count will automatically reset to your monthly quota at the beginning of each month.
What happens if I run out of Premium Headlines?
Your headline quota will reset each month on the date that you purchased your subscription. If you need more headlines before then, you can upgrade to a higher Headline Studio Pro plan.
What's the difference between premium headlines and basic headlines?
Basic features include your headline score and Thesaurus. Premium features include Smart Suggestions, SEO score, full version history, full headline history, and Word Banks.
What's the difference between headlines and versions?
Versions are the iterations of each headline that you analyze. For example, you might create multiple versions of a single blog headline before choosing one to use, then moving on to a different headline for another blog post. You can create 25 versions of each headline. If you reach your limit of versions for a headline, just click the New Headline button to use a new headline and keep analyzing.
Do headline scores show up in a read-only view?
No. Only headlines will show up in a read-only view. The scores will not be displayed.
What data does Headline Studio use to analyze headlines?
Headline Studio measures headlines using data our team collected from millions of blog headlines and resources to find out what performs best. Headline Studio has its own unique analyzing framework based on that data. Rest assured that tons of research went into making sure you'll get the most thorough headline score possible.
What happens if I disable the Headline Studio integration?
If the integration is disabled, you will see the generic headline attachment text without the score and analysis. You can re-enable it at any time by going to the Integrations page in your account settings.
---
Learn More
Do you have any specific feedback for us?
We appreciate any feedback you're willing to share.