How to Make Your Team CoSchedule Power Users In No Time
Marketing demand is heating up. According to Content Marketing Institute,
70% of marketers expected to create more content
 at the start of 2017. Demand for infographics
has skyrocketed by 800%
. These numbers add up to one thing:
marketing teams are busy
. To manage everything and collaborate effectively, we need the right tools to facilitate our best work. That's why marketers come to CoSchedule. We've strategically built our platform to support every piece of the
marketing process
and empower teams to plan, produce, and promote everything in one place. Whether you're a
writer
,
designer
, or
project manager
, we've got your back. However, sometimes, teams need assistance learning how to use all our features to their full potential (and honestly, that's a common concern for marketing SaaS tools across the board). Enter this guide. Over the course of this post, we'll explore how to use CoSchedule as your
all-in-one marketing management platform
. We'll guide you through the
entire process
, from planning to execution, and show you exactly
how to use important features
to get more work done.
Before You Begin: Get CoSchedule Free
Trying to learn a new tool can be a total headache. Put the Aspirin away, though, because we're about to take you on a guided tour of how to use CoSchedule like a power user. You're about to learn (in super awesome detail) how to leverage the platform for maximum productivity and efficiency. We'll walk through how to configure and use your entire calendar with your team (and might even dig into some features you didn't know existed). But before we can do that, you've gotta get started with CoSchedule.
Create your free marketing calendar
.
Table of Contents:
Team Onboarding: One Platform for Every Team Member
CoSchedule makes it easy to coordinate your entire marketing team in one platform. But first, you need to actually onboard all your team members. Visit your Settings page and select Team at the top:

Next, click Invite Team Member:

You'll then be prompted to invite them via email. Enter their email address and select their role:
Admin

: Has total power over your account. Be careful about handing out admin powers.

User

: Can add and edit items on your calendar.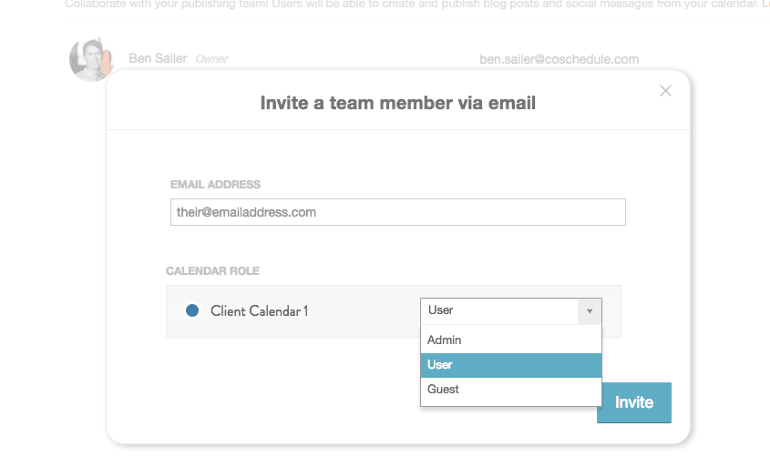 Keep going until you've added everyone on your team who needs access. That might include:
Writers to craft content and copy that demands to be read.
Designers to create visual content that catches attention and pulls in audiences.
Strategists who determine what you're doing to do (and why) in the first place.
Developers who make coding magic happen behind the scenes.
Analysts who use math (which, to many creatives, may as well be actual magic) to measure performance (whether you like what the numbers say or not).
Project managers (AKA professional cat herders) who keep everyone listed above in line and on task.
Back to the Top
Basic Account Setup
Once your team is in the tool, it's time to configure some custom settings. This will help make sure your calendar is organized in a way everyone will understand right off the bat.
Add Custom Content Types
Now, your team is probably going to be working on all kinds of content and projects. To keep everything clearly organized, we can create
custom content types
on our calendar. We'll create one for every type of project you'll typically take on. Go into your settings and find Content Types:

Now, you can either select predefined content types from the dropdown:

Or, you can create your own custom types of content (if there isn't an option available that you need): Click Create New:
Then, enter a name:

Next, click the downward pointing arrow to choose a custom icon:

Click Save, and you'll see your new content type added to your list:

Keep adding content types until you've got everything you need.
Set Up Saved Filter Views
Not everyone on your calendar necessarily needs to see everything going on. If that's the case for you, set up
Saved Filter Views
. These are filtered views that display only what each team member needs to access. They're easy to set up, too. Start by clicking the funnel in the upper left: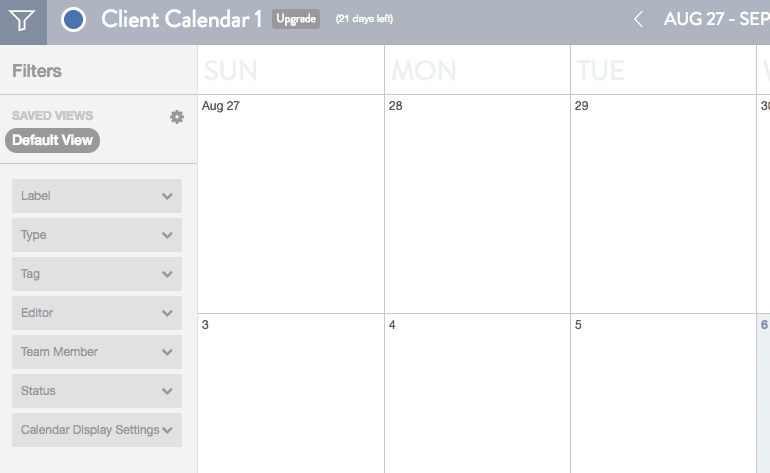 Next, use the dropdown menus to select the criteria for what you need to see on your calendar:
Click Save as New, and you're set!

Add Custom Color Labels to Sort Projects on Your Calendar
When you have a lot of projects floating around on your calendar, keeping them all straight can get tough. This is where
Custom Color Labels
become essential. Head back to your settings and scroll down to Color Labels:

Next, enter in project or content types for each color label:

Need more colors (or want more options)? No problem! Select "Add a custom label" and you can choose from tons more colors and shades:

Now, when you add projects onto your calendar, you can select colors to help visually sort them: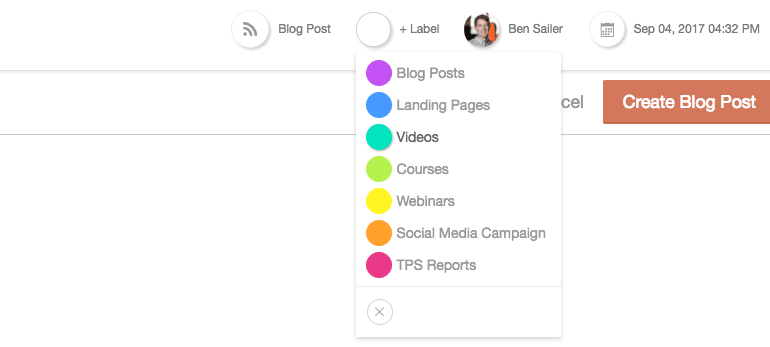 Here's how things look after we've created a few pieces of content and labelled them how we want:

Now, anyone looking at the calendar can clearly see these are three different types of content, based on the color. The busier your calendar gets, the more this is going to help, too.
Get Even More Filtering Control With Tags
To get more granular with how you control and organize content on your calendar, pick a piece of content and
enter tags
in the upper left by typing +, followed by your tag:

Now, this gives you another layer of control when setting up saved filter views: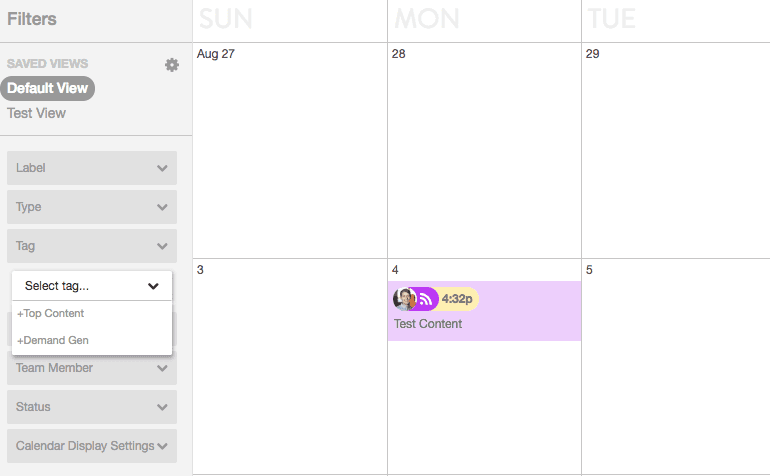 Back to the Top
Now, Let's Do Some Work: Ideation
Now you have your calendar structurally set up to support everyone on your team. Next, let's walk through how your team can use CoSchedule to produce a real project. For demonstration purposes, let's say you're working on a
series of blog posts
. Your first step is to work through the ideation phase. One
common brainstorming process
we recommend at CoSchedule involves three steps:
10 minutes spent silently brainstorming ideas.
10 minutes scoring those ideas on a 3-point scale (3 = Awesome, 1 = Total Dud).
10 minutes filtering ideas scored 3 and selecting the ones you'll actually create.
Our CEO and co-founder Garrett Moon and I discuss how this process works in this video:
Now, once you have a ton of ideas, where should they go? If you're using Evernote, you can easily stash them all in a shared note your whole team can access:

Next, add your corresponding Evernote notebook in CoSchedule. Click Evernote on the right-hand side of your calendar: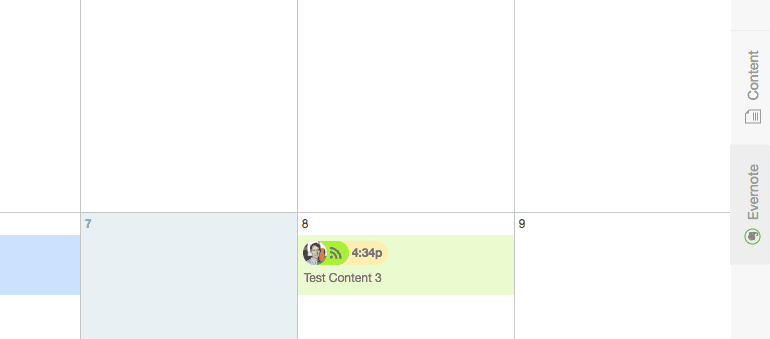 Next, select your notebook:

Now, you'll have access to your notes with all your ideas within CoSchedule: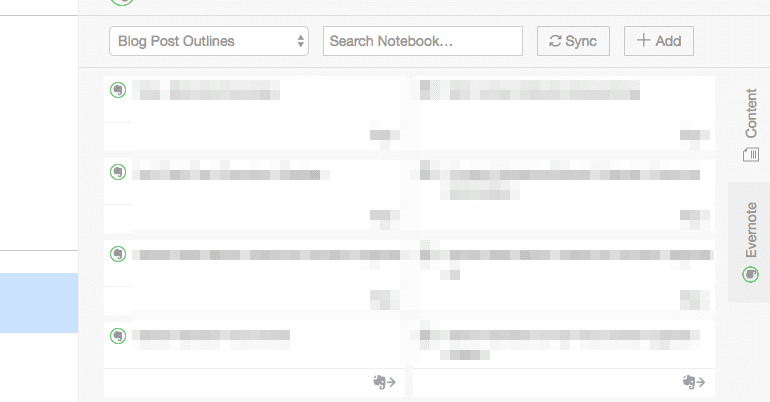 Convenient, right?
Back to the Top
Creating Content on Your CoSchedule Calendar
Now that we have a ton of ideas, let's start placing them on the calendar. Click the plus sign on any day on your calendar:

Then select your content or project type. For demonstration purposes, we'll create a Blog Post:

Enter in your headline
and a description (and any tags that might help you find this later):

Select the corresponding custom color label and add an owner for this content, too:
Next, click Create Blog Post and you'll see the following screen:

Looks like everything is (nearly) ready to go! Next, let's pick a content editor we want to use. Our options are:
Text Editor

: This is a built-in text editor in CoSchedule.

File

: Or, we can upload a Microsoft Word file.

Google Docs

: Makes it easy to collaborate with your team on one draft.

Evernote

: See above.

WordPress

: If you click More, you'll see an option to directly create a WordPress draft (if you prefer to write straight in WordPress).
If you choose Text Editor, File, Google Docs, or Evernote, y
ou can convert your file into a WordPress post, PDF, or HTML file too
. No matter how you're going to publish your content, there's an option to support your workflow.
Adding Task Templates
Before we start writing our post though, let's create a
Task Template
. Task Templates are what we call reusable checklists in CoSchedule. They help make sure you consistently complete every project the right way (and they do some other cool stuff too). Start by clicking the Task Template Picker in the upper right:

Then, select New Template: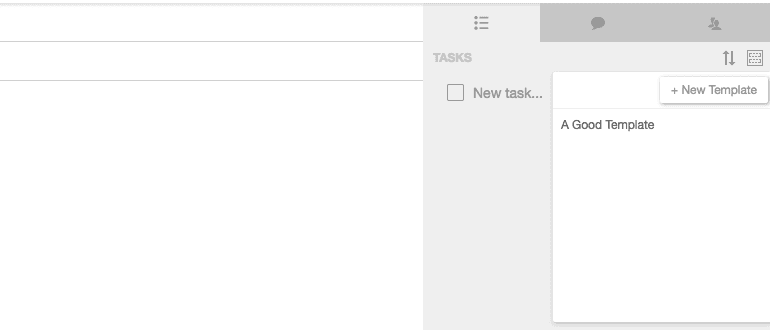 Enter a name for your template (pick something relevant):

Next, enter the first task you'll need to complete in your process for creating this content:

For each task, you'll need to schedule a deadline for that step to be completed: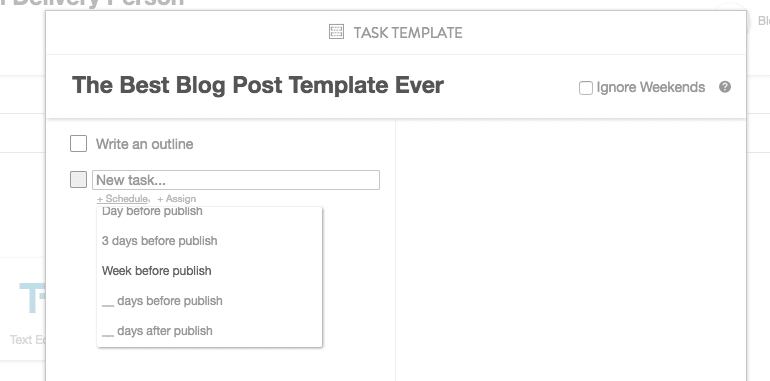 And also assign a team member who will be responsible for that task. Click Assign and pick a team member: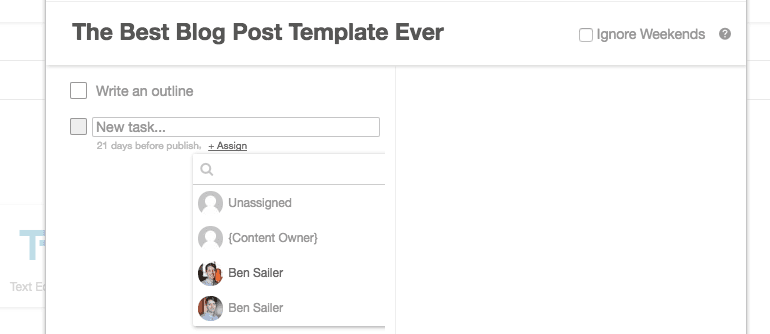 Keep adding steps until you've built a complete checklist with each step you'll need. Once you've done that, click Close and your Task Template will be available to you anytime you need it:

Next, let's find and apply our completed Task Template: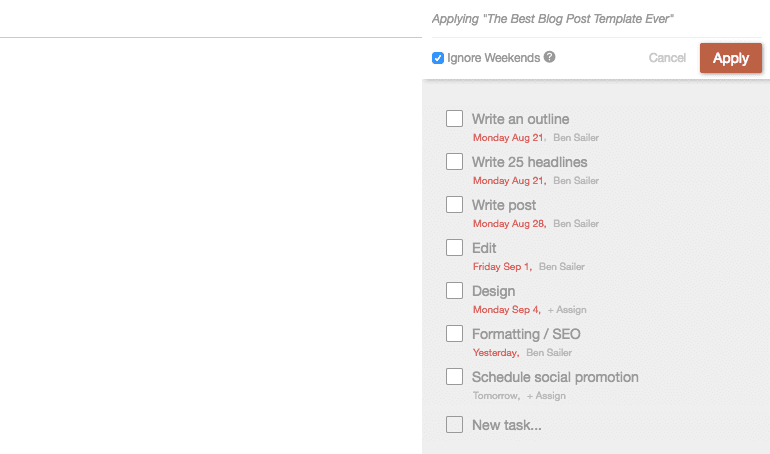 You'll notice that everyone assigned a task on your Task Template will appear under the Team Members tab. You can find that tab here:

Click into it, and you can see everyone working on this piece of content (or add more people as necessary by clicking the plus sign):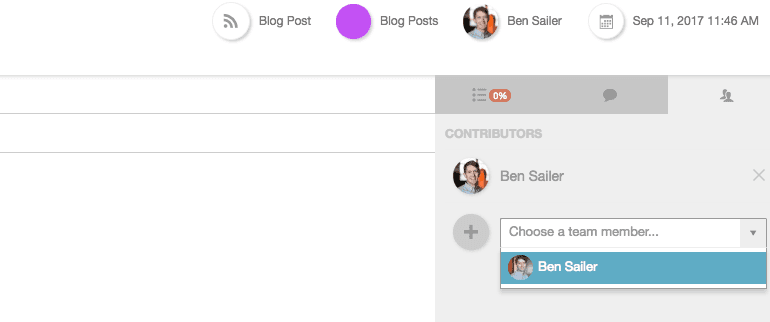 Once that's set up, let click the middle column on the left to find our Discussion tab: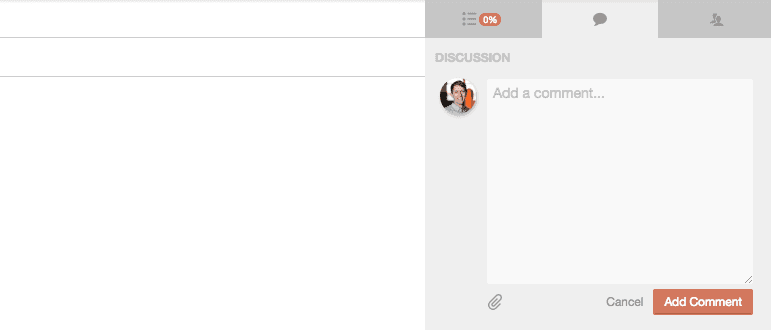 Here, you can keep a running discussion thread with your team. You can also attach files and leave notes relevant to this piece of content. That could include things like keyword research data, links to sources, or anything else that might be helpful to remember: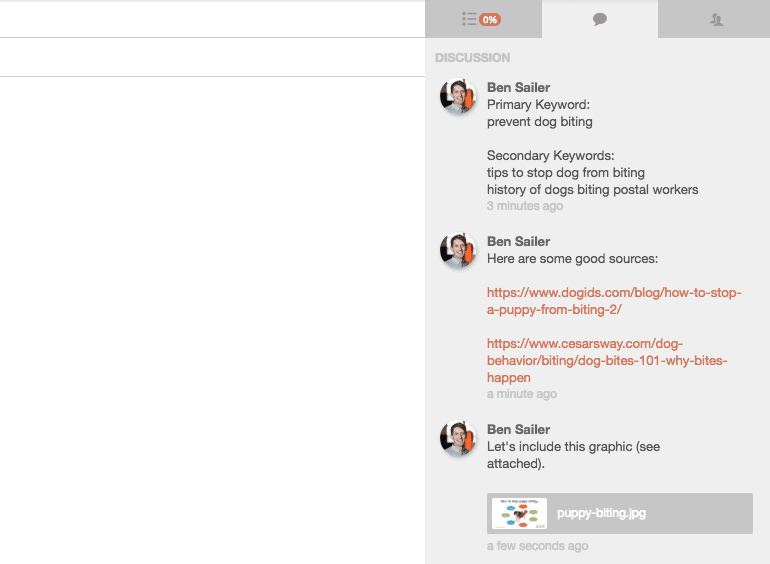 Now, each time a team member checks off a task, the completion percentage will tick up: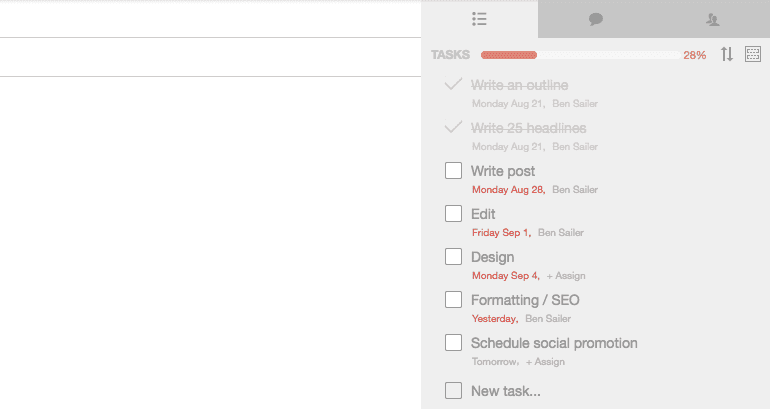 When you switch back to the calendar view, you'll see your completion percentage there, too. This makes it easy to monitor progress quickly when scanning tons of content pieces at once:

Back to the Top
Scheduling Content: Look Ma, No Hands!
One problem with static content calendars is they can't publish your content for you automatically. Fortunately, CoSchedule isn't a static calendar. If your WordPress blog is connected to CoSchedule, you can set up every post to publish automatically. That means no more having to remember to copy and paste anything into a CMS from a spreadsheet or doc somewhere. First, connect your WordPress Blog here:

Then, follow the onscreen prompts to integrate WordPress using:
The CoSchedule Plugin Installer.
Or, connect manually using the gallery install process.
Once complete, you'll be able to access WordPress content either using the CoSchedule web app or WordPress plugin.
Back to the Top
What If I Don't Use WordPress?
Don't worry! We haven't totally left you high and dry. If you use another popular platform like SquareSpace, you can still use CoSchedule to manage your content projects (you just won't be able to automate your publishing through CoSchedule). Here are a couple great guides to get you started:
Back to the Top
Schedule Social Media Posts Like a Boss
Once you've created some awesome content, you'll want to share it with the world on social media, right? CoSchedule brings content and social together to make that process seamless. Hit up your
Social Profiles
at the top of your screen:

Then, click Connect a Social Profile:

Next, connect the channels you'd like: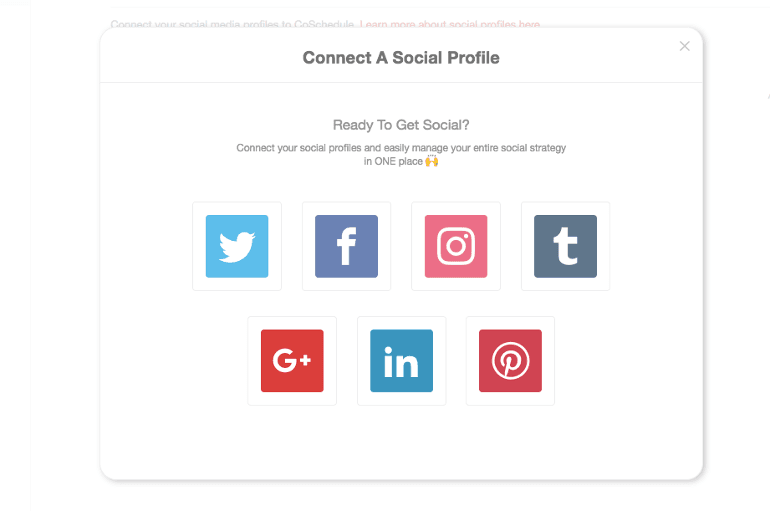 In order to track traffic from social media, you'll need to integrate CoSchedule with your Google Analytics and bit.ly accounts. Fortunately, this is super easy, too. Go to Settings and click Integrations. Then, scroll down to bit.ly and Google Analytics:
Clicking Connect to Bit.ly will prompt you to (you guessed it) connect your Bit.ly account: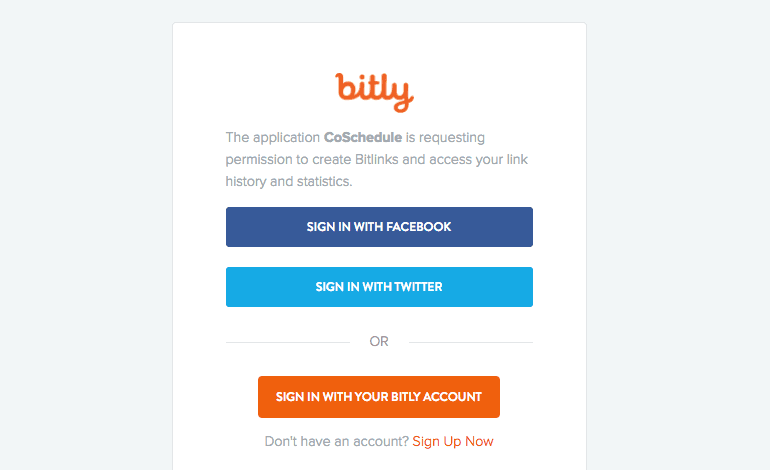 Clicking Enable under Google Analytics Tracking automatically adds UTM tags to every
social media post
you publish through CoSchedule. This makes them easily trackable in Google Analytics.
Follow this guide to create a custom dashboard in Google Analytics
 to measure social performance.
What If I Want to Create Stand-Alone Social Media Posts and Campaigns?
We're not about to tell you the only way to do social media marketing is to share content you've created. What about
curated content
? What about creative social content that doesn't always link back to your site? What about coordinated campaigns that direct to website or landing pages (rather than WordPress posts)? We've got all that (and more) covered. To create a single post, click a day on your calendar and click Social Message in the lower left: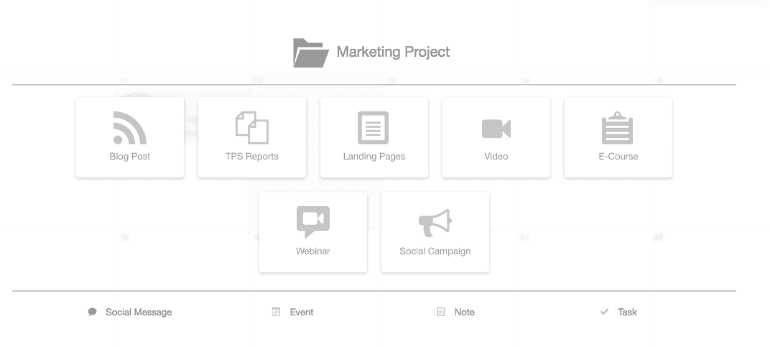 Next, select a network: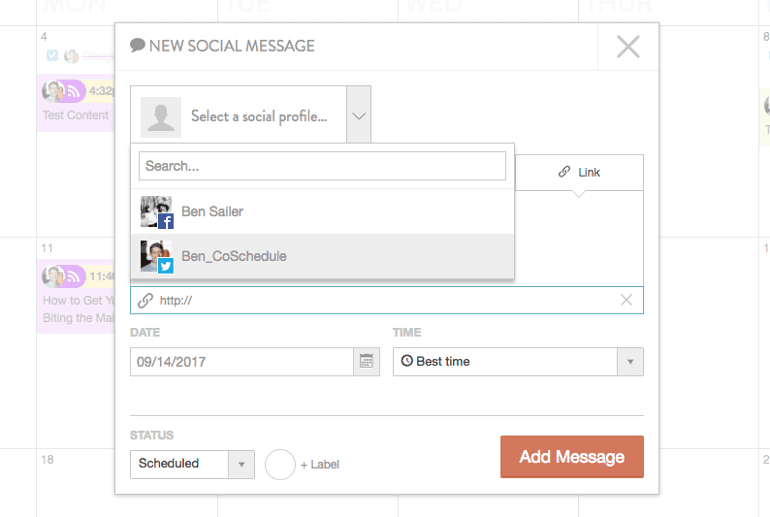 Pick your post type (Text, Image, Video, or Link) and write your post content:

If you choose Image, you'll need to add in a graphic by clicking the camera icon:

Then, either click to upload a file or drag one into the window. Finally, you'll need to select:
Date: The day you want this post to publish.
Time: You can either choose this manually or let Best Time Scheduling in CoSchedule pick the optimal time for you.
Status: Select Draft for a work in progress, Pending Review if someone needs to approve this post before it publishes, or Scheduled to have it post at your selected time.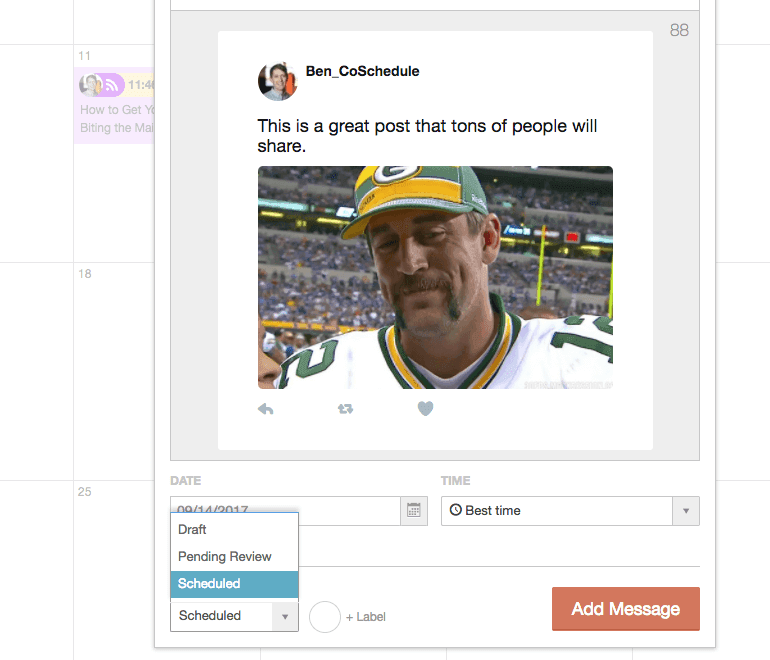 Once you click Add Message, you'll see the post on your calendar:

And hovering over it will give you a preview:

If you don't want every social post visible on your calendar, bounce back to Calendar Settings and toggle them off:

Boom! Creating a complete social media campaign requires a different process, but it's still easy. Click a day on your calendar and select Social Campaign: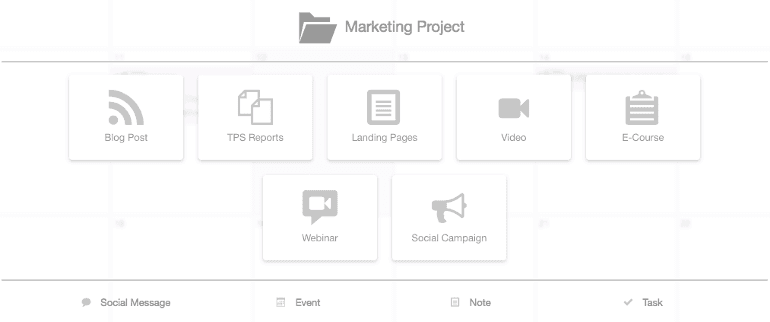 Give your campaign a title, color label, and select an owner:

Click Create Social Campaign and click into the plus signs to create each post: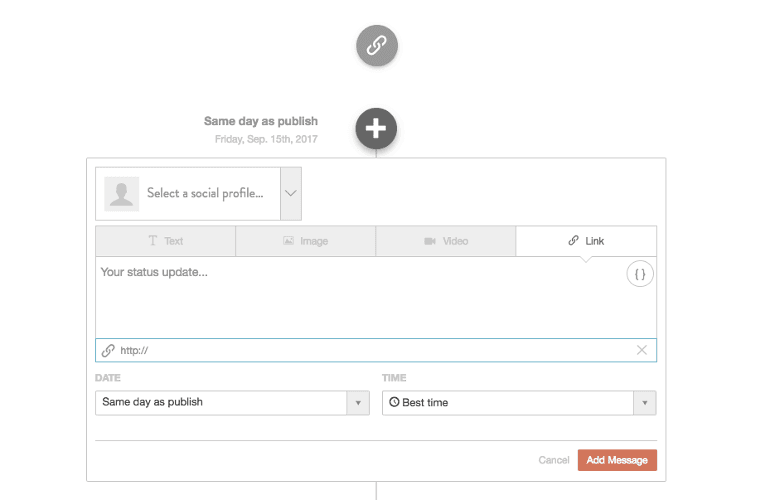 If you want to select your own dates rather than use the pre-filled suggested schedule, use Custom Date for each post: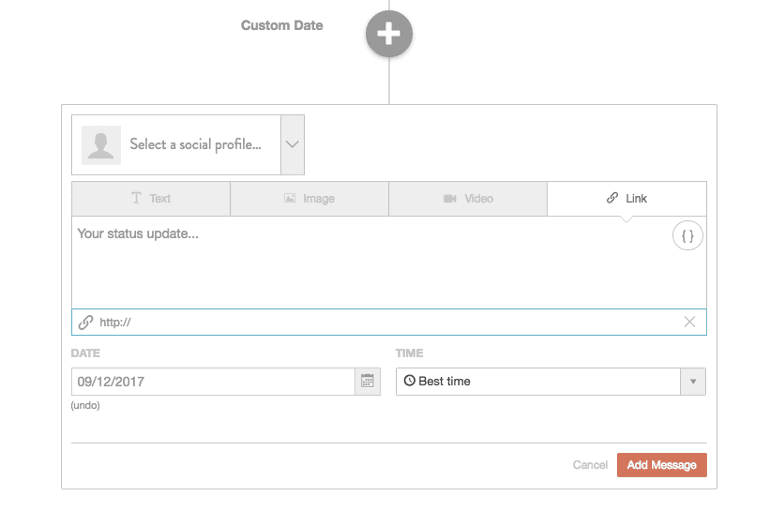 Then, using Task Templates and Task Approvals, your boss or client can approve the campaign after reviewing it: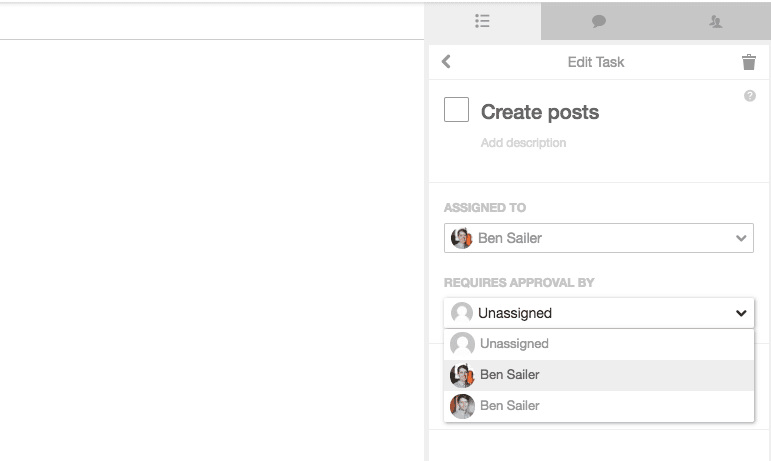 Back to the Top
Curate Content Quickly With the CoSchedule Chrome Extension
What if you find an awesome piece of content somewhere on the web that you know your audience would love? Add it to your CoSchedule calendar fast using the free Chrome extension. First, add it to your browser (assuming you're using Chrome) from the
Chrome Store
:
Next, you'll see the extension in your browser:

When you find an awesome piece of content you want to share, click the extension. You'll be asked to pick a calendar to share it onto (in case you have multiple calendars):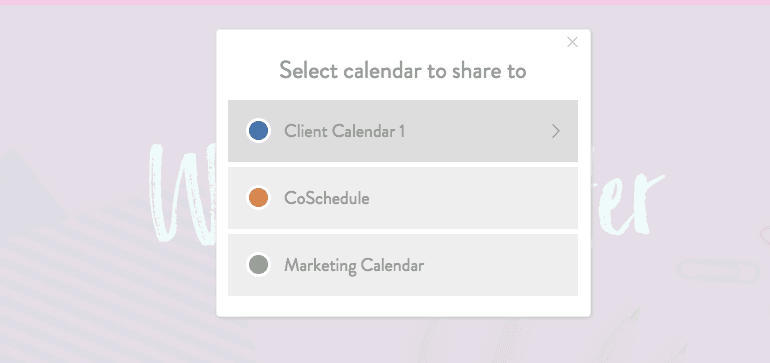 Then, you'll pick your networks, edit your post copy, and schedule the post. This process is the same as scheduling any other social post: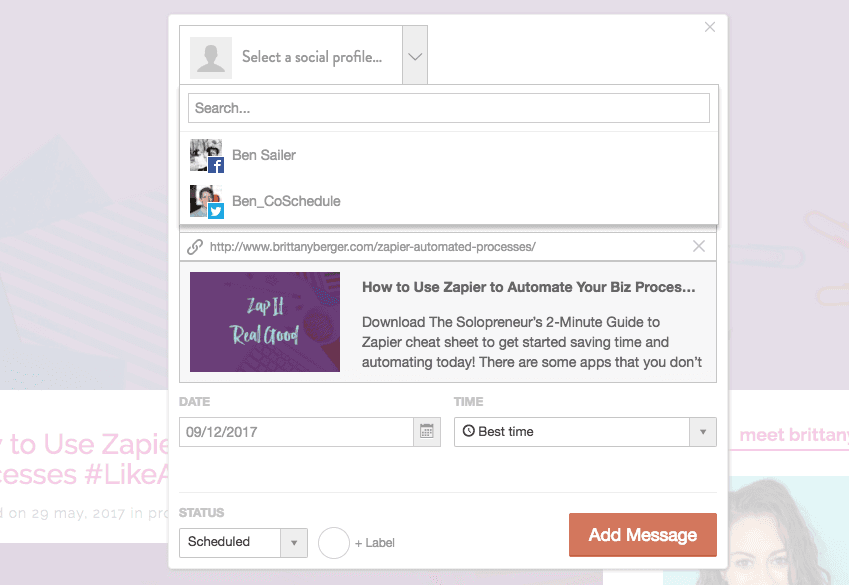 Click Add Message, and you're done. Simple as that.
Back to the Top
Manage Social Media With the CoSchedule Mobile App
What if you need to do social
marketing on the go
? Like, say you're commuting on the train and an important post
needs editing
. Or, there's a social media crisis while you're out of the office. We've got you covered with our
mobile app
. Check out this demo video to see how it works:
Then, grab it on the
App Store (iOS)
 or from
Google Play (Android)
.
Back to the Top
Automate Content + Social + Team Performance Reporting
Building reports manually isn't exactly fun. Witnessing the magic of CoSchedule's built-in reporting features, though? Mind-blowing every time. Start by finding the Analytics panel on the left-hand side of your calendar:

Next, you'll see the three reporting options below: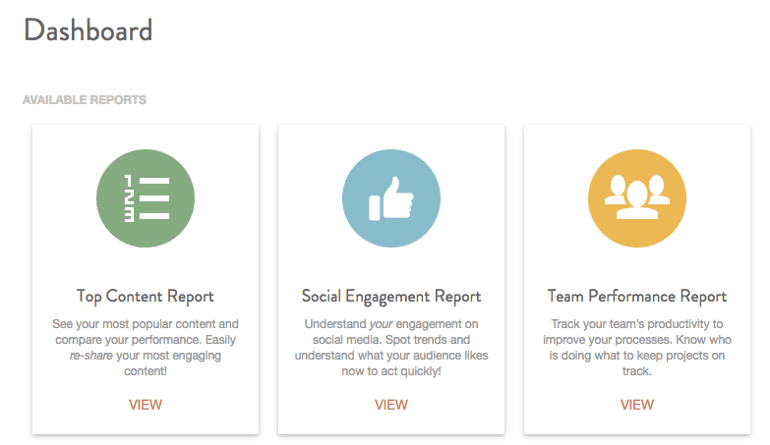 Let's walk through what each of these can do.
Did you know CoSchedule includes robust built-in analytics features?
Click To Tweet
Top Content Reports
Which content is most popular on social media? That's what your Top Content Report tells you. Find all your hottest content in one place and filter it by type, team member, and time frame: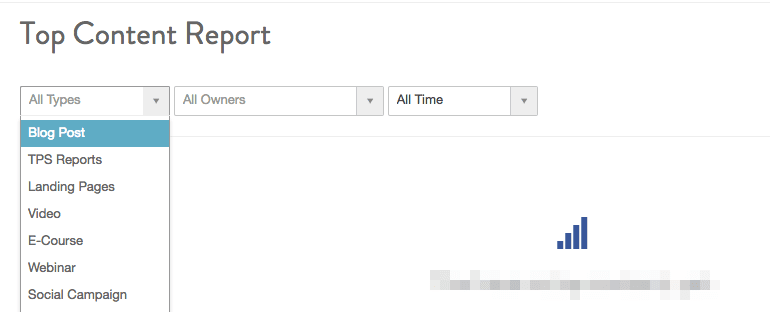 If it's content and you've shared it using CoSchedule, you can track it: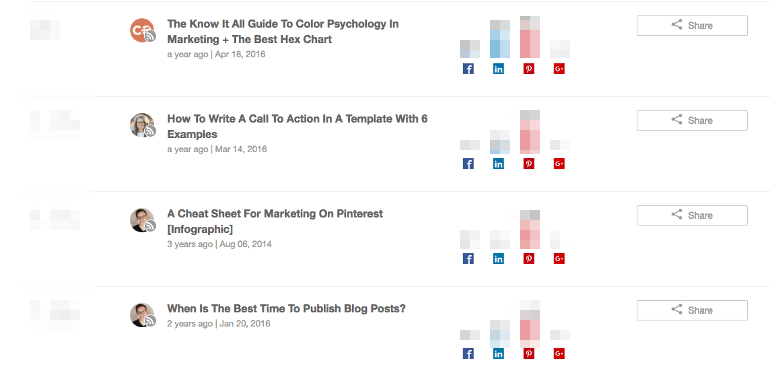 If it's content and you've shared it using CoSchedule, you can track it:
Click To Tweet
Social Engagement Reports
You're creating tons of social media content. But, does anyone care? That's what you'll learn with Social Engagement Reports. You can see your overall engagement rate calculated across all your connected networks:

And you can see engagement rate broken down by network over time: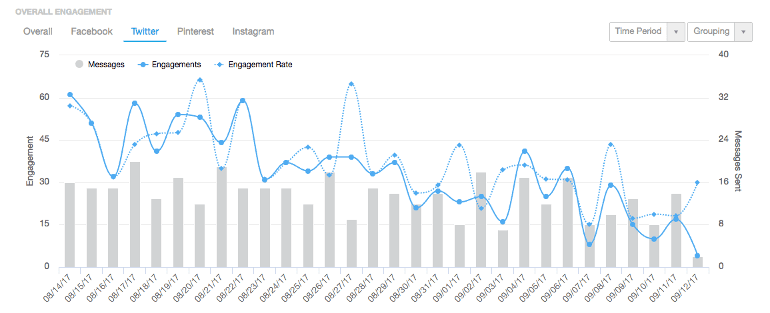 See how all your networks are performing at a glance:
Or get granular and see post-level performance for every social message you publish:

Sharing all this data with your team is easy, too. In the upper-right hand corner of your screen, choose to either download a CSV or a PDF report:

You can also automate this report to email reports to anyone you'd like on a weekly, monthly, or quarterly basis. Set your
email subject line
, set your frequency, and add recipients: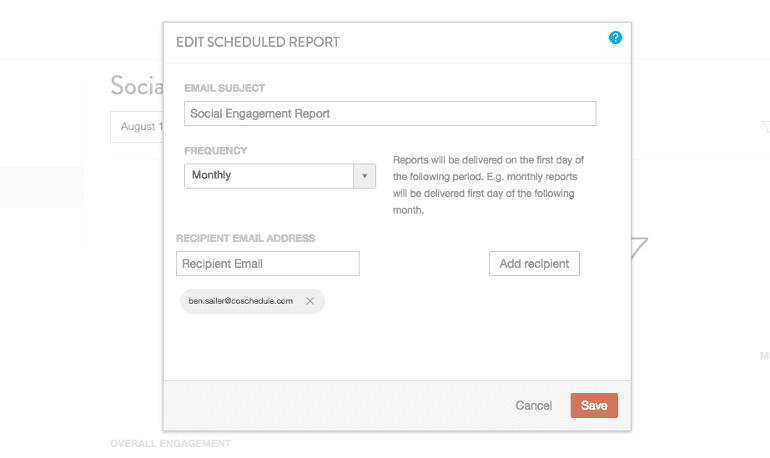 Too easy.
Team Performance Reports
We talk a big game about CoSchedule making marketing teams more productive. But, how can you actually prove CoSchedule is helping your department get more real work done? With Team Performance Reports. Every time you check off a task on a Task Template:

Your Team Performance Report will use that information to record how many tasks have been completed (and whether they were done on time). When you open the report, you'll see an overview of your task completion percentage (broken down by on-time, completed late, and past due):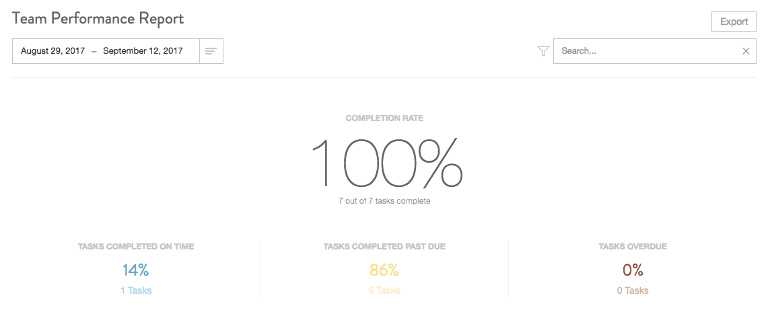 This hypothetical report example was generated using a limited number of tasks on a test calendar. But, you can see exactly how many tasks have been wrapped up on time (and whether anything is overdue). Plus, you can see how many tasks got done (or didn't) per day: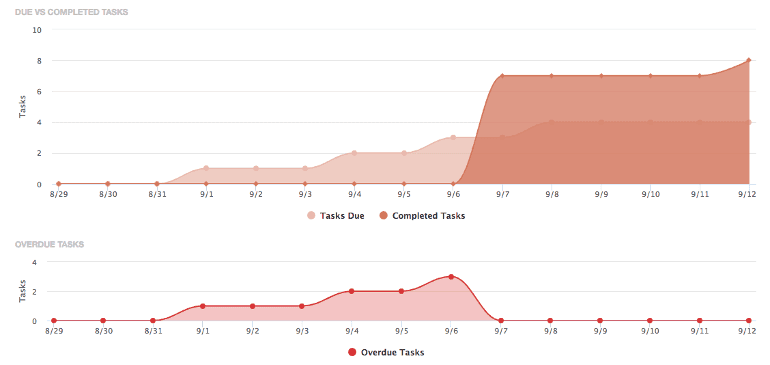 You can also see productivity at the team member level:

This makes it easy to see how much is getting done, and might even alert you to workflow problems or other obstacles preventing your team from getting work done. The report can be automated the same way Social Engagement Reports can be, too. Project managers, your life just got a lot easier.
Get the Best Marketing Management Calendar to Drive Team Success
You've seen what CoSchedule can do. You've learned how to set it up for your entire team. Now, the only thing left to do is get started free. With the knowledge in this post, you'll be able to get up and running quickly to see exactly how much more you can get done (with less stress and effort) using CoSchedule.