In the world of marketing, poor team communication, campaign disorganization, and an absent central location for projects/tasks often contribute to less-than-mediocre results. As the workweek rolls on, your value gets harder to prove to stakeholders, and your team is struggling to stay on the same page. You might find yourself asking:
"How can I manage and organize all of my projects, campaigns, and editorial planning in one place?" 
Marketing managers get tasked with pulling together well-grounded project/editorial plans for their team to execute. With deadlines looming, where do they begin?
The answer starts with software like CoSchedule's Marketing Calendar.
It's the only way to organize your projects in one place. CoSchedule has an actionable Marketing Calendar that lets you see, schedule, and share your marketing so that you can take control of your process. It empowers marketing teams with the ability to easily plan, organize, and publish marketing projects so they can hit deadlines while getting more work done.  
Let's explore how CoSchedule's marketing calendar software will help you:
Organize your marketing process so you can put a stop to fire drills

Plan, schedule, and visualize projects effectively so you can work efficiently and with less stress

Facilitate team collaboration so you can work better together with fewer headaches 
1. Organize Your Entire Marketing Process
CoSchedule replaces makeshift marketing solutions that make you feel disorganized and disconnected. 
When you're continually tasked with multiple projects from different stakeholders with looming deadlines, life as a marketer can be chaotic and messy. But what if you could get organized, use your time more efficiently, and consistently see all of your projects at once? You'd get more work done with less stress and be better prepared to prove marketing value. Here's how CoSchedule helps make it happen.
Marketing Calendar View 
CoSchedule's calendar view gives your whole team visibility on everything you're working on.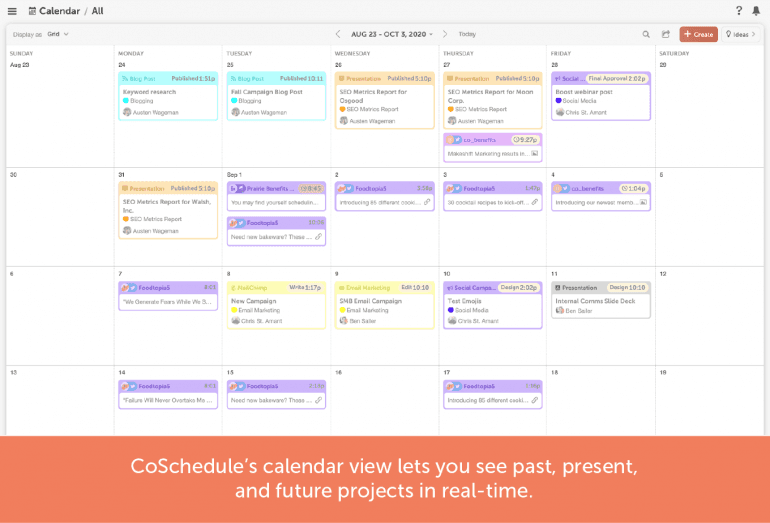 Each team member can see every task they're responsible for. In addition, they can also see the current status of every project. CoSchedule displays a percentage metric to indicate progress toward project completion.
Visualizing every project in one central spot helps you consolidate marketing project and workflow management. That enables more effective team collaboration and prevents tasks from being missed.
Schedule Everything In One Place
CoSchedule integrates seamlessly with WordPress, HubSpot, and popular social media platforms like Facebook, Instagram, Twitter, LinkedIn, Pinterest, and Tumblr. You can create and schedule blog posts and social promotion all in one centralized hub. You can even create and schedule individual social media posts or large-scale social media campaigns. 
Powerful integrations for dynamic email marketing include Mailchimp, ActiveCampaign, Constant Contact, and Campaign Monitor, making it easier to schedule your newsletters, promotional emails, etc. in one place. 
And you can use CoSchedule for more than just email marketing, social media, WordPress blog posts, and web pages. You can organize your internal notes and documentation in Evernote while integrating popular project management software to your CoSchedule Marketing Calendar, like Trello, Asana, Wrike, and Basecamp with Zapier. 
You can also use your marketing calendar software to: 
Manage your workflow for any marketing projects, like ads, graphic design projects, events, and more.

Consolidate marketing task management.

Plan and manage integrated marketing campaigns.

Keep your data running smoothly with spreadsheet integration from Excel and Google Sheets.
…and much more.
The level of integration offered within CoSchedule ensures consistency in your content posting schedule. Keeping everything organized within one universal Marketing Calendar will significantly simplify the process by which you publish your content.
2. Plan, Schedule, and Reschedule Your Projects Effectively and Efficiently 
Changes to any marketing team's deadlines and schedules are inevitable. Fortunately, CoSchedule's drag-and-drop marketing calendar makes moving projects and shifting deadlines effortless.
Moving an entire project from one day to another is as simple as a touchpad click. 
When you move a project from one date to another, the entire project will simultaneously move in sync—taking with it all associated content such as social media messages, comments, and tasks. Try doing that with a spreadsheet. 
Workflow And Task Management
Task Templates are reusable checklists you can save within CoSchedule. They save lists of project tasks, the assigned team member for each task, and when each task is due.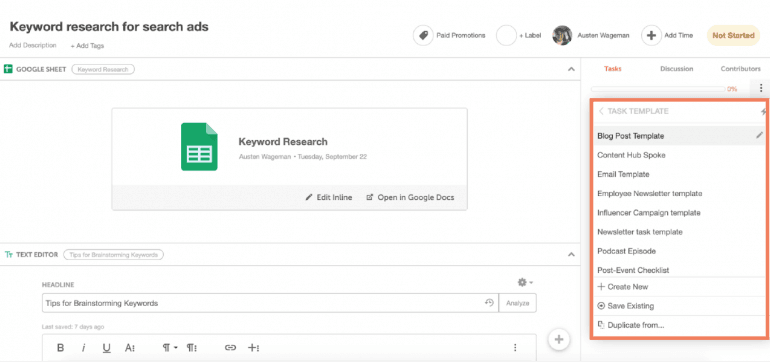 Using these Task Templates saves time delegating work and ensures every project gets completed thoroughly and on-time.
When you assign each task a due date, your task-designated team member gets notified the day before it's due. This ensures that the task is completed, and the project doesn't get held back.
How to Use Task Templates to Manage Your Projects
CoSchedule is great for project management. You can simplify your workflow by creating a reusable checklist for any recurring project like blog posts, landing pages, social media campaigns, and more.
Task Templates are easy to create and clarify who is responsible for each task and when they are due.
When assigning these tasks and giving them a due date, you create a reusable workflow that, when used consistently, will increase the efficiency of your team.
Once you create your Task Templates, they will automate delegation and project tracking. If you've already made a task template for a project similar to your current one, you only need to apply it to the current project with a couple of simple clicks. 
Custom Statuses with Tasks
Custom Statuses describes the unique stages of your team's workflow. This provides you with a quick view of the headway of the project, eliminating inconsistent workflows.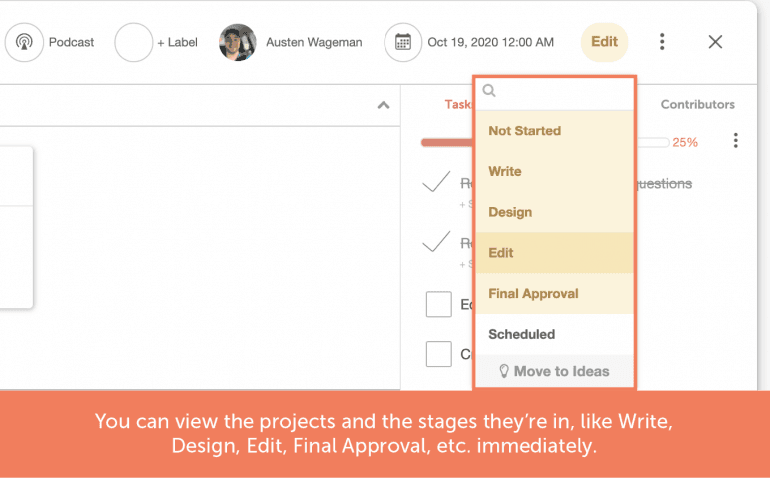 Automate Your Social Media Marketing 
Manually scheduling social posts is time-consuming. With CoSchedule's Marketing Calendar, you can create, publish, and measure every post in one place and see what's going out and when.
You can easily tie a specific group of social messages to a project to schedule multiple social messages, getting the most out of your shared content.
Smart Best Time Scheduling will post your content to your social networks at the most optimal time to reach your audience, according to best practices. You can sit back and relax, knowing that CoSchedule is posting your content for you.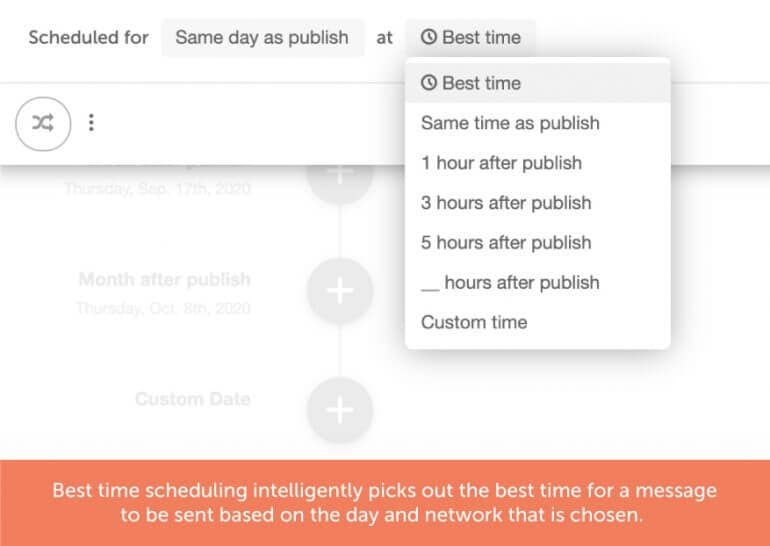 Within CoSchedule, you can create Social Templates. They are reusable social media posting schedules, so you can create a Social Campaign once and simply save it to eliminate repetitive, manual work the next time you schedule social media messages.
You can use Social Templates for similar projects. They allow for easy viewing and layout of the social messages you plan on publishing. Your scheduled messages will also automatically go out. 
ReQueue similarly helps fill the gaps in your posting schedule. It allows you to choose your previous social media messages and reshare them automatically. This gives your brand endless mileage with your best social content in the driver's seat, saving you time creating new content from scratch and getting the most from what you already have. 
Imagine that you want to send ten tweets per day, but you only have five scheduled for today. Your CoSchedule marketing calendar software will use ReQueue to automatically send the remaining five tweets for today for you, based on your preferences.
Project Templates work a lot like Social Templates and Task Templates. However, you can bring in more tools and integrations to build out new projects in seconds. You can include necessary details like the project owner and assignees, tasks, attachments, social campaigns, and more.
3. Facilitate Team Collaboration
Many marketing teams suffer from poor communication, confusion on task delegation, and low engagement. While unintentional, this lull in effective teamwork causes a non-collaborative environment. Being a part of an efficient marketing team that communicates well starts with CoSchedule's Marketing Calendar. 
Create Content From Concept To Execution
CoSchedule allows you to store your content projects directly within the calendar. You can work with whatever tool your team prefers, including Evernote, Google Docs, WordPress, and even write text directly in CoSchedule. 
This will help your team integrate their existing working habits within CoSchedule.
Everyone in your team will be working from the same copy of content. Because CoSchedule's agile interface encourages communication, you can eliminate the trouble of emailing back and forth among your team.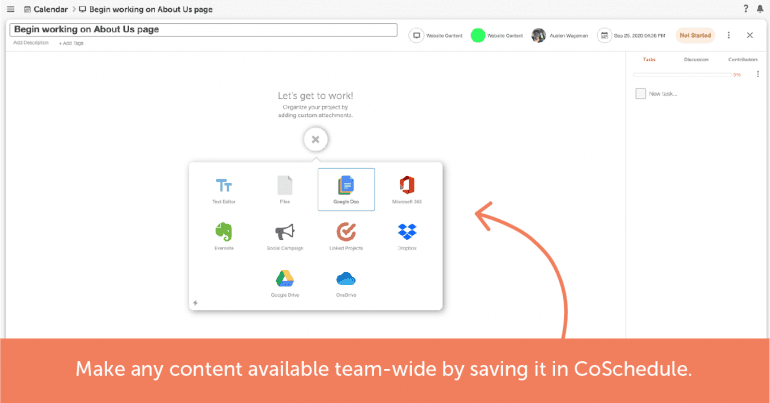 Within the dashboard, you can store your content from multiple platforms, easily exporting your work to WordPress, or even into HTML to use anywhere.
Team Communication and Collaboration
With CoSchedule's simple comment-based communication system, nothing within your project will get lost. Your team's communication gets consolidated and organized within a single project.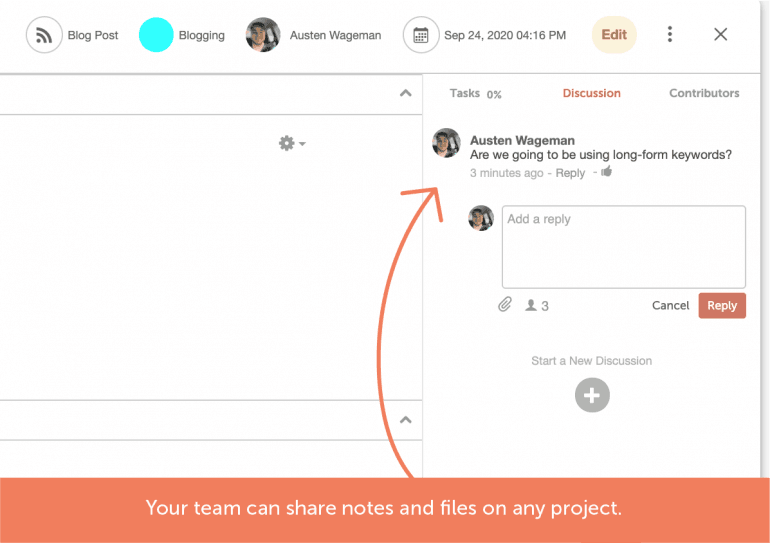 Team members can ask questions and offer direction within each project. This helps hold team members accountable by keeping project notes and ideas in one place to help you see any marketing project's progression. 
You can collaborate on any piece of content, like blog posts, social media campaigns, landing pages, and more.
Try CoSchedule's Marketing Calendar Software For 14 Days––No Credit Card Required
You've heard of "all-in-one," and you've probably found it can never live up to your expectations. CoSchedule is the only organize-in-one solution that lets you use the best tools for the job––while getting you more organized. 
Want to try the CoSchedule Marketing Calendar software for two weeks–no credit card required? Sign up for a 14-day trial to start streamlining your content creation and project management today.