The current era of marketing has brought challenges not seen before. These challenges, however, pale in comparison to the new opportunities open to marketers today.
Tools such as blogs, email, and social media are available to every marketer on every budget. But organizing these effective marketing projects can get complicated.
Thankfully, CoSchedule has created a simple-to-use marketing calendar software that consolidates your project management, content creation, and social media promotion into a single tool. Within the app's dashboard, you can easily plan, publish, promote and analyze your marketing projects to effectively reach your audience.
Let's explore how CoSchedule's marketing calendar software will help you:
Organize your marketing process and consolidate your tools
Eliminate tedious and repeated manual processes
Facilitate collaboration within your marketing team
1. Organize Your Entire Marketing Process
Marketing Calendar View
CoSchedule's editorial calendar view gives your whole team visibility on everything throughout the content creation process.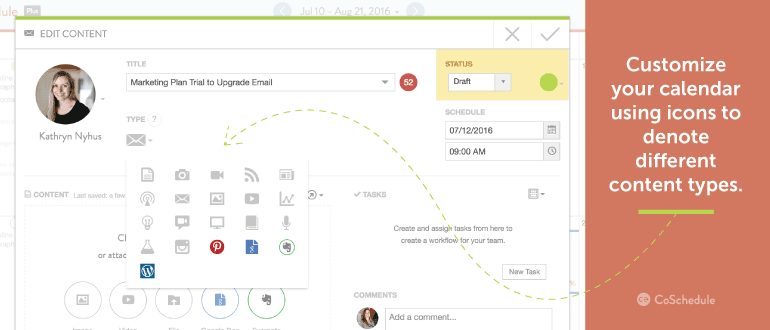 Each team member can see every task they're responsible for. In addition, they can also see the current status of every project. CoSchedule displays a percentage metric to display progress toward project completion.
Having every project in one central spot helps you manage multiple projects and consolidate project management. You can assign tasks and communicate with your team, all within one tool.
In addition, consolidating project communication within a single browser app enables more effective team collaboration. Keeping all of your projects in one location also gives your entire team a constant record of all task communication, preventing details from being forgotten and missed.
Schedule Everything In One Place
CoSchedule integrates seamlessly with WordPress and popular social media platforms like Facebook, Twitter, LinkedIn, Pinterest, Google+, and Tumblr.
You can upload your blog posts and create the social messages for them all in one concise and centralized hub. You can even create and schedule individual social media posts or entire standalone social media campaigns.
And you can use CoSchedule's dashboard for more than just WordPress blog posts and web pages. You can use your marketing calendar software to…
Manage many kinds of marketing projects like landing pages, e-books, events, and more.
Schedule social media for blog posts, curated content, any any web page URL.
Manage email marketing.
Create a marketing campaign.
…and much more.
Spreadsheets are often used in place of a calendar. However, they can't integrate with your social media profiles or your WordPress site or blog. Spreadsheets, in general, are just inefficient.
The level of integration offered within CoSchedule ensures consistency in your content posting schedule. Keeping everything organized within one universal dashboard will greatly simplify the process by which you publish your content.
You can create content such as landing pages, blog posts, and even guests posts—all coupled with complete social media posting schedules—within CoSchedule's marketing calendar software.
2. Eliminate Tedious Manual Processes
Easy Drag-And-Drop Interface
CoSchedule's drag-and-drop marketing calendar makes it simple to move projects and make changes.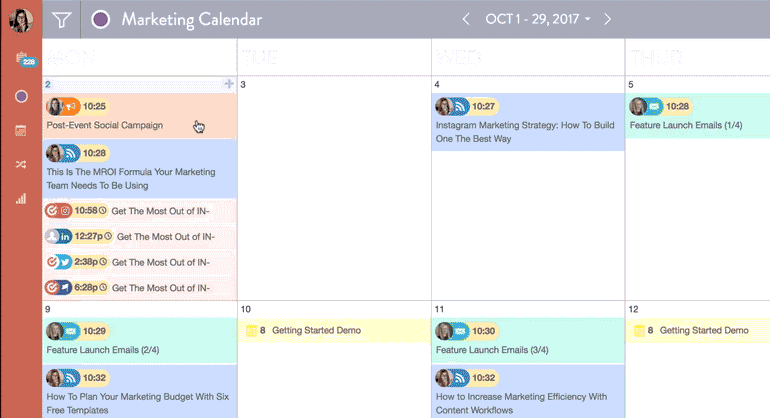 You also will deal with less difficulty than you would by using a spreadsheet. Moving an entire project from one day to another is as simple as a click of the mouse.
When you move a project from one date to another, the entire project will simultaneously move with it. This includes all associated content such as social media messages, comments, and Task Templates. CoSchedule is one of the only marketing calendars that allows for such a simple date change.
Workflow And Task Management
Task Templates are reusable checklists you can save within CoSchedule. They save lists of project tasks, who is responsible for each task, and when each task is due.
Using these Task Templates saves time delegating work and ensures every project is completed thoroughly and on-time.
You can assign each task a due date, and the team member assigned to that task will get an email the day before the task is due. This ensures that the task is completed and the project doesn't get held back.
How To Use Task Templates to Manage Your Projects
CoSchedule is great for project management. You can simplify your workflow by creating a reusable checklist for any recurring project like blog posts, landing pages, social media campaigns, and more.
Task Templates are easy to create and clarify who is responsible for each task and when that task is due.
When assigning these tasks and giving them a due date, you create a reusable workflow that, when used consistently, will increase efficiency of your team.
They also enable easy viewing of project progression toward completion. Once each task is finished, you can check it off and the percentage completed will increase. This provides you with a quick view of the health of the project.
This helps eliminate inconsistent workflows. You can also view the projects that need to be worked on immediately and ensure that tasks for those projects get completed first.
Once your Task Templates are created, they will automate delegation and project tracking. If you've already created a Task Template for a project similar to your current one, you only need to apply it to the current project with a couple simple clicks.
You can also use the calendar view combined with task management functionality to know how each project stands in relation to one another.
For example, you can view which projects are finishing faster than others. You can then refocus your efforts accordingly.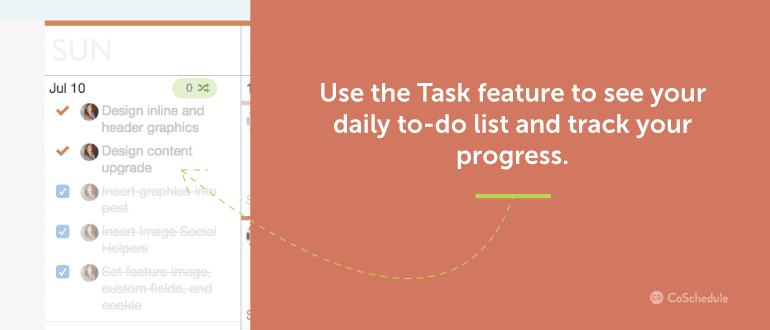 Automate Social Media Processes
CoSchedule puts you in control over every content marketing project. One of its most useful functions is scheduling and publishing social media content.
This process is made even easier thanks to four features:
Social Queue
Best Time Scheduling
Social Automation
Social Templates
CoSchedules' Social Queue allows you to easily yet effectively build a social media campaign. The social queue ties a specific group of social messages to a project and helps you schedule more than one social message to help you get the most out of the content you share.
Best Time Scheduling will post your content to your social networks at the most optimal time to reach your audience according to best practices. You can sit back and relax knowing that CoSchedule is posting your content for you.
CoSchedule allows you to create Social Templates. They are reusable social media posting schedules, so you can create a Social Queue once and easily save it to eliminate repetitive, manual work the next time you schedule social media messages.
Social Templates can be used for similar projects. They allow for simple viewing and arranging of the social messages you plan on publishing. The messages that are scheduled will also automatically go out.
Social Automation similarly helps fill the gaps in your posting schedule. It allows you to choose a bank of already-written social media messages that can get sent out automatically and ensure your messages reach your audience.
Imagine that you want to send 10 tweets per day, but you only have five scheduled for today. Your CoSchedule marketing calendar software will use Social Automation to automatically send the remaining five tweets for today for you, based on your preferences.
3. Facilitate Team Collaboration
Create Content From Concept To Execution
CoSchedule allows you to store your content projects directly within the calendar. You can work with whatever tool your team prefers, including Evernote, Google Docs, WordPress, and even write text directly in CoSchedule.
This will help your team integrate their existing working habits with CoSchedule.
Everyone in your team will be working from the same copy of the content being worked on. You can eliminate the trouble having to email the content back and forth among your team and having to constantly adjust the content accordingly.
Here is where you can upload your documents within CoSchedule: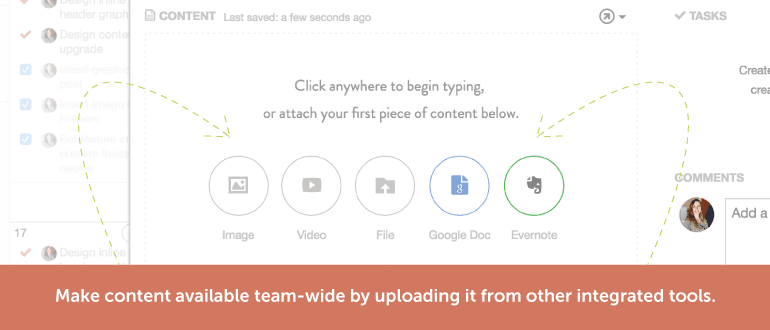 Within the dashboard, you can store your content from multiple platforms, easily exporting your work to WordPress, or even into HTML to use anywhere.
Team Communication And Collaboration
With CoSchedule's simple comment-based communication system, nothing within your project will get lost. Your team communication gets consolidated and organized within a single project.
Everyone can see what everyone has to say about the project. This helps hold team members accountable by keeping project notes, ideas, in one place to help you see the progression of any marketing project.
You can collaborate on just about any piece of content like WordPress blog posts, social media campaigns, e-books, landing pages, and more.
Here is an example of what the communication system looks like within CoSchedule: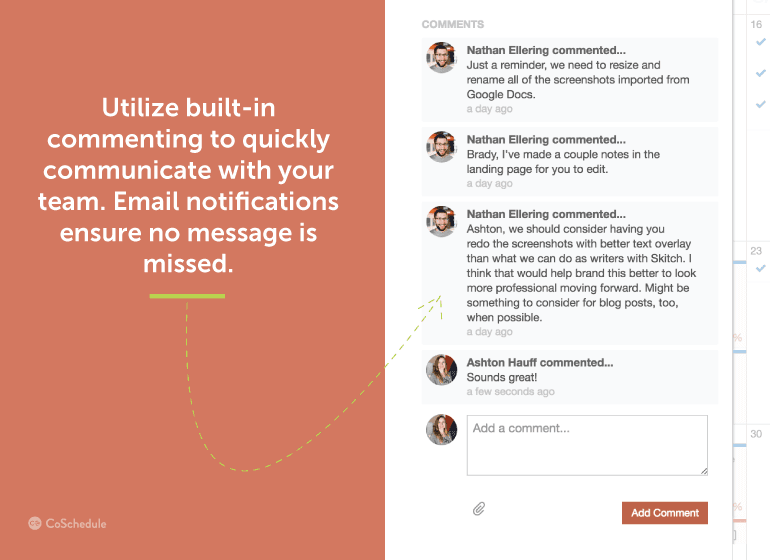 Try CoSchedule's Marketing Calendar Software Free For 14 Days
Want to try the CoSchedule marketing calendar software for free? Sign up for a 14-day trial at no cost and start streamlining your content creation and project management today.