Link building is important for search engine optimization (SEO) purposes. If a page has a lot of backlinks, it shows Google that the page is regarded highly by users on the web.
Below are some tips on creating a strong link building strategy:
Include guest blogging
Use the broken link building strategy
Pay attention to your anchor text
Go for quality, not quantity
Ask sites to link to your content (outreach)
Use social media to promote your content
Below, Evoleze created a visual to show how link building works.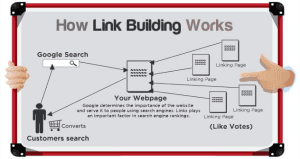 Though link building can help with SEO, it's not the only factor. This is why it's important to write valuable content and use keywords.