Team Management Dashboard
Team Management Dashboard is the place to see everything your team is working on, make game-time decisions, and build out your team's weekly schedules sans spreadsheets.
---
What is the Team Management Dashboard?
1. Visualize your team's entire workload (and make sure they're working on the right stuff)
Create realistic workloads for everyone and get a bird's eye view on all their projects. With Team Management Dashboard, you can easily delegate, assign, and reassign projects & tasks, so you can effectively manage your team's week.
2. See everyone's progress in real-time (and make game-time decisions).
With Team Management Dashboard, you can see everyone's workload in real-time (sans pings, emails, and meetings); empowering you to give realistic timelines
 quickly
and keep stakeholders happy. Let's face it, fire drills will creep up, last-minute requests will be made, and your boss will want an answer yesterday. So, why not just expect it? And lastly, when those Monday morning stand-ups occur…
3. You've officially got a ready-made dashboard for everyday status meetings.
No more scrambling, cobbling together to-do lists or building out daily schedules in a spreadsheet. Simply open up your team's workload in CoSchedule, have a five-minute conversation, and get on with your day.
Back To Top
---
Navigating the Team Management Dashboard
To enable the Team Management Dashboard, go to 
Settings > Power Ups 
and click 
Enable Team Management Dashboard
 on the Team Management Dashboard tile.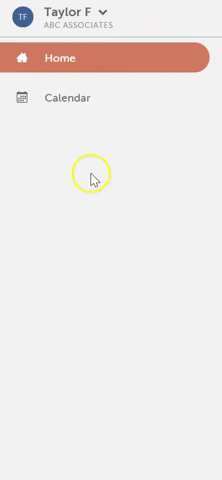 Inside the Team Management Dashboard, see a centralized view of what each team member is working on. See each task and a percentage breakdown of every team member's projects in a unified view. Drag-and-drop any calendar item to reassign to another team member or day.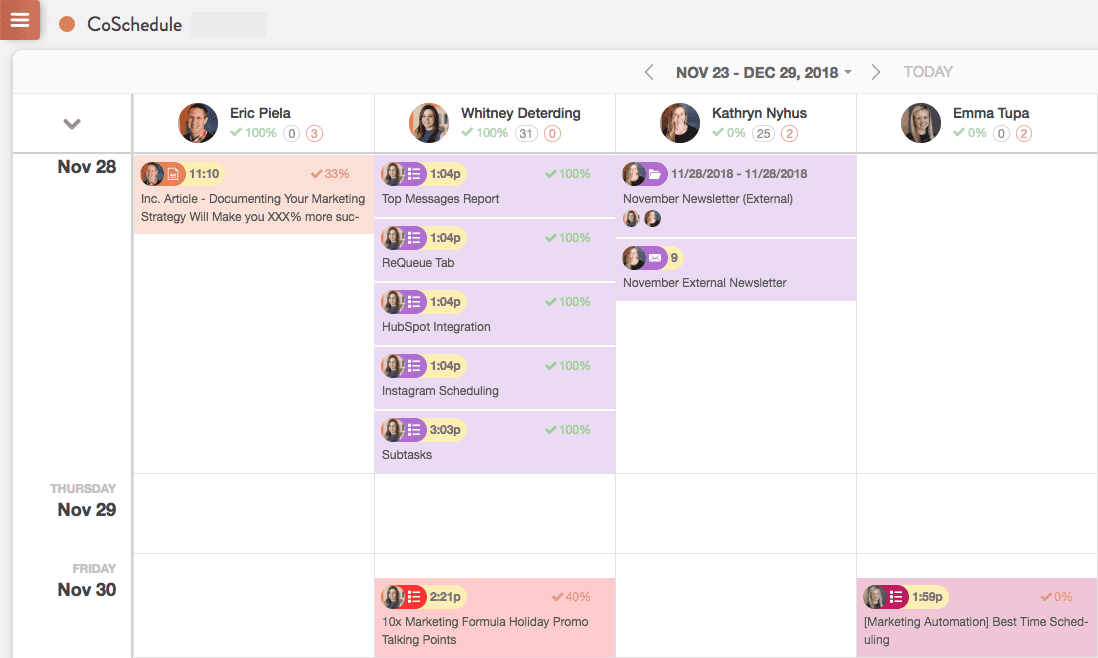 Change to the vertical orientation for an easier view of what projects are scheduled for each day.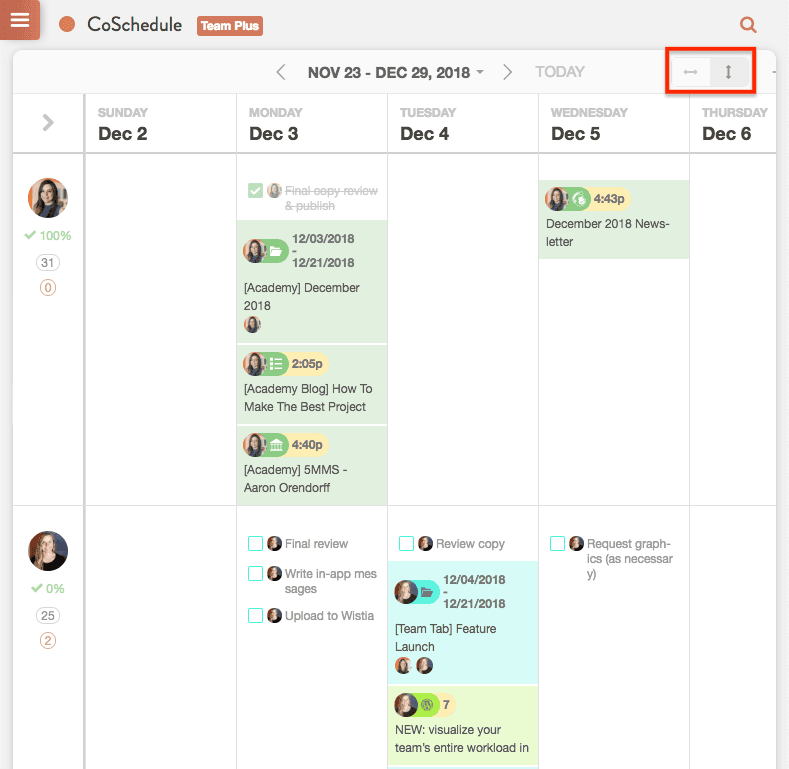 Next to each team member will show how many Unscheduled, Past Due, and Completed tasks they are working on during the timeframe. Click on any team member to see a complete Task Report.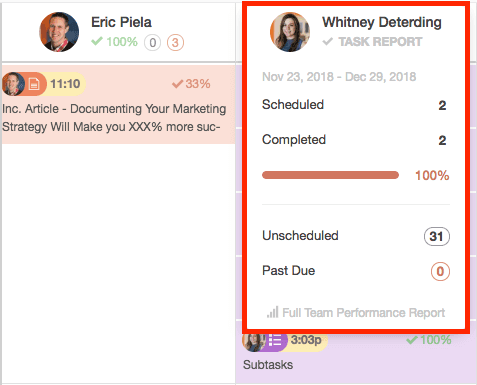 Back To Top
---
Create Saved Team Views
Like the calendar view, the team view will have its own saved team views. Create new saved team views by clicking 
Create new saved view
.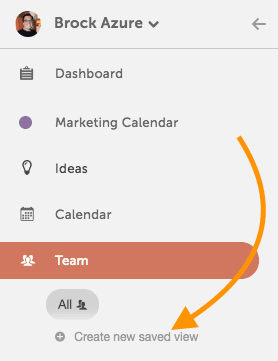 Saved team views work exactly like saved calendar views, except filtering by Team Member will only show the team members added. This is great for creating a team view for each one of your teams or projects, so you only see the projects of specific teams.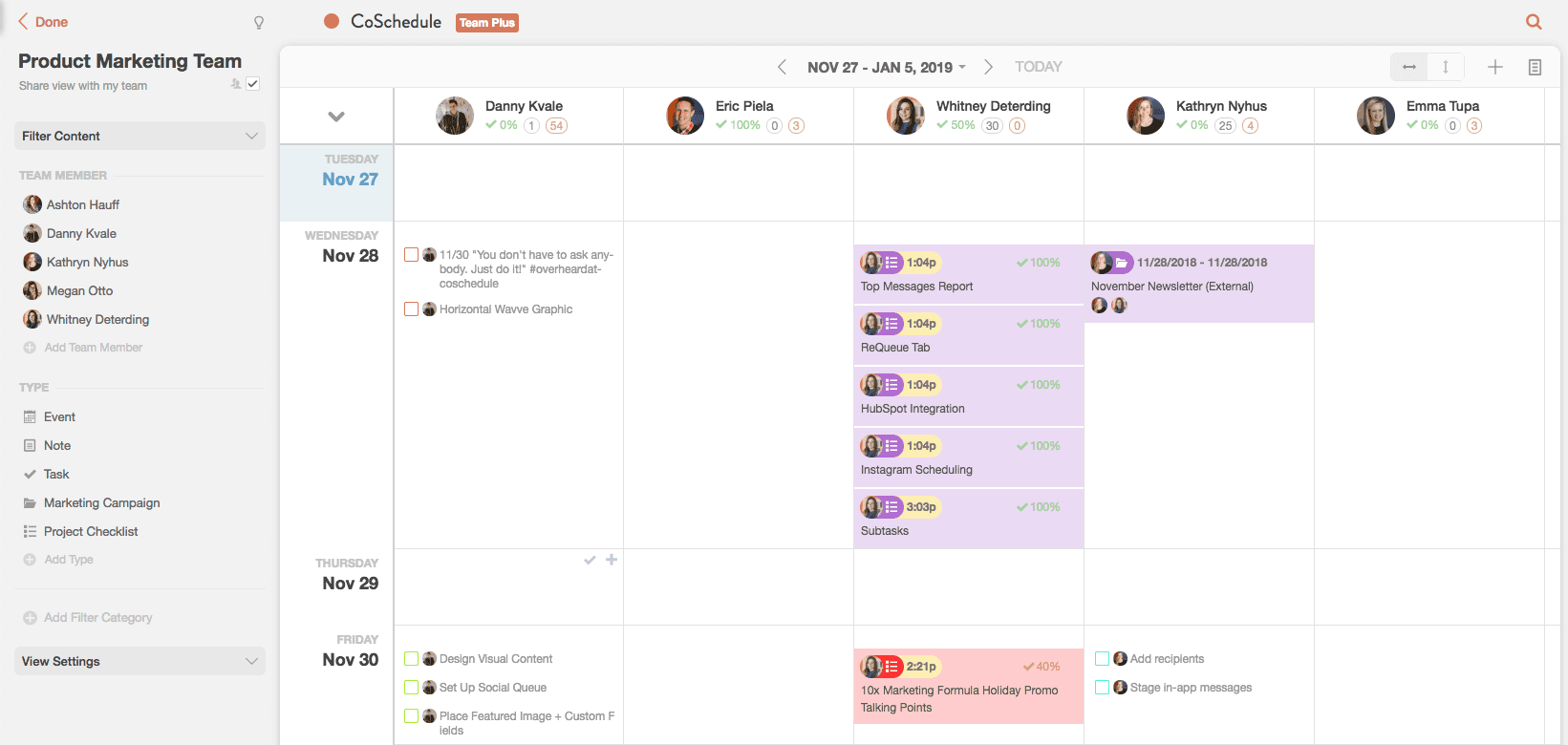 The Team Management Dashboard will also have its own specific view settings that you can manage.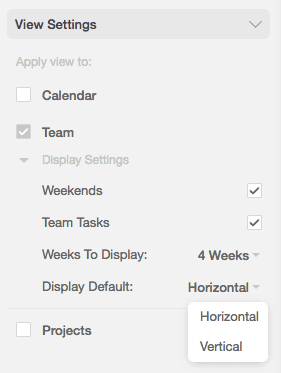 Back To Top
---
Task Bin
The task bin houses all 
Unscheduled 
and 
Past Due
tasks for each team member. Drag-and-drop tasks to the scheduled date or different team member to make sure each project is finished on time. Scheduled tasks can also be dragged to the task bin to be unscheduled.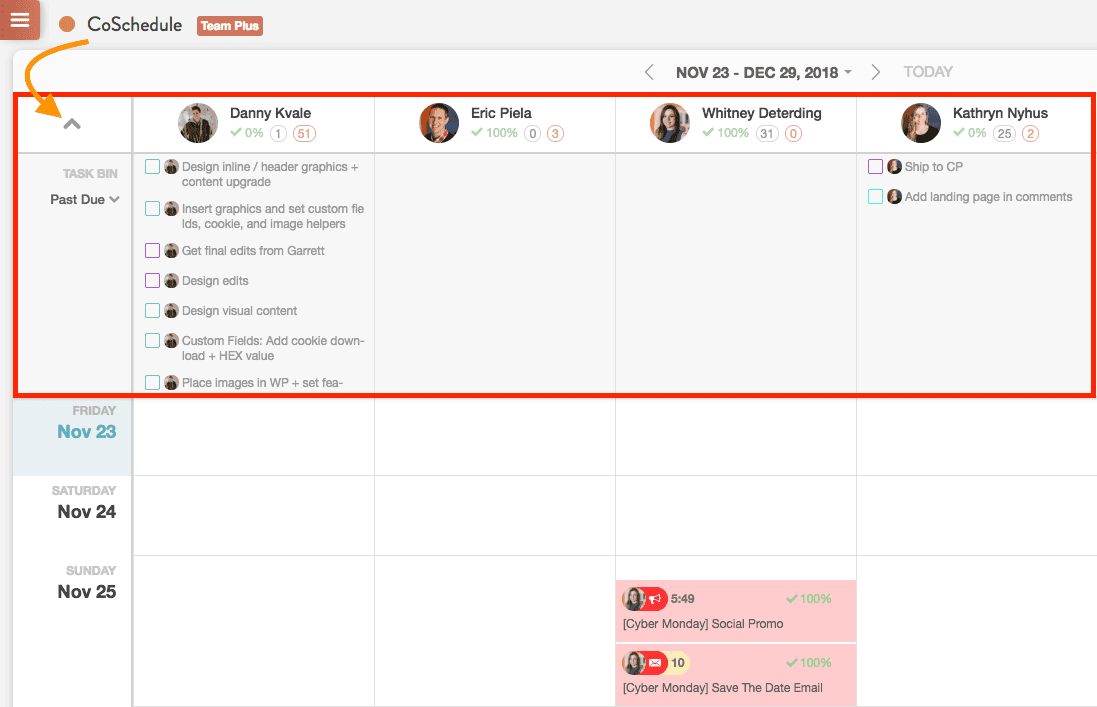 Back To Top