3 Features You Should Know About + 1 More On Its Way
Attention marketers! Get ready to feel the HEAAAT.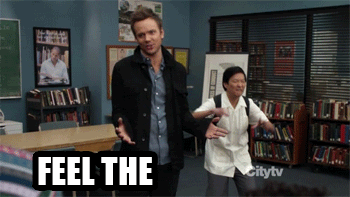 It's ONLY February... …but your #1 marketing calendar is pumpin' out some seriously HOT features
just for you + your team
. One month into the year and we've got 3 NEW features for Team Pro plans (and another major player coming very soon on the docket.) Intrigued? Cool, keep reading. Here's your quick highlight reel from this month (+ an exclusive first look at ONE serious feature coming VERY soon).
Get serious about segmentation with Facebook Targeting
Segmentation matters. Blanketed responses don't work on readers AND your Facebook messages are no different. You've gotta speak to the right people and
the right time
. And thanks to CoSchedule's recent feature, Facebook Targeting (available on all Team Pro plans), you can now get specific; catering your messages to a very specific audience.
Simply create your highly targeted list with FB's Preferred Audience settings AND save:
Age
Gender
Relationship Status
Interested in
Location
Language
Education Level
College Graduation Years
Interests
AND best of all, with CoSchedule's Facebook Targeting, you can create your audiences once, save them in your CoSchedule settings, and reuse them again and again.
As a marketer, you sell a product (whether it's YOU, a service, or a tangible item) to a specific audience. Thus, utilizing options such as age ranges, relationship status, location, education level, etc can assist you in converting users MORE effectively. Why? Because when you share the right content, with the right people, you ADD VALUE. And when you add value, you build a following that's a bagillion times more likely to convert. A bagillion.
Get Your Reports Sent to the RIGHT People at the Right Time (With Minimal Effort)
You and reports have a love-hate relationship. It's the bane of your existence
and
the reason for that pay raise. Every boss, big wig, investor, and client wants to know the fruits of their (your) labor and
reports are the tell all
. Only frustration: getting your data into a nice, neat, easy to read report ... and sent ON TIME. You're busy doing the work, and now you need to make time to report on it. With CoSchedule's export capabilities we've done the manual work for you.
You can now choose to export your
Social Analytics reports
 via CSV, PDF, or even
schedule a recurring email
to send to your team, clients, and/or stakeholders. Annnnd you can even add a little branding to your reports. Grab a logo, insert your company (or client's) name, and a little description to give your reports that added personal touch. In a world where marketing can feel like a bunch of warm fuzzies, having the report to back you up and the numbers to prove your worth are MUY BUENO. Hit the easy button with CoSchedule's export report features (available on all Team Pro plans).
Because Your Content Rarely Fits the "One Size Fits All" Category
Create your own content types (made for you just for you).
Content isn't a "one size fits all" AND what your team does on a daily basis is unique. Create your own custom content types (available on Team Pro plans) for everything you do!
TPS Reports
Blog Posts
Presentations
Podcasts
Social Media Campaigns
If you can do it, you can organize it.
Prioritize the Content YOU Care About
Not all pieces of content are created equal. With Content Types, you can now prioritize the content that matters most to your team. Easily create a hierarchy of content types based on the pieces of content you use most so you can get to the real work faster. Give your team even more context with Content Types. Clarity is crucial when there's multiple folks working on a single piece of content. Add context and get specific with Content Types so you can keep your team on the same page and
get projects moving forward (faster)
!
What's Coming Up?
Marketing Projects Are a BEAST and We're Here to Tame 'em
Marketing is more than a blog post. It's more than social promotion. It's more than an email or a newsletter or a webinar. It's a million different things… ….happening all at once… with finite resources. And you are the MAESTRO - of it all. You are the one managing every detail... Making sure the right people are working on the right parts... Coordinating tasks, timelines, resources, and tools… AND you are the one making sure the entire production of [insert BIG project] is
executed
on time.
It's a lot to manage. Especially when all those moving parts are spread across your calendar. Which is why we're building Marketing Projects (coming soon to a Team Pro plan near you).
Why get excited? 'Cos with Marketing Projects by CoSchedule you'll be able to:
Keep your entire operation in one big piece of content! (eeeeHHHH!)
Track your project's overall progress with a nifty BURN CHART, cuz we're all nerds and graphs are our love language.
Easily manage your team's time (know who's on a project, and what they're working on)
Get a visual preview of your entire project on the main calendar (yes - you'll be able to create events that last more than one day)
It's organization on steroids. And this product marketer here is freakin' out.
P.S.
Not on a Team Pro plan but want a test run? No problem. Go to your billings page and you can get started free.