How to Turn Your Old Articles into Successful Long-Form Content
It seems to be a thing now: Long form
content
 is said to be ranking higher and engaging more readers. Long-form content is generally content that has more than 2000 words.
Ranks higher

:

Garrett Moon

 analyzed the first page rankings of 6 keywords and found that the top 5 results averaged more than 2,000 words.

Gets more links

: HubSpot analyzed ~6,000 articles and found 2000-word articles got both more backlinks and social shares

Converts better

: CrazyEgg found that long-form content converted 30% higher than short-form content.
Which of the above comes first (e.g.
do rankings bring more backlinks or more backlinks bring higher rankings?
) doesn't really matter. One thing that counts is: Long-form content generally performs better. Of course, long-form content is not a magic button: It doesn't rank just because it's long. Furthermore, it doesn't work for everyone, or in every niche. However, generally, it seems the reader tends to expect long in-depth content these days, and so does Google. So if you want to see your site organic rankings to steadily grow, turning your old content into long-form assets is a good place to start. Optimizing old content is different from optimizing new content because you are able to work on your own data and improve on your own progress.
But First, Download These Content Marketing Templates
It's going to be awfully hard to launch some amazing long-form content if your implementation and team coordination is a mess. Download these free content marketing templates to help you get organized. You'll find:
A Content Plan Template to help you measure and learn from your success.
An Email Marketing Template to distribute and communicate your new initiative.
A Blog Calendar Template to plan every post ahead of time in one place.
1. Identify Most Linked-to Content: Ahrefs
I use a variety of criteria when determining whether old content has any value at all. This includes traffic (and traffic history) and social media shares page 2 rankings (as these have some potential) and I encourage everyone to look at all of these when doing content pruning. But for the sake of focus, in this tutorial, I'll limit myself to one: Backlinks. So why only one and why backlinks? Aren't backlinks going away? No, they are not going anywhere. Backlinks are the essence of the Internet: That's how all web pages are connected, how content is being discovered by search engines and human beings. And above all,
backlinks are the strongest signal of quality
.
Simply put, if you want to achieve rankings, you need backlinks. And of all search ranking signals, backlinks also happen to be the hardest to get. So put one and one together: Old pages with most backlinks are likely to rank high easier, when (re-)optimized and updated. To identify most linked-to content on any site, I use
Ahrefs
 which solves this problem with one step: Simply input your domain and proceed to
Pages
 ->
Best by links
 report. Ahrefs will determine this domain pages with most backlinks listing "dofollow" and "nofollow" links separately for your convenience:
Export this report to an excel document and proceed to the next step: Identifying which keywords to optimize your content for.
2. Identify Your Lowest-Hanging Fruit: Finteza and Google's Search Console
At this point you want to find answers to two questions:
Which search queries are currently sending me most engaged traffic?
Which queries have some potential to send me more traffic?
So:
Which search queries are currently sending me most engaged traffic?
To answer the first question, I use
Finteza
 which is a free web analytics suite that allows you to segment your traffic and optimize your site for conversions. Of course, you need to have this tool running for a while to collect more data, so go ahead and do that now. Of all existing web analytics solutions, I prefer Finteza because it's somewhat easier to use and provides in-depth insight without having to spend time scrolling and clicking through dozens of reports. All in all, it's compact and fast which is all I could wish for. To give a practical implementation example, you can use Finteza to set up and monitor advertising zones on your site and then be able to compare how traffic from different search queries convert with each zone:
  This approach offers by far the most actionable insight into your target queries: Which ones are
worth
 pursuing?
Which queries have some potential to send me more traffic?
To answer the second question, I use
Google's Search Console
 which also needs some time to collect the data, so the earlier you install it, the better. After having the tool analyze your performance for at least a couple of months, here's how you can use the data to create content optimization plan: Click "Open report" inside your "Performance" box and there:
Click "Average position" and CTR options to activate them (Keep "Total clicks" activated for more insight)
Click "New" to add another filter and there type in your URL slug to filter results to your page:
Apply the filter and you'll see all queries that bring up your page when searched:
Your top priority are those queries that send you lots of clicks while ranking at #4 or lower, the logic being that if they send you traffic at that point, the traffic is going to be much higher when you manage to achieve #1. When combining the data from both of the tools, your goal is to identify 1-2 "core" phrases that you really want to focus on. These "core" terms should be included in the article title.
3. Identify More Keywords to Optimize For: Serpstat
Another great thing about working on old content versus creating new content is being able to clearly see how you are doing as compared to your existing competitors. Specifically, you can see which queries are bringing them traffic and where you are lacking.
Serpstat's URL vs URL section
 is a great tool for identifying just that: Which keywords your competing URLs are doing better than yours and which keywords you missed at all. Sometimes this analysis is called "Keyword Gap Analysis":
Serpstat checks rankings of your competing URLs and compares where you stand using the interactive venn diagram. Clicking the diagram filters keywords below. If you want to find common keywords of your competitors, click the corresponding intersection. This is a great way to find some keywords you want to include to your list as well as find topics you failed to cover in your old content.
4. Identify
How
 to Expand Your Article to Increase Its Rankings: Text Optimizer
Now that we have keywords you want to focus on, let's actually identify how to expand it. Run each of your keywords, one by one, in
Text Optimizer
 to come up with the following:
Related concepts and associated terms to include into your content
Related questions to break your articles into more logical sections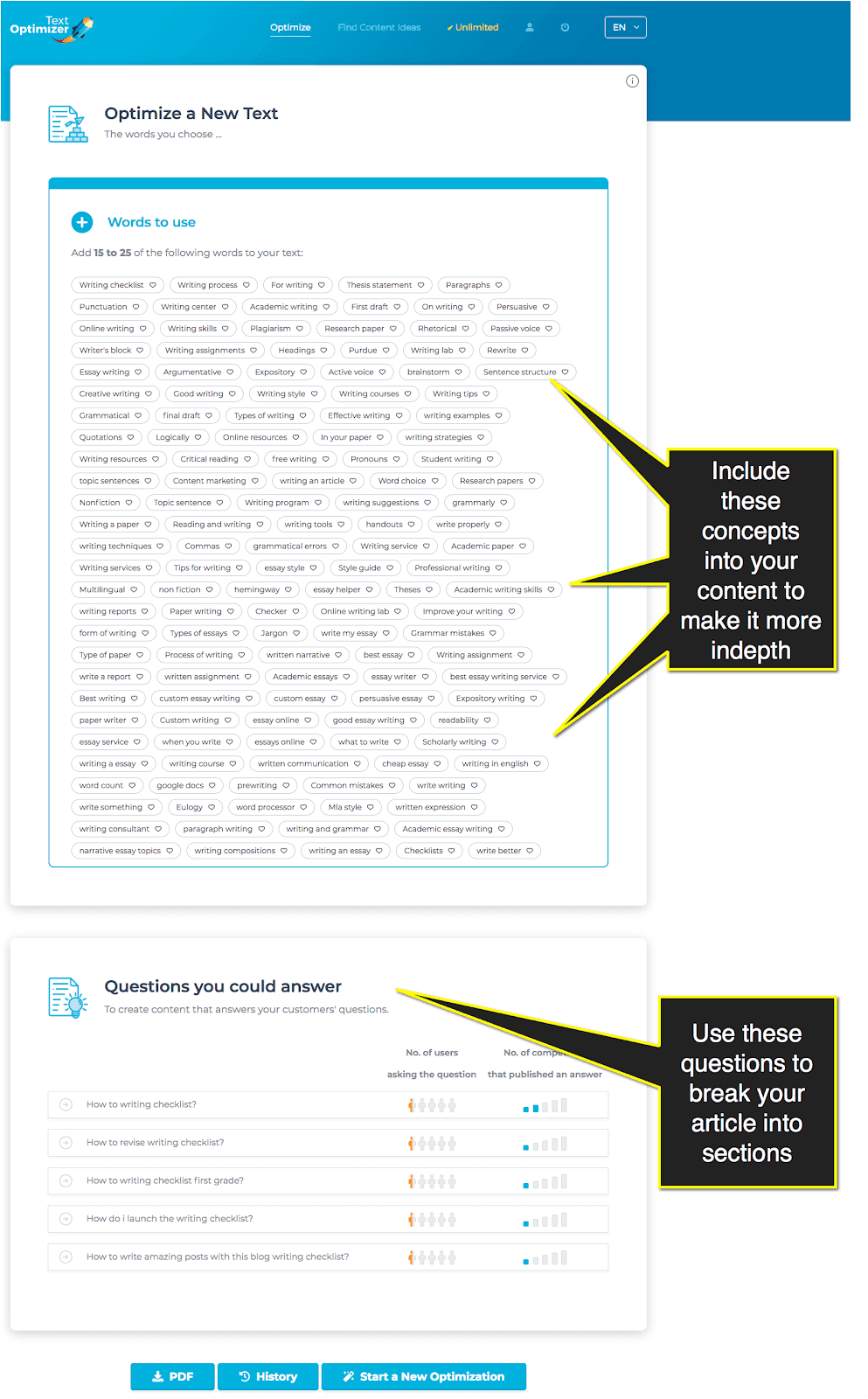 When going from keyword research to content draft, I always jot down its structure and put my keywords inside each section to remind myself of what I am going to cover inside each section. Using Text Optimizer, the process has become much easier because I can now:
Grab the list of questions from there
Fill in the blanks with partially pre-written sentences
Identify concepts that need additional research
To help you further in going from research to revising your content, here are few resources:
I also use this writing checklist to keep in mind additional things to check and include (like unique angles, stats, references, etc.) This keeps me very focused and organized.
Here's a good collection of content-friendly CTAs you may want to implement into your revised content to generate leads
Furthermore, once you have all those new keywords to include in your content, follow these steps to expand and optimize it.
5. Put Old Content on Your New Editorial Calendar
Finally, this may be a daunting process, especially if you have been working on your blog for years. It's not a one-week project that can be rushed. Handling old assets should be taken seriously because there's a goldmine of opportunity there. Getting organized is key. I suggest putting your old content on your editorial calendar as you'd do with your new content. Turn the steps above into a checklist for each asset you are planning to create.
Keep your content revision process streamlined by adding this checklist to each task Once updated, your old content can be re-marketed on your social media channels as if it were a new article (including using the
ReQueue
 functionality which is a life-saver). After all, it's improved, up-to-date and fresh - there's nothing stopping you from treating it as new.
Takeaways
When you wrote that article 5-10 years ago, it must have been a great one (it accumulated some links for a reason!) But
content marketing is evolving fast
 and so do your readers' needs and expectations. Therefore updating your old content to adapt it to today's standards is a great idea. Your old content is the goldmine of opportunities because it has already earned some links and collected some data you can work with.
To turn your old content into long-form articles: