Set Up ReQueue To Drive More Traffic To Your Best Performing Blog Posts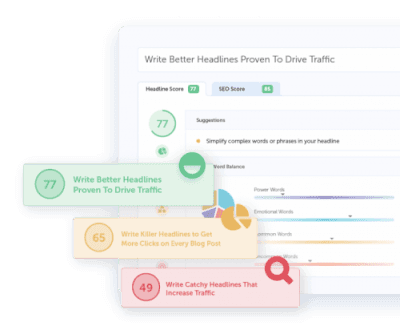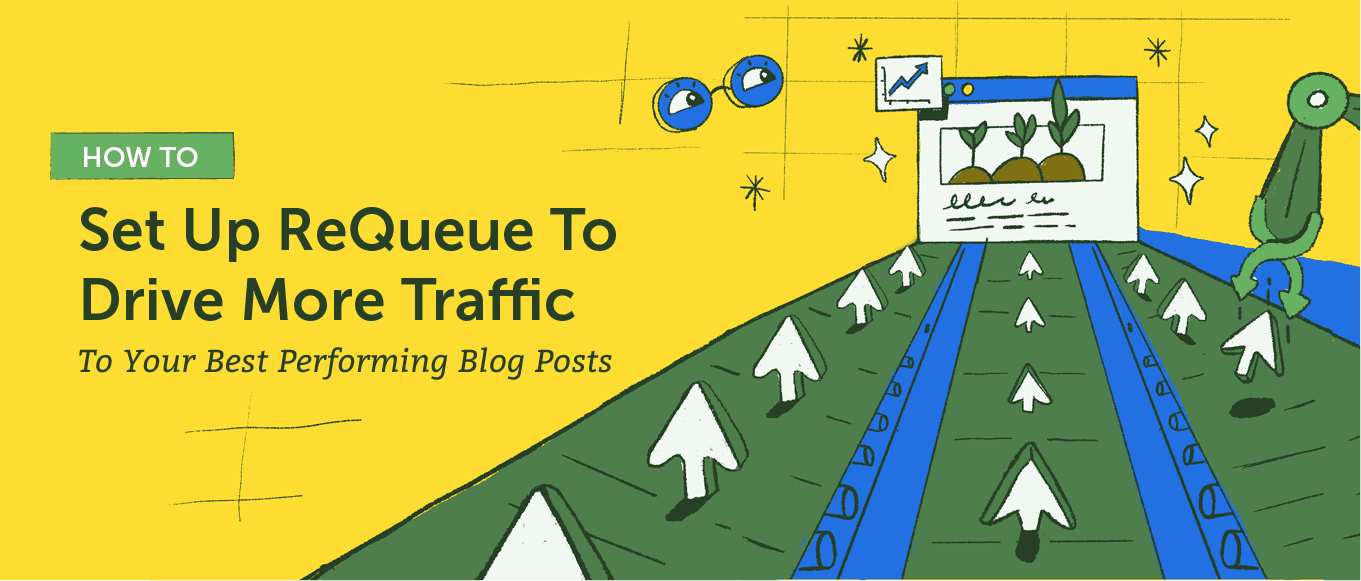 You spend a lot of time writing great blog posts, most of which are evergreen — meaning these posts stay relevant for your audience long after their publish date.
The problem? Who has time to continually write social messages promoting old content? The truth is, reaching all of your followers with a single message is impossible.
By resharing your blog posts multiple times, using CoSchedule's ReQueue power-up, you create new opportunities to drive more traffic and reach new followers.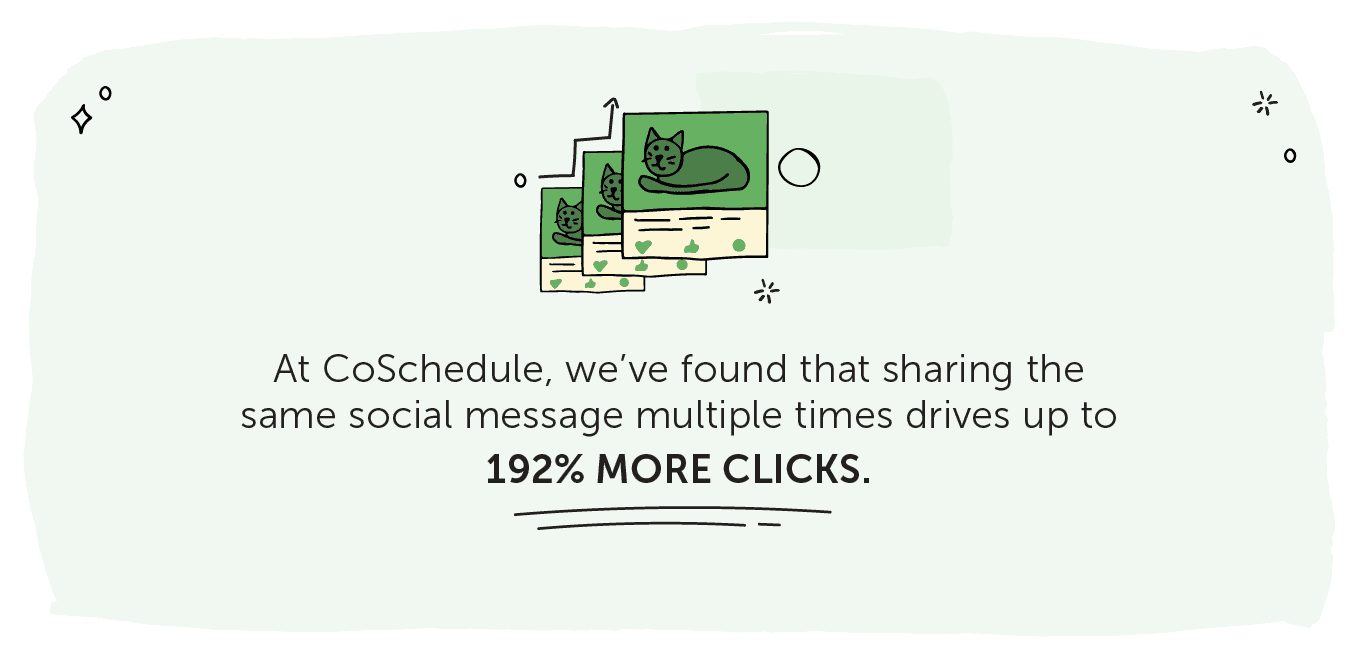 Resharing your best content is simple; all you have to do is add your best evergreen content to ReQueue.
Before You Get Started…
This blog post is the second of five short lessons that will help you learn the ins, outs, and best practices of using ReQueue to drive better results on social media with less effort.
To help you learn your way, this lesson is also available as:
Choose whatever learning style is best for you, or watch the second lesson below and read this blog to kick-off lesson two.
Table of Contents
Step 1: Add evergreen social messages to ReQueue.
Evergreen blog posts continue to be relevant and valuable to your audience — regardless of when you share them.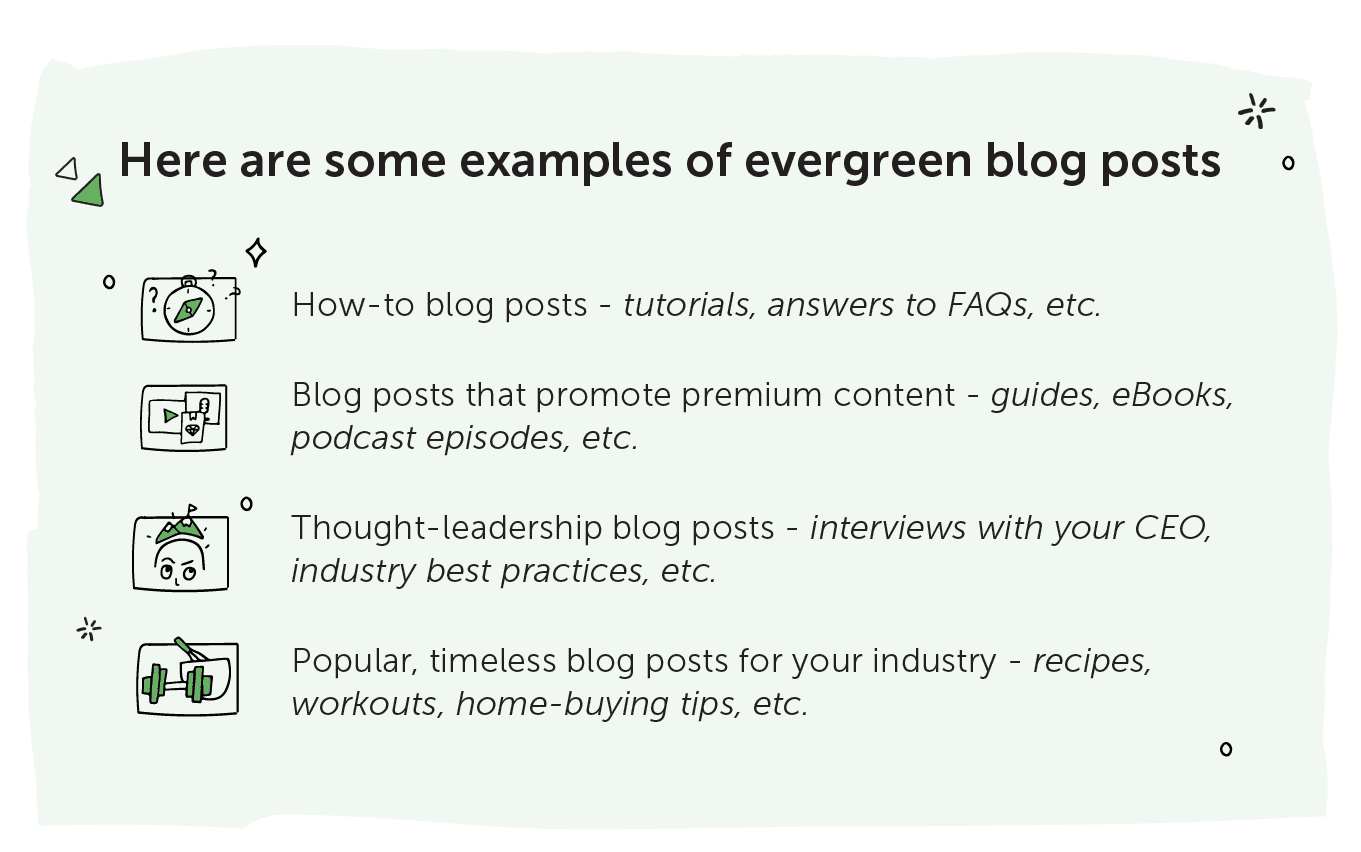 Avoid adding blog posts to ReQueue that may become outdated, like event promotion or seasonally relevant posts.
Now, it's time to add your first messages to ReQueue.
To start, head over to ReQueue on your CoSchedule calendar. You'll see two, pre-made ReQueue groups: Evergreen Content and Motivation Monday.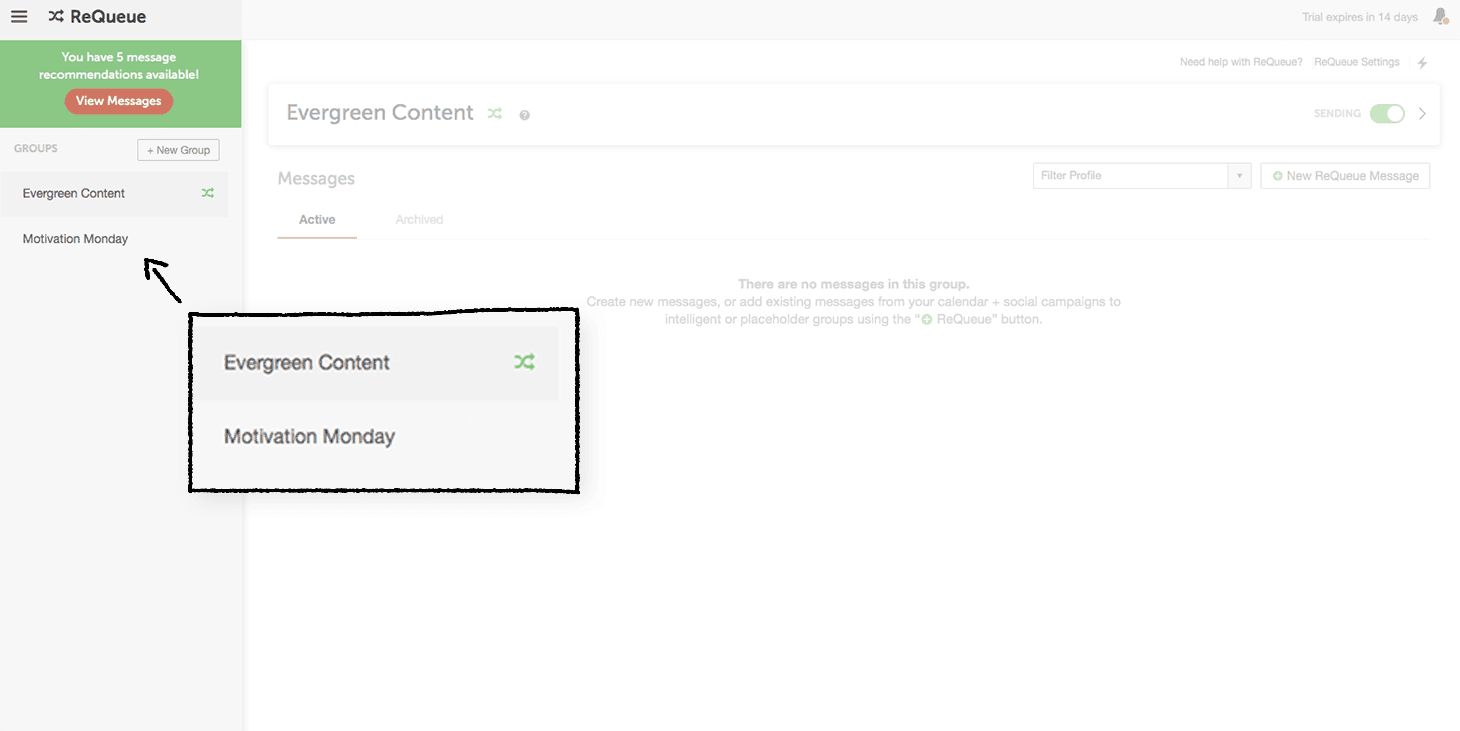 You'll also find recommended social messages to add to your evergreen content group. This is the easiest way to add new messages to ReQueue.
Add top-performing social messages to ReQueue.
The easiest way to add your first messages to ReQueue is by adding social messages from your recommended messages list.
ReQueue will pull in a list of social messages you've published on connected social profiles that have high engagement. This way, you can easily add your top-performing evergreen messages to ReQueue with a click!
To start adding messages to ReQueue, click the button to view a list of recommended messages.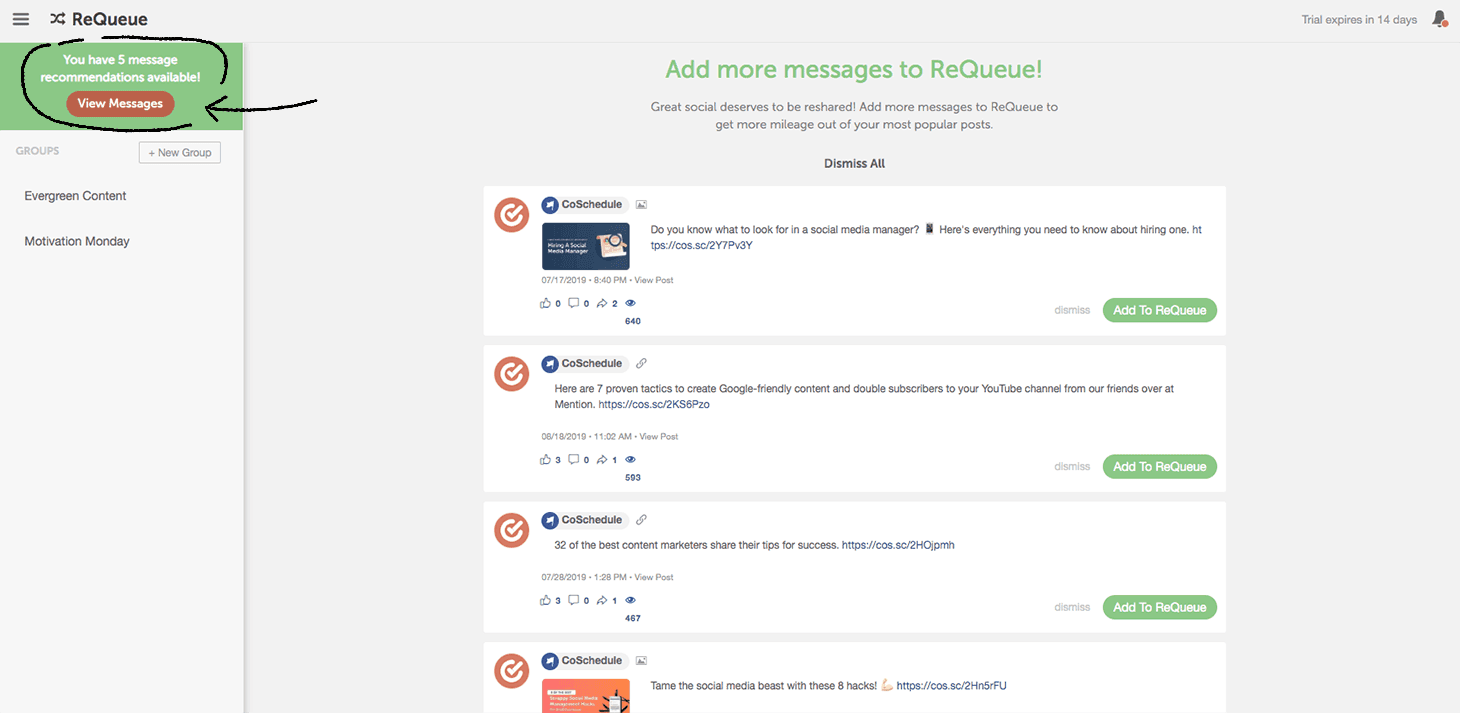 Here you can easily get started populating ReQueue with some of your best performing social messages.
Here are a few tips for using ReQueue Recommendations:
Add any top-performing social messages that promote your evergreen blog posts to ReQueue.
Dismiss the social messages that are not evergreen to remove them from the list.
Check ReQueue Recommended at least once a month to discover new, top-performing social messages to ReQueue.
Add social messages as you create new blog posts.
When you're creating social messages to promote new evergreen blog posts, simply toggle on ReQueue. These messages will be added to ReQueue once the original social message is published.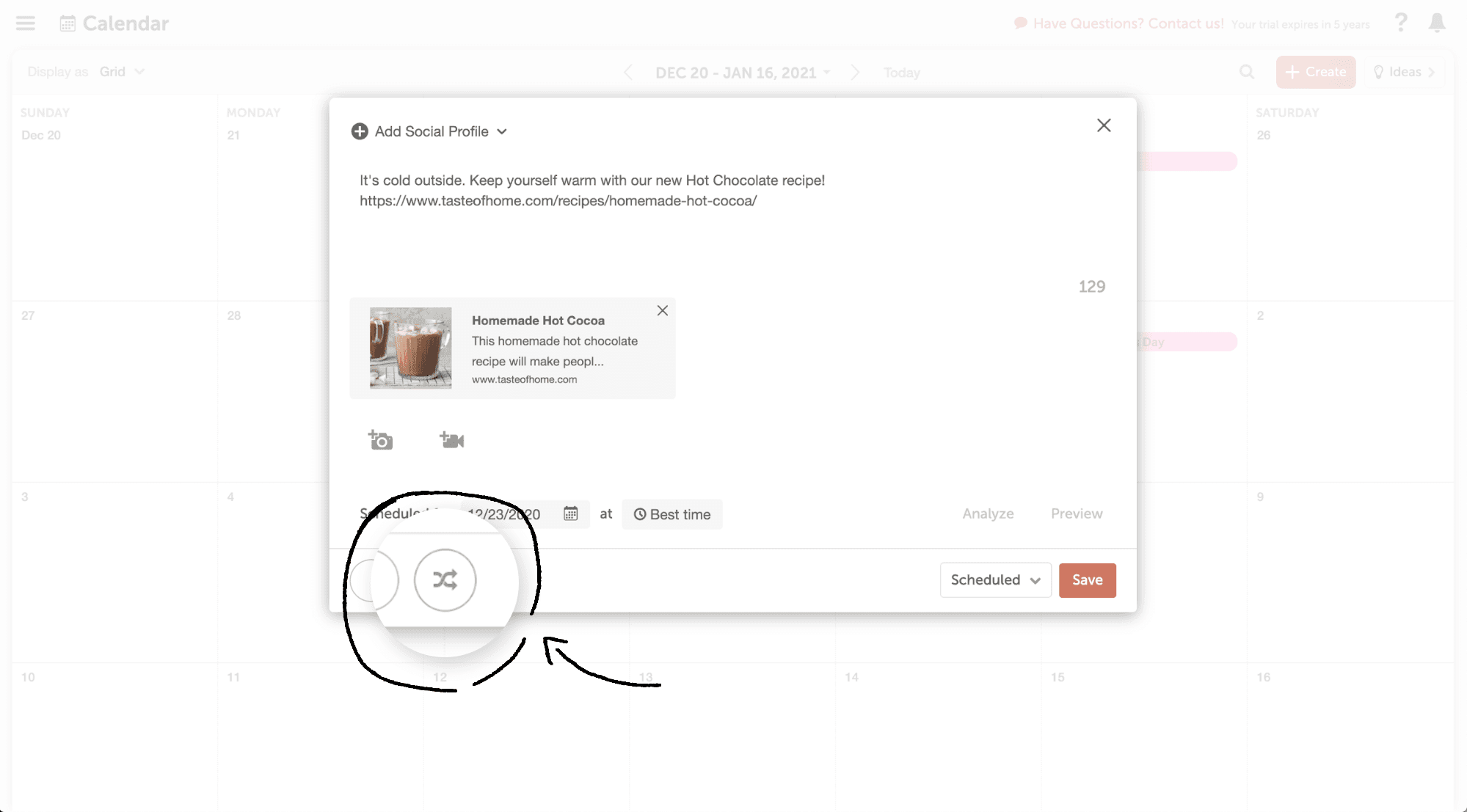 Open the message and toggle on ReQueue using the ReQueue icon. Then, choose which ReQueue group you want to add this message to — in this case, you'll want to add it to your Evergreen Content group.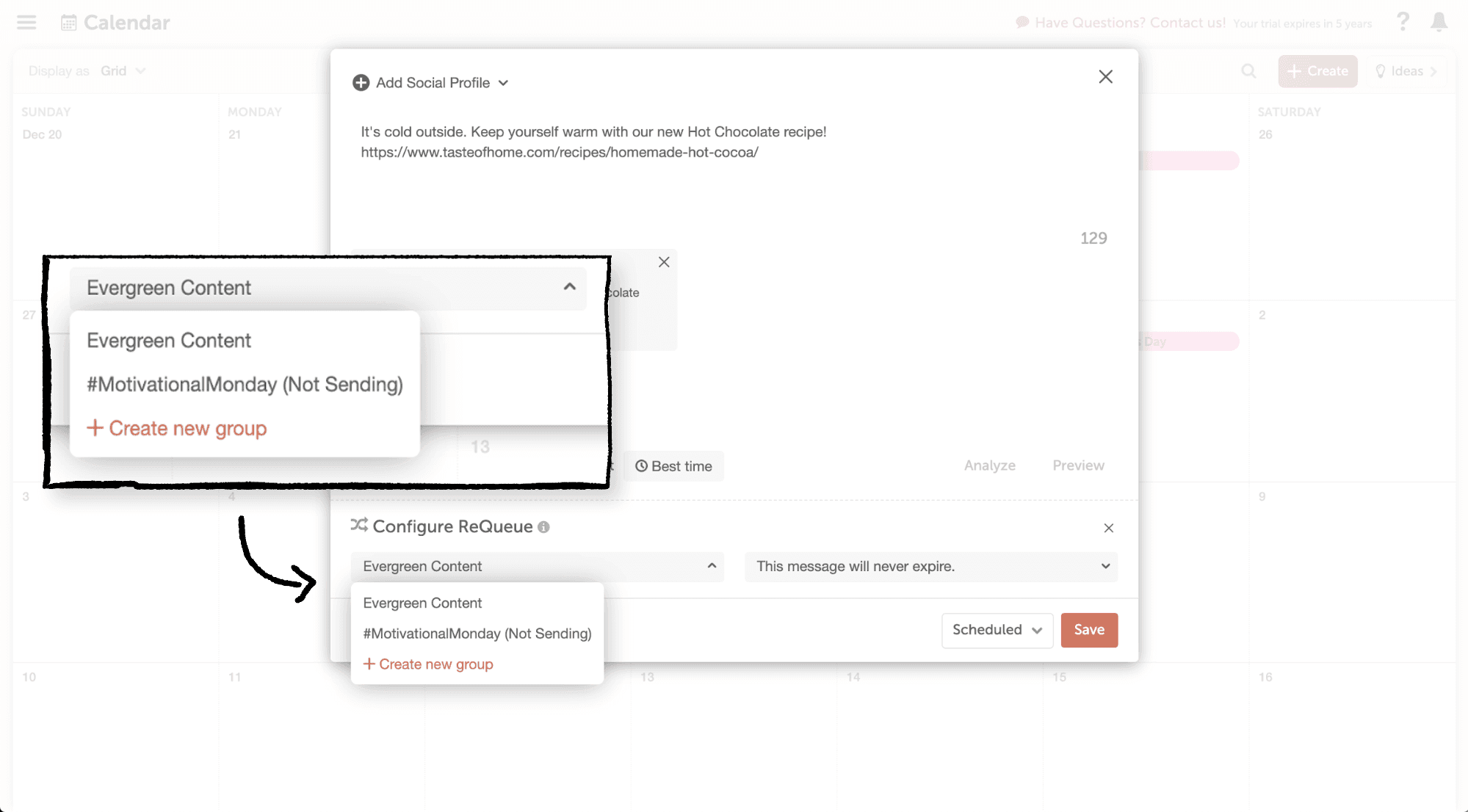 Step 2: Update ReQueue Settings for Evergreen Social Messages
Next, define how many times you'd like to share this message. For evergreen messages, select "This message will never expire."
Evergreen messages are timeless, so they can continue to be shared using ReQueue without an expiration.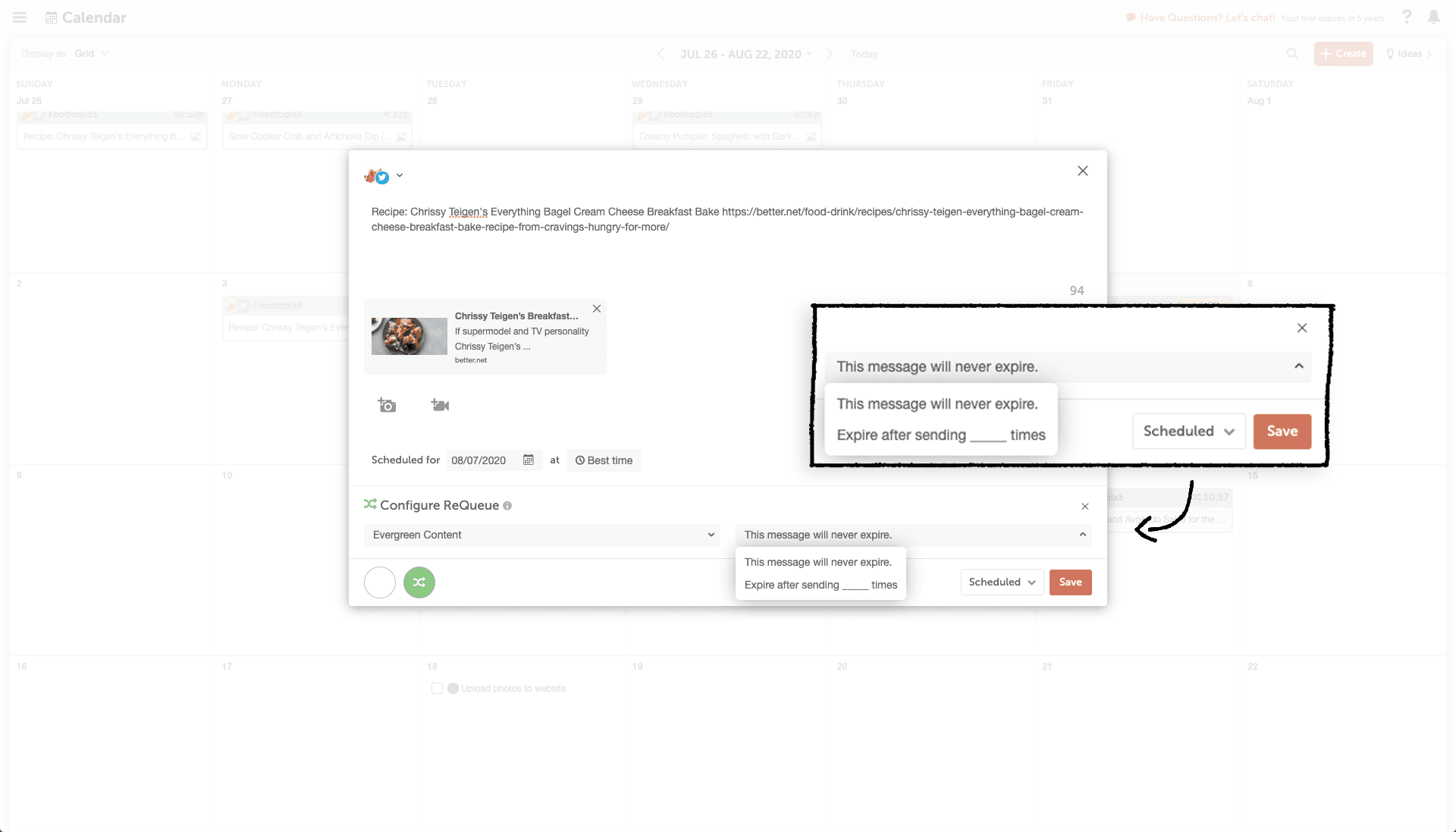 ReQueue will automatically reshare these messages over and over again at the best times for optimal engagement.
You can add any existing, published social message on your Calendar to ReQueue using this button, too.
Want to learn how to save time by automating repeating promotions on a set schedule? Check out the next lesson in our complete Getting Started With ReQueue Guide.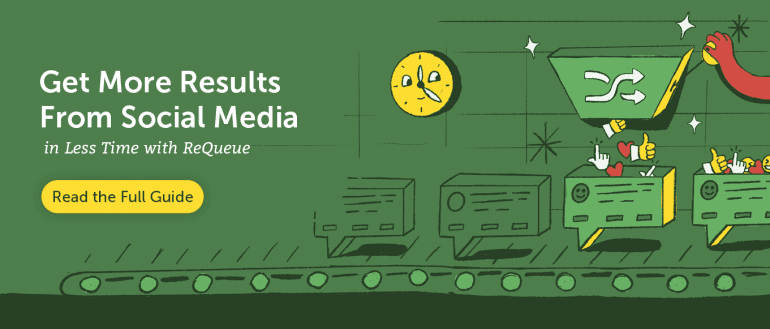 September 18, 2020