Does Content Marketing Help Retain Current Customers?
Headline Analyzer
The blog post headline analyzer will score your overall headline quality and rate its ability to result in social shares, increased traffic, and SEO value.
Test every headline before you publish. Try the Headline Analyzer »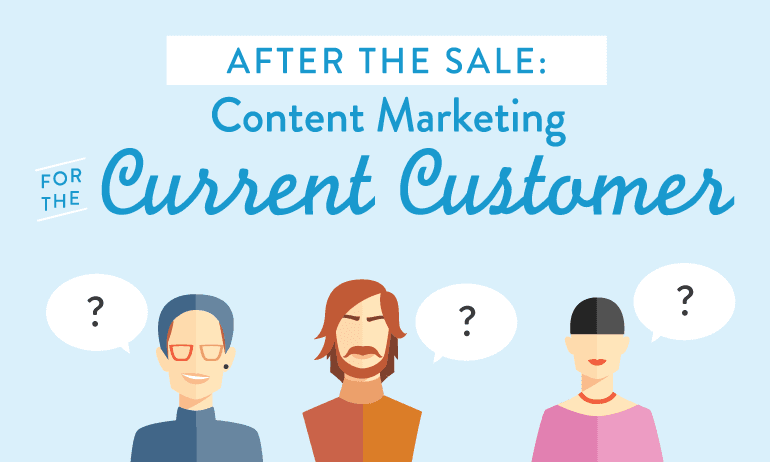 Content marketing is celebrated as an excellent strategy to widen the sales funnel. Producing a variety of content geared toward a prospective customer keeps your brand top of mind, persuading them to move further in the sales process.
Rand Fishkin explained it best when he said that content marketing is at times a long and laborious process of constantly reminding your customers. So it's easy to think once that sale is completed, so is the content.
This is a huge mistake by marketers—it's essentially ignoring and devaluing an individual once they become a customer.
Instead there should be a content strategy in place that builds value, strengthens customer trust and increases potential for brand evangelism, upselling and cross-selling opportunities.
The "After the Close" Dilemma
After the sale, there is the vital step of "keeping your commitments." At its core, it means keeping your customer happy.
Did you guarantee your product or service could solve a specific need? Then it had better deliver. In addition to carrying out the agreement, there are natural emotions and hiccups along the way, including:
Buyer's remorse
New influencers and decision makers
Resentment or aggression
Distrust
Failure to build value
Ian Lurie of Portent, Inc. describes the post-sale risks perfectly in the following graph: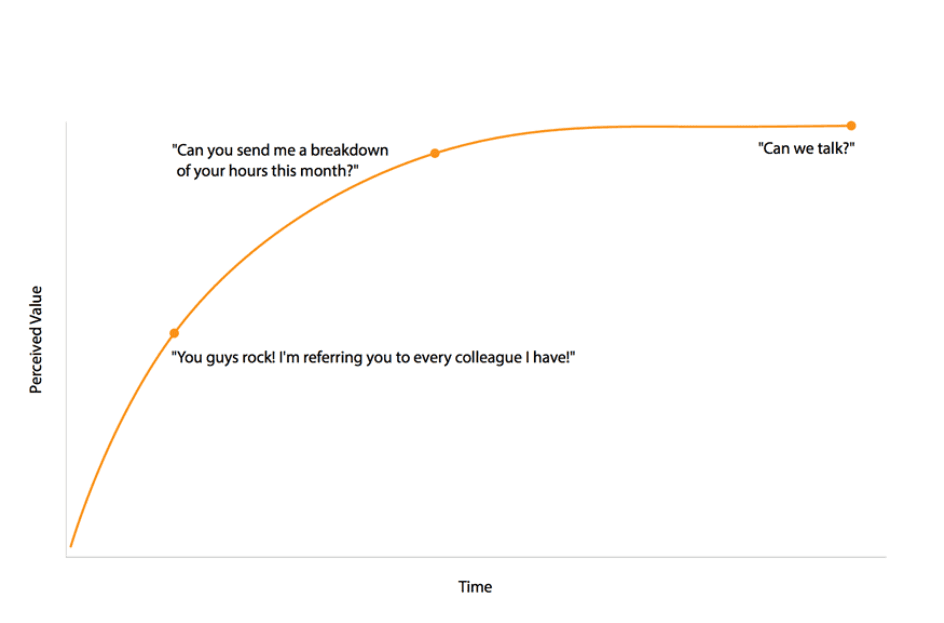 While his example was specific to marketing agencies, every customer goes through a post-sale evaluation of their purchase. Failure on your part to keep commitments and continue to drive home value opens the door for your competition to get the next sale.
So what should you be doing to keep the customer?
For many businesses, this may mean tailoring content for multiple departments in charge of project delivery, customer service and long-term customer relationship building. Here are recommendations for each of these three key areas, and some examples of companies doing it best.
#1 – Project Delivery
For most business, going back to keeping your commitments falls on the project delivery team.
Think of the software, medical or finance industries with a robust sales staff and defined sales process. Often a closed deal is passed to an account manager. And then, unfortunately, a client is often underwhelmed because the focus is more on the initial sale rather than project delivery.
Since most customers have an established and trusted relationship with the sales representative and not the project delivery team, content marketing can help with this sensitive transition between sales and project delivery, helping you meet a customer's expectations and keep them for the long-term. How do you do this?
Building Trust With Customers
The last thing you want is for your customers to not trust you after you've made the sale.
Distrust stems from a variety of circumstances, such as confusion with your service delivery or perhaps a poor experience with your type of business in the past. Content helps lessen any growing doubt by establishing credibility and initial trust with the prospect.
For example, our agency provides our clients with a tip sheet to making web design projects run smoothly. While many of the tips may seem obvious, it positions us as a serious firm that is dedicated to delivering work on time and on budget. It helps customers trust us.
Addressing Customer Inquiries
How many times have you scrolled through a lengthy FAQ page and never found an answer?
An ideal customer is one that is proactive in educating themselves, so your content marketing should at least help a customer do that.
Free graphic design tool Canva is great at proactively addressing customer questions, taking their help beyond the basic FAQ page. Their "DESIGN 101" newsletter guides beginner users on how to create new designs, ultimately drawing them back to the Canva site. While this is a free tool, educating users after their initial sign up keeps the "hype" alive and more signups coming in.
"Off the shelf" answers like this not only immediately address customer inquiries but save time for the project delivery team.
Does Your Customer Understand The Features?
Some of your customers may be purchasing your service or product for the very first time.
While the sales process sells the customer on features and expected outcomes, that doesn't mean that they'll immediately know how to handle what they just purchased. You will probably have to help them out quite a bit after the sale.
For example, You Need A Budget. (YNAB) simplifies their budgeting platform through a library of tutorial videos on how to effectively use their service. Instead of crafting an FAQ and calling it a day, YNAB repurposes many of their customers' top concerns and questions into video to continue use of the product.
If the client does not use the product, they won't see much value in it. Ongoing content ensures continuous usage.
Pointing Out New Needs
Upselling is hard, but crucial for service-focused companies that want to maintain a viable business. Essentially, you have to be on the lookout to upsell. A great way to do this is to re-convert existing customers by continuously responding to market demands and creating new product features.
For example, when Twitter was rolling out their own advertising platform, Twitter for Business, they partnered with other social media gurus on webinars to educate current Twitter users on social media best practices. By covering new trends in social media, Twitter not only promoted their brand, they upsold Twitter ads.
#2 – Customer Service
In an ideal world, you gathered enough information in the initial sales process that you're prepared to react to any client objections, problems or questions. In reality, this isn't usually the case.
While your established processes, tools, and people have a large impact on the success of customer service, content marketing can also play a role in reducing customer frustration and abandonment. In other words, your content can be that bridge that cross that gap.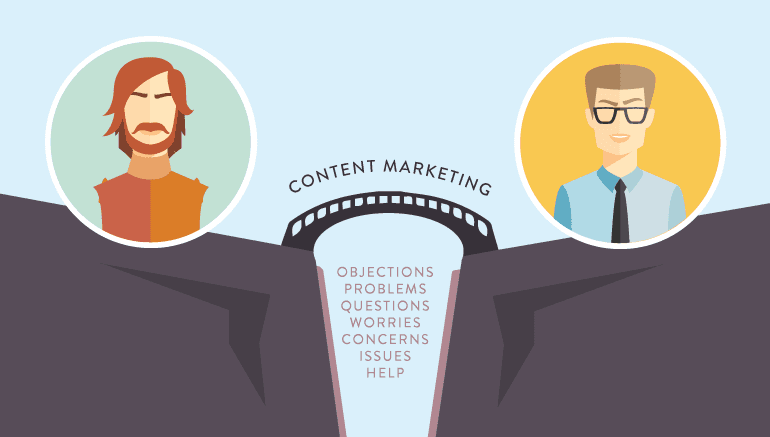 Addressing Customer Emergencies
Customer emergencies are where customer service can either excel or crash and burn.
The horror stories of unprofessional and unhelpful customer service departments are shared all over the web. To create a responsive customer service environment, it is important to make sure they have useful content they can refer to and share with customers. This content might be in the form of informational one-sheets, downloadable help guides, videos or social media that can take some weight off their shoulders when an extraordinary issue arises.
A common case study in poor customer service is the airline industry—and the gold standard is Virgin America. Before content marketing was a bonafide strategy, Virgin America's safety video took a typical safety message and revamped it for their customers.
Delta is doing something similar with their safety videos, too. I see flight attendants as an interesting mix between safety guards and customer service—this video marries the two in an entertaining way.
Solving Common Product Issues
Even if you believe your product or service delivery is 100% foolproof, any time a customer has to handle any part of the execution, chances are they'll run into some issues. Based on how many customers you have, this can become overwhelming for customer service to manage.
Similar to creating content internally, many companies are opting to put the content creation in their customer's hands.
Enabling customers with tools like community forums and knowledge bases is a great way to use content to build customer service (not to mention the SEO benefits). Moz is a perfect example of communities that use the expertise of their clients to help new ones.
Continuing To Build Trust
Remember the importance of building trust during project management? Customer service keeps that foundation secure.
Customer mistrust can stem from many occurrences—product recalls, poor media coverage, buggy features, and unsatisfactory delivery–just to name a few.
Social media is a perfect tool for a customer service team as long as proper training and processes are in place. Even if you prefer email to handle most of your customer's questions, social media can keep you in front of your followers in a personal way.
Dan Norris of WPCurve is an excellent example of continuing to build trust with his potential network. While he lets his service delivery team handle all customer communication, his Twitter followers receive company updates and accomplishments to drive home trust in using WPCurve.
Explaining Sensitive Issues
Personal concerns and sensitive topics may play out in a business transaction. It's never fun having difficult conversations with a customer, but content can help ease anxieties and keep a project on task.
The Vanguard Blog takes the formality and nerves out of personal issues like investment, retirement planning and tax planning through the expertise of Vanguard employees. By publishing blog posts based on common issues and conversations they have with their clients, they're helping the greater community in handling complex and sensitive issues.
#3 – Customer Advocacy
Within your client base, there are a small percentage of customers who truly love what you do and want to tell people about it. This is a marketers dream, as word of mouth still reigns supreme. Building a customer advocacy base takes a lot of time, but building content that enables your current supporters is a good starting point.
Continuing Product Loyalty
Once a sale is complete, that doesn't mean your customer is 100% guaranteed to re-purchase when the time comes. Whether it takes days, weeks, months or years for a re-purchase, content can keep your business top of mind when the timing is right.
Copyblogger offers membership-only access to third party companies such as New Rainmaker and ongoing discounts to events and training. Their members also receive access to advanced articles, webinars and their community forum for paid members.
Continuously providing value after a membership is purchased reminds the customer when they're ready to renew how invaluable their service has been. Even if your business is not a membership-type business, you can still create a membership feel with exclusive content only available to current or past customers.
Build An External Sales Team
Repurposing content so it's easily shareable for current customers allows you to build a sales team outside your building's walls. This content can come in the form of online tools (like share buttons on blog posts, email copy templates or special offers) to offline tactics (street teams or promotional materials).
Non-profit Invisible Children is great at packaging materials for campus chapters so students can build their own fundraisers, events and meetings that are consistent with the parent brand. No only is it empowering students, it's teaching them how to educate their network on the non-profit's mission.
Build New Connections On Existing Channels
Content can open your business up to new communities. By smart use of your current customers and channels, these niche audiences may have never heard of your business, but still have needs that you can meet.
One pop culture example is artist Beck when he released the Song Reader experiment, sharing his new tracks only as sheet music and inviting listeners to record their own interpretation. By publishing the initial announcement and submissions through McSweeney's, Beck is relying on the offline network of their readers to share the news and their creations.
—
While many of the above mentioned businesses have brand recognition and large budgets, content marketing for "after the sale" can fit any size company. Ask yourself, "Where have I hit common hurdles in retaining clients long term?" Based on that answer, focus on what type of content could be most valuable for their needs and create that content!
—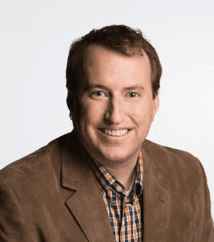 Jeremy Durant is the Business Principal of Bop Design, a B2B marketing and web design and development firm based in San Diego, CA. Jeremy builds relationships with B2B businesses in need of a marketing and branding strategy, helping them to develop their unique value proposition and ideal customer profile. You can follow Bop Design on Twitter or Google+.
August 12, 2014