Finding The Ultimate WordPress Blogging Workflow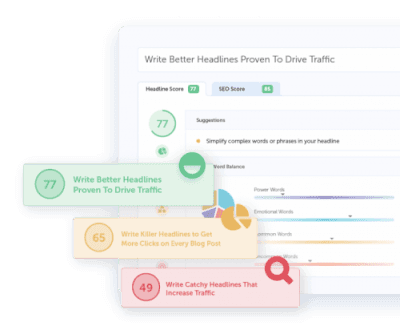 When you decide you want to take your blog seriously, you'll begin to consider your WordPress blogging workflow.
What's a WordPress blogging workflow? It's the process that takes you from start to finish for each of your blog posts, the way you make it happen. Perhaps things have changed from when you started to blog, and it's not enough to dash off a post when inspiration strikes. Now you're considering other things, such as readers and traffic and page rank and building a platform.
Understanding The WordPress Blogging Workflow
Any blog, no matter if it is a solo blog, team blog, or agency blog for a client, has a similar WordPress blogging workflow foundation. Each step leads on to the next as you build your post up from bare idea to completed content.
1. Organize Your Blogging Ideas
With great ideas comes great responsibility. Idea generation, storage, and access are the foundation of your blog posts, but it is also the step most bloggers struggle with. It's not that they have a shortage of ideas, necessarily, but they need a way to manage them. Your system for organizing your ideas must account for:
Jotting your ideas down. Will you use a mobile app that syncs with a service you can access back on your laptop? Or, will you rely on a blogging notebook, perhaps?
Catalog your ideas. You will need to find a way to organize your ideas so you can find them again should you need them or want to add new research to them. Even the best search function can't always account for everything, and it certainly doesn't beat out how you already think about the categories of content on your blog.
Churning ideas up. Create a system where you regularly dive into old ideas to find those you want to use, and delete those that are no longer applicable or that you don't want to cover. Without this kind of system, your ideas quickly bloat and overwhelm and it's hard to know where to start or even know what you have to work with.
A key to great idea management is to use a tool you're already using and familiar with, that's already part of other workflows or your daily life, perhaps–anything you don't have to rely on forming a new habit around. Because we work heavily in WordPress, we make apt use of CoSchedule's organizational abilities that connect directly with WordPress. We make selections based on category, and, because it is on a calendar, we get a bird's-eye-view of what's coming so that ideas don't drop to the bottom and are forgotten.
2. Schedule Your Ideas On The Calendar
People schedule at different points in the blogging workflow process. Some prefer to not put mere work-in-progress ideas on the calendar, but instead wait until they are completed posts. We put the ideas on the calendar before we move forward for this blog, and I do the same for my own blogs.
When you put the scheduling of posts into place at this point in the process, the date becomes the determining factor. All the rest of the following activities are centered around the date the post will be published. Scheduling now means you are choosing the best time for the post based on the idea and how it fits into the editorial calendar content. This is the method we use here when we schedule blog posts. We simply drag our ideas around on the calendar, automatically syncing the changes in WordPress as we do so.
3. Collaboration And Communication
Solo bloggers are probably not used to this step as they perfect their WordPress blogging workflow, since they are writing completely on their own. But a team? For the want of collaboration, the blog was lost. Some of the ever-important things you'll want to communicate and collaborate on in your WordPress blogging workflow is:
Who is writing the post?
When is the post due?
Is someone creating the graphics or finding an image?
What do the rest of you think about my post? Should I make changes?
Are these the most recent updates to the post? (Especially important when writers aren't working in WordPress)
Who is finalizing the post?
Unless your team of writers is functioning as a collection of solo bloggers with no style guides, no oversight, no uniform message, and as a general free-for-all, you will need a way to collaborate. CoSchedule has collaboration built-in for each synced blog post that combines back-and-forth conversation with assigned and dated tasks; this is the system I use for all of my blogs, both at work and personal.
4. Review And Edit Your Post
The reviewing and editing process is what takes the raw material and polishes it up. Your WordPress blogging workflow will want to include this in the timeline. It includes review and critique within the team, and client review if you're an agency. For our team, the process looks like this:
Content planning meeting for the next two week's of content.
Write the posts you're supposed to write. Assign a team member the task of reviewing it.
The team member reviews the post based on topic and content (not typos and grammar), and offers suggestions.
The writer reworks the post as needed.
The editor then proofs the post for typos and grammar before publishing.
We rely heavily on peer review here, and use CoSchedule to do it. Each blog posts gets a running commentary on headline suggestions, keyword ideas, changes to the content of the post, and image suggestions.
Solo bloggers, this step fits you, too.
In my solo blogging days, there was no review process. How could there be? I was the only blogger! This meant I wrote and published in one sitting without considering the value of saving as a draft, and coming back to review my own work. I thought review and critique was from an outsider; I didn't consider self-review valid. Trust me, it is. Coming back to a draft after a bit of time away from the initial writing is a great way to find errors or changes that need to be made.
5. Schedule Your Social Media
This is the optimal time to schedule your social media, now that the blog post is finished and the ideas in it are solid. The idea of the post may have changed from its inception, so it is best to wait until it is nearly done before planning out your social media messages. CoSchedule lets you do this social media scheduling right with the blog post so you don't have to worry about manually changing anything should the post date change.
If you choose to schedule blog posts at this point, instead of back at step #2, it means your concern is less date dependent and more team dependent (i.e. how long it takes to wrangle your team and get them to finish the post). This is not a great plan of action.
6. Publish Your Content
And now, after all of that work, it's time to publish. When you schedule your WordPress blogging workflow, you can click that publish button without any qualms. Once the post is published, you'll need to load your social media posts into the system you use to schedule them. If you're using CoSchedule, you can set the post to publish easily, and know that your social messages will automatically publish as well, according to your schedule, once the post is published.
Putting It All Together With The Tools You Use
Now that we've covered the basics of what a WordPress blogging workflow looks like, it's time to see what that looks like in action with the services you may already use.
CoSchedule
CoSchedule is a bit different than the rest of the methods listed below in that it lets you create your ideas within WordPress so that you do not have to transfer files from one system to the next, worrying about formatting issues inside of WordPress. Here is how we use CoSchedule to save the ideas that come to us.
1. Save your idea as a headline, even a "prototype" headline. This creates a draft blog post in WordPress. Choose a category for your idea.
2. Add team members to the post in CoSchedule. They will join in the discussion of your idea and be able to follow all new comments.
3. Most collaborative systems only allow for comments, but perhaps you have a file or image that would help flesh out your idea. You can upload images and other files as part of the team conversation.
4. Create a task if necessary so a team member knows they need to join in. For example, you could create a task that says "Tell Julie what you think of her blog post." Team members get a reminder on their dashboard and that makes it easy to keep up, even with a very busy blog.
What we love about CoSchedule is that your collaborative comments are associated with your idea and post, but are not stored in any WordPress database, or in the written content itself. Even better? Because CoSchedule is calendar-based with a dashboard and built-in tasks and to-dos, ideas are unlikely to fall to the bottom of a list somewhere, and be forgotten. That is a common problem with most note apps: out of sight, out of mind.
CoSchedule meets five of the five WordPress blogging workflow foundations well: organize ideas, schedule, collaborate, review/edit, publish.
Evernote
Evernote has several levels of sorting, which makes it handy for ideas. There are notebooks, notebook stacks, and tags. It also has a great search function.
1. Create a stack in Evernote for each blog, and a notebook for each category in each blog.
2. Ideas for that category go in each notebook. Evernote is great for saving images and web clips which might be handy as you build resources and references for your blog post.
3. Evernote saves with the most recently updated note at the top of a notebook. At your next planning session, start at the bottom of each notebook so that older ideas are not forgotten. If the ideas still seem solid and valid, consider them. If not, delete them. Just by opening an old note, you'll send it to the top, whether you use it or not, so that keeps your ideas from settling at the bottom. Delete any ideas you end up using by putting your notes into WordPress.
The downside to Evernote is that the team collaboration isn't really ideal. You can share notebooks, but between all the syncing between team members and devices, you're going to end up with conflicting changes and duplicate notes. You're better off using Evernote just for your own idea management, and then putting your ideas directly into WordPress when it comes time for team collaboration.
Evernote meets one of the five WordPress blogging workflow foundations well: organize ideas.
Microsoft OneNote
Microsoft OneNote might be a little more comforting to writers who are more comfortable with MS Office products. It has a desktop app with an almost-immediate sync to the user's SkyDrive. The SkyDrive interface for OneNote allows you to write in the cloud, too.
Though OneNote has a slightly odd way of setting up a note in the desktop app, its tabbed system is appealing in that we are already used to organizing binders and notebooks; it feels familiar. Plus, with the collections, pages, and tabs, it offers a third level of sub-organization that Evernote, a similar product, doesn't have. And yes, you can collaborate as a team with shared notebooks and even use the OneNote interface a bit like a whiteboard along with written content.
For teams with multiple blogs to manage (especially agencies or those with clients), you might use OneNote like this:
1. Create a notebook for each blog/client.
2. Create a section for each blog category in each notebook.
3. Create a page (tab) for each blog post idea in each section.
4. Share the notebooks with appropriate team members and let the collaboration begin.
The big downside to using OneNote? There will be a lot of manual work once an idea has been turned into a fully-written team-approved blog post, and it doesn't account for scheduling. You'll be dealing with formatting issues when it comes time to pasting content into WordPress. It doesn't connect with WordPress, nor does it connect to an external calendar. You can create a calendar inside of OneNote for each blog, but it is more a "dead" calendar that you'll need to manually babysit and update as needed.
OneNote meets three of the five WordPress blogging workflow foundations well: organize, collaborate, review/edit.
Google Drive
Google Drive (formerly Google Docs) works similarly to Evernote in its ability to arrange in multiple folders. Though it lacks Evernote's tagging option, it is a much better tool for collaboration, allowing commenting, chat, and real-time editing than Evernote; in fact, its team collaboration features are hard to top with any of the cloud word processing apps available today. As far as organizing your ideas, you can set up folders and documents in the same way you set up notebooks and notebook stacks for Evernote. If you're looking to take it a step further and get things on a calendar, your WordPress blogging workflow might look something like this:
1. Set up a Google Calendar for your blog. Share it with your blogging team.
2. Create a folder in your Google Drive for your blog. Create a document for each blog post, and share it with the writer and any team member that will be working on the post.
3. Create an event on Google Calendar for each blog post, on the date it is due. Attach the Google Doc with the blog post to the event.
4. Create alerts for team members according to when things need to get done.
5. Comments and discussion can happen in the Google Doc.
With Google, you're able to create content and put it on a calendar, but it is all very manual and any changes to the plan will require several steps to bring everything up to speed. Additionally, you will still need to manually add the final product to WordPress before publishing can happen, and before you begin any social media promotion activity.
Google Drive/Products meet four of the five WordPress blogging workflow foundations well: organize, schedule, collaborate, review/edit.
—
The foundation behind your WordPress blogging workflow is straightforward. Knowing what it takes to create a great blog post in WordPress helps you when it comes time to choose the tools you'll use, and how you'll use them.
November 25, 2013