Content writing can be done by anyone on a marketing team. This includes content marketers, social media managers, and marketing assistants.
Examples include:
Web Pages
Blog Posts
Email Newsletters
Product Pages
Press Releases
Case Studies
White Papers
Social Media Posts
Content writing is sometimes confused with copywriting. The venn diagram below shows the differences between them.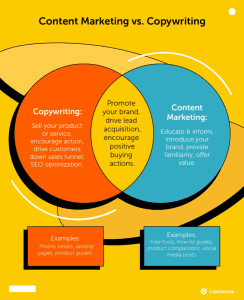 As you can see, content writing focuses more on educating readers. Copywriting focuses more on pushing prospects down the sales funnel.