40 Content Writing Tips to Make You A Better Marketer Now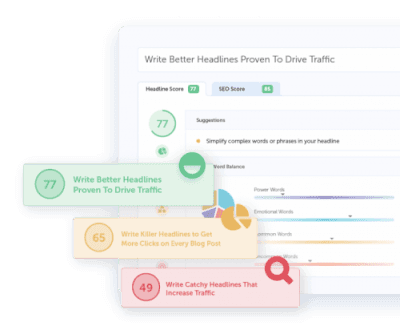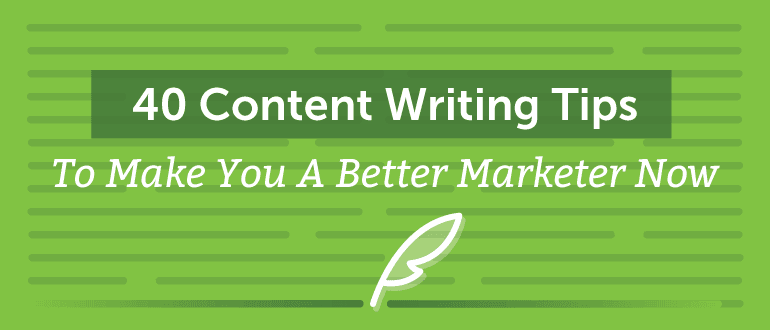 Not all marketers are writers by trade. Nearly all marketers, however, have to write.
If you're not someone who loves the written word, writing might feel like a headache.
If you're:
A content writer looking for some new tips and tools
A marketer who hates writing, but wants to learn to hate it less
A writer coming into content marketing from another field (like fiction or journalism)
Then this post is for you.
Before We Continue: Download 14 Free Content Writing Templates + Resources
There's a lot of information packed into this post. So, we figured you could use some additional templates and other resources to help you put it all into practice. Here's what you'll get in this bundle:
2017 Content Calendar Template
105 Blog Promotion Ideas Cheat Sheet
150 Bonus Blog Ideas Cheat Sheet
Blog Post Outline Template
Blog Post Writing Checklist
200+ Writing Prompts Cheat Sheet
21-Step Blog Writing Checklist
Catchy Blog Title Infographic
Social Media Editorial Calendar Template
Best Time to Publish Blog Posts Guide
Social Media Character Count Cheat Sheet
Social Media Character Count Desktop Wallpaper
Content Calendar Excel Template
Printable Paper Content Calendar Template
Assemble Your Content Writing Toolbox
We've rounded up some useful tools and apps to help you apply the tips in this post. Some are free, and others are paid, but all are options we'd recommend.
Word Processors
This seems basic. You just fire up Microsoft Word and call it a day, right? Well, depending on how you work, another option might help you be more productive. Here are some suggestions:
Google Docs: This is probably the best option for collaboration. Its ability to easily share comments on one doc makes working through editing with another team member super simple.
Focus Writer: This distraction-free word processor is great if you want to eliminate distractions from your desktop.
CoSchedule's Content Editor: We have a robust text editor built directly into our platform. It's helpful for keeping super-organized by storing your content directly on your editorial calendar.
Keyword Planner
The Google Adwords Keyword Planner is ubiquitous with content marketers. If you're ignoring keyword research right now, it's time to change that. This tool is free and can give you an idea of what your audience is looking for before you start writing.
CoSchedule's Headline Analyzer Studio
How do you know if your headlines are good? Practice writing them with our Headline Analyzer Studio. It's free to use on its own, and for CoSchedule customers,  it's also built directly into our product. Just type in a headline, get your score, and see if you can do better.
Grammarly
More than a simple spell checker, Grammarly can be a lifesaver for catching typos, errors, and wonky grammatical constructions in your writing. Plus, with their free Chrome extension, you can use it to clean up anything you're writing, anywhere on the web.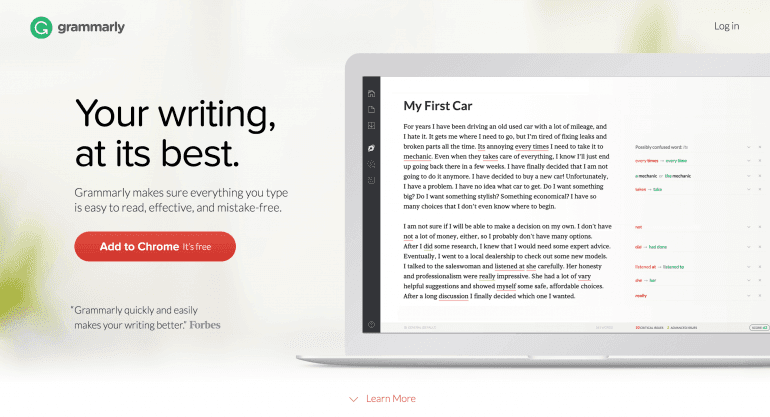 Hemingway
Hemingway is somewhat similar to Grammarly, but more focused on ensuring your writing is clean, crisp, and readable. It also offers a full desktop app.
Portent's Content Idea Generator
This fun gizmo has been around for a few years now. It's still a useful writing prompt generator for when you're feeling stuck, though. Type a keyword into the Portent Content Idea Generator, click the button, and instantly get theoretical headlines for content you could create.
BuzzSumo
BuzzSumo is the reigning champion of content research tools. Type in a keyword, and it'll instantly show you all the most shared content for that topic. It makes doing competitive research exponentially easier.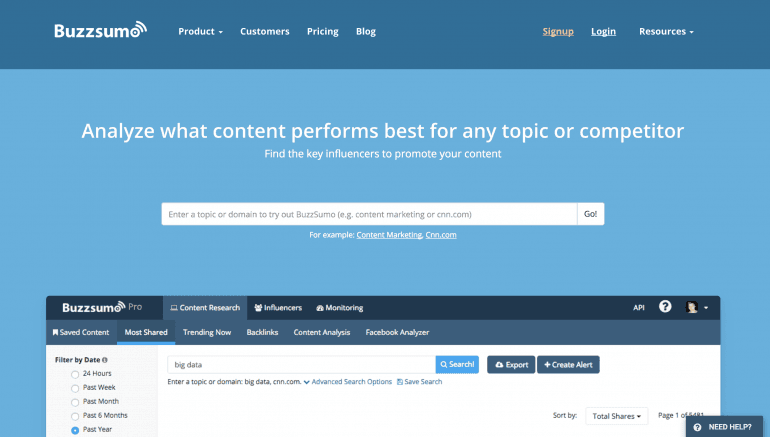 UberSuggest
UberSuggest can help you turn one idea into tons of topics, all based on actual searches people have done on Google. Enter a keyword, and it'll automatically return all the Google autocomplete suggestions it can find for that term. This can also be helpful for identifying LSI keywords (secondary keywords related to your primary keyword).
CopyScape
If you're worried about plagiarism, use CopyScape. Simply paste your text into the window, and it'll tell you if that copy exists anywhere else on the web.
Evernote
Evernote is perfect for everything from jotting down ideas to writing full blog posts. It offers desktop and mobile apps, and even integrates seamlessly with CoSchedule.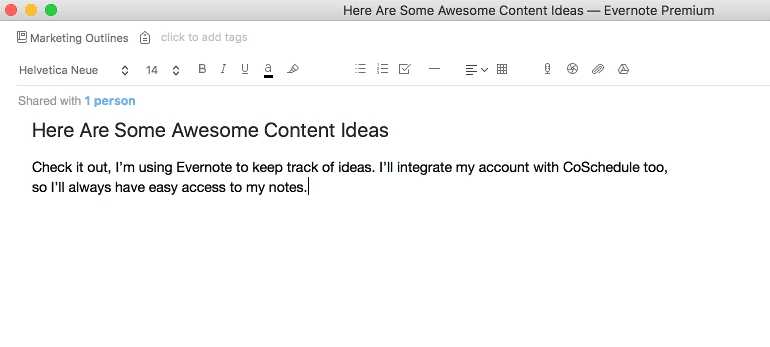 Unsuck It
Concerned your content is crap? Unsuck It will tell you for sure. Type in a piece of jargon or a cliched industry term, and it'll give you non-garbage alternatives.
And Now, the 40 Content Writing Tips You Came Here For
Alright, let's get to it.
1. Start With Good Keyword Research
Here at CoSchedule, we require prospective guest blog writers to provide a keyword in their pitch. 90% of the time, it's evident they have no real idea what we're asking them for. This is not only extremely disappointing for us, but it's also shocking to think how their own stuff must be performing, whether that's for their own company or their clients.
In simplest terms, keyword research entails:
Using keyword research tools (like the Adwords Keyword Planner, Moz's Keyword Explorer, or another option) to discover which terms people search for on Google (and to a lesser extent, Bing, Yahoo, and other search engines).
Incorporating those keywords into your content.


For a more in-depth explanation, we have a couple posts you can check out:
2. Understand Latent Semantic Indexing
Once you've got a grasp on basic keyword research, the next step is to dig into latent semantic indexing. It's a term that describes the process search engines use to understand how words on web pages are related to one another.
In practical terms, it means it's important to incorporate secondary keywords that are related to your primary keyword throughout your content. This can help your content rank for a wider array of longtail keywords, and thus drive more traffic back to your site.
3. Spend Time Writing Detailed Outlines
Few things will help you save more time than writing strong outlines. They help you figure out what you're going to say before you actually write your content.
Here's what you should include in a basic outline (assuming you're writing a blog post or web article):
Your primary keyword.
A brief description of your topic and the problem your content will solve. At CoSchedule, we call this section WIIFM, which stands for What's In It For Me? Put yourself in your reader's shoes, and ask yourself, "Why would I read this?
A brief description of the target audience for your post.
Ideas for potential content upgrades (more on those later).
A step-by-step breakdown of your content's structure.
Here's an example of our own outline template:
WIIFM:
[Insert Post Description + State the Problem This Post Will Solve]
Keyword(s):
[Insert Keywords Your Post Will Cover]
Outline:
Introduction
Subpoint 1
Subpoint 2
Subpoint 3
Subheader 1 (Subpoint 1)
Detail 1
Detail 2
Detail 3
Subheader 2 (Subpoint 2)
Detail 1
Detail 2
Detail 3
Subheader 3 (Subpoint 3)
Detail 1
Detail 2
Detail 3
Conclusion
Feel free to adjust this to suit your needs.
4. Get Into Your Competitor's Heads
Competitive research is extremely important for any content writer to understand. Before you can write the best stuff possible on a given topic, you need to know what's already out there. This is where BuzzSumo comes in handy.
Don't let your competitive research stop there, though. Get your hands on as much of your competitor's content as you can. Then, make note of the following:
What kinds of terms and industry lingo do they use?
How would you describe their voice and tone? Are they serious? Funny? Authoritative?
What kinds of content are they creating in the first place? Blog posts? Print collateral? Email newsletters? Find out where they're at and what they're doing there. Then, do better.
5. Or, Try Narrating Your Outlines Using Speech to Text in Google Docs
If you want to get your thoughts out of your head and directly onto the screen, try narrating your outline instead. Google Docs makes this easy using its Speech to Text feature. Here's how it works.
Open Google Docs and click Tools: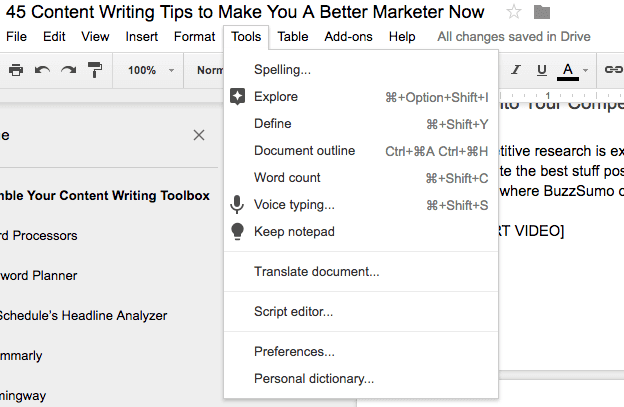 Then, click Voice Typing. You'll then see this icon appear: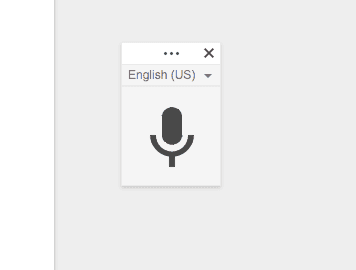 Click that guy, and you'll be able to speak into your computer's microphone to type. If you'd rather let your thoughts flow free before writing, this can be a great hands-free way to loosen up your creative muscles.
6. Set Deadlines
According to Parkinson's Law, "work expands to fill the time available." So, set deadlines that give you the time you need to finish your work, but not more than that.
How can you know how long a task will take, in order to set a realistic deadline? Start by timing yourself and keep a record of how long it takes to write an average piece of content. Then, set your deadline just a little bit shorter than that, in order to challenge yourself to work more efficiently. You'll find you get more done, more quickly. The work will probably be higher quality, too.
7. Write First, Edit Later
The first draft of everything sucks. That includes everything your favorite writers have ever written, too. Worry about getting the words out first. Then, go back and refine your work before you publish it. If you're editing your work on your own, Grammarly and Hemingway are indispensable tools to help you here.
8. Give Your Headlines Some Feeling
Data shows emotional headlines get more shares. So, if you want your hard work to go viral, hit your audience right in the feels.
That doesn't mean you have to get sappy on your readers. It also doesn't mean you need to manipulate their feelings using cheap clickbait tactics. It does, however, mean that your best headlines are probably going to be ones that inspire readers to feel something that compels them to click.
Need some help working more emotive language into your headlines? Start with this sheet of emotional terms: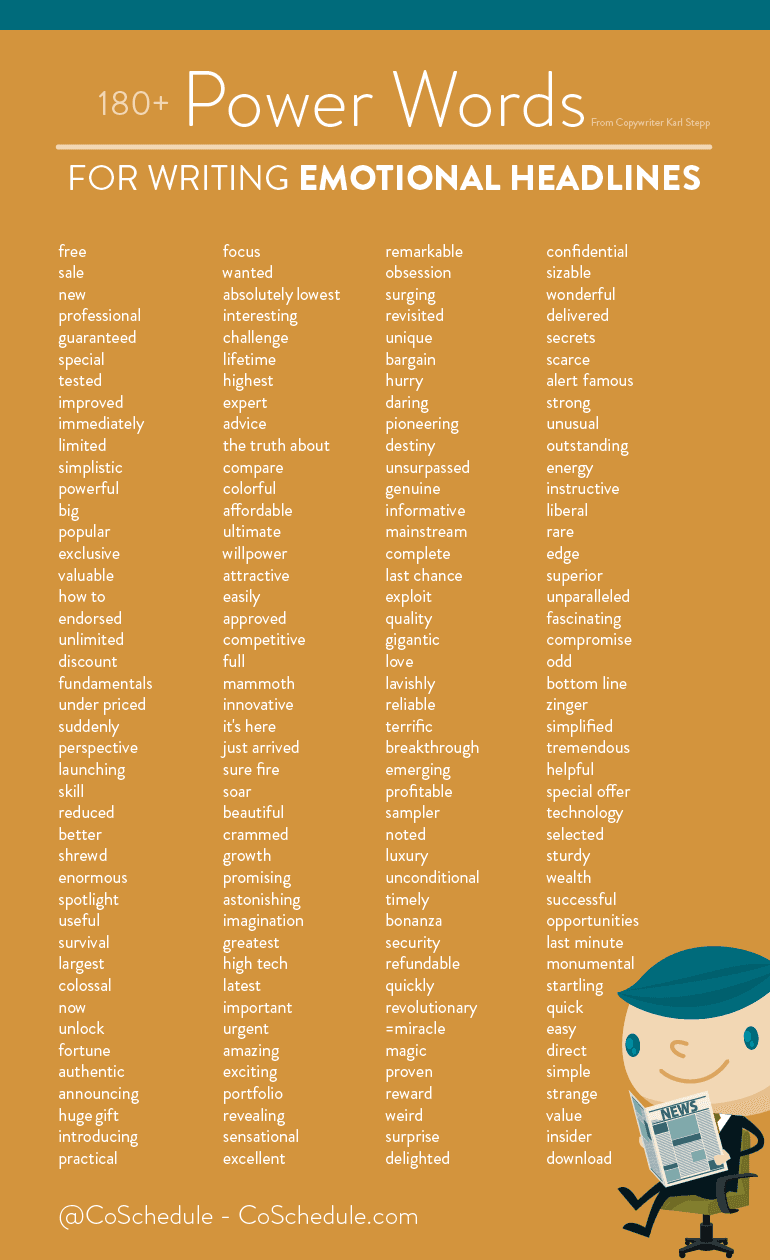 And of course, CoSchedule's Headline Analyzer Studio takes emotional appeal into account when calculating your score: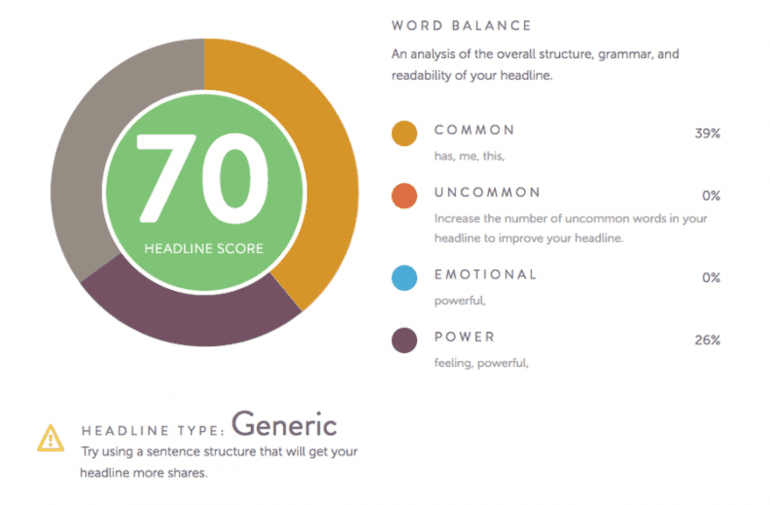 9. Write At Least 25 Headlines For Every Piece of Content
Headline writing isn't easy and getting them right is partially a numbers game. We recommend writing at least 25 at a minimum. However, sometimes you'll burn through few dozen or more before you land on one that sticks.
Use our Headline Analyzer Studio and tear through as many headline ideas as you can: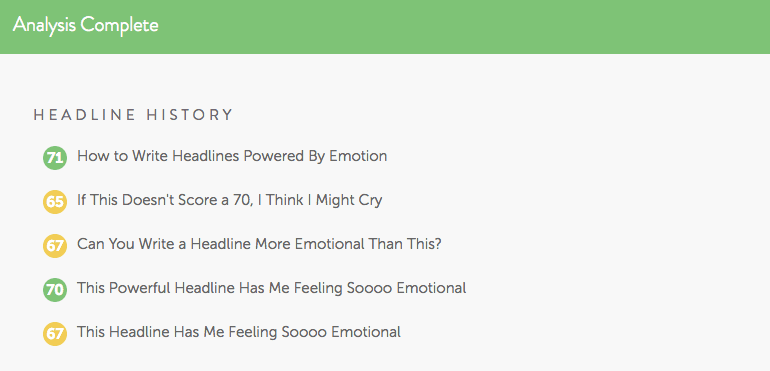 Then, review your work. Narrow your options down to anything that scores 70 or higher. These are your gold nuggets.
10. Write Intros That Hook Your Readers
Once a visitor lands on your page, you don't have a lot of time to hook their interest. If you want them to stay instead of bouncing back to Google, you need to nail your introduction.
Here are six quick ways to do just that:
Start with an interesting fact. Something with a true but hard-to-believe fact is one way to approach this.
Start with the end of your story first. Then, build suspense by working your way through how you arrived at that conclusion.
Open with an anecdote. Give your readers something they can relate to, like maybe a time you failed at something (and then leading into what you learned).
Ask a question. One that makes readers want to stick around to learn the answer.
Push your readers off a cliff. Not literally, but with a cliffhanger.
Be confrontational. Don't be overly aggressive, but don't be afraid to call out common-but-detrimental behavior your audience frequently engages in. Here's an example: "

Studies show 77%* of you aren't writing good introductions

."
*This stat is completely made up, but you get the point.
11. Understand Tone and Voice
Your writing should sound like the organization you're representing. So, if you're marketing a law firm, you probably shouldn't sound like you're writing for Buzzfeed.
It isn't always easy to write in a voice other than your own. However, it can help to define what your brand's tone and voice actually are, so you have some concrete parameters to work within.
Here's how we can define each:
Voice. This is what you sound like.
Tone: This is the inflection you apply to your voice.
MailChimp's style guide offers an excellent description of what voice and tone of their voice and tone.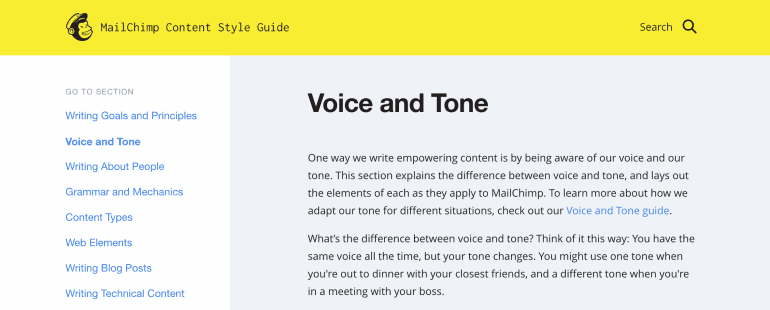 12. Be Comprehensive
There's a lot of talk about how long blog posts should be.
First, there were studies saying, "1,500 word blog posts rank best."
Then, that became, "Hold up, 3,000 word posts are now even better."
This has lead some marketers to believe that simply giving search engines more text to crawl will equal better results. That's a backwards approach, though.
The real takeaway here is that comprehensive content (meaning content that thoroughly answers a searcher's question) does best. Typically, that's coincidentally going to mean posts that come in around 1,500 to 3,000 words, or more.
Include all the information your reader needs to know about your topic, and you'll be more likely to succeed. That's all there is to it.
13. Avoid Passive Voice
There are times when it's appropriate to use passive voice. Usually, it just makes your writing sound dull. Opt for active voice instead whenever possible.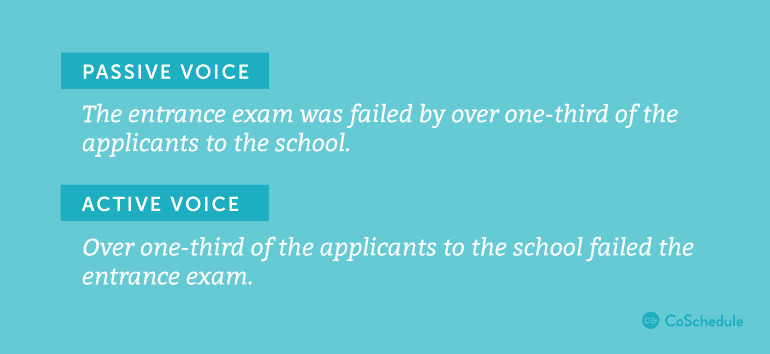 14. Write Better Title Tags and Meta Descriptions
If you've used a search engine, you've seen title tags and meta descriptions (even if you don't know what either of those things are).
Title tags are the blue links that appear on search result pages. Meta descriptions are the snippets of text that appear beneath those links.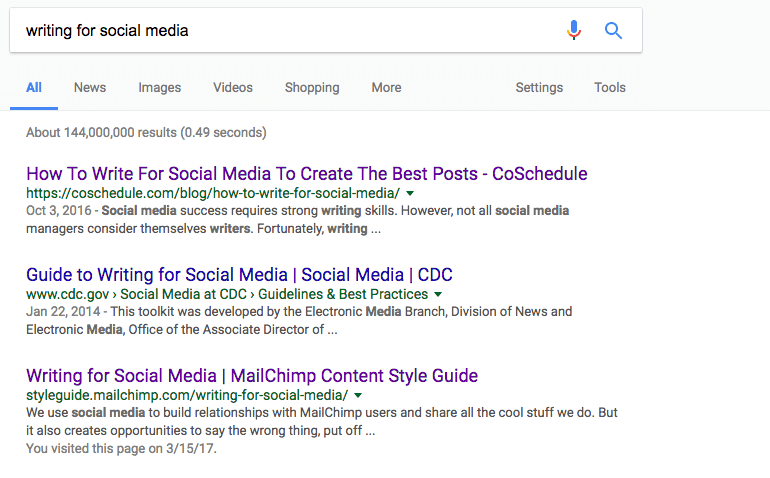 While Google experiments with how search results appear from time to time, you currently have approximately 70 characters for title tags, and 156 characters for meta descriptions. Use all the real estate you've got.
Beyond that though, how do you write these well? Here are the fundamentals:
Include your primary keyword in your title tag

. This is one of the most important on-page SEO elements for you to pay attention to.

Make your meta descriptions compelling

. Why should people read your post? Does it include any freebies that might entice clicks? Think of these like short snippets of ad copy to sell searchers on the idea of reading your post (instead of the other nine on page one of Google).

Stay within the recommended character counts

. Otherwise, they'll get cut off, and people won't see the extra text, anyway.
15. Write Blog Posts With Content Repurposing In Mind
An easy way to save time writing content is to repurpose copy from your blog posts elsewhere. Here are some ideas:
Use the introduction from your blog post in an email to promote it to your mailing list.
Borrow stats and quotes for social media messages.
If you have a YouTube video related to your post, adapt some of your blog copy for your YouTube description.
Those are just a few thoughts. For more, this post that goes in-depth on how you can repurpose content to make the most of your time.
16. Put Your Audience First (Say "You" More Than "I")
In a lot of ways, people are inherently selfish. Your reader only cares about the value your content offers them.
As you're writing your content, be mindful of how you can focus more on your reader than yourself. One easy way to do that is to focus on saying "you" and "your" more often than you say "I" or "we."
Here's an example of what we mean.
Selfish Example:
Our new 27" tires are made from durable rubber that makes them the best on the market.
Reader-Focused Example:
Once your bike is outfitted with our durable new 27" tires, you'll experience a smoother ride.
The first example is feature-focused and centered on the hypothetical bike tire company. The second example focuses on benefits to the reader.
17. Write What You're An Expert On
If you don't know a topic inside and out, don't try to fake it until you make it. Instead, do your research and make yourself an expert. People can easily spot fakes, and it's not worth putting your reputation on the line just to make life easier for yourself in the short term.
18. Keep Your Paragraphs Short
No more than three paragraphs.
19. Keep Your Sentences Short, Too
20 words or less, if possible.
20. Avoid Repetition
If you've said it once, you don't need to say it again.
21. Use Links to Your Advantage
Do you have topics you frequently touch on in a lot of blog posts? Instead of repeating the same points over and over, create entire blog posts on topics you frequently reference. Then, link back to those posts in the future, instead of repeating yourself over and over.
This can help you save time while building up tons of quality, related content. And when that content is all linked together, it helps search engines understand that your site is full of unique, high-quality, and related content. That's because search engines use links between pages to understand the relationships between different pages across your site.
For example, here at CoSchedule, we frequently mention editorial calendars in our content. That makes sense, because making marketing calendar software is what we do. Instead of going in-depth on what a marketing calendar is every time we mention the topic in a broader post, we'll include a short description that links back to an existing post.

22. Avoid Jargon and Write to Be Understood
No one likes being talked to like they're an idiot.
However, that's exactly how your audience might feel if you use too much jargon they don't understand.
Instead, use language you know your audience will understand. If you're stuck trying to find a more common phrase for an overused cliche or piece of jargon, try using Unsuck It. Type in the offending phrase, and it'll give you better options instantly:

23. Avoid Keyword Stuffing
It's weird that we still have to talk about this one in 2017, but let's make sure we get this out of the way.
You should absolutely avoid over-cramming keywords into your content.
It's not going to help your content rank. In fact, it's more likely to get your stuff de-indexed from Google.
24. Think Users First, and Search Engines Second
This tip ties into our previous one. Write for people first, and search engines second. That means making sure your keywords are included in your content, but don't force-fit them in a way that sounds unnatural.
It also means avoiding targeting keywords that aren't relevant to your audience. Just because a term has high search volume, doesn't mean it's a good fit for your audience.
Use common sense and prioritize people over search bots.
25. Use Action and Power Words
You're likely writing content because you want your readers to take some kind of action.
That's going to require using language that motivates and inspires them to do something.
An easy way to do that is to incorporate action and power words into your copy. Use this cheat sheet: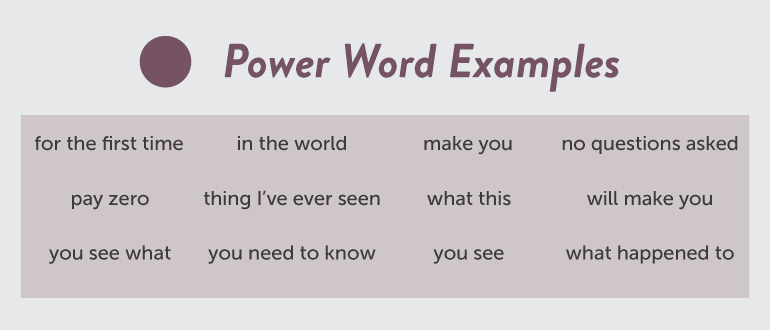 26. Credit Your Sources
This is easy to overlook, but it's important to credit your sources. If you borrow a quote or piece of information from somewhere, link back to them. Aside from being the right thing to do, it also can yield some real benefits. Those include:
Increased exposure for your content

. Consider reaching out to sources and letting them know when your post publishes. They'll likely share it via their own channels, giving you more exposure and traffic.

Showing that your claims have support

. Showing your research shows you didn't just make something up out of thin air.

Making your content more useful

. Linking out to additional resources makes your content more useful to your readers.
So, cite your sources.
27. Measure Your Success on Social Media
You're not creating content for its own sake. You want it to get read and deliver real results. That means you need to be measuring the impact of every piece you write. Here are some ways to do that:
Learn how to use Google Analytics

. Nearly every site and blog out there is hooked up to a GA account. However, how good are you at actually using it and leveraging data to measure performance and create more great content? Don't forget that CoSchedule integrates with Google Analytics, too.

Measure the success of your social media promotion

. How much attention are you paying to your content's performance on social media? Note what gets likes, shares, and comments, and what doesn't. Then, adjust accordingly. CoSchedule makes this easy with Social Analytics Reports.

If your content is underperforming, refine your social media copywriting skills

. Are you confident your content is great, but it's still underperforming on social media? The social messages you're sharing could use some work. If you're not spending enough time writing thoughtful content when you share your posts, it's time to start.
28. Use Yoast to Make Your Content Easy to Read
If you're using WordPress, you need to be using Yoast. In addition to adding useful SEO functionality to your site, it also gauges the readability of your content: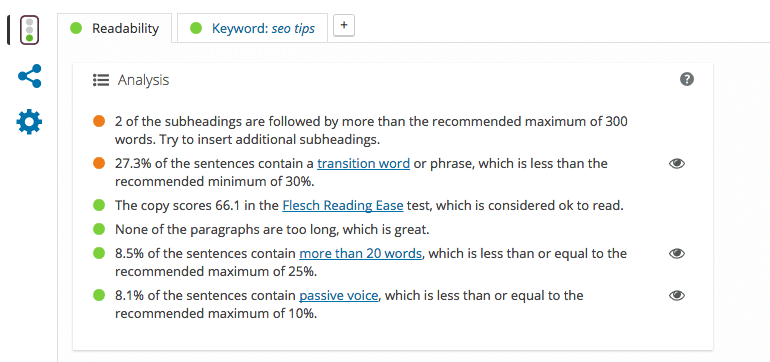 If your content scores poorly on the Fleisch Reading Ease test, use Grammarly and Hemingway to identify and correct issues. Keep at it until your content scores over 60%, which is considered okay to read.
29. If You're Writing How-To Content, Then Make It Actionable
When people have a problem, they search Google for a solution. The same applies when people want to learn how to do something.
Your job is to be there with the information they need when those searches happen.
Unfortunately, there's too much how-to content out there that doesn't actually show people how to do anything. That's because it's easier to simply tell people what to do without providing actionable follow-through.
So, what does "making content actionable" actually mean? In simplest terms, actionable content shows readers how to get stuff done. Here are some pointers:
List all of the steps related to completing each task for your topic.

Figuring out each step in a process before you start writing can make it a lot easier to write truly actionable content.

The more detail, the better

. Sometimes, it can be hard to know how much detail is too much. In most cases, though, people would rather have too much information, rather than not enough.

Use a lot of screenshots

. Showing is easier than telling. Take a task and break it down step-by-step, with screenshots illustrating the process. Our blog is full of examples of what this looks like in practice.

Consider adding a quick video

. If explaining how to complete a step would take too many words, adding a short video explanation might be easier. If you can explain something in under a minute that would take 1,000 words to lay out, then get your phone out and shoot a quick clip.
30. Add Value With Content Upgrades
Content upgrades are additional downloadable resources that add value to your post. When you're writing, think about what kinds of content upgrades your readers would appreciate. These could include:
Free Word or Excel templates
Additional infographics
Ebooks, white papers, or research reports
Or anything else you can think of
31. Beat Writer's Block With an Effective Brainstorming Process
Few things are worse for a writer than not knowing what to write about. Fortunately, by developing an effective brainstorming process, you can eliminate that problem for good.
Here's the three-step process we use here at Coschedule:
Spend ten minutes writing down as many ideas as you can think of.
Spend ten minutes scoring each idea on a three-point scale. Three's are awesome, two's are average, and one's are dud. You'll likely have a mix of all three.
Spend ten minutes isolating your three's and pick the ones you'll go with.
This process helps us generate a month's worth of ideas in just half an hour. For a more detailed breakdown on how it works, we've got that for you here.

32. Store Writing Ideas in Evernote
Once you have a ton of ideas, you'll need somewhere to keep track of them. We recommend placing all your three's directly on your editorial calendar (whether you're using CoSchedule or another option).
For taking quick notes as you think of them though, we recommend using Evernote. It's the perfect tool for storing notes and ideas for content you could write. Best of all, it integrates directly with CoSchedule, so you can easily access your notes directly in your calendar. You can even write entire blog posts in Evernote, and convert them into WordPress posts too.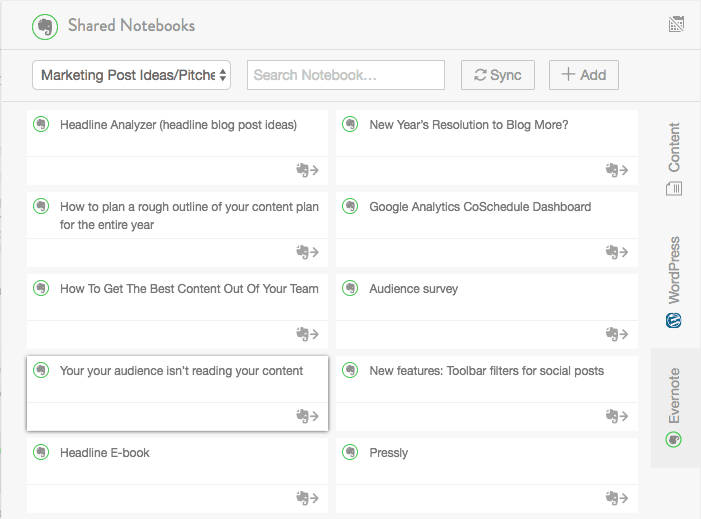 33. Write With a Specific Angle
If your writing feels like it's going all over the place, you might need to narrow your angle. In simplest terms, an angle is the perspective you're writing from, and the specific point you're trying to make. This is something journalists know well.
For a content marketer, that could mean focusing on one specific benefit or task. Or, if you're writing something more opinion-driven, it could mean focusing on just one specific point you want to get off your chest. The idea is to drill deep on a very narrow topic.
To get this right, we can borrow some tricks from the journalism world. A good angle has three things:
Unique perspective

. What can you say about your topic, in a way no one else can?

Focus

. Know what to write, and what not to write. If it's not directly related to your main point, cut it out.

Relevancy

. Does the combination of your topic and angle add up to something your audience wants to read?
34. Know the Recommended Post Lengths and Guidelines for Each Social Media Network
Too many content marketers pour their heart and soul into their blog posts, and then cut corners writing social posts to promote them.
Don't be one of them. Follow these cheat sheets to better understand the optimal length for social media posts, and the types of messaging that work best on each network.
Post Length: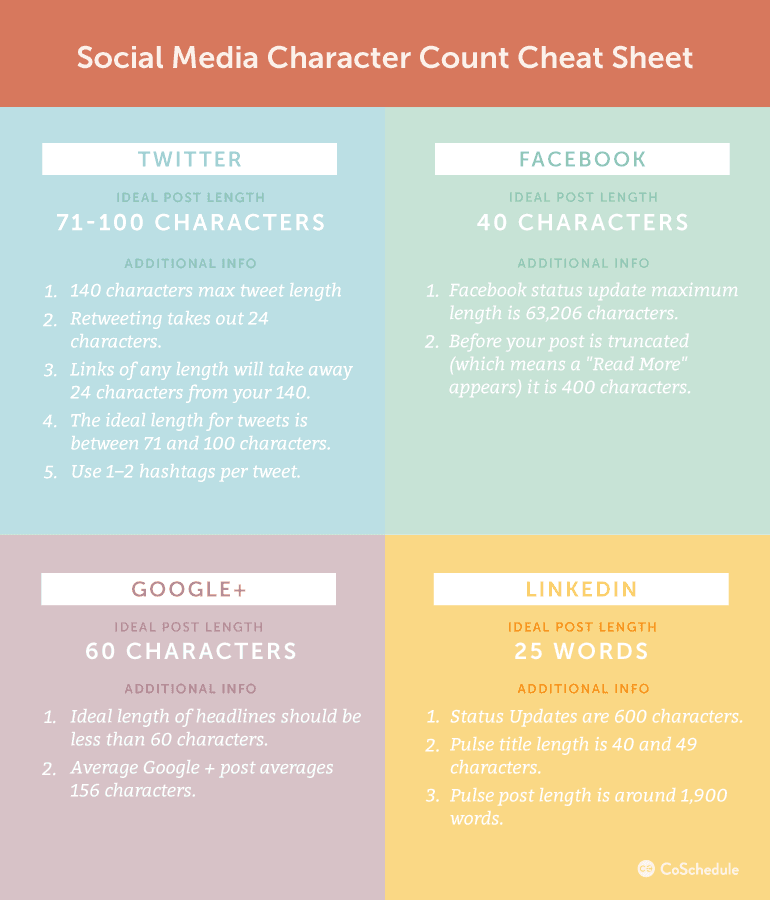 Messaging Guidelines: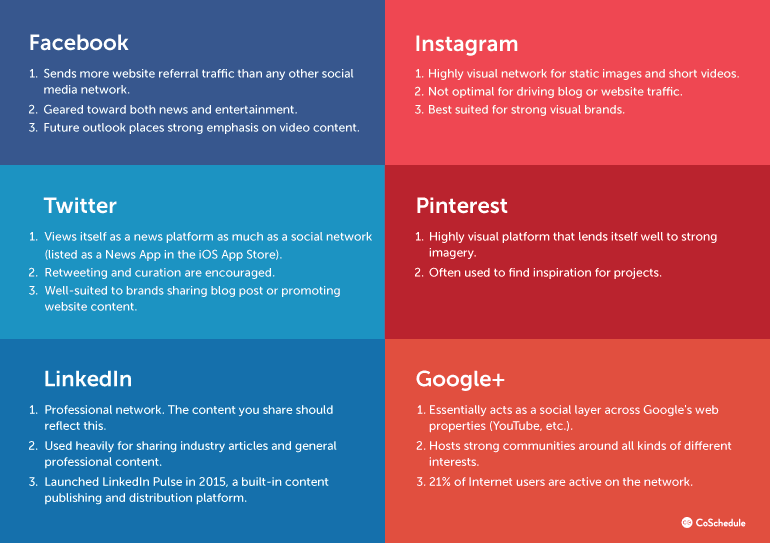 35. Avoid Hyperbole
Authoritative content relies on facts and expertise, not inflated claims or bravado. If you feel like anything you're saying sounds better than it really is, eliminate it. Let's look at a couple examples:
Hyperbolic: "Our bike tires are the absolute best available on the market."
Accurate: "Our bike tires offer 30% longer tread life than our top competitors."
Provided the theoretical company in this example had data to support the second claim, you can see why leaning on stats and facts is better than talking yourself up. One is likely to turn readers off, and the other offers proof that their tires really are the best option.
36. Include Stats and Data When Possible
Continuing off our previous example, people love seeing impressive stats and real data. So, incorporate it into your writing whenever possible. Hard numbers can yield several benefits, including:
Conveying more specific benefits to your audience

. "This product will improve productivity by 45%" sounds better than simply saying, "This product will boost your productivity by a lot."

Showing proof of your claims

. Numbers provided by data and research lend content a sense of authoritativeness.

Grabbing your audience's attention

. For each of the reasons stated above, stats can help capture reader's interest while they're perusing search results or skimming their social media feeds.
Here are some examples of posts we've written with interesting stats in the headlines:
Where can you find stats and data when conducting research? Try these sources:
Run your own survey

. Tools like Polldaddy and SurveyMonkey make this easy. You can also run Twitter polls to get quick feedback from your social media following. For more details on running a marketing survey, we recommend this guide from HubSpot. SurveyMonkey also has a helpful collection of free questions and templates you can use.

Track down industry research reports

. You can often find these from professional organizations, publications, or research companies like Forrester Research. Some of them might be paid, while others are often free in exchange for your email address.

Find studies from other companies online

. Brands often write posts about their own research findings. Leverage them to support your own content (just make sure to cite your sources and give them credit).

Run your own test

. If you're trying a new tactic or project, record your progress and track your performance. For example, if you're marketing lawnmowers, you might try devising a new way to sharpen mower blades. You could then track how long it took to mow an acre of grass with dull blades, versus sharp blades with your new process. You could then give it a headline like, "How to Mow Your Lawn 67% Faster With Sharper Mower Blades." Speaking as a homeowner with limited free time, that's something I'd probably read.
37. Learn Basic HTML
Content writers don't need to be expert coders. However, you should learn some basic HTML (and maybe even some CSS, too). With a little bit of coding know-how, you can:
Manually correct formatting issues in WordPress. Something doesn't look right? Instead of swearing and throwing your keyboard, you can fix it yourself.
Communicate better with web developers. Knowing the basics of how to describe problems can help you both arrive at a solution faster.

Stop bugging your developers to make content edits in your CMS.

 This may be an issue if you're stuck using an ancient CMS.

Better format content for SEO

. This mainly entails using correct header tags (such as H2 and H3 tags), which are important for SEO (as well as visual consistency).
38. Destroy. All. Cliches.
Unless you want people rolling their eyes when they read your posts, get rid of cliches. Common cliches include:
At the end of the day …
When it's all said and done …
Back on track …
Level the playing field …
Par for the course …
In this day and age …
The best thing since sliced bread ...
And we're sure you can think of more tired phrases. So, what's the problem with using cliches?
They're aggravating and convey a sense of laziness.
If you're concerned about cliches in your writing, use Cliche Finder. It's a free tool that lets you copy and paste your content and uncover cliches in one click: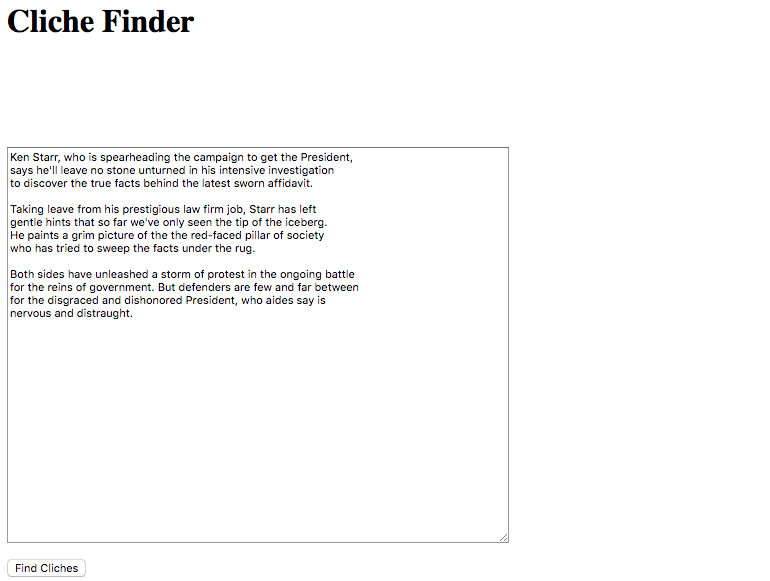 39. Avoid Plagiarism
There are obvious reasons you shouldn't copy people's work without permission or citing sources. However, there are also some serious technical reasons to avoid copying other people's stuff, too.
Search engines punish duplicate content

. If search bots detect two identical pages, they get confused and don't know which version of the page to rank. For this reason, copying and pasting someone else's work on your own site is unlikely to help your own rankings (in case you were getting any shady ideas).

You can get sued

. And you're supposed to be making money, not losing it.
To check if your content sounds too similar to another web page, or to find out if someone has copied your work, use CopyScape. It's a freemium tool that lets you enter a URL and quickly uncover copies.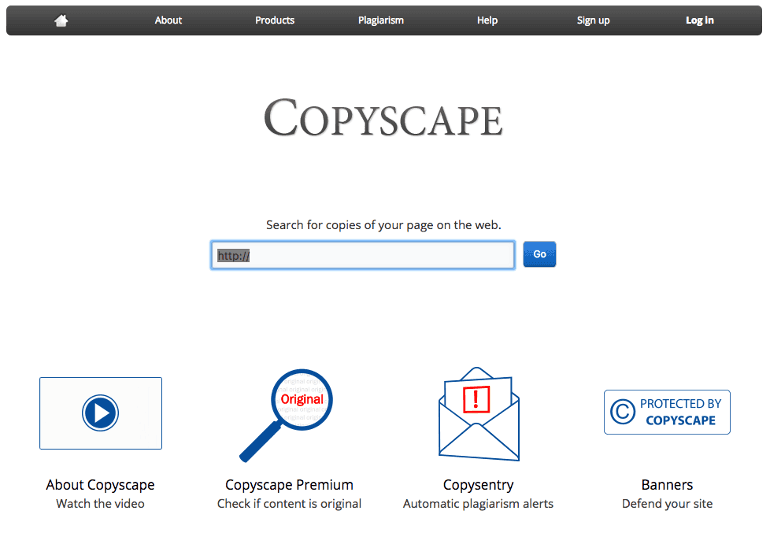 40. Use an Editorial Calendar
We firmly believe all content writers should use an editorial calendar. Sure, we may be biased. But, if we didn't think content calendars were an essential tool for marketers, we wouldn't be here.
There are three main types of calendars you can choose from:
Paper calendars. Print 'em out and keep them at your desk.
Spreadsheets. These are much easier to use than paper and allow for more collaboration (if you use Google Sheets or the cloud-based version of Excel).
Calendar apps. These are like digital power tools for keeping everything you're working on organized. Might we recommend CoSchedule?
The key benefits to using a calendar include:
Taking control of your time. By getting more organized, you'll be able to write with more focus.
Know what you'll write beforehand. When you have all your ideas mapped out in advance, you can stop stressing over what to write, and when.
Stop missing deadlines. When you're able to visualize your upcoming workload, managing deadlines becomes much easier.
That's just scratching the surface.
Bonus Resource: Comprehensive Content Writing Checklist
If you've made it this far, congratulations! As a rewward for your dedication to improving your content writing skills, here's a free checklist to help you optimize every piece you write:
Now Write the Crap Out Of Your Content
If you've made it this far, congratulations on making it through 5,000+ words worth of content writing tips. We won't keep you here any longer though, because you've got work to do.
Best of luck.
April 14, 2017