Customers are important because they are the ones who produce revenue for a business. Without them, the business will not be sustainable.
In order to convert someone into a customer, you have to grab their attention. Make sure you use your resources to attract your ideal customer.
Your ideal customer refers to the kind of people you target your campaigns to. These customers are most likely to make a purchase, be happy with it, and then make another purchase.
This graphic created by Autopilot shows what questions you should ask yourself in order to define your ideal customer.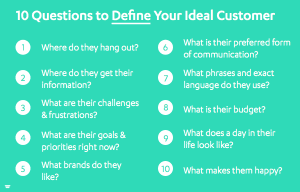 By determining your ideal customer, you can target your content to them. This way, you'll attract the individuals most likely to bring in revenue.