Live streaming allows marketers to connect with their audience in real time. You can use this time to promote products, gather audience insight, and share information about your brand.
If you want to, you can even try live streaming without traditional social media apps. Here are some platforms you can check out:
YouTube Live
IBM Cloud Video
Twitch
Brightcove
Wowza
Incorporating live streaming into your content strategy allows you to remain relevant in a world that's constantly evolving. Live video has a high engagement rate and is continuing to grow.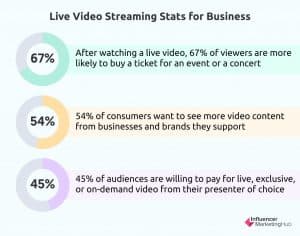 The above graphic, created by Influencer Marketing Hub, shows some statistics on live streaming. These statistics help outline the benefits live streaming can have on your business.