A topic cluster includes three main components:
A pillar page that covers the concept
"Cluster" pages that go more in depth to topics related to that concept
Links that connect all the pages
Rob Powell's blog gives a great example of what a topic cluster might look like.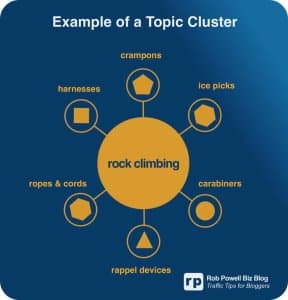 As you can see, the main topic is rock climbing. All of the surrounding pages are related to rock climbing in some way, but they each go into a more specific aspect of the sport. All of these pages would have internal links grouping them together for readers to click through.
Creating topic clusters are great for SEO (search engine optimization) purposes as the links help users and search engines find specific content within the site. They also allow you to dominate keyword categories when a user searches for that topic.