Create the perfect template for your project workflow! Eliminate mistakes and move projects forward with task-specific templates. Recycle your task template for future projects and iterate on them as you continue to improve the process.
To help you get started, CoSchedule also has default templates (based on how we manage our own projects at CoSchedule) for blog posts, social campaigns, email marketing, articles, newsletters, podcasts, videos, and white papers. Edit our existing task templates by deleting, adding, or tweaking the to-dos to make them work for your team.
---
Create a Task Template
To begin, go to any project on your calendar. Inside the project, click Template in your task tab to create a new Task Template.

The Task Template menu will open, click Create New.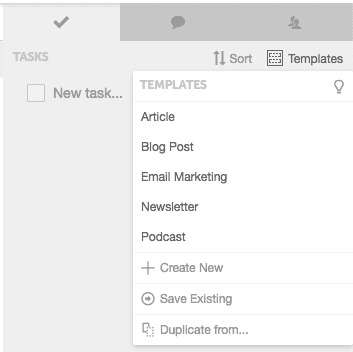 The Task Template editor will open. Select the type of template. When finished, click Next.
Task Template Types:
Based On When The Project Publishes: Each task inside the template will be scheduled based on the publish (finish) date of the project the template is applied to.
Based On When The Project Begins: Each task inside the template will be scheduled based on the start date of the project the template is applied to.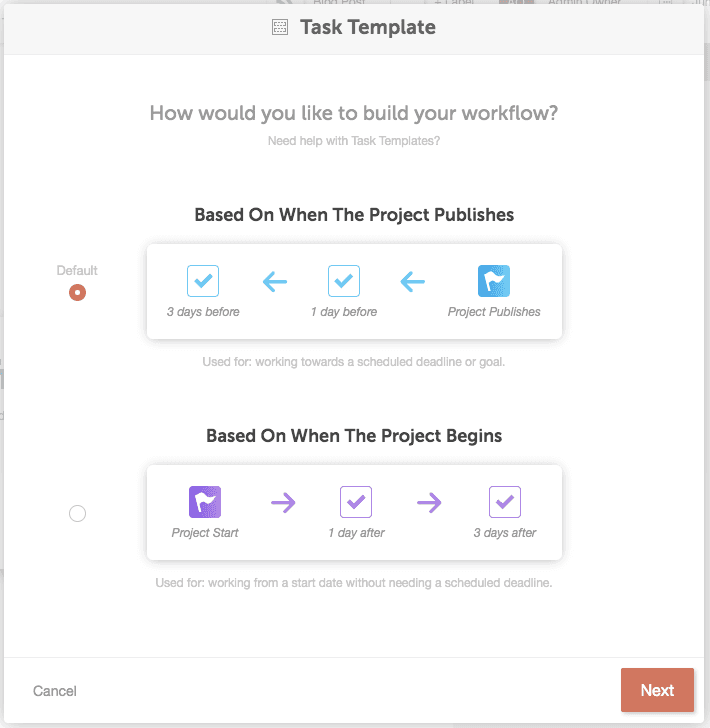 Tip: Create a Task Template for every workflow. Start with a few tasks then start to get more specific as you or your team adapts.
Add tasks to your template. Schedule or assign tasks to team members. Each newly created task will be added to the bottom of the task list.
Reorder any task by clicking 

 and dragging-and-dropping the selected task.
If you want this specific Task Template to not schedule tasks that fall on a weekend, select Ignore Weekends.
If you apply a Task Template with "Ignore Weekends" enabled, then reschedule the associated project, the tasks will not ignore weekends. The tasks only ignore weekends during the template application step.
When you have added all your Tasks, click Close.
---
Applying a Task Template to a Project
To apply the Task Template to your project, click the Task Template icon, and then click the Name of the Task Template that you would like to add to your project.
When you are applying a task template to a post, CoSchedule lets you review the associated tasks before applying it. Once you are ready to apply the Task Template click Apply.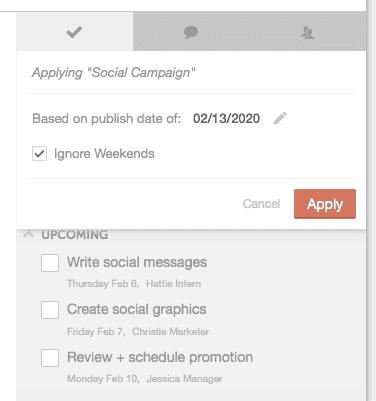 Back To Top
---
Edit Task Template
To Edit or Delete a Task Template, mouse over the template you would like to delete and click the Edit Pencil.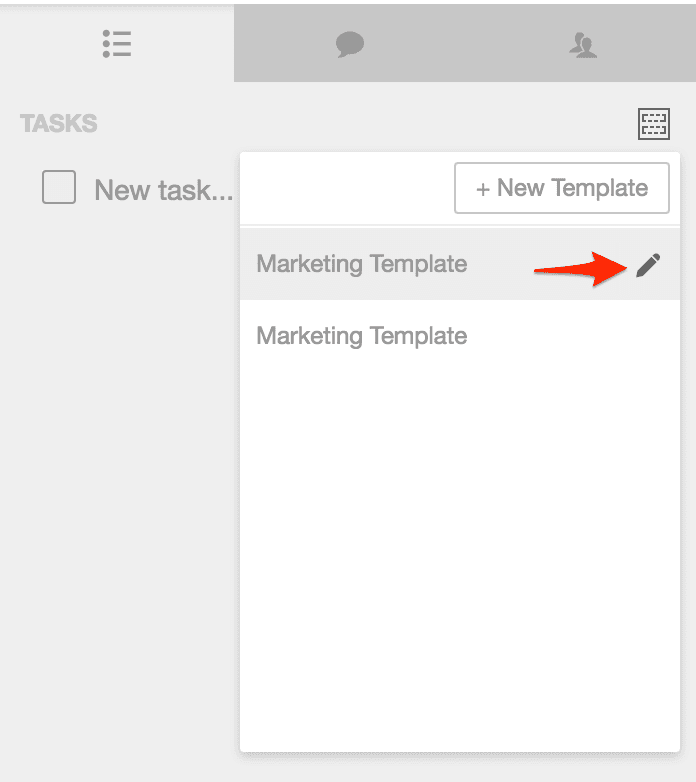 Note: Editing a task template will not affect any projects that have the template already applied. You cannot change the type of template. To change the type of task template, you will need to recreate the template.
Do you have any specific feedback for us?
We appreciate any feedback you're willing to share.