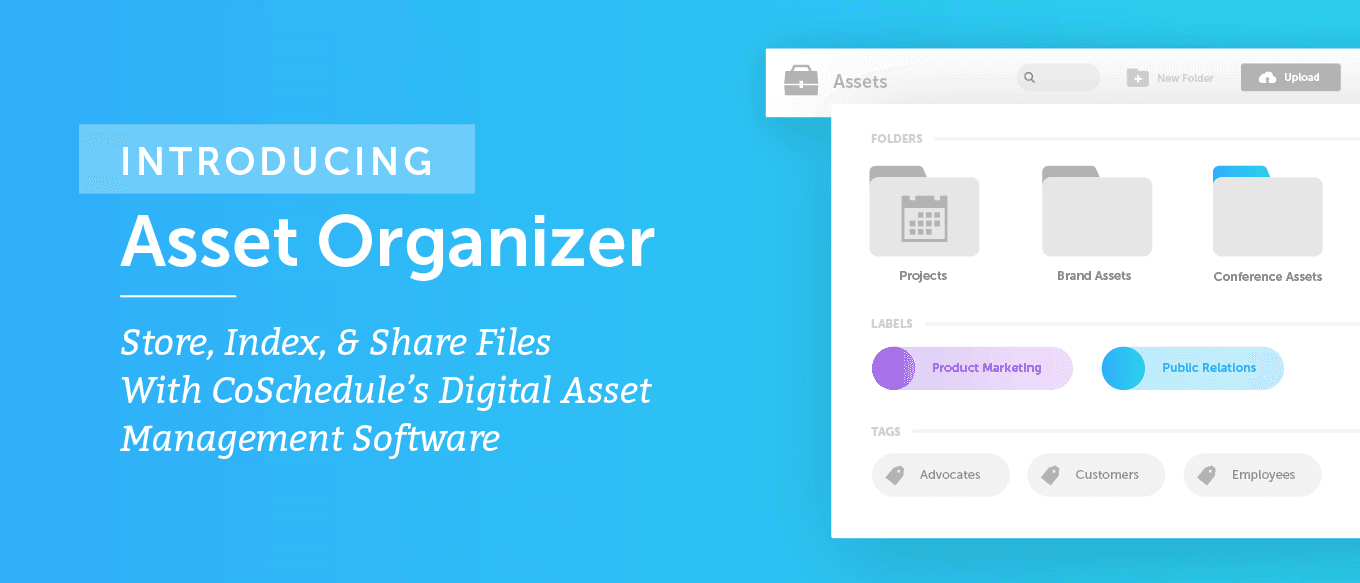 Asset Organizer is digital asset management (DAM) software to organize and share everything your marketing team creates. 
Marketing teams are turning to DAM software because marketing teams are being asked to create more assets than ever before.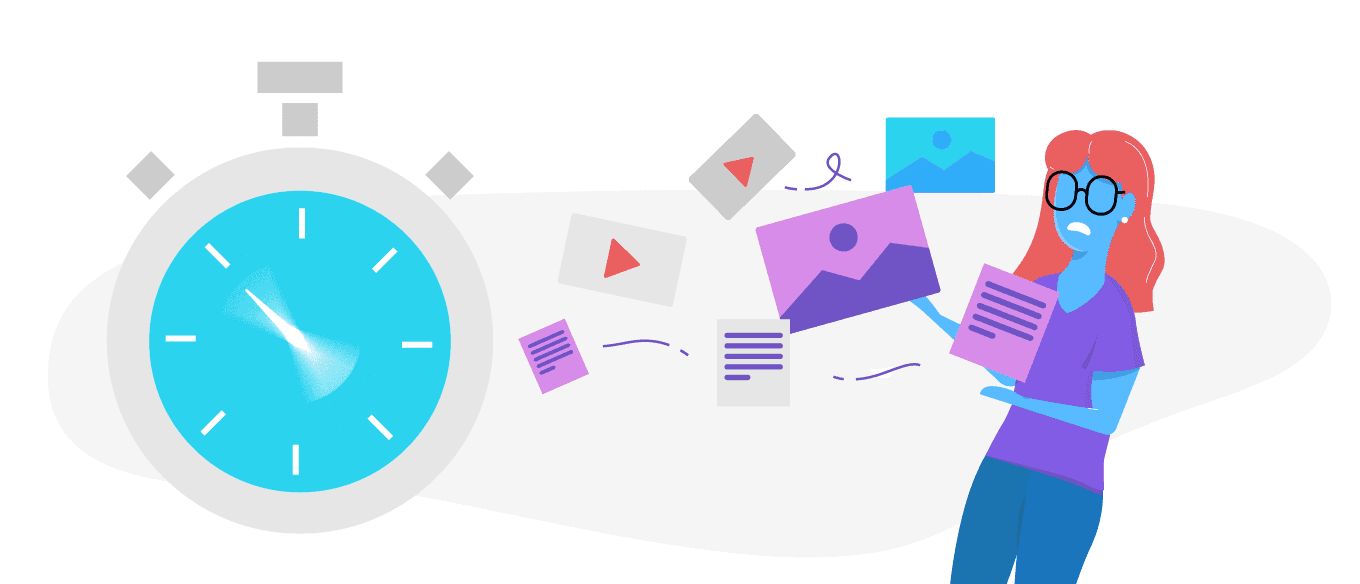 CoSchedule's Asset Organizer gives you the tools to manage your entire content supply chain, so you can create more content in less time. 
Introducing Asset Organizer
With Asset Organizer, your marketing team can: 
Empower your team to organize assets with an intuitive user experience 

Integrate your marketing stack with DAM to ingest and distribute assets 

Effectively manage the explosion of assets your team creates 

Find existing assets and any project in progress quickly

Shorten the cycle time for your team to develop assets 

Incorporate compliance checks into the content supply chain process 

Ensure the latest files, content, and design are on brand, compliant, and up to date

Embed pre-approved, work-in-process creative across multiple projects
Learn more about how Asset Organizer will help simplify and streamline your content supply chain for your entire organization.
Empower Your Team To Organizer Assets With An Intuitive User Experience
You want a DAM solution that people in your organization will embrace and use. 
Asset Organizer provides you and your team with an easy-to-use, intuitive experience.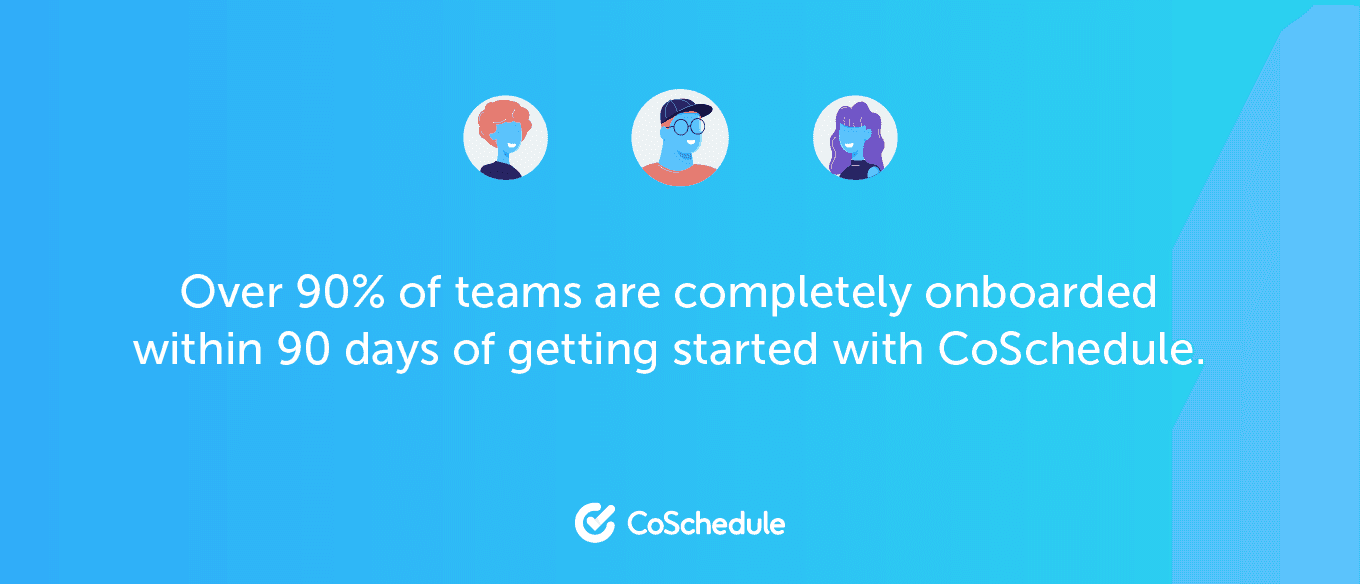 You can get your team up and running with Asset Organizer quickly, so your team creates and uses digital assets more efficiently and effectively.
Integrate Your Marketing Stack To Ingest And Distribute Assets
Because CoSchedule is an organize-in-one solution, Asset Organizer integrates with tools that are already a part of your tech stack.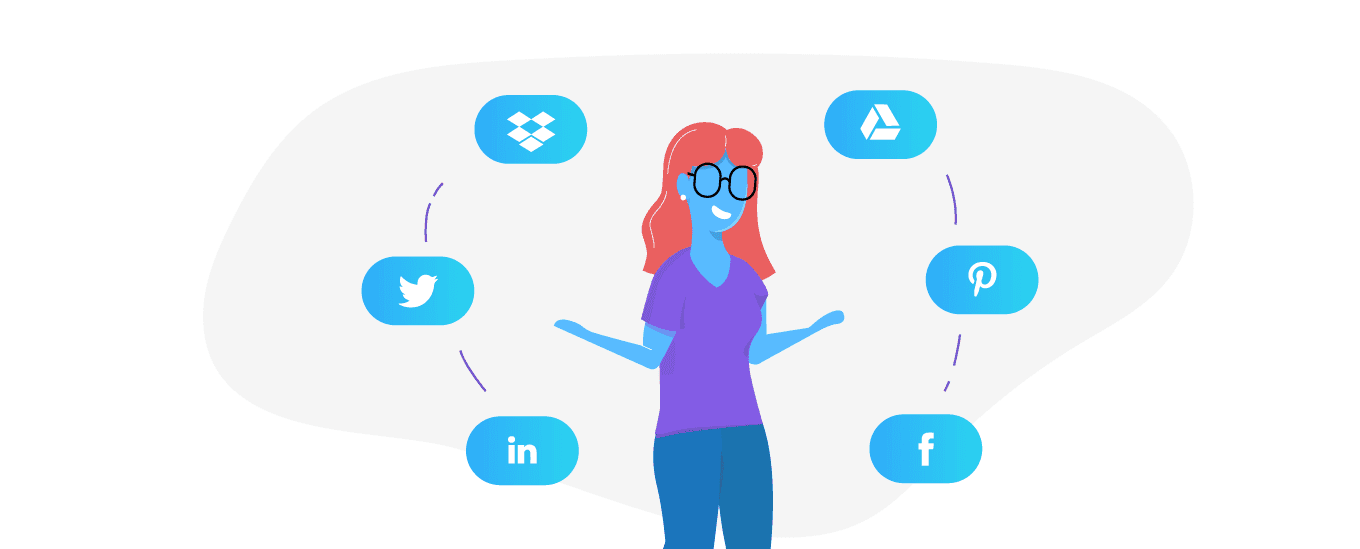 Access existing assets in tools like Dropbox and Google Drive to transition smoothly to your new DAM solution. 
Then embed pre-approved work-in-process creative to publish directly to your social media, CMS, or other channel-specific platforms. 
Effectively Manage The Explosion Of Assets Your Team Creates
In Asset Organizer, you can create an organizational structure that complements your team's workflows. 
This empowers your team to generate content at scale. 
Assets are exactly where they should be, so your team can find creative when they're working on new projects. 

Plus – you can quickly audit and share existing content with your team and members of your organization. 
Stop wasting productive time searching for a file, photo, or logo that you need to finish a project. 
Use your limited resources to create more content instead of wrangling existing assets. 
Find Existing Assets And Any Project In Progress Quickly
Asset Organizer features robust search, so you can find everything you need to create a new project and everything you have already created in your content library. 
Search for assets by keyword, project types, tags, color labels, and other taxonomies you use during your creation process. 
Looking for a photo to finish a tearsheet? Filter your search in Asset Organizer locate the exact one you need. 

Or sort assets by persona, business group, target audience, and other filters to find content gaps your team should fill. 
These user friendly results help users see assets to eliminate duplicate work.
Find the files and deliverables you need, when you need them, in just a few clicks with robust search. 
Shorten The Cycle Time For Your Team To Develop Assets
As marketing touch points and sales needs mature, marketers need to deliver more assets than ever before. 
Asset Organizer helps your team collaborate efficiently, so you can shorten the production cycle for developing new assets. 
In every project, your team can communicate, provide feedback, and unblock roadblocks that prevent work from moving forward. 

By having communication, assets, and work-in-process in one place, you can eliminate unnecessary tasks and meetings.
Plus, you can share project status updates with stakeholders to give them the transparency they need while fine-tuning your workflows to deliver assets faster. 

Incorporate Compliance Checks Into The Content Supply Chain Process
With Asset Organizer, make sure all work-in-process goes through necessary compliance checks – legal, managers, leadership, etc. – before it gets shared or published. 
Avoid reworking projects – and wasting valuable resources – by approving content during production. 

Control project handoffs among marketers, partners, and stakeholders to deliver compliant content the first time around. 
Then upload final, approved versions to Asset Organizer to share them with your company. 
Ensure The Latest Files, Content, And Design Are On Brand, Compliant, And Up-To-Date
Things change after that initial upload. Asset Organizer's built-in version controls provide audit trails for production changes. 

Get project usage stats on every asset. This gives you visibility of every project on your Marketing Calendar (past and present) that references a specific asset.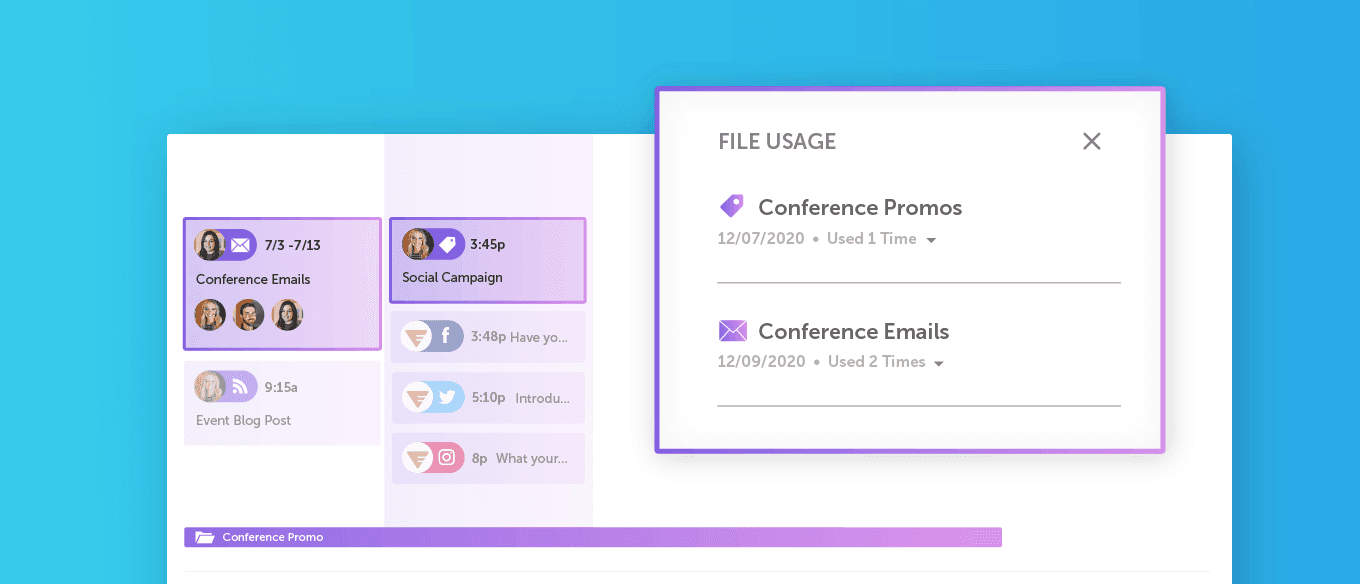 Now when a photo, video, or logo becomes outdated, you'll have an accurate checklist of all the projects you need to update. 
When you update the asset once, it will automatically update across every project in the CoSchedule ecosystem.
Embed Pre-Approved, Work-In-Process Creative Across Multiple Projects
Asset Organizer gives your team access to pre-approved creative.
By storing approved creative in Asset Organizer, your  team and vendors can draw inspiration and create quickly while protecting the brand and staying compliant. 

Now these approved assets can be used in new content – like social messages- to deliver across multiple channels. 
Best of all, if an asset gets updated before a social message goes live, Asset Organizer will update this asset across all of your projects. This ensures that work in process creative is distributed to social networks effectively. 
Improve Asset Access With Customized Brand Portals
Marketing creative is only successful if it is actually being used. 
Use Asset Organizer to empower your stakeholders to view and download approved brand assets without needing a login to CoSchedule. 

Share folders with internal teams and/or stakeholders, so they always have access to the latest, up-to-date content they need to do their jobs. 
For example, your sales enablement folder should house your presentation decks, product tearsheets, and product videos that your team shares during the sales process. 

With Asset Organizer, marketing has more control. Now when assets get updated, these folders will automatically update assets for your stakeholders, too. 
Organize Your Marketing In One Place With The CoSchedule Marketing Suite
Asset Organizer is the newest addition to the CoSchedule Marketing Suite, a family of agile marketing tools that will help you focus, deliver projects on time, and make your team happy.

The CoSchedule Marketing Suite includes:
Marketing Calendar:

See all of your past, current, and upcoming campaigns on a unified calendar of record.

Content Organizer:

Content marketing software to optimize your editorial process from draft to publish to create more content at a higher quality.

Social Organizer:

Social media management software to schedule, plan, publish, automate, engage, and measure.

Work Organizer:

Team collaboration and work management software to maximize your team's productive output.

Asset Organizer:

Digital asset management software to catalog and share your work.
Creating, sharing, and updating digital assets can feel like a full-time job.
Consolidate everything from working files to final projects in a centralized content library—with CoSchedule's Asset Organizer.
Or organize everything in one place with the CoSchedule Marketing Suite.