The Big Post of B2B Marketing Campaign Examples and Templates to Be More Creative
B2B
marketing campaigns
can make marketers feel a little bit like they're always the bridesmaid, never the bride. You're grinding out campaigns, but none of them feel all that innovative, creative, or sexy. You're stuck in a box and it's hard to leverage new
tactics
for better results. B2C marketing seems so much easier. The B2C marketers get to play around with and test new mediums, utilize social media to its fullest extent, and (typically) aren't challenged by complex products that are difficult to market. B2B marketers…. Don't be discouraged. This post contains a bunch of examples of creative B2B marketing campaigns to help inspire you to push boundaries, even in the smallest way.
B2B Marketing Campaign Templates to Help You Get Started
In the download, you'll find:
An

Audience Persona Template

to help you find your ideal customer.
A

B2B Marketing Campaign Template

to help you plan your campaign.
A

Creative Brief Template

to help you organize your initiatives.
A

 Team Huddle PowerPoint Template

 to get team buy-in.
Equipped with these templates, you'll be ready to launch an amazing B2B marketing campaign.
B2B vs B2C Marketing Campaigns
Before diving into our B2B marketing examples, it might be helpful to fully understand how a B2B marketing campaign differs from a B2C one. Although some of the strategies and tactics remain the same, there can often be quite a few nuances between these two areas.
Audience
Interestingly, B2B and B2C marketing campaigns may be targeting the same individual. What's different is the capacity in which a marketer targets them. Using the audience persona template in the download above, I've filled out how both a B2B and B2C marketer could end up targeting the same person.
B2B Target Audience
A B2B marketer will target an individual in their professional capacities. You'll focus on solving the problems the individual faces in their work life. Here's an example of a B2B user persona for a fictional email marketing software provider.
Name:
 Eliza
Age:
 39
Gender:
Female
Job Title:
Owner of a small, but successful garden center
City:
 Seattle
Income
: $75,000/year
Education:
 Bachelor's degree in Entrepreneurship
Other:
 Married, mother of three (10 months, 3 years, and 6 years old)
Biggest Challenges:
 Worried e-commerce is going to kill her business; needs increase her digital presence; doesn't have a full-time marketer on staff so she often doesn't have time to do in-depth marketing.
Bio
: Eliza is a 39-year-old owner of a small, but successful garden center and floral shop. She is looking for ways to increase her digital presence, e-commerce abilities and connect with customers. Her business has a well-designed website, but she doesn't have a ton of time to devote to marketing. She thinks email marketing or marketing automation might be a good, light touch way to start her digital marketing initiative, but she doesn't know where to start.
B2C Target Audience
B2C marketers usually target someone because of their interests, needs or challenges outside of the office. They market to the consumer in us all… not the professional. As such, these marketers focus on solving the problems the individual faces in their personal life. Here's an example of a B2C user persona for a fictional baby food delivery company.
Name:
 Eliza
Age:
 39
Gender:
Female
Job Title:
Owner of a small, but successful garden center
City:
 Seattle
Income
: $75,000/year
Education:
 Bachelor's degree in Entrepreneurship
Other:
 Married, mother of three (10 months, 3 years, and 6 years old)
Biggest Challenges:
Balancing work/life, little time to devote to the healthy lifestyle she desires, wants to ensure her kids get off to the best start in life.
Bio
:  As a small business owner, she doesn't have a lot of spare time to cook healthy meals for her children. It's always a mad dash to get everyone shuttled home and school/daycare and fed. Despite this, Eliza values organic options and doesn't want to compromise quality just because of their busy lifestyle and work schedules.
Messaging
B2B and B2C marketing campaigns typically differ quite a bit in their messaging. When you think about the example target persona above, how would the fictional brands approach brand messaging differently? Well... for starters, B2C products are usually wants… not needs. Therefore, you'll often see messaging that appeals to an individual's emotions like love, fear, anger, sorrow, anxiety, frustration, the desire to belong, etc. Here are some examples of companies appealing to emotional needs. This ad from Gillette appeals to a new father's emotional need to bond and be close to his baby.
Here's another example from Olay with messaging that aims to appeal to one's emotional desire to be beautiful.
Referring to our B2C baby food company in the audience section above, the company could use emotional messaging to appeal to Eliza's desire to be a good mom and give her kids the best organic food in spite of her busy lifestyle. Next, B2C marketing campaigns are more likely to utilize simple marketing messaging. The product isn't overly complicated and is easy to present to customers. No need to get overly complicated here. B2B marketing campaigns, on the other hand, are usually driven by logic rather than emotions. You'll need to focus on things like how your product helps save time, money, resources, or other things where logic reigns supreme. Here are a couple of examples from real-life B2B companies with messaging aimed at appealing to one's logical side: This billboard from B2B company, Shopify, focuses on a small business owner's logical need to increase its customer base.
This example from Accenture highlights
a case study
from Caterpillar, which shows cold-hard outcomes and a logical reason why partnering with the company would produce results.
What do these examples have in common? Both B2C and B2B marketing campaigns should focus on communicating benefits and how the product or service helps solve the target audience's problems.
The Decision-making Process
B2B and B2C customers are often faced with very different decision-making processes. Long periods of time can elapse between when a B2B customer first identifies a need and when they finally make a purchase decision. There are a couple of reasons for this. Firstly, B2B purchases tend to involve a great deal of research. The buyer spends time uncovering and educating themselves about the various products and services that can solve their problem. Usually, these purchases are further delayed by the need to involve other stakeholders and the often high price tag of B2B offerings. Many B2C purchases, such as those in the Fast Moving Consumer Goods industry, can be made on a whim as impulse buys. Of course, this isn't the case for big-ticket B2C purchases like vehicles, boats, appliances, etc. However, the vast majority of B2C purchases are low-cost ones.
How to Plan and Manage a B2B Marketing Campaign
Planning a B2B marketing campaign isn't dissimilar from planning a B2C campaign. Some of the tactics will vary, but many of the planning activities remain the same. Planning your campaign is a complex process. Coordinating a cross-department effort while delivering a consistent message across multiple channels isn't easy. Without sound processes in place, it can quickly become a disorganized mess. Follow this plan to help you organize the chaos.
Flesh Out a Creative Brief for Your B2B Marketing Campaign
A creative brief explains what you'll do, how you'll do it, and who you'll do it for. This helps stakeholders and project team members understand both the project and their role in it. Here's what yours should include:
Campaign summary:

 A brief description of your campaign's marketing goals and creative concept.

Resources:

An outline of your budget, staff, and projected timeline.

Talking Points:

 Break down your campaign's messaging into bullet points.

Goals + Measurement:

 How you'll gauge the success of your campaign.

Marketing Campaign Timeline:

 Map out when each piece of your project will be completed.
In the download provided, you'll find a creative brief template kit. I've filled in out with a fictional e-commerce research report.
Gather For a Team Huddle
The next step to planning a successful B2B marketing campaign is to bring everyone involved in the project together. This is essentially a project kickoff meeting and ensures that everyone is on the same page. You'll invite all of the project's contributors into one room so they are aware of what the project is and how they'll contribute. Here are some of the benefits:
Contributors can ask questions about the project.
Everyone knows what is expected of them and when it's due.
Builds a sense of unity.
In the template download, you'll find a slide deck template to help guide your team huddle. In slides 1-5, you'll input all the planning info you outlined in your creative brief. On slide 6, create your timeline of deliverables and who is responsible for it.  Here's what it looks like in the template:
Here's a sample timeline to help you when it comes time to fill out your own version:
Map out Your Campaign and Plan Due Dates For All Tasks
Sure you could you a spreadsheet for this… but like you need another spreadsheet complicating your life. CoSchedule is the tool for this.  It takes your planning and task delegation off of a spreadsheet on into a central location where your entire team can see their priorities and what's coming down the pipeline. It finally solves that visibility problem you've been struggling for what seems like forever. To start, you have to know what needs to be done to launch the project. Sit down and create a task workflow for each project that makes up your B2B campaign. Here's how to do it.
1. Write Down Every Task That Needs to be Completed
You can open Evernote and type every step in your process in a bulleted list, use a stack of post-it notes, or use a Task Template in CoSchedule. Here's what it could look like in Evernote:
2. Choose Who Will Complete Each Task & Set Due Dates
Assign the task to the person who is responsible for that function within the organization. To set deadlines for each, individual task, work back from the project's due date. For instance, if it takes 4 days to write a blog post, and you want the post to go live on July 30th, the writing needs to be completed by at least July 26th. Here's how task delegation works in CoSchedule: OR… you can create a task template to reuse for every future project. It will automatically schedule and delegate tasks for you.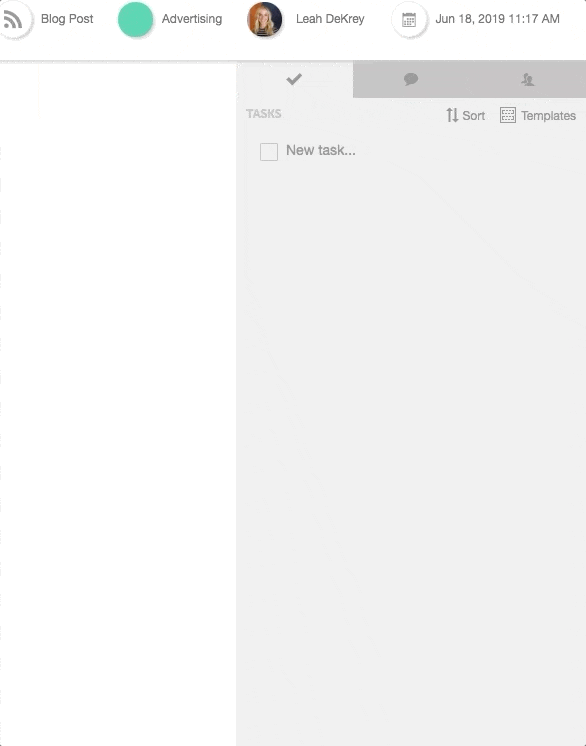 3. Map Out Your Sales Campaign
Now that you know when each task should be completed and who will be responsible for it, map all those activities on your marketing calendar. Here's how to map out all your marketing campaigns with CoSchedule. Start by adding a project to your marketing calendar and choosing the option entitled "Marketing Campaign"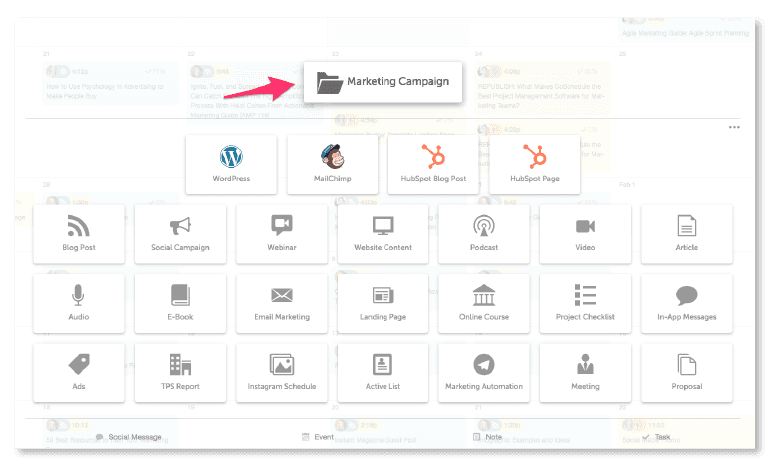 Next, give your campaign a name, color label, and its start and end dates. You'll see the duration of your B2B marketing campaign visualized on your calendar. Marketing campaigns are made up of lots of individual projects like podcasts, emails, social campaigns, and flyers. Add each of those to your marketing campaign in CoSchedule.

This finally gives you, your team and stakeholders within the organization a single view for who's doing what and when they'll complete it.
B2B Marketing Campaign Examples
Now that you know the best way to plan a B2B marketing campaign, let's dive into some examples of inspiring B2B campaign examples to inspire you and get your creative juices flowing.
Oracle
Oracle is basically this ultimate B2B company. Not too many individuals have a need for a fully integrated stack of cloud applications and platform services. However, the company has historically provided fortune 500 companies technology – without a robust offering for small and medium-sized enterprises. Oracle's B2B marketing campaign,
The Power of Freedom,
aimed to change this. The campaign encompassed content, video and graphical efforts to stimulate awareness, change perceptions, and encourage trial signups.
Key Takeaway: Don't let your past dictate your future. Just because you've always been known for something in the past, doesn't mean you can't expand your business to reach new audiences.
IBM
IBM launched a thought leadership magazine entitled
Industrious
 back in 2018. Now in its fifth volume, the magazine isn't just packed with interesting feature stories on topics like "how the cloud could save your life in a wildfire,'' It's also graphically driven, and contains a mixture of professionally produced videos.
Key Takeaway: Be a thought leader. Establishing your company as a thought leader is a good way to increase your credibility.
Amazon Web Services
Amazon Web Services' B2B marketing campaign, "The New Builder", does a good job of keeping the focus on what AWS enables its customers to do. The multi-channel campaign included commercials on network television, digital videos, social campaigns, landing pages, and media buys at various airports across the US.
Here's a picture to visualize the company's airport ads:
Key Takeaway: Focus on your customers. Try to focus your messaging on what your product can enable your customers to do.
Go-To-Meeting
Nothing says B2B quite like software that facilitates better meetings. This multichannel campaign from meeting software provider, Go-To-Meeting,  was a global campaign that stretched from the US to Europe and Asia. The focus of the campaign was to fulfill customer needs for positive outcomes, and solve the problem of moving complicated projects forward.
Key Takeaway: Use Video. Video can be used in a variety of ways from pre-roll, to tv ads, to social campaigns. Video also gets a lot more engagement than other forms of media.
UpWork
Upwork's
B2B marketing campaign
, "Hey World", offered a series of short commercials aimed at overcoming skepticism over hiring freelancers. The company launched eight different videos, as well as billboards to grab the attention of Fortune 500 managers.
Key Takeaway: Make your graphics stand out. If you want to grab someone's attention, be bold with your use of graphics.
IBM
IBM's new campaign, invites users to "put smart to work" to transform education, energy, retail, healthcare, and other industries. Each ad focuses on a different element of smart technology, including how security experts can "put smart to work" to circumvent hackers and how farmers can use satellite imagery and AI to increase their yields.
Key Takeaway: Tell a story. Most don't really understand how AI, IoT, and Blockchain can benefit their business. By telling a story about these areas, people can begin to understand how these things work.
Hamilton Casters
Hamilton Casters created a series of print advertisements to draw attention to the strength and power of their heavy-duty wheels and casters. The example ad appeals to a customer's logical side by highlighting the weight capacity of their casters - over 20 tons… so much that even an elephant couldn't crush them.
Key Takeaway: Provide context in a relatable way. 20 tons is hard to wrap your mind around… but the weight of an elephant is something we can understand.
Caterpillar
Caterpillar's "Built For It" Trials series, highlights how a B2B company can be just as creative as a B2C company. The series highlights what sets a Caterpillar apart from its competition in unique ways. The "Bull in a China Shop" video shows how meticulous an operator can be with the power of a Cat. The heavy equipment navigates its way through a maze of over $40,000 inexpensive glassware. If it can handle this unique situation, imagine how it would perform in the wild.
Key Takeaway: Be creative. Just because your product isn't a B2C item, doesn't mean you can't show off a sense of creativity.
GE
GE showcased both the depth of its technology and how far-reaching the company is in its digital magazine entitled "Voyages". The magazine shows how GE provides power access to communities in faraway places, like Mozambique, Egypt, and Chile. What makes this unique? The magazine doesn't have any words.  The pages are aligned to sound waves, so the photos are brought to life with sounds rather than written text.
Key Takeaway: Push boundaries. It can be easy to fall into the trap of doing what's always been done. Try to ask yourself how to innovate on your campaign and try things that have never been done.
Plan Your B2B Marketing Campaign With CoSchedule
Now that you've seen some amazing B2B marketing examples and also have learned the best way to plan a successful B2B campaign… Check out how CoSchedule can change your (work) life and finally give you visibility into all your marketing campaigns, timelines, and team tasks.