How To Find Your Target Audience And Create The Best Content That Connects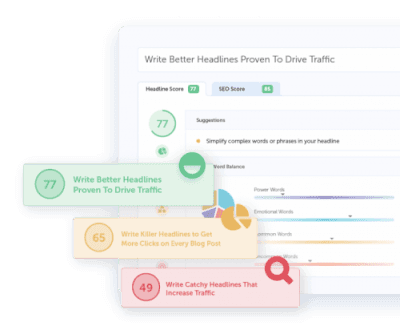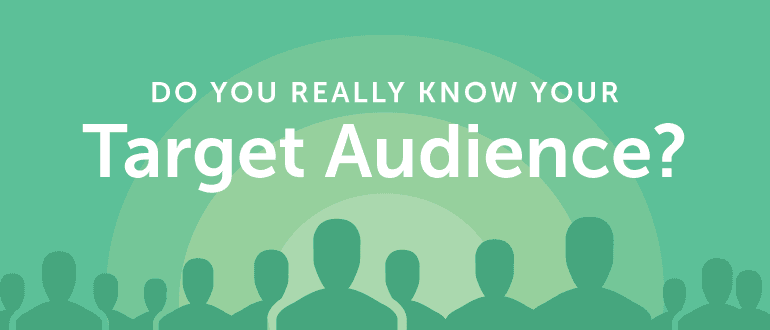 Content marketing success starts with knowing how to find your target audience.
After all, how can you begin creating content before you know who your audience is?
Good content marketing takes time. A lot of it. You can't afford to waste that time with content that isn't perfectly focused on your target market. You need to find who your people are. But how?
That's exactly what this post will cover.
By the time you're done reading, you'll understand:
How to define your target audience and understand your target market to create a clear picture of exactly who you are (and aren't) writing for.
Pick up tips, tactics, and strategies for gathering audience data.
Use your improved knowledge of your audience to create content that connects with their needs and interests.
Be sure to download the free audience survey and audience persona templates. These items will help you apply the knowledge you'll gain in this post.
Why Define Your Target Audience?
Content marketers often apply "the Field of Dreams" approach to their work.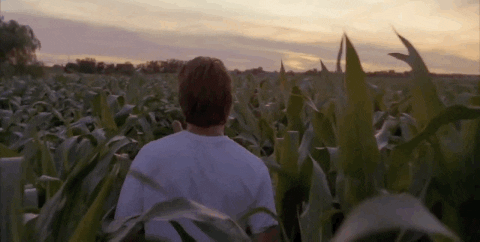 It's true that great content tends to naturally attract an audience. It does not, however, guarantee that it will be the best audience for your brand. That means visitors that are likely to:
Connect your content to your product.
Buy your product because of your content.
Defining who your real audience is will help you focus not only on creating great content but on creating the right content. It makes it easier to create content that establishes you as an authority in your industry, rather than creating content for its own sake.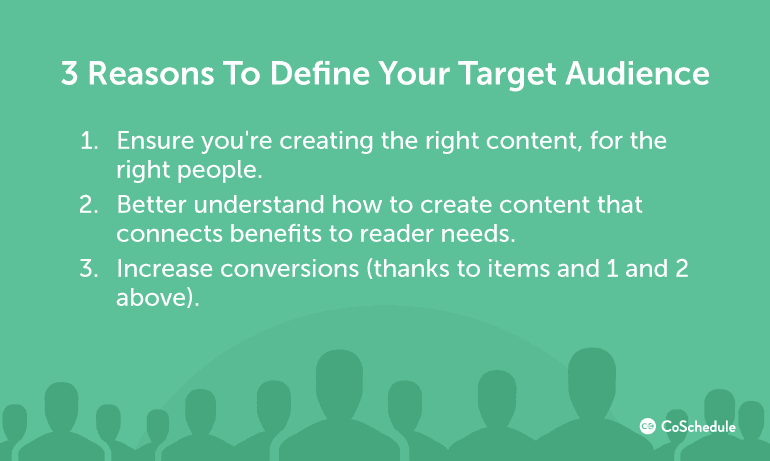 How To Understand Your Target Market
Start by asking yourself some simple questions. These can include:
What problems does my company's product or service solve? If you've been in business for any length of time, you should have some understanding of why your product or service exists. Your content should be related to that purpose, too (that means resisting the urge to share irrelevant memes just because they're funny—if it's not connected to your mission, it doesn't belong in your content marketing).
Who are our current customers? If you're not sure who buys your product or service, someone in your organization almost certainly does. Consider asking your company's executives or sales teams for this information. It may also be necessary to segment your types of customers. For example, you may categorize customers based on location, budget, or needs. HubSpot has created a fantastic introductory guide to this process.
Who is my competition? It's likely you know who your obvious competitors are. However, some quick searches on Google and social media (particularly on Facebook and Twitter) can often reveal upstart competition you may not have been aware of. Try searching a keyword or two that are related to your industry. See which businesses come up. Browse their "About Us" pages and feature descriptions. This is an easy way to develop an idea of who your competition is and fast.
What do customers stand to gain from choosing us (instead of a competitor)? What features do you offer that no one else does? Is there something you can do better than anyone else?
By the time you've answered these questions, you'll have defined an understanding for each of the following:
Why your content deserves to exist.
Who is going to read it.
What your competition is doing (and how you can do it better).
Why your audience should choose your content (and product) instead of your competition.
This isn't intended to be a deep, detailed process. Consider this a simple starting point.
Creating Your Target Audience Definition
Before you can create content that resonates, it helps to know your intended audience (as well as who they are not). An audience definition should ideally connect these three things:
Your product or service
Your main audience demographic
Your content's mission
Here is what a simple audience definition could look like once you're finished analyzing your audience:
"[INSERT YOUR BRAND] creates content to help and inform [INSERT DEMOGRAPHIC] so they can [INSERT ACTION] better."
The Method CoSchedule Uses To Create The Right Content For The Right Audience
Let's take a look at two additional methods we use here at CoSchedule for understanding our own target audience. We're pretty zealous about understanding our audience because we want to make sure that we are doing everything we can to help our readers.
We look at it in two ways:
As we build our product, we want to make sure that we build features our customers will actually use. This requires that we understand their problems and frustrations, particularly ones that we can solve.
As we create content, we want to make sure that we create content that our audience will truly find useful. We don't just want clicks, shares, and page views. Rather, we strive to be a trusted resource readers can count on.
To accomplish these goals, we need to understand our target audience. It's as simple as that.
How do we go about it? First, we find our content core.
Finding Your Content Core
The purpose of the content core exercise is to understand the difference between what you do, and what you need to talk about.
One of the big mistakes that early content marketers make is to talk about themselves and their product, rather than the things that their users really care about. This is a huge misunderstanding of what it means to find your target audience.
Of course, your product is helpful to your customers, but that doesn't mean that it will also be helpful to your blog audience, that group of potential customers is probably interested in a much greater variety of topics.
Visually, the content core looks something like this: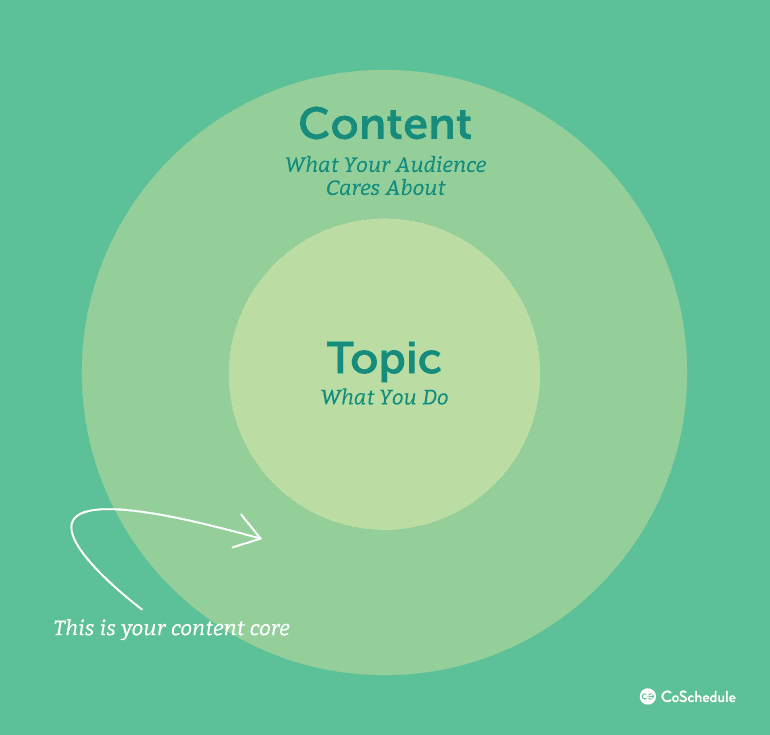 At the center of your content is what you do. At CoSchedule, we make editorial calendar software, so this is a combination of social media and content scheduling topics. For our customers, we solve problems such as:
Providing a single interface for planning and executing content marketing efforts.
Displaying an upcoming publishing schedule on a visualized monthly calendar.
Allowing users to reschedule content via simple drag-and-drop.
Facilitating team communication and an effective workflow.
Providing a tool that helps them save time and grow their blog traffic.
These are things we should certainly write about on our blog. However, it's not all we write about. We also spend our time writing about the ideas that surround these topics. This is the big idea behind "expanding our content core."
As we move away (ever so slightly) from our content core and focus on what our target audience really wants to hear about, we improve the effectiveness of our content marketing and better focus in on our target audience's needs.
At the same time, this method will also help us keep the topics we are writing about connected to our true topical focus.
At CoSchedule, this brings us to topics around how to plan, organize, and execute all things content marketing.
These topics tackle the problems that our product already addresses, but in a way that is specifically geared for what our target audience cares about. The question is: What do your readers really care about? There are several easy ways to find out.
13 Tactics To Find Your Target Audience
Before CoSchedule ever launched, we began trying to understand who our target audience was. Here are some of the tools and tactics we continue to use to keep our understanding sharp.
1. Create Reader Personas
In an early planning meeting, we came up with a few Lean UX-type user personas that were designed to help us solve problems our CoSchedule users actually needed to solve.
This was conducted as a team exercise and was tremendously useful in our process. Looking back, we weren't always right about what our users cared about, but it was a solid place to build from.
Now, we frequently advocate the development of reader personas for your own blog.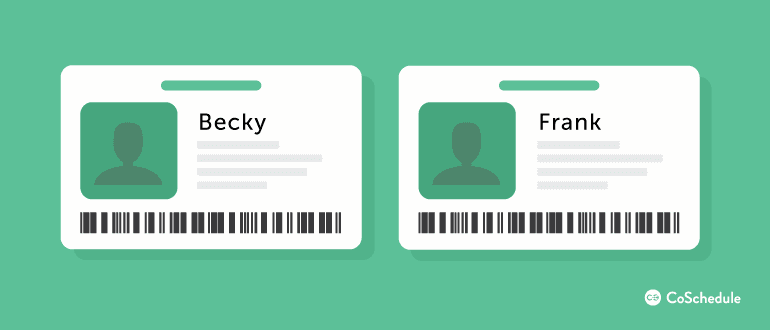 These reader personas seek to document the real motivations and curiosities that empower your readers. By identifying them, you'll be able to find your target audience better when the time comes.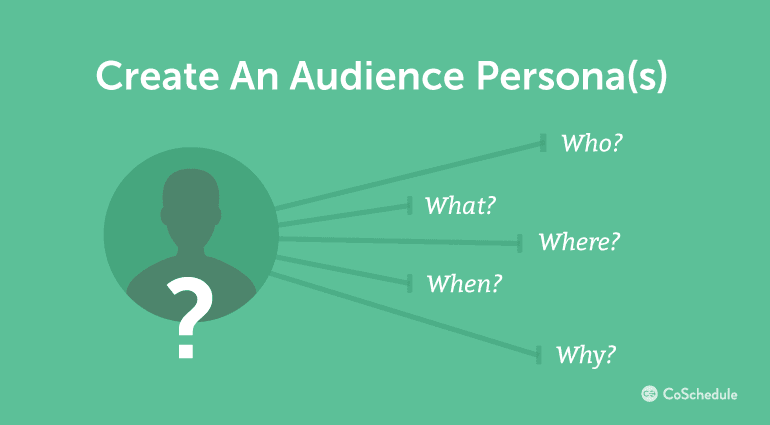 An audience persona is the first step to visualizing your audience as you write. When you picture an individual, you can properly tailor your content to them.
When you follow this type of writing process, the person reading your content will often feel like you are speaking directly to them.
Here's what you need to know:
A great audience persona covers these details:
Specific details are necessary for every aspect. When possible, include things like:
Gender
Personality
Family life
Job title
Job function
Employer
Location
Income
Needs
Pain points
Challenges
Xtensio has also created a free web-based persona creator that's straight-forward and easy to use.
2. Conduct User Surveys Regularly
We use a free product called Survey.io to conduct users surveys about our product on a regular basis.
Everyone who creates a CoSchedule account will be asked to participate in the survey. This has been a great tool to help us maintain a constant pulse on what our users are thinking. From this, we can translate that feedback into a deeper understanding of our target audience.
A survey is only as good as the insights you gain from it. Here are a few tips to make yours as useful as possible:
Know what you want to learn from each question.
Make questions short and easy to answer. This can help improve the odds that people will complete it.
Think hard about whether or not to offer a giveaway for taking a survey. They may help increase participation. However, some folks might only respond to get a prize.
3. Use Google Analytics
Google Analytics has a ton of data about your audience if you know how to find it.
Julie Neidlinger breaks this down wonderfully in this post. She also developed a handy dashboard that anyone can add to their Google Analytics account instantly to get these stats.
4. Find Your Target Audience On Facebook With Facebook Insights
Facebook provides every Page owner with a powerful set of insights (analytics) that are free for you to use anytime you want. From here, you can quickly determine the demographic of your most active users and determine the topics that they share in common.
Start by visiting your Facebook page. Click the Insights tab: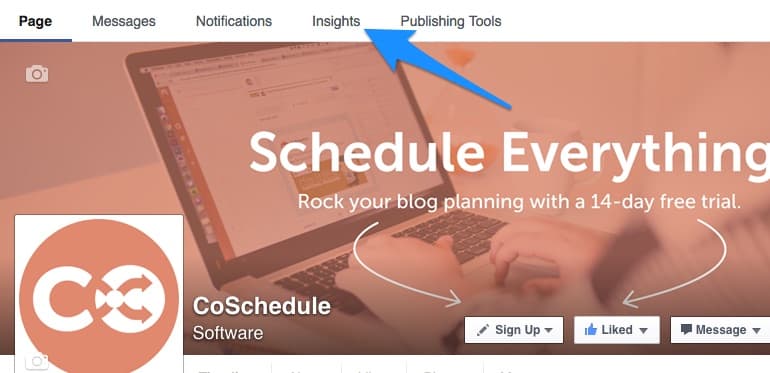 Next, click People: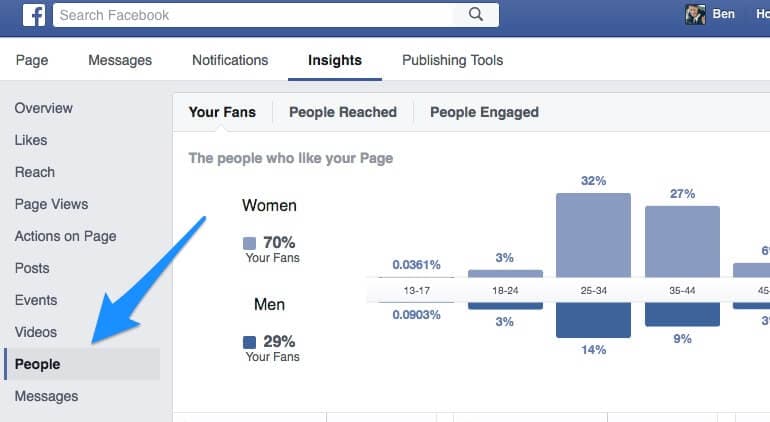 Here, you'll find everything you need to understand your Facebook audience.
5. Find Your Target Audience On Twitter By Connecting To Your Twitter Followers Dashboard
Twitter also provides an excellent followers dashboard that you can access if you sign up for a Twitter Ads account.
This dashboard does an excellent job of telling you what your followers are interested in—specifically listing common topics and other Twitter accounts that your followers have in common. This is powerful information that goes way beyond basic demographic details.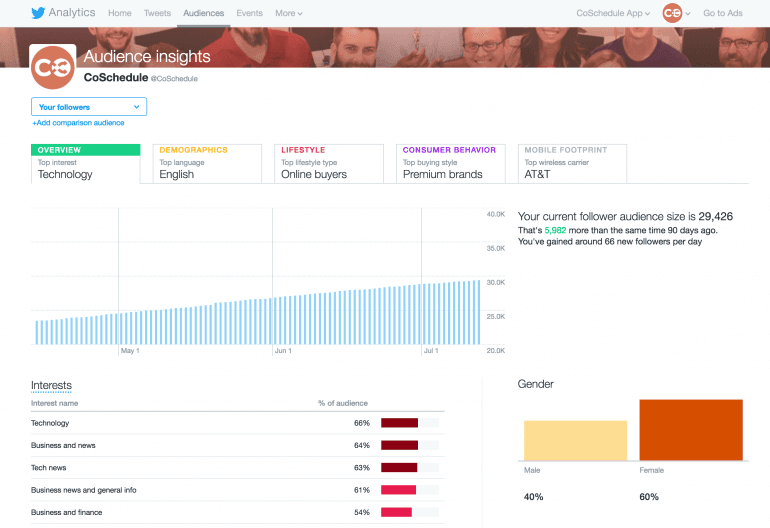 6. Run An Annual Audience Survey
Each year, blogger Michael Hyatt conducts a survey of his blog readers as a way to keep tabs on who they are, and what they want to hear about on his blog.
Once the survey results are compiled, Michael shares his insights with his readers, which always results in a great discussion that serves to both confirm and/or refute his assumptions.
This is a highly proactive way to understand your target audience. It's so good, in fact, that we follow a similar approach for our own annual Better Marketer Survey.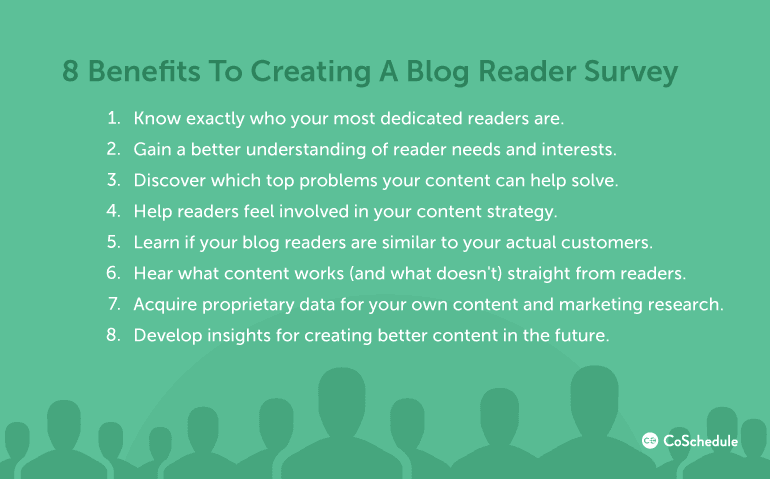 7. Monitor Your Social Activity
Which social networks do your readers share your content on the most?
This little tidbit of information can actually tell you a lot about what they like and want to hear about. In fact, when we analyzed nearly 1 million headlines in the CoSchedule system, we found that the tone and topics covered on each network varied wildly. These simple hints provide clues about who you are writing for and will help you find your target audience.
This process can be as simple as monitoring your social accounts daily and making note of who's interacting with your content. Pay attention to their bios. This can tell you a lot about who you're currently reaching (and whether those folks are the right folks to reach).
8. Monitor Your Best (And Worst) Content
Looking back to Google Analytics, it should be easy for you to find your best and worst posts for each week or month.
At CoSchedule, we compile a traffic report at the conclusion of the month that does just this. We use both total shares and pageviews as a way to determine a blog post's overall popularity. By comparing the content that did well versus the content that performed poorly, we can get better insight into what our readers really want to be hearing about.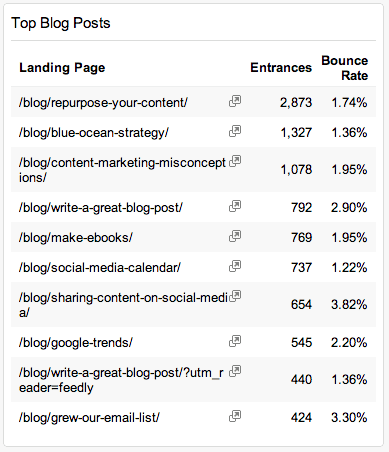 Snag this Google Analytics custom report to find this data for your own blog.
9. Ask for Audience Feedback With An Automated Email
When users subscribe to one of our email mailing lists, they are automatically added to an email queue that will ping them about 30 days after they sign up to see if they are enjoying our content.
The purpose of this email is to solicit a response that usually generates meaningful conversation if the reader has something to share. We also use this tactic frequently with the users of our application.
By engaging with your audience personally, you can develop a relationship and an open channel for communication and feedback.
Here's how to set up such an email using several of top email marketing platforms:
10. Talk To Your Social Followers
You can learn a lot by being an active member in your own community on social media. Follow these tips:
Make an effort to respond to every comment and message you receive. Every interaction with your audience is an opportunity to learn more about them.
Find relevant Facebook and LinkedIn groups and participate. Getting involved in discussions related to your niche or industry can provide incredible insight into what's important to your audience.
Create posts occasionally asking your audience what they're interested in. What are their top problems? What do they do outside the office? What products or features do they wish they had? These are a just a few topical ideas you can easily turn into Twitter polls.
11. Analyze Your Competitions' Twitter Followers
This one is simple enough using Followerwonk, a great freemium Twitter analysis tool from Moz.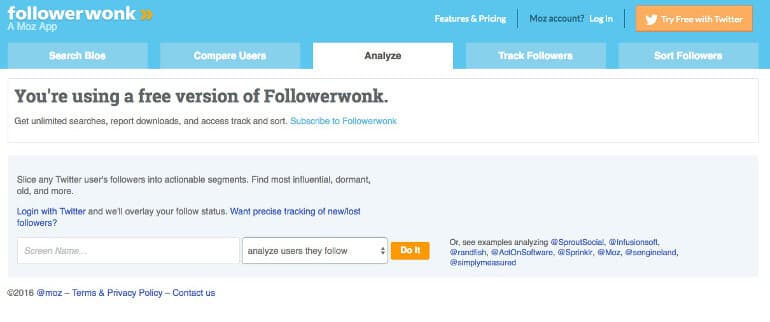 This tool makes it easy to do the following:
Find Twitter bios based on keywords.
Compare your followers against up to two other competitors.
Analyze who any account follows (and is followed by).
Track follower growth for any Twitter profile.
Sort followers on any given profile based on the number of tweets, followers, the length of the time the profile was live, and social authority (a metric determining the level an account has).
This video provides a basic introduction on how to use it for competitive comparison and audience research purposes:
12. Analyze Your Customer Data
It's possible that your current content consumers (social followers, blog readers, email subscribers, etc.) may not be the same people who are buying your product or service.
This could be due to creating content that's pulling in the wrong audience. It's also possible your product or service appeals to more groups of people than your current content is targeting.
This is where analyzing actual customer data (and not just content marketing data) can he helpful. The team at KISSmetrics have put together an excellent guide on where to find this data and how to analyze it properly. You just might find a breakthrough that helps you create content that soars.
13. Use Social Listening Tools
Social listening is essential for understanding what your audience is talking about on social media. Our friends at Mention wrote this great post on social listening showing how and why to use these types of tools.
How To Find Your Audience's Most Important Problems, Interests, And Concerns
One stressful aspect of identifying a target audience is demographic analysis.
These insights frequently include the age, sex, and location of your target audience. While these statistics are valuable, they are often very difficult to quantify in terms of what you should or should not be writing about on your blog.
Rather than focusing on who they are, it might be helpful to focus on what they are struggling with instead. For example:
What do they want to do better?
What actually motivates them to be better?
What keeps them awake at night?
Content marketing is about trading your readers' time and attention for helpful and useful information.
When you go about finding your target audience, be sure to take this approach rather than just chasing shallow demographics.
3 Tactics For Identifying What Your Audience Wants To Read
1. Get Out Of The Building
One of the early lessons that we learned here at CoSchedule was that it simply isn't enough to ask our readers a question or two via a survey. That method can be mechanical and too far removed from what people really want to say, missing the deep emotional information you need.
So, in addition to all of these other methods, it is also helpful (and necessary) to "get out of the building." In other words—talk to your readers face-to-face.
Depending on your location, this may be harder than it sounds. At CoSchedule, we conducted most of our face-to-face interviews over a Google+ Hangout, but that didn't make them any less valuable.
As a content marketer, you can easily choose a few frequent readers to interview in a one-on-one setting.
You will be surprised at how most of them are accommodating and willing to talk. Once you get them talking, you will also be surprised at how helpful they can be.
Don't merely settle for stats and numbers when you attempt to find your target audience. Your audience isn't stats and numbers; they are people.
The beauty of the web is that you can understand and reach them with helpful and insightful content that is targeted directly at them.
2. Use Ubersuggest And Google's Keyword Planner Tool
When people need to know something, the first thing they often do is turn to Google. Here's a quick way to learn a lot about your audience, fast.
Enter a topic or keyword into Ubersuggest. Start with a keyword that's core to your business:

Download keyword results:

Upload the .csv file into Google's Keyword Planner. To do this, log in and select "Get search volume and trends." Then, click "Upload File":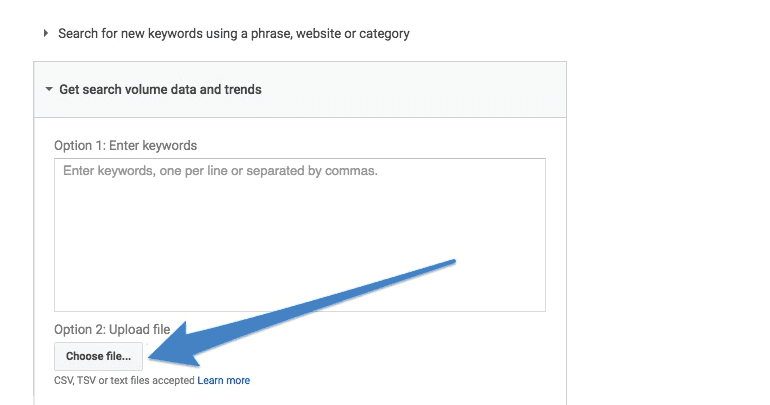 You now have a ton of keyword options, all seeded by terms people have actually entered into Google searches.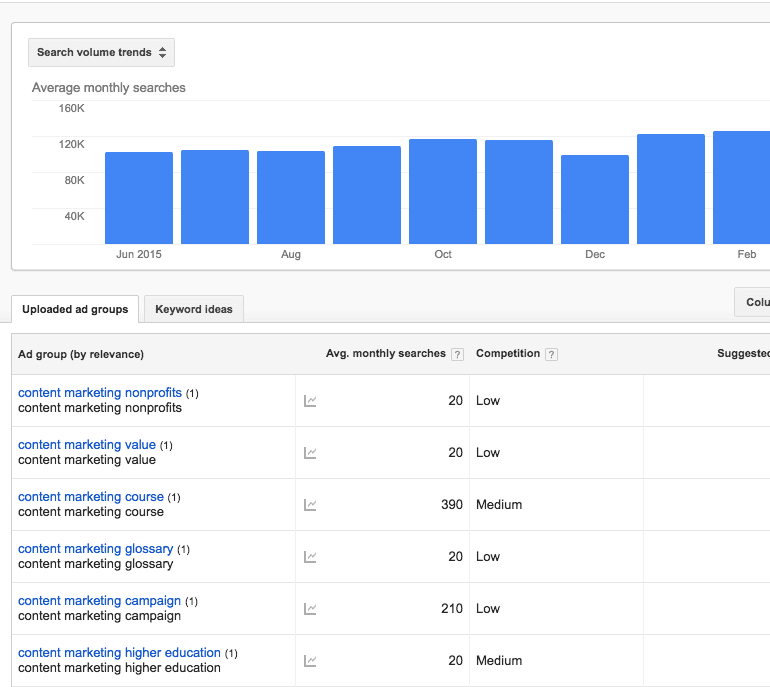 Now, export this data from the Keyword Planner and open the .csv file: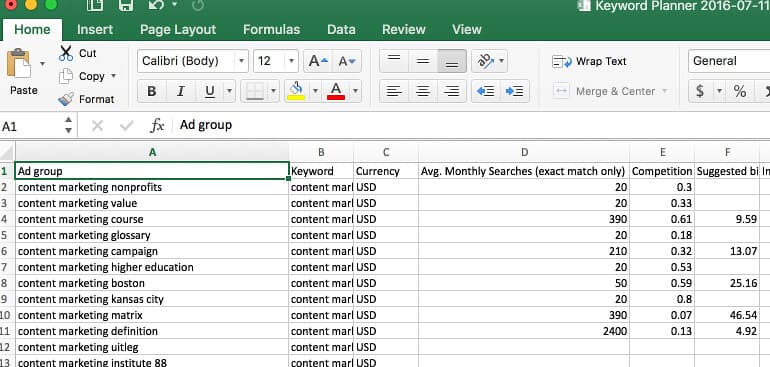 As you skim through this data, look for two things:
Keywords related to issues, interests, and concerns you've learned about your audience using tactics mentioned prior in this post.
Keywords that also have a decent level of search volume.
This will leave you with a loose idea of which topics people are most interested in reading about.
3. Analyze Your Competitors' Top Performing Content
Before creating content around a given keyword or topic, try searching it with BuzzSumo. While a paid account is necessary to get the most from this tool, it offers enough power for free to be useful.
This video offers a great overview of what it can do:
Use Data To Avoid Making Assumptions About Your Audience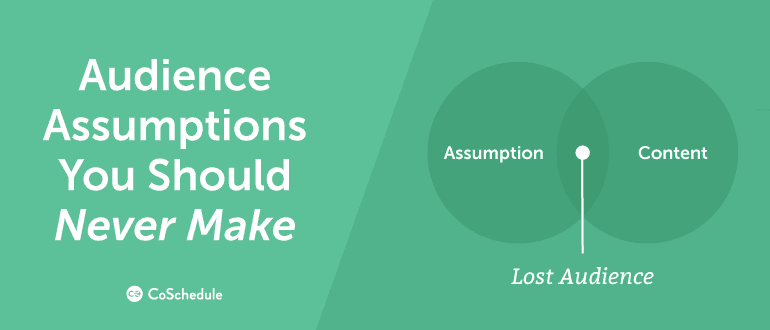 Making assumptions about your audience is one of the worst things a content marketer can do. We end up creating content that makes our audience feel stupid.
4 Common Audience Assumptions To Avoid
Assumptions are easy to make. They're shortcuts to critical thinking that allow us to feel like we can assess an individual or situation quickly and easily.
However, when you make an assumption about your audience that is incorrect, you run the risk of creating content that alienates them. Two reactions happen in a reader when faced with a false assumption:
"You're saying I'm stupid. I'm leaving."
"Oh, this article isn't for me. It's for other people who know this stuff."
The result is the same either way. The reader bounces off the page and finds what they were looking for somewhere else.
Every piece of content starts somewhere. If that starting point is off-base with your audience, though, then it doesn't matter how good that content might be. Make sure your work hits the mark by avoiding these four assumptions.
Assumption #1: Your Audience Is Just Like You
It's likely your audience bears a lot of similarities to you. They may have similar interests or concerns, or fall into roughly the same demographic.
They're not the same person as you, though. They may or may not care about the same things you do. In fact, their personalities and priorities could be wildly different from your own.
This is especially true if you work in a niche you aren't directly passionate about (for example, you could be passionate about creating content while serving an audience in an industry you're not familiar with).
Let data and experience guide your perception of your audience.
Assumption #2: They Know The Same Things You Know
Your audience and you do not know the same things.
Sometimes they know more. Sometimes they know less. Sometimes you both simply know different things.
In a lot of cases, they'll be coming to your content because they have a gap in their knowledge. Follow these two tips to ensure your writing doesn't go over their head:
Think like a journalist by writing in a way that anyone can understand. News organizations are often required to write for a broad audience that may not be experts on a given topic. They typically use clear, simple sentence structures and strive to avoid ambiguity. Following these principles can help you create content that's clear and easy to read.
Err on the side of providing too much detail, rather than not enough. Read a political news story and you'll likely read a sentence describing a political party's candidate as "[INSERT PARTY]'s presumptive presidential nominee [INSERT CANDIDATE'S NAME]." You might read this and think, "Doesn't everyone know this person is running for office already?" The answer is maybe not. Being thorough and consistent when it comes to including detail ensures that your reader leaves with an accurate understanding of what you're trying to communicate.
Assumption #3: They Care About Your Brand
Most of your audience cares more about their family, friends, and themselves.
No one is dying to spend an evening bonding with a brand on social media. A study found that 77% care about real people in their lives, not brands. Participants felt that relationships were reserved for family, friends, and acquaintances or colleagues.
If you're honest with yourself, you would likely agree.
When you create content that assumes your audience starts by caring about your brand and that it only gets better from there, you've already lost.
You're better off—if you're going to make an assumption—to assume they don't care and that you have to earn your way into their peripheral vision.
Use your content to feed that ability to care and help the people in their lives.
Assumption #4: They Know Your Industry Jargon
The AP Style guide has a good practice of identifying, in full, what something is before referring to it in acronym form.
I'm guilty of forgetting to do this. I assume everyone knows what CTA or SEO means, that the audience for this blog has surely learned that.
But we have readers who are both new and experts who are reading this blog, and they may stumble upon a blog post (through search) out of the order we might have written them in.
I need to assume that this is the first time the reader has seen the term, and identify that call to action (CTA) and search engine optimization (SEO) are what I'm talking about the first time I use it before I can use the acronym for the rest of the post.
Some of this ties into tone. Are you conversational in your writing or using the stiff buzz words of the business? Because if you're conversational, you assume less. If you're all about jargon, you dive headfirst and start throwing acronyms around so you can get to the point faster.
Now, Use This Knowledge To Create Content That Connects With Your Audience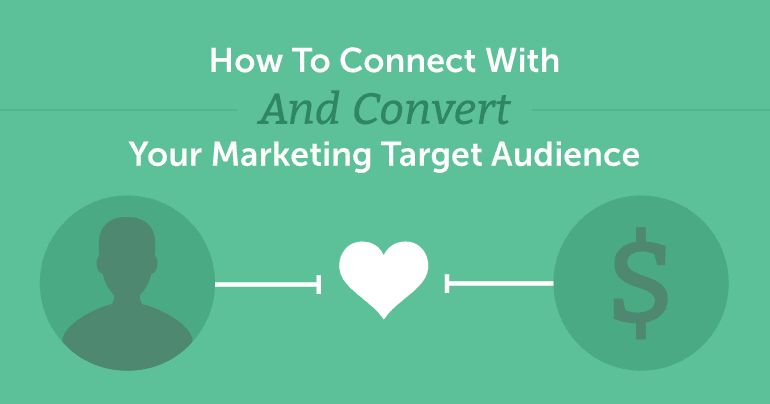 Now that you know who your audience is, you're ready to create content that perfectly matches what they're looking for.
Great content pushes your audience along the path to conversion by creating a connection and can be invaluable in growing your business.
4 Tips For Creating Content That Will Convert Your Audience
Tip #1: Focus Your Content On Your Audience's Needs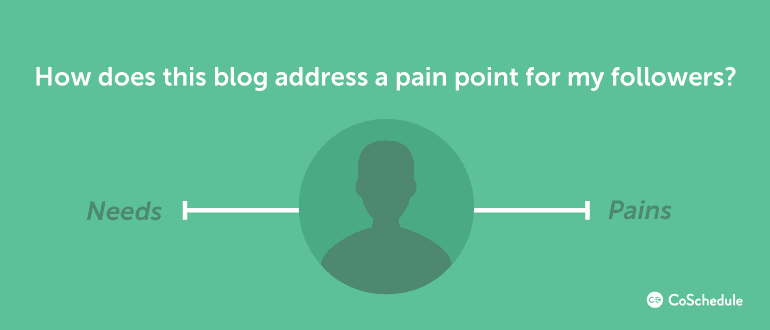 Before drafting content ask, "How does this content meet the interests of my followers?"
August 1, 2016