Your Essential Guide to SEO for Blog Posts (Checklist Included)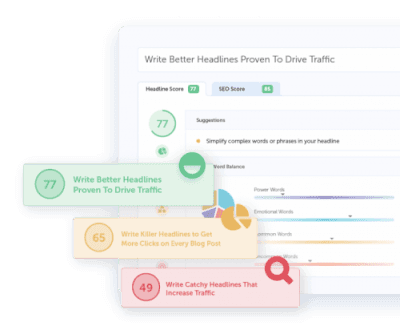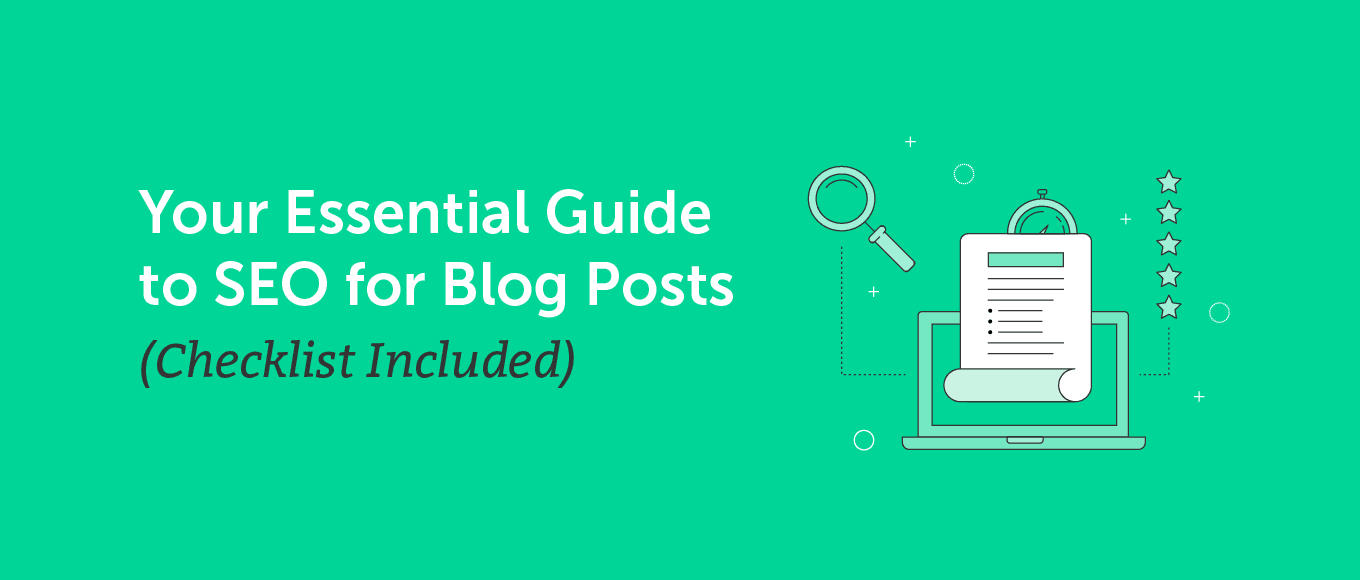 Create compelling, relevant content and readers will naturally flock to it. Simple, right?
Not quite. Because what if your blog is never found? There are more than 1.7 billion websites today, and your blog can be buried at the bottom with only a handful of readers ever seeing it.
So how can you change that?
The answer is by optimizing your blog posts for SEO.
While search engine optimization is a broad topic, there are essential tips that you should never skip before ever publishing a post.
Ready to dive in? Here's your guide to the essential elements you need for a blog post that does bring in a flock of readers.
Download Your Blog Post SEO Checklist
SEO success is all about consistency. Never miss a step and make sure every blog post you publish is properly optimized with this easy checklist: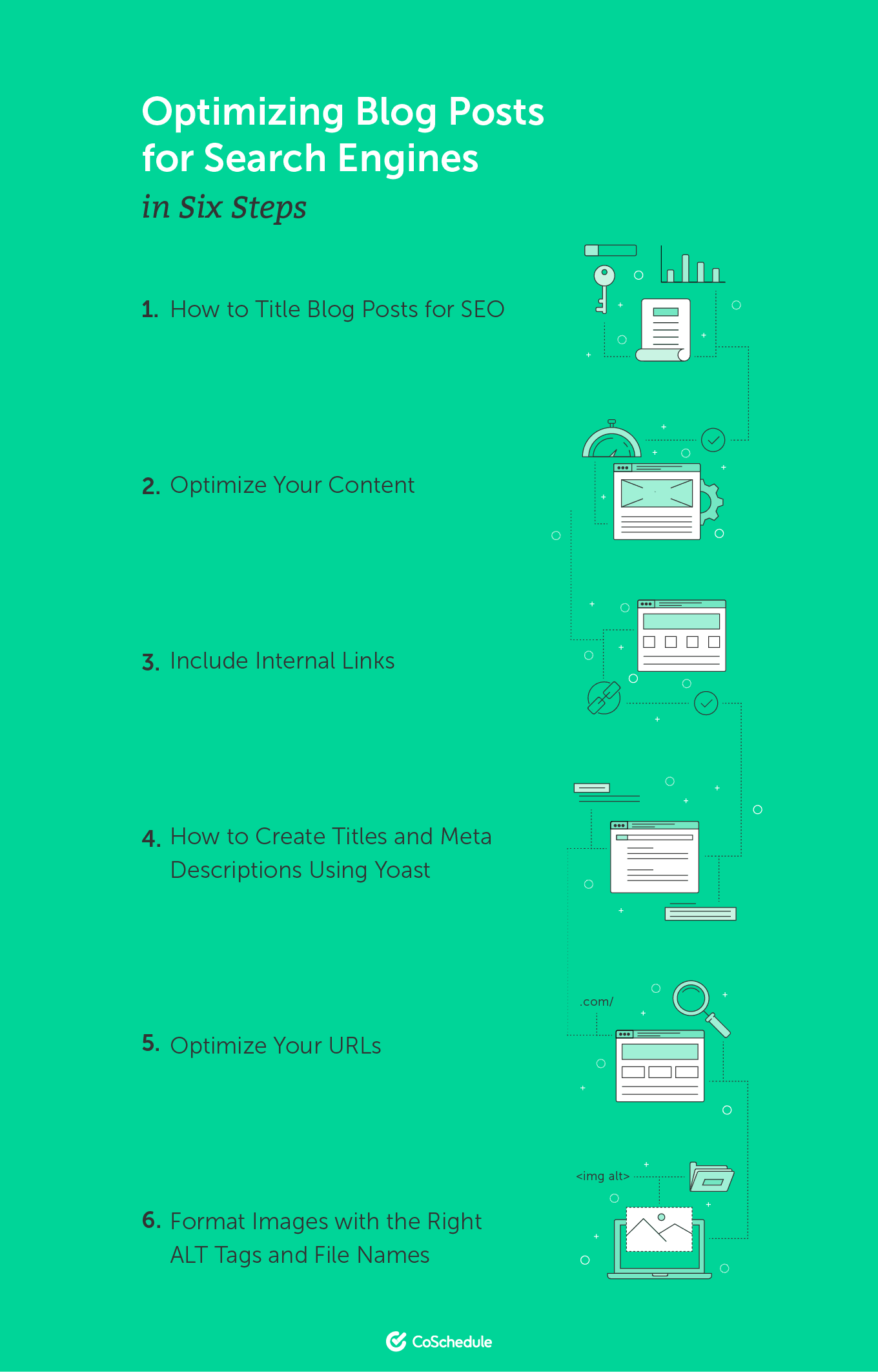 How to Write Blog Post Headlines for SEO
Headlines are the defining factor for any expert blog post. And how you craft them can mean all the difference to your blog's SEO.
As an expert blogger, you know a title can mean the difference between viewers clicking on your content or choosing one of the millions of other alternatives available to them.
So, how do you create something that will grab and hold your reader's attention?
1. Focus on Answering Your Reader's Question

Example: topic, 'get more traffic from Instagram'
Headline: "Get More Traffic From Instagram With This Easy Content Plan"
Viewers are looking for immediate answers - instant gratification. Does your title tell the reader that their question will be answered quickly and concisely? Is it engaging?
In the Instagram example, the author leads with the keyword and then addresses what's coming by saying "With This Easy Content Plan."
Your readers have a question - show them that you have the solution.
Once you think you've created a compelling headline, don't rely on gut instinct. Test it! Try ourHeadline Analyzer Studio to be sure you've got something that readers will be compelled to click on.
Our Headline Analyzer Studio is an incredibly powerful tool that rates your title from 1-100 based on your word choice, title length and emotional impact. If you don't get it right the first time, try again!
2. Focus on Keywords Related to Your Headline
Crafting compelling, attention-grabbing headlines isn't enough to rank your blog highly on Google. You also need relevant keywords that'll resonate with both your reader's goals and with search engines.

So how do you come up with these relevant keywords?
One effective way is to use Google's Keyword Planner.
Here's a quick guide on using the planner to generate the right keywords for your title.
Create a Google Ads account. Although Keyword Planner is a free tool, you need to have a Google Ads account to access it.
Once you've logged into your Google Ads account, click on the wrench icon at the top of the page. You'll find two Keyword Planner tools to choose from.
Tool 1: Find New Keywords. This tool allows you to generate thousands of keywords. Simply type in a word, phrase, or URL related to your business to get them.
Tool 2: Get Metrics for Your Keywords. By using this tool, you can find out the search volume of each keyword to make it simpler for you to pick the right one.
Use the filters. After you've generated the keywords, you can add filters to keywords in your results page. Some of these include competition, average monthly searches, and top of page bid.
Choose your keywords. It's best to pick a keyword based on the commercial intent, organic SEO competition, and search volume filters you used.
This video from Ahrefs (an SEO software provider) offers a great guide (and some additional tips) too:
Remember, picking the right keywords is more art than science. Choose one that'll not only rank you higher on Google, but also make your headline look attractive.
Optimize Your Content
Just because you've nailed your headline doesn't mean you've guaranteed yourself a spot on page one on Google. Your content also plays a vital role in helping you get there.
1. Incorporate Secondary Keywords in Your Content
When it comes to SEO, it's important to think of your content as a machine. You don't only need the main engine, but also other supporting parts.
These supporting parts are your secondary keywords. These keywords show Google that instead of using one keyword over and over again, you're actually addressing a whole topic.
Here are some tips on how to use secondary keywords in your content:
Use secondary keywords to guide the flow of your content. For instance, using one or two of them in your subheads will help you map out what you're going to say.
Try to use secondary keywords in every section of your content. Of course, the more keywords you use, the higher your Google ranking will be.
However, use secondary keywords naturally. Don't be afraid to leave them out if your writing is starting to lose its meaning. Remember, readability trumps SEO every single time.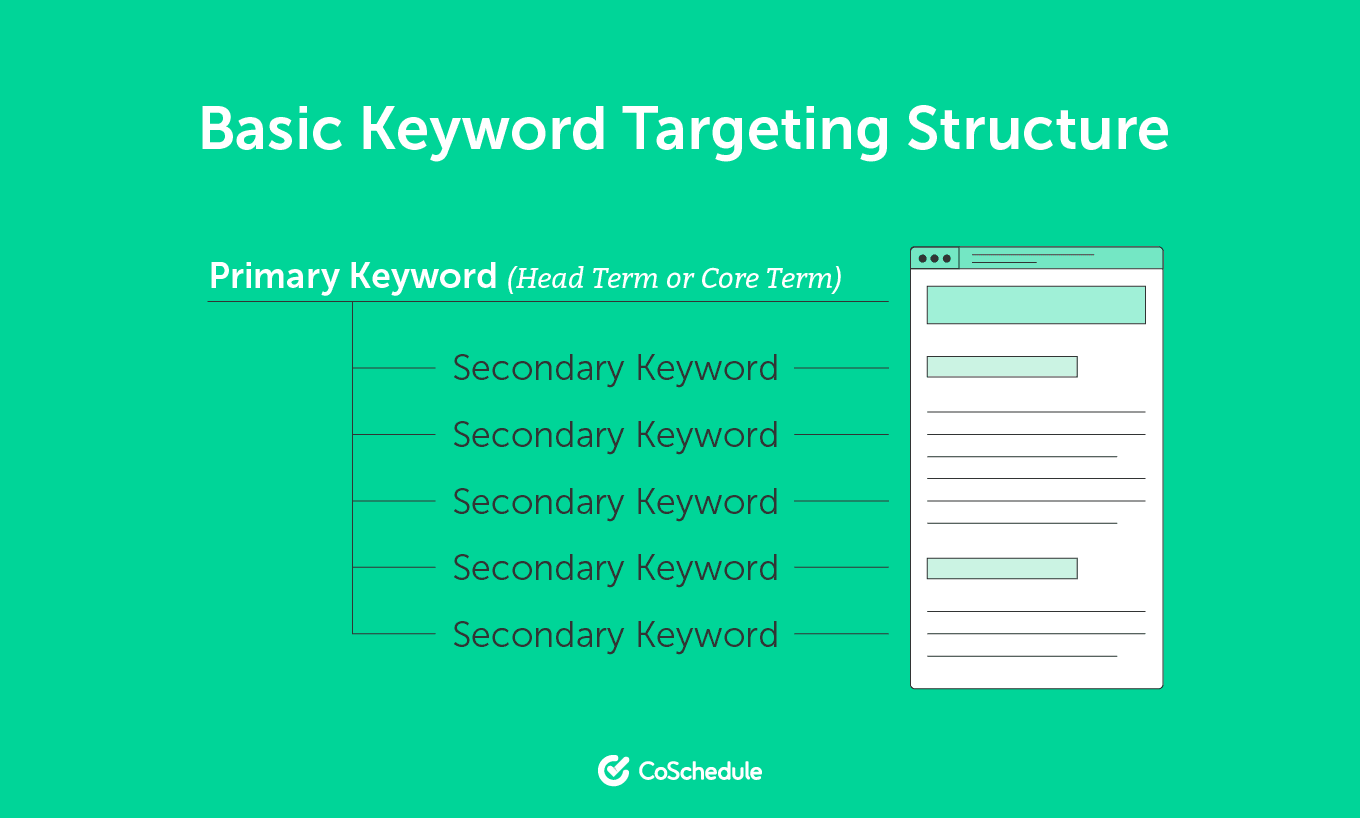 2. Write for Humans, Not Machines
Search engines don't buy products, they don't engage with you on social media, and they don't read your content. At least, not the way humans do.
If you're tempted to stuff as many keywords as you can into your first paragraph - don't.
Remember, you're writing for people. Google's crawlers sift through your content and can not only tell when you've added a bunch of fluff, but can also gauge your content by what people find valuable.
Content that is focused on gaining ranking through keywords is obvious, unreadable and downright unengaging. It is unlikely that anyone is going to stick around to read a post written for a machine - no matter how high it ranks.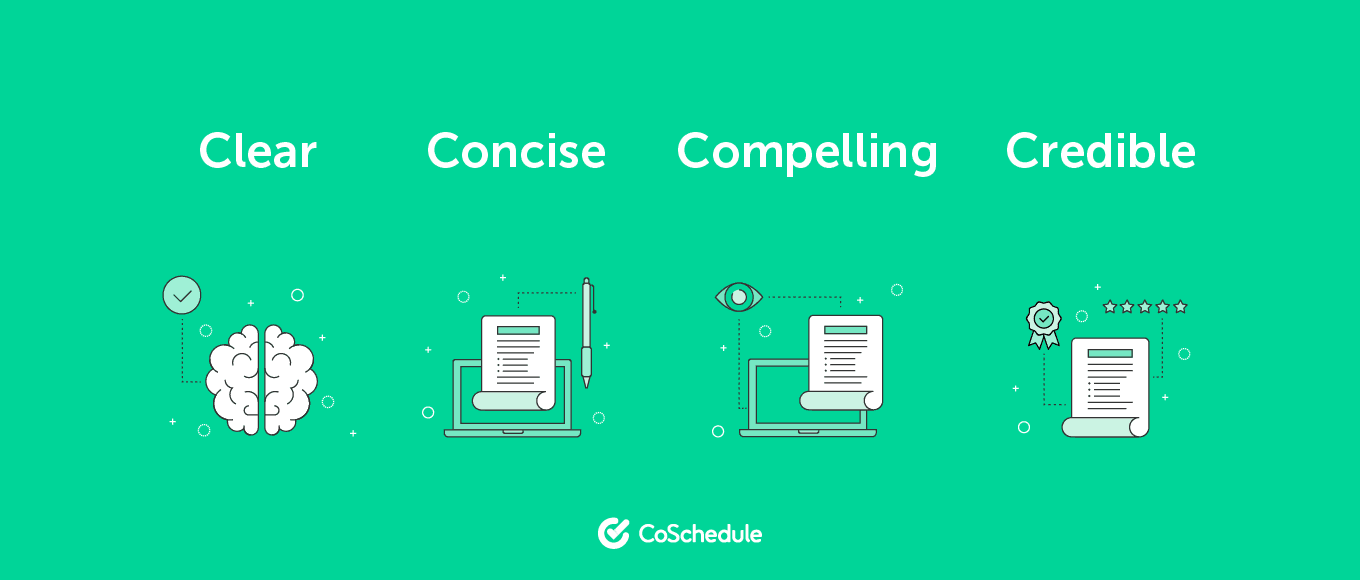 Here are two examples that use the keyword "SEO for blog posts":
SEO for blog posts is important because it'll help you rank higher on Google. When you use SEO for blog posts, your Google ranking will greatly improve. That's why you should definitely use SEO for blog posts.
There are three effective ways to use SEO for blog posts. These are incorporating relevant keywords, coming up with strong titles and subheadings, and optimizing URLs.
Example number one uses the keyword three times. However, it provides zero value to readers and it's not a surprise if they click away without reading on.
Example number two, on the other hand, uses the keyword only once. But readers want to continue browsing through the article because it promises them something of value.
Here are some Do's and Don'ts to keep in mind when writing content for your blog.
Do

focus on your audience, their paint points, and their desires.

Do

research deeply before writing on any topic.

Do

use your specific keywords, but let them guide your topic instead of stuffing it.

Don't

overstuff your content with keywords. A keyword density of below 3% is a good indicator of high-quality content.

Don't

link to irrelevant sources. Make sure your source is Alexa verified (ranked below 100,000) before using it.

Don't

spin content from other sources. This is a black hat SEO tactic that is a no-no in writing quality SEO content.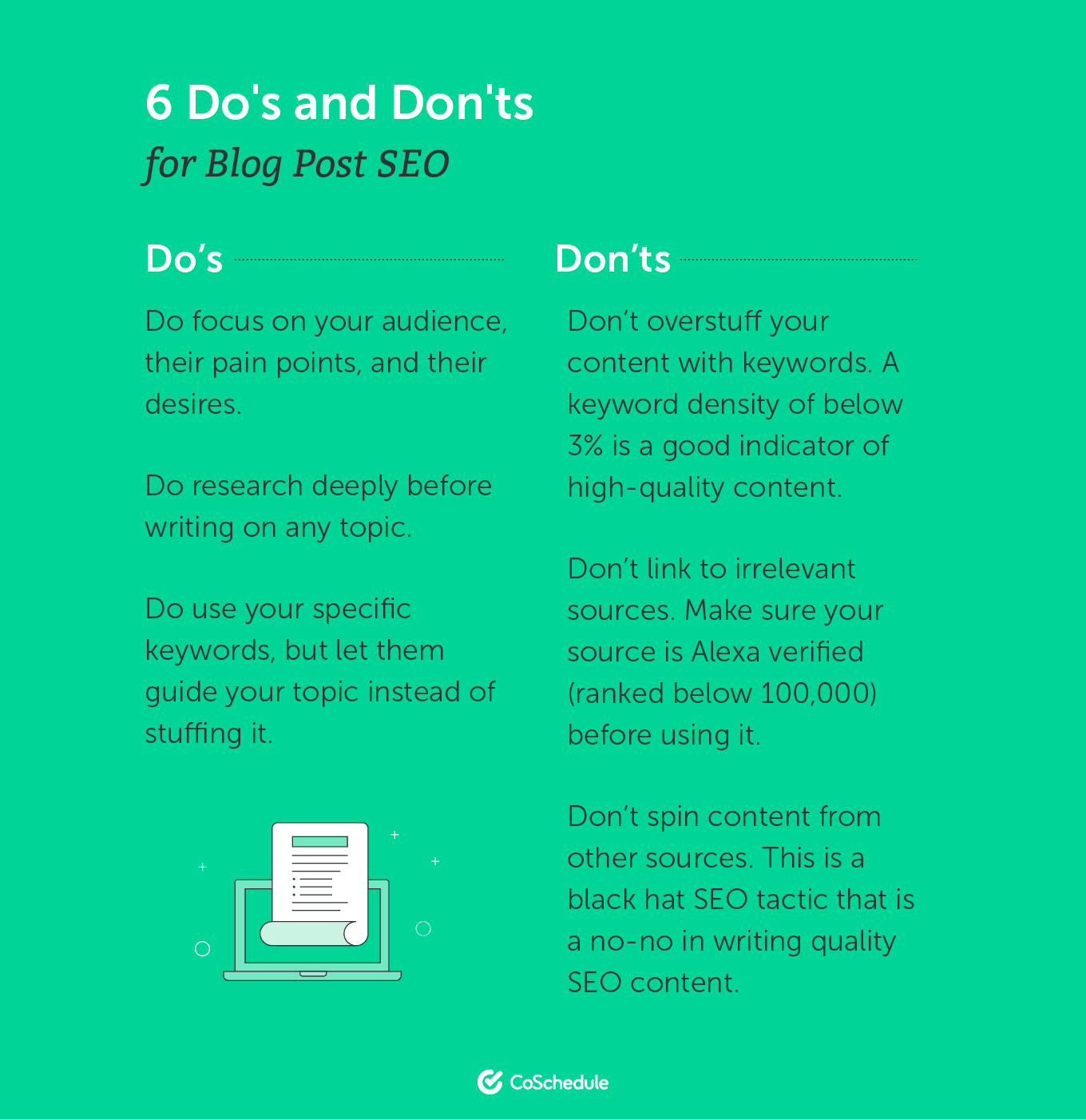 Overall, your aim should be to create content that provides unique value and is solution-oriented. This will guarantee that you will be seen. Why? Because when people read content that is truly people-centric, they share it, and Google takes notice.
Writing for your readers is good for everyone, especially you.
Use Internal Links
As an active blogger, you have a ton of content that is relevant to your readers. But if you're not using internal links they will never see it and you are losing valuable traffic.
Internal links are links within your content that give readers a gentle nudge to check out your other articles. It's an ideal way to increase your ranking and improve your overall ROI on your creations. By using linked keywords, your viewers are more likely to stick around and see what else you have in store for them.
For example: If you've written a post about using treats to train your Corgi, insert a link to your other piece about the ten healthiest treats for your Corgi. End with CTAs to your products for Corgi grooming or treats. Think of the most relevant topics you can add in to your new piece that will add a lot of further value for your readers.
Internal links not only help increase your page views but also increase your ranking. Crawlers love internal links. For more information on how to effectively leverage internal links, check out this article on internal linking for SEO by Yoast.
Create Meta Descriptions and Title Tags Using Yoast
Using meta descriptions and title tags don't directly affect your search engine ranking. However, they definitely do a lot to affect your site's overall performance.
And even if they technically don't affect SEO rankings, we'd argue that they could—because a well-written meta description could earn you a much higher click-through rate.
The more compelling and relevant your meta description and title is, the more you can potentially increase your site's click-through rate and reader interest.
Let's look into how to craft the best meta descriptions and title tags for your site.
1. How to Craft Meta Descriptions Using Yoast
Your meta descriptions have one goal: to show readers your site has the answers they're looking for. Here are some tips that'll make your meta descriptions stronger.
Don't make your meta description too long.

 As a rule of thumb, staying within 155 characters is a good practice.

Use action words.

Tell readers what to do, and they'll likely do it!

Include important details.

For example, if you're selling a watch, include its model, stand-out-features, and price.

Use your focus keyword.

This will help you rank higher on Google.
You can use Yoast to help you create meta descriptions for your post. Here's how.
Click the Edit Snippet button, to open the snippet editor. From there, you'll be able to type in your meta description.
As you type, you can see the preview of your description. An orange bar means you haven't covered enough information yet. A green one means you're good to go.
2. Writing Title Tags in Yoast
Your goal is to make your title, also called 'title tag' or 'SEO title' in Yoast, tell search engines what your page is all about.
When writing a title tag, there are a number of things to keep in mind.
Use keywords at the beginning of your title.

This will help you get a better ranking on Google.

Don't stuff your keywords into the title.

Readers won't be impressed by variations of the same keyword. Also, search engines are now able to spot these repetitions, putting your site in trouble.

Keep your title concise and relevant.

 Your goal is to get readers to click. Remember the keywords they used to find you, and make sure your title reflects what they're looking for.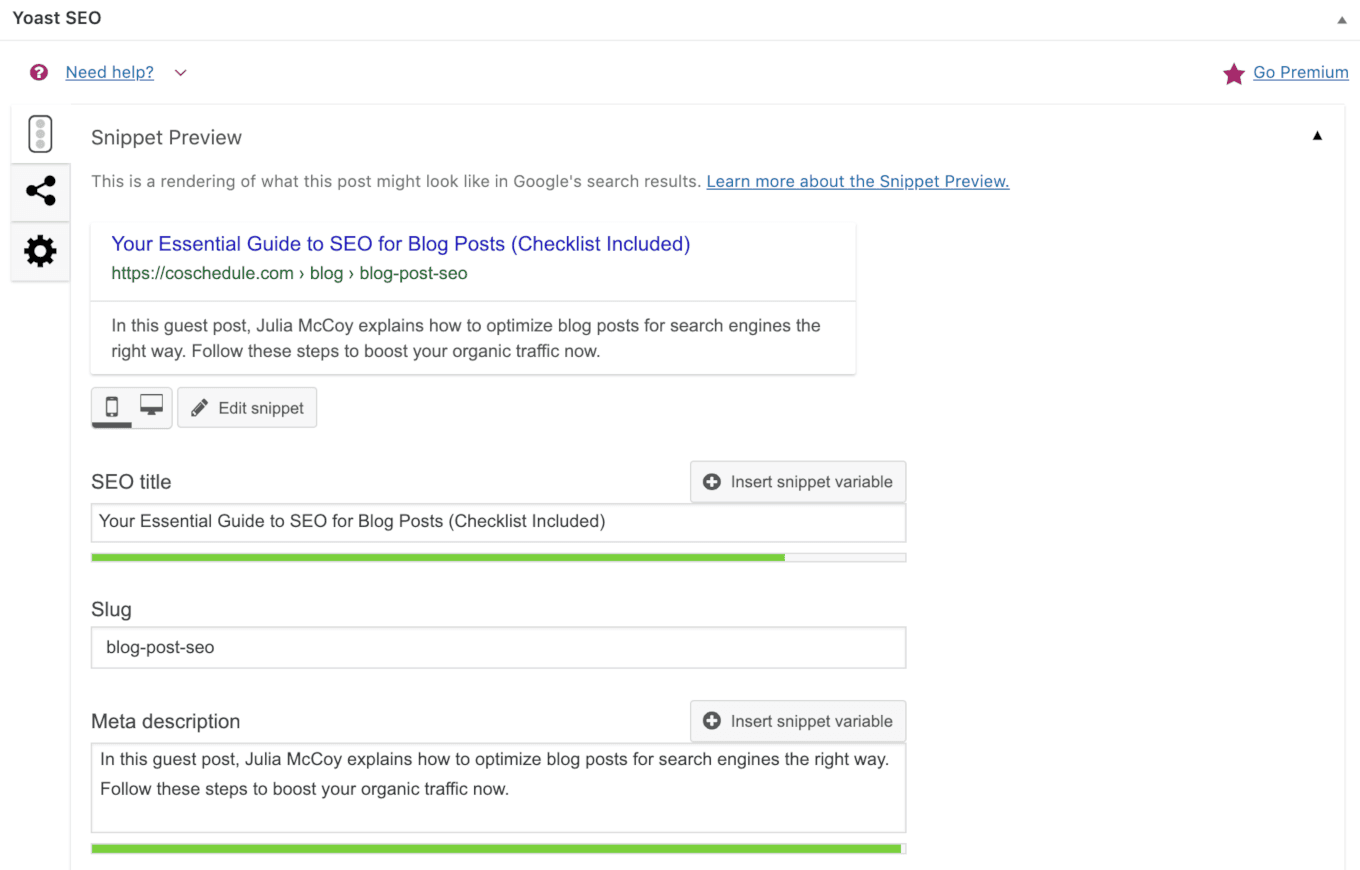 After you've come up with the perfect title, it's time to add it to your post. For this, you can use Yoast as well.
Adding a title tag using Yoast is similar to adding a meta description. When you click the Edit Snippet button below your post, you'll see an input field for your title tag. Type your chosen title into this field.
Optimize Your URL
Before posting your article, ensure that your URL is optimized.
A good URL is readily readable by visitors and search engines alike. Ideally, the page title and URL should match one another as well as be an accurate description of the content that readers will find on-page.
For example, take a look at these two options for our example article about Corgi training.
www.pets.com/corgis
www.pets.com/how-to-train-your-corgi
The top URL is not specific and doesn't provide readers or search engines with enough information to know what the page contains. The second is much better. This is because it gives us the subject the page is about and contains keywords a viewer would use to search for the information. When in doubt about how to title your URL, let your keywords act as a guide when deciding how to title.
Also, notice in the above example that there is no additional punctuation used - other than hyphens. This is because search engines are set up to read hyphens, not underscores. Be sure to use them while avoiding any other types of punctuation or capitalization to ensure optimal readability.
Format Images with the Right ALT Tags and File Names
Formatting images within your blog is crucial to keeping readers on page and boosting your ranking.
When choosing an image there are a few things to keep in mind.
First, consider the size and quality of your image. Ideally, you want a high-quality image that won't slow down your site. According to Neil Patel, a mere one-second delay in page response can result in a 7% reduction in conversion rates.
In addition, many readers won't stay on a page if your site takes longer than 3 seconds to load so choosing the right type of image is also important.
There are 3 major file types for images. A JPG is a great option for photos as they are small and are supported by most hosting sites. A PNG is perfect for graphics when you need a high resolution but the file is often much larger than that of a JPG. GIFs are good for images that are not complex, but lack the quality of the first two.
Before uploading your image, be sure to customize the file name. The name should be descriptive, relevant to the page, and include a target keyword. By naming files this way, you provide search engines with slightly more information about what is on the page. This helps increase your ranking.
If your image is unable to load, an ALT tag will appear in its place. This is an alternative to the image that tells the reader what should have been there. The ALT tag is the main point of reference for the search engines, so it's important that it's specific.
Be sure to add ALT tags for every image added for ideal optimization. The name should include primary keywords as well as a description of the image.
Your Blog Post SEO Checklist is Complete: Now What?
You have a killer headline, you've added internal links, your blog post SEO is oh-so-fresh, and your article has been written with your audience in mind. Now what?
Just because you have the best of the basics of on-page blog SEO doesn't mean you should stop here. Make it a goal to keep learning!
Keep an eye out for SEO updates from Google and other crawlers to stay up to date on the latest information.
Also, don't forget to download your blog SEO checklist below to make your next creation even easier!
March 5, 2020