The Best Way to Document Your Brand Voice Guidelines (Template)
As a young journalism major learning about the publishing industry, I was in awe of the well-oiled machines that were large magazines, where I wanted to write one day. How in the world could they combine hundreds, or even thousands, of different writers and voices—some veteran, some new to the team, some
freelancers
or
temporary interns
—into this one voice that was cohesive and just...fit? Was it that everyone they hired just thought and talked the same way? That seemed unrealistic. No, as I got further into my writing career, I realized that the well-oiled processes of the publishing industry ran deeper than I'd thought, and they usually had a documented system for representing the publication's voice.
I'm talking about the holy editorial guidelines.
Editorial Guidelines: A Writer's Holy Grail
These publications would have a guide or manual to writing as part of the organization, and they'd be so clear and details that professional writers could hop into and out of the team knowing exactly how to adapt their writing voice. Well, aside from a few internships in college, I never actually made it into that industry. Instead, I found the world of content marketing and fell in love. But one thing I've noticed?
Brand editorial guidelines
are often sorely lacking compared to publishers', when they exist at all. Sure, we have rules and guidelines for our content to tell guest bloggers or our CEO to follow when contributing content. We know our "brand personality" and can explain it easily. But
does your brand have that comprehensive guide that can essentially onboard any new content creators for you?
 Something documented that ensures cohesiveness whether you're content's being created by the marketing team, the product team, the C-suite, freelancers, or guests? If not, don't feel guilty. You're definitely not alone in this! So today's post will lay out how you can define and document voice guidelines that are as clear as the rest of your
branding
and can be used for any kind of brand content.
Define and document your brand voice guidelines with this detailed guide + free template:
Click To Tweet
Why Bother Documenting Brand Voice Guidelines?
Let's clear the air first: why isn't it enough to just explain the overall voice and brand personality to any
new content creators
?
Documenting processes in general is important to managing any team and lays out what's required for effective project management
Putting the rules in writing ensures consistency from writer to writer, as opposed to explaining it separately and/or differently to each contributor.
Going through this process can identify areas of your branding you might not have thought about in relation to your content.
Having a formal document helps streamline training and onboarding new team members or contributors.
It offers a quick reference for any existing writers who want to double check something, which will make editing easier.
Now let's get to it.
Download Your Free Brand and Editorial Voice Guidelines Template
If you're going to document style standards for your brand's voice, you'll need a template to do it right. Right? Grab this freebie from CoSchedule and follow along as you read this post. By the time you're done, you'll have a complete set of documented standards ready to go.
The Best Way to Document Your Brand Voice Guidelines (Free Template)
Click To Tweet
Step 1: Audit Your Existing Brand
When you already have an established brand identity in place, documenting your brand voice is more about finding what your brand should sound like based on existing qualities, than it is creating something from scratch. Since you're not creating a whole new voice or brand personality, your official voice should be an extension of the rest of your brand. So the first step in developing your guidelines is to take stock of your current brand vibes in order to find ways to vocalize it. Some questions you might want to ask include:
What Are Our Brand's Top Values?
What is supposed to be at the core of everything your company does? If your company has defined core values, a mission statement, or any other type of formal statement, all roads should lead back to it. Theses values or purpose should be represented in all aspect of the brand, and how you talk to your audience is a huge part of that. For example,
Skype's brand guidelines
, or "brandbook," starts off with a few important parts of their mission and values statement: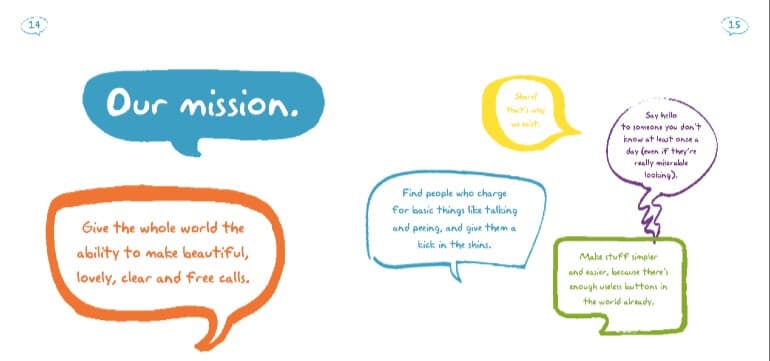 (Image Source:
Skype Brandbook
)
What's the Voice in Our Top Content?
If you have a lot of existing content, but it wasn't created with a specific, strategic voice, you can
perform a content audit
 to identify your
best and worst performing content
. Then, specifically look at and analyze the voice and tone of each piece. Do your top pieces have similarities in terms of writing style, personality, or direction? Do your worst? This will help you figure out what kind of voice your existing audience responds to, so you can make sure you're moving in a direction that aligns with both your brand and your audience.
How Do Our Customers Describe Us?
Again, you need to make sure your voice aligns with what your audience and customers already like about you. Your voice guidelines should "make official" what's already working well with your brand communication. So another great step in developing your guidelines is to go out and ask your customers how they would describe your brand's personality. Are you elite? Approachable? Respectful? Subdued? Silly? Motivational? You can send a survey at the time you're first developing guidelines, adapting
this ongoing process from Joanna Wiebe at Copy Hackers
:
Poll your new customers. Send a follow-up "thanks for choosing us" email within days of a purchase, and ask your customer to indicate – quite simply – which adjective (of a short list of options) best describes how they feel about your brand.*
Developing brand voice guidelines? Start by asking these questions.
Click To Tweet
Step 2: Define Core Personality
After you've looked at the strongest parts of your brand, you need to agree on, "well, what does that sound like?" aka tying things together into a theme. I like to look at it as coming up with a "spokespersona." Just as you'd
create an ideal profile or persona
 for your customers or readers, create one for the embodiment of your brand. Or, if you have some kind of mascot or spokesperson, base this off of them. Decide your persona's mood and personality, how they describe things, and how they see themselves. For example, are you:
Conversational with a pension for fun tangents, or short-spoken?
One to focus on facts and statistics or more interested in stories and people?
Daring and adventurous, or cautious and risk-averse?
Take what you collected in step 1 and lump it into three main bullet points or adjectives that describe your brand.
(Image Source:
Percolate
) For example,
Percolate defined their core personality
 with adjectives like "thoughtful, interesting, proud, bold, and human."
Step 3: Drill Down to Tone
Now it's time for something that's muddied up a lot: taking the overall themes and voice, and specifying tones to use in certain scenarios. It's easy for brands to define one, but not the other, or confuse them for the same thing. But think about it personally: your voice is your voice, but you take different tones depending on:
Who you're talking to: your grandma vs. your best friend
What you're talking about: telling a story vs. giving instructions
How you feel: confused vs. clear, energized vs. "hangry"
In
their guide to social media voice
, Buffer offers this definition:
"Essentially, there is one voice for your brand and many tones that refine that voice. Voice is a mission statement. Tone is the application of that mission."
An analogy I like is looking at voice as content, and tone as context. Voice defines what you might say, tone refines how you might say it. For your own brand, think about how you would write an email about a new launch or important milestone compared to a customer support email. Not the same, right? So once you've defined your brand's overall voice, imagine how that would play out in different scenarios and contexts that will come up in your content.
Once you've defined your brand's overall voice, imagine how that would play out in different scenarios and contexts.
Click To Tweet
Step 4: Document the Specifics
Once you've defined a clear picture of how your brand voice should sound in different contexts, it's incredibly helpful to lay out actual specifics. You want to make it so that any writer or content creator, regardless of how long they've known of or worked with your brand, can jump in and "try on" the voice. As a freelance content creator, I'm often given brand voice guidelines that make it clear the brand knows how they want to sound, but don't actually explain what that looks like. As a result, there's a lot left open to interpretation. For example, what actual words does the client consider "an innovative voice?" So the client's good with telling jokes, but what kind - silly potty humor, "dad puns," or snarky sarcasm? Provide your writers with concrete examples of your brand voice to go off of. The more examples the better. In fact,
MailChimp's voice and tone guide
 is mostly made up of examples to use as a guide.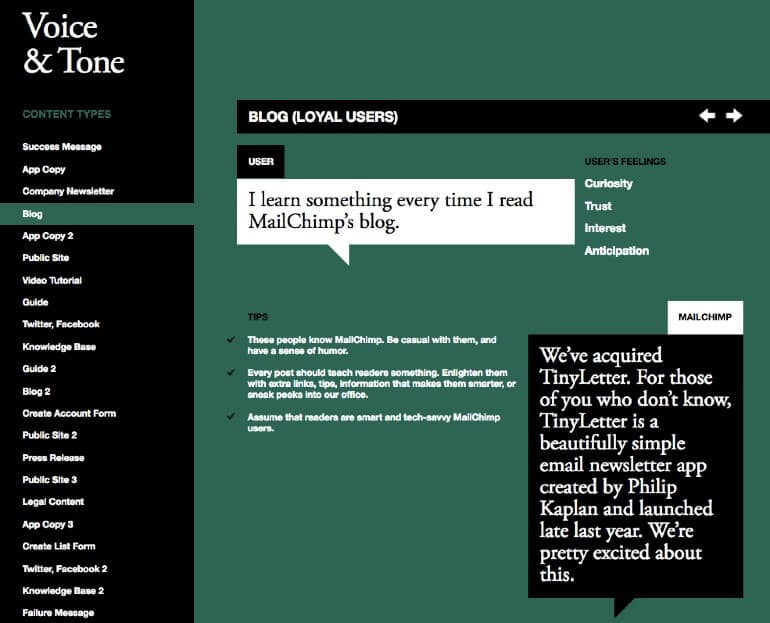 (Image Source:
MailChimp Voice & Tone Guide
) Some sections to include in your guidelines might be:
How to Use Branded Terms
Does your brand have any slogans or taglines for the business or specific content? Or catchphrases from marketing campaigns? A lot of companies have certain branded language they want to play up. You can help your brand's creators do so by collecting all the branded language in one place and describing when and how to use each. For example, in
DFW airport's brand guidelines
, there's a whole page dedicated when and when not to use their tagline: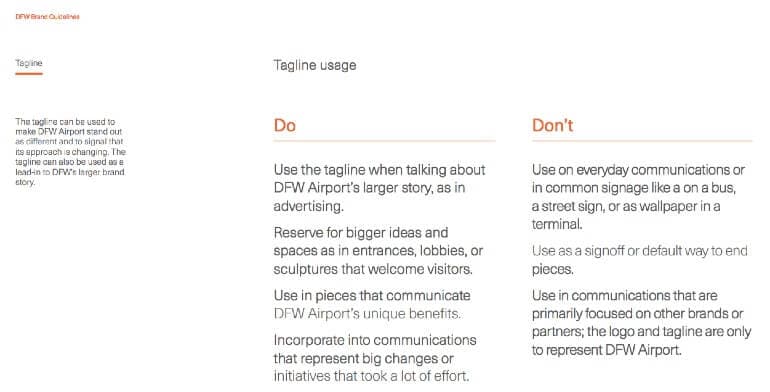 (Image Source:
DFW brand guidelines
) This way, any copywriters or content creators, even ones working on their very first assignment for the brand, know not to sign off an email or blog post with the tagline in the signature, for example.
A "This, Not That" List
A "dos and don'ts" list, or examples in the style of "say this...not that…" are also really helpful ways to lay out examples. See how Skype demonstrates some of the more subtle aspects of their brand voice: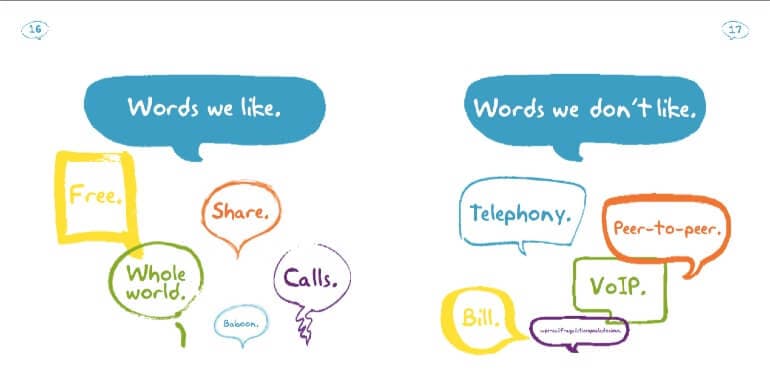 (Image Source:
Skype Brandbook
) As a new writer for the brand, it could be easy to throw in a term like "peer-to-peer" or "VoIP." After all, those are big aspects of Skype and it's possible to use them and still have an overall casual and simple voice. But thanks to the brand's version of a "this, not that" list, you'd know to avoid it thanks to these voice guidelines. [Tweet "Help new writers understand your brand voice faster with a 'This, Not That' list."
Nitty Gritty Spelling & Grammar
Finally, a great section to include is one outlining any technical writing details and style preferences. For example, if there's a certain industry style guide you base your guidelines on, include which one. You can also address preferences for any of the many "there's more than one right way" language rules. Which industry words or abbreviations do writers need to know? A great example of this is
Mozilla's Copy Rules
. As a tech company, their content likely includes a lot of industry terms that aren't necessarily in the dictionary. If you Google them to check the spelling, you'll likely find multiple variations with no definitive answer. So Mozilla lays out their preferences for terms like:
Double-click (it's always hyphenated)
Email ("one word, lowercase, no hyphen")
Users ("use this or 'people' instead of 'customers'")
Yes, this is veering towards nit-picky, but there's nothing wrong with that. New content creators will have no way of knowing what you like best, and laying this out eliminates any back-and-forth questions or edits around commonly misused terms.
Bonus Step 5: Multimedia, Add-Ins, and Extras
Completing the 4 steps above will lay out clearly and in detail how content creators can write for your brand. However, online communication is rarely text-only anymore. So as a bonus step, you can also lay out how to use different types of media and assets you might supplement written content with to keep your brand voice aligned there, too. Things you might want to lay out guidelines for include:
Using images or graphics within content
Including or embedding video
GIF usage
Using emoji ?
Other accepted or suggested forms of media
For example, take my blog/brand, Work Brighter. It's very, very playful and conversational. It should make my audience feel like they're texting with their best friend of 20 years, and there's a lot of GIFs and emojis. However, I still wanted to add consistency and give outside writers some guidance, so I created the following guidelines:
"Stick to emoji that convey happiness or excitement, as well as those that illustrate objects of discussion.
The emoji that best convey the brand are the unicorn, "clapping hands," "person raising both hands in celebration," and the "rock on" sign.
If using GIFs on social media, prioritize featuring recognizable aspects of pop culture (popular TV shows, movies, etc.) over random clips from the internet, memes, and animations.
Create Your Brand's Holy Grail
It's not enough to know what your brand should sound like. There's a big difference between knowing something conceptually or having an idea in your head, and having a documented strategy. In order to easily allow anyone in or working with your team to create content, you need to lay down the law and show them how to embody your brand voice. Think of your brand as a character and all your writers and content creators as actors - they need to know how to get into the part. Your brand voice guidelines are their script and stage direction.