How To Use Content Syndication To Boost Your Subscribers In No Time
Promote your blog post. Sage advice for the content marketer. If you're anything like me,
writing a blog post
takes time. Lots of it. In fact, this post took me about
15 hours
to write. And now I have to promote it, too? Exactly
when
am I supposed to do the other work required to keep my business going? I'm in the process of launching a new company. I have a new website, a new blog, and a new product. And like all businesses, I wanted to get my marketing engine going but didn't have time to spend hours both writing great content and promoting it. Over the years, I've developed
three strategies to promote blog posts, drive traffic to your site, and collect emails
even if you don't have a lot of time on your hands. In this post, I'm going to share with you in detail what has quickly become my absolute favorite strategy for promoting a blog post in 20 minutes: Content syndication.
How To Use Content Syndication To Boost Your Subscribers In No Time via @GregDigneo
Click To Tweet
The 20-Minute Traffic Strategy
I just
launched a new blog
. No traffic, no email addresses, no backlinks. No nothing. If you've ever launched a blog of your own, I'm sure you know there is absolutely no truth to the axiom, "If you build it, they will come." Back on April 6th, I published my first blog post called "How to Reach Over 1 Million People Through Guest Blogging."
This is the original post published on my blog. And for more than three months, the post just sat there.
I was getting pretty much zero traffic. It wasn't generating traffic. It wasn't collecting email addresses. It wasn't being read. In order to promote the post, I decided to republish the post on the popular marketing blog, SteamFeed. A strategy called
content syndication
. As soon as I syndicated that one post to that one blog, I immediately started seeing a small (but steady) flow of traffic to my site.
After I syndicated content, my traffic increased. And I even started collecting email addresses.
Once people see your content, they'll know you write great stuff. That influences email subscribers. And the whole thing took just 20 minutes. Look, syndicating one post on one popular blog isn't the silver bullet to content marketing riches.  Like everything,
consistency
over time can lead to big results. James Clear, of JamesClear.com, built his blog from
500 email subscribers to an email list of 100,000 people and 250,000 unique visitors per month
 by syndicating his content. All in less than 2 years. So let's get into the nitty gritty of how to syndicate your content on another blog.
How To Syndicate Your Content On A Popular Blog
Unlike other promotion strategies, by the time you're ready to syndicate your content, 95% of the heavy lifting is complete. The hardest part of the process is writing a great blog post. So let's start there.
Step 1: Publish a great post.
What makes content great? The truth is, great content is like a great work of art. It's hard to define, but you know it when you see it.
Great content is like a great work of art. It's hard to define, but you know it when you see it.
Click To Tweet
And the bar for great content is being raised every single day. What was considered "great" last week is average today. So instead of showing you how to write great content, the best I can do is give you 3 guidelines that have helped me write great posts.
1. Detailed How-To Post
Leave no stone unturned. When you write a "how-to" post, you want to be as descriptive as possible. Make sure that you include every little detail about how to achieve a task.  At the end of the post, the reader should be able to replicate every single step without fail.
For example, I would consider this a detailed "how-to" post.
2. Personal Experience
People can always relate to a personal experience. We all struggle. We've all been down on our luck in some way shape or form. What makes for a really great blog post is when we open up about these struggles. We share a bit of our vulnerability. We open up and let people identify with us. Why? Because at some point in time, we've all been down on our luck, or we are all going through some struggle right now.
3.  Case Studies
Which headline sounds more interesting?
"How to get more traffic?" or "Case Study: How a brand new blog got 5,300 unique visitors and 230 email addresses in one week."
I don't know about you, but I'll pass on the first headline and devour the second one. The "
get more traffic
" post has been done. A lot. It's boring. But the nature of
the case study
headline is that it promises to give very specific tips, tricks, and strategies that I'm going to want to copy.
Step 2: Create bonus material.
The bonus content is designed to be complementary to your blog post in order to entice people to give you their email address.
For example, in my guest blogging post, I created 3 pieces of content to put into a bonus.
First, I turned my blog into a checklist. I
hired a designer
on Fiverr to make it look a little nicer. Since I've been guest posting for a while, I had a list of 101 blogs that accept guest posts. And finally, I gave away the copy for my highest converting byline and landing page and called it a "Traffic and Conversion Swipe file." While it may sound like a lot of work to create all of this content,
repurposing
things that you have on your digital bookshelf will speed up the process.
Step 3: Turn your post into a lead magnet.
My main goal as a content marketer is to build an email list. However, not all of the traffic will go to a landing page. Quite a bit will go to your original post. Let's make sure that we capture as many email addresses as possible. Here's what I did:
1. Exclusive Blog Bonus
Right before the first subheadline, I created an "exclusive blog bonus". This is the bonus material that you created in step 2.
Exclusive blog bonuses provide relevant content right in your blog posts in exchange for email addresses. In order to get access to the bonus material, the reader has to click on the link and enter their email address. This is what's known as a
content upgrade
. As far as I can tell, Brian Dean is the pioneer of this strategy. I will repurpose this material multiple times during the content syndication process.
2. Customized Email Capture Form In The Footer
A lot of blogs have email capture forms in their footers. But most bloggers don't customize the form. This is a huge mistake. If someone spends 15 minutes reading your blog post, chances are they are interested in the topic and want to find out more. I used the WordPress plugin Thrive Leads to easily create a customized email capture form that complements the blog post a visitor just read. After reading a post on guest blogging, I figured it'd be natural to want a list of blogs accepting guest posts.
Gather leads and promote your blog with exclusive blog bonuses.
3. Targeted Opt-In
I'm not going to lie, I hate light boxes. But they work. So, I made a compromise. First, I created a targeted opt-in. Once again, unlike the generic opt-ins that you see on most blogs, this one relates directly to my post on guest blogging. And second, I set the box to only appear on the exit intent. This means that the popup will only appear when the person is about to hit the back button. I probably sacrifice a few conversions, but it keeps the reader experience clean.
Exit intent light boxes or popups are great ways to capture leads as they leave your blog.
Step 4: Find a blog to syndicate the content to.
In the business space, there are quite a few blogs that are looking for content syndication opportunities. They are:
Kristi Hines has put together a
few more sites
 that routinely syndicate content. If none of these blogs work for you, then you can always use Google. First, you can use the search query:
"This blog was originally published on"
.  This is because Google requires all syndicated posts to contain this message (or something similar). Second, you can use the search query:
"Sites accepting syndicated content"
. Other bloggers have
curated
sites for you. This will help you broaden your reach.
Step 5: Pitch the editor.
As in most instances, having a relationship with the editor of the popular blog will enhance your chances of getting the post accepted.
For example, I had written several guest posts on SteamFeed before being able to syndicate content to the site.
However, cold outreach can still work. It just takes some persistance. If it is a large blog such as Business Insider or The Huffington Post, the blog will have several editors. By doing a Google search, you should be able to find the
name
and
email address
of the editor that fits your niche. Here is the email script I'd use to syndicate my post:
Subject: Syndicate This Post About Guest Blogging Hi (name of blog editor), I wrote the following post which details a step-by-step guide to getting a guest post accepted on a popular blog. I leave absolutely no stone unturned and I think that SteamFeed.com readers will love it. Here's the link: (include the URL) If you enjoy it, I'd love to see it republished on your blog. Greg
Tip: Research the editor of the blog or who you are pitching to. One of the biggest turn-offs for editors is seeing that the person asking you for a favor didn't even take the time to look up your name.
The Best Way To Syndicate Your Content In 20 Easy Minutes
Click To Tweet
Step 6: Rewrite your conclusion.
The only change that I made from the original post to the syndicated post is the conclusion. I built in a
call to action
so that people will get even more information on guest blogging. I borrowed this strategy from
Bryan Harris
 in order to help me increase the amount of email subscribers that I received. Here it is: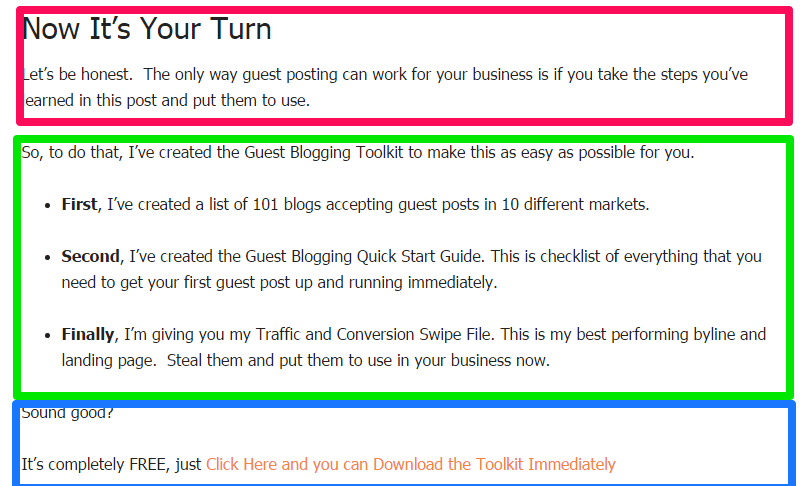 Now let's break it down: The first thing you want to do is wrap up the post (pink box). This is a way to tie everything together. As you can see, a sentence or two can get the job done. Next, you want to introduce the "
Exclusive Blog Bonus
" that you created for the original post. If you look at the green box, you'll see I used three bullets to let people know exactly what they were going to get. Finally, you need a
call to action
. I used LeadBoxes from LeadPages to create a content upgrade so that people can download the bonus directly from the SteamFeed blog. They don't have to go to a landing page!
Step 7: Create a landing page.
Now that you've gotten your content syndicated on the blog of your choice, it's time to create a high converting landing page. Here are 2 key components to a landing page that will convert traffic into leads:
1. A Relevant Offer
Instead of sending them to a generic landing page, I would create an offer like "5 Ways Facebook Dark Posts Can Get You Cheap Traffic" or something like that. An offer like this is irresistible to a reader who just spent a considerable amount of time reading about Facebook ads.
2. Personalize It
A personalized landing page can help you see a huge boost in conversions on your landing page. And it's incredibly easy to do. For instance, let's say I've just finished a post on Social Media Examiner. As soon as someone came from that post to my landing page, the first thing they would see is "Welcome Social Media Examiner Readers." Neil Patel, of Quick Sprout fame, shares his secrets to
convert visitors into customers
 with a landing page. Great advice to increase conversions for a few seconds of work.
Step 8: Write your byline.
I always write my byline last. That way, I can easily match my call to action to the offer that I created for the guest post. A byline should answer 3 questions:
Who are you?
What do you do?
Where can I learn more about you?
For instance, my byline was:
Greg Digneo is the founder of Birchfield, a software company that helps content marketers build their email list through referrals. We are in beta. Click here for early access.
Bonus: SEO implications
I'm no SEO expert by any means. I know my way around
backlinking
a bit. And I can insert
keywords
into a post. But I would remiss if I left out the search engine implications of "duplicate content" in a post that is largely about duplicate content. When I was doing some research, I found a few things that will mitigate SEO issues. First, you should wait at least two weeks to syndicate your content.  This will give the various search engines enough time to index the original post on your site. Second, at the bottom of your post, add the sentence "
This article was originally published on
…" Each blog will have its own syntax. But you need to tell search engines that the article is duplicated content and show them where it is. Finally, if you have access to the WordPress editor, you can add your URL to the "Canonical URL" section in the Yoast SEO plugin. This will ensure that the syndicated post is linked back to the original.
Tag your syndicated posts as canonical with Yoast.
One More Thing…
When I first published my blog post "
How to Reach over 1 Million People Through Guest Blogging
", I didn't have an audience. No one was tweeting it. No one was sharing it. No one was talking about it. But when I syndicated my post on a popular blog, magic happened. People read it, 267 people shared it (and counting), and I got exposure to my startup.
This is what my syndicated post looked like on SteamFeed. That's the power of content syndication.
Want 2 More Ways To Promote Your Post If You're a Busy Content Marketer?
As I've focused more and more time on my startup, I've had less time to promote my blog posts. Working as a content marketer for the past few years, I've created two additional effective promotion strategies that you can use to get traffic and collect emails for your business. I'll go in detail how you can use these strategies to grow your business. 
Click here
and enter your name and email address and I'll shoot them over to you immediately.
How To Use Content Syndication To Grow Your Email Subscribers In 20 Easy Minutes
Click To Tweet