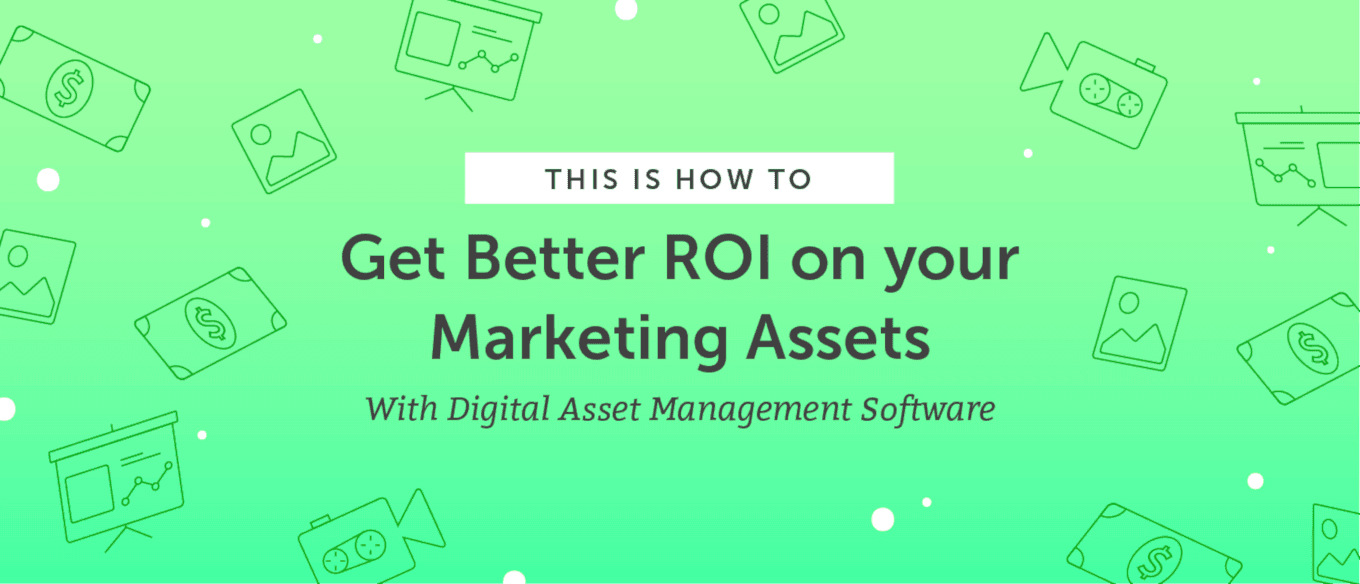 Marketing teams need digital asset management solutions because we produce a lot of documents.
White papers, brochures, sales decks, social images, blog posts, eBooks… the list goes on.
All of these documents have multiple versions scattered across email, Google Drives, desktops and servers.
No one knows where anything is saved and it's a chaotic mess that takes far longer than it should to try to manage.
Maybe you even have multiple marketing teams in different locations that are duplicating work and don't even realize it because your digital storage system isn't intuitive?
These are common problems that digital asset management platforms aim to solve.
The good news is, you've come to the right place. This posts aims to give you all the info you need to help solve your file storage issues with a DAM platform.
AND…
In case you didn't know, CoSchedule has an awesome digital asset management platform so you can store, plan, execute AND promo all your marketing collateral in one place.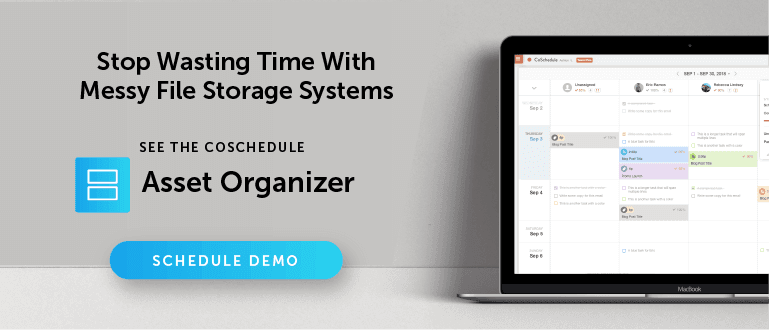 Digital Asset Management Templates
Before we dive in, download the DAM template pack below. You'll find:
Hopefully these templates will make evaluating your future DAM platform easy as can be.
What is a Digital Asset Manager (DAM) System?
Digital asset management, also known as DAM, is a process for storing, searching and organizing marketing materials and business media files. These assets include brochures, graphics, photos, videos, animations, podcasts, whitepapers, presentation decks, and more.
A DAM system is the platform that enables companies to share digital assets across the entire organization. It's a central repository that gives everyone access to the files they need, when they need them. It increases the ROI of all the assets your marketing team produces by simply making other teams able to readily access them.
Put simply, A DAM platform solves the problem of storing and retrieving files.
What's the Difference Between DAM vs. EAM vs. MAM
EAM stands for Enterprise Asset Management (sometimes also referred to as ECM or Enterprise Content Management).
An EAM platform has a similar function of organizing and distributing assets, but it differs is in what type of assets it organizes and distributes.
EAMs are responsible storing for operational content, like contracts, receipts, insurance claims, and invoices.
Where as a DAM really shines in its ability to organize visual and design driven documents.
Alright… as if you weren't already a little confused… let's mix in MAM or Media Asset Management to make matters worse.
A MAM platform differs from its DAM or EAM counterparts in that it's created especially for video production.
MAM software is designed for creating and managing video content in a video production workflow. Typically, DAM software is more versatile than it's MAM counterparts.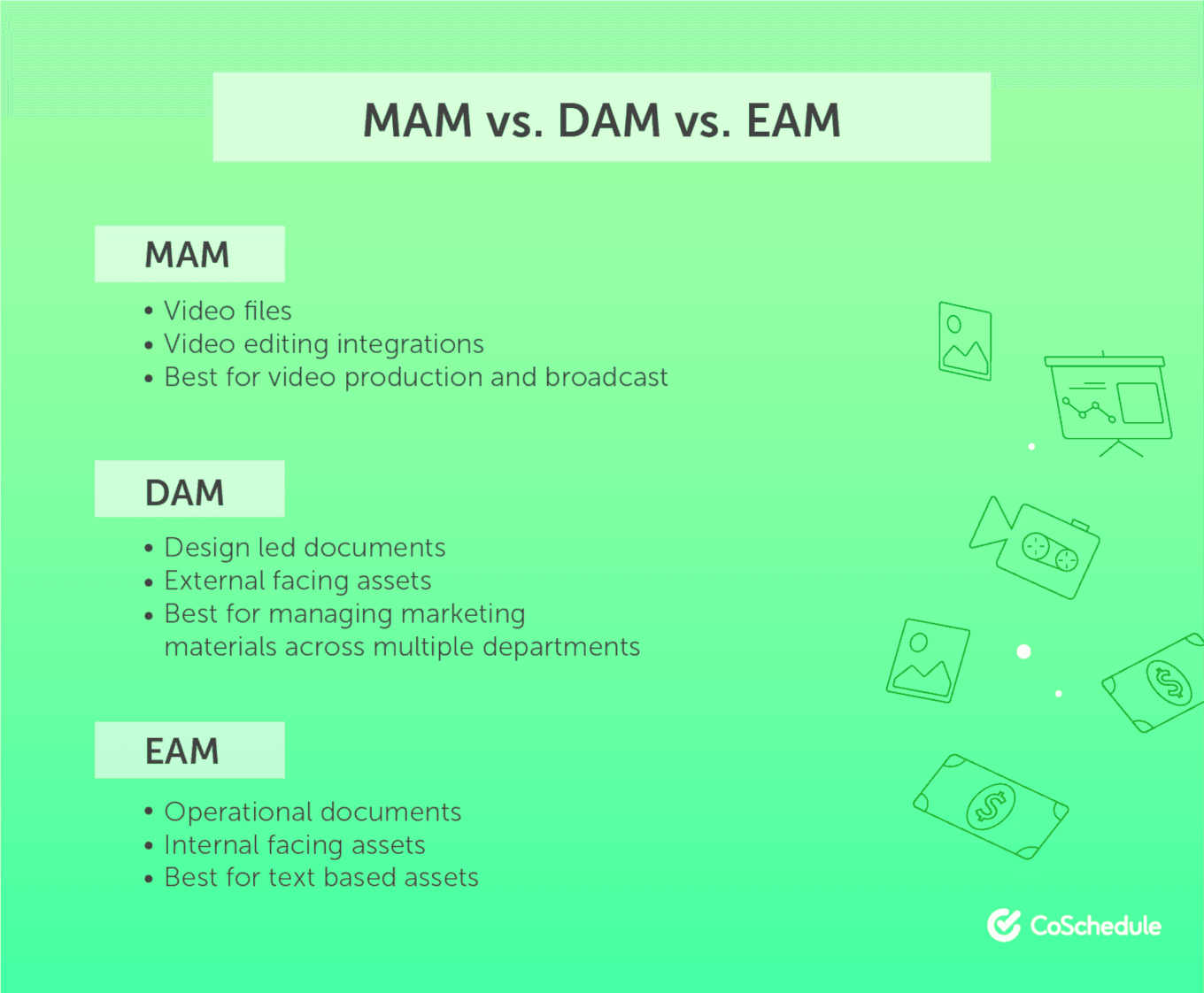 Who Needs a Digital Asset Management System?
When is a poor digital asset management a big enough problem to justify investing in a DAM platform?
Here's a checklist to help you determine if it's worthwhile to explore a DAM service provider.
You do not currently have standard naming conventions.
Time is consistently wasted trying to track down documents.
Assets are difficult to preview with your current system.
Work is often duplicated because it's easier than tracking down the original file.
Work is often duplicated because people don't know what assets already exist.
Out-of-date or incorrect marketing materials are being used by other departments.
It's hard to know which version is the "final" or the most recently updated version.
Duplicate versions are saved in multiple places like desktops, Google drives and Dropbox.
Waste time saving files in other formats resulting in duplicate assets.
Colleagues can't find assets by themselves.
You often encounter file size limits when sharing assets via email.
Assets are often used only once, when they could be of value to other departments.
Your marketing department isn't aware of what assets the sales department is using.
If you answered yes to at least 6 of these questions it's safe to say that your organization could benefit from the functionality a DAM tool provides.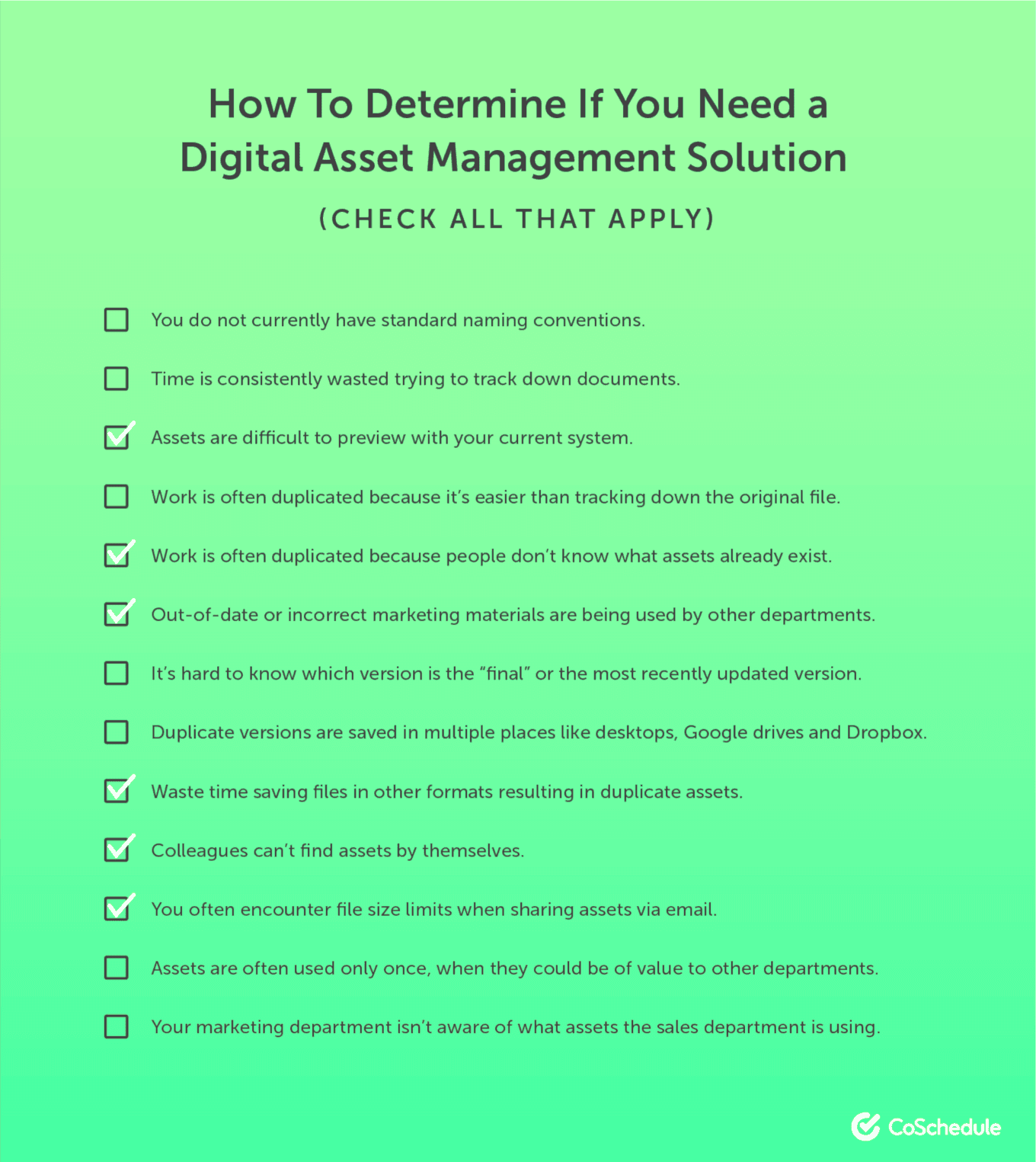 You might be under the misconception that only Fortune 500 companies need DAM solutions.
But, in reality, lots of organizations in a variety of industries can benefit from a digital asset management platform.
Digital Asset Management for Agencies
Collaboration is at the heart of every agency. It's literally the backbone of what they do.
This collaboration is often a pain point due to ineffective procedures that eat into the agency's bottom line. Time is money for all businesses, but especially for agencies.
Implementing a DAM allows agencies to…
Shorten the creative production timeline by simply wasting less time tracking down documents.
Enables client self-service where companies can access their own marketing assets without requiring the help of the agency.
Streamlines collaboration with partners and contractors since everyone knows where to turn to find what they need.
Digital Asset Management for Higher Education
University marketing teams usually have multiple campaigns happening at the same time. They serve multiple masters, since many departments rely on them to produce their marketing campaigns.
DAM software helps Higher Ed marketing teams by…
Ensuring brand consistency regardless of department or campus location since everyone has access to the correct media assets.
Keep digital assets like photos at your fingertips for ease of use.
Increases the transparency of what documents exist so they can be used more often.
Digital Asset Management for Tech Companies
Tech companies are probably the savviest when it comes to identifying a bottleneck in their process. However, even the savviest tech companies can be plagued by silos between sales and marketing.
Implementing a DAM allows tech companies to…
Help sales sell more efficiently with access to all necessary marketing materials.
Helps marketing increase ROI on the assets they create.
Allows sales to use a broader range of marketing collateral in their client discussions.
Digital Asset Management for Real Estate & Construction
Real Estate firms and construction companies deal with sharing large media files on a daily basis. It can be a challenge to distribute these files to partners, agents and departments do to files size limits on email and other sharing channels.
DAM software helps by…
Easily connecting everyone to the files they need without encountering frustrating file limits.
Assets live in a secure, central location for everyone or select individuals to access.
Marketing assets (like property photos) can be organized by region, address, city, property type, etc.
Common Features of DAM Platforms
Most software options that are designed for businesses include some kind of file storage option. This could include the ability to attach documents to client accounts or help individuals access a web-based content library.
These integrated file management solutions are pretty primitive in comparison to the functionality you will get from a full-fledged DAM platform.
You also might be thinking…
Why can't I just use OneDrive, Dropbox, or Google Drive?
These tools do help overcome hurdles to file sharing, they don't provide in-depth features like advanced search capabilities and version control. Which, in turn, don't really solve the problems companies face when trying to improve ROI on their assets and breakdown silos.
Here Are some common functionalities of DAM software solutions:
Ability to Manage Metadata
Much like metadata provided to search engines, DAM metadata is information that provides details about the asset's contents.
Metadata can describe many different details about the file, including who owns it, who has rights to access the file, keywords associated with the document, etc.
Ability to Track and Record Version History
How many times have you encountered a document saved as Sales_Slide_Deck_Final_Final2_Final-FOR-REAL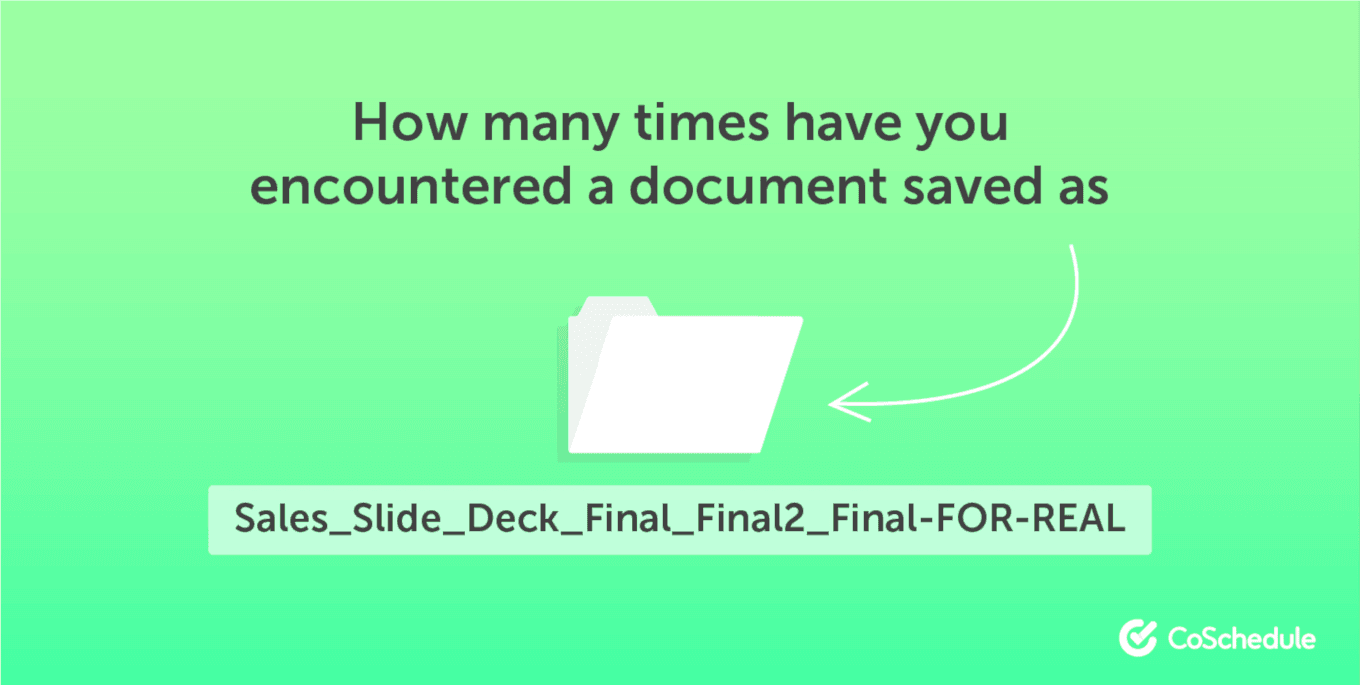 🤦‍♀️🙄🙅‍♀️
Or something similar.
There's nothing more frustrating as a marketing team member to think this is the final revision just to have another stakeholder come in and make additional changes and totally mess up the naming convention you had going. 🤦‍♀️
AND
There's nothing more frustrating as a non-marketing team member than trying to find a document and encountering that each designer has a different way of naming their files… OR finding that they haven't bothered to upload it to the shared drive and the asset is saved on their desktop. 🙄
One of the major strengths of digital asset management software is that it syncs changes in real-time, while also keeping reversion history and the ability to revert back if needed.
Advanced Search Capabilities
A cloud storage solutions like Dropbox are usually limited to retrieving files based on searching for the document's title. And honestly… who can remember what that document from last year was saved as?
With custom metadata, keywords, categories and more, you can make sure that the right files will always show up regardless of if you know the file name or not.
Security and Customer Usage Rights
Let's say you want some people to have full editing access to certain documents and not others, or certain images are reserved for the use of specific departments.
DAM software sets clear details about which departments can access and edit each document.
Types of Digital Asset Management Solutions
When considering different types of Digital Asset Managers, you'll realize that there are two different methods of storing your data.
Cloud storage DAMs
Cloud storage basically just means that your files are stored on servers in a remote location. Your files are then accessed through a web application and are typically paid for like a subscription service.
The pros for a cloud storage DAM are:
Scalability

 – cloud storage solutions can easily scale for your business as your storage needs grow.

Easy to start

 – Cloud DAMs are easy to set-up don't not require a great deal of IT knowledge to get started.

Accessible from anywhere

 – Businesses with remote teams or multiple locations can benefit from a cloud DAM since they can assess the files they need.

No hardware investment

– Companies don't have to invest in their own hardware or servers.
The cons for a cloud storage DAM are:
Loss of connectivity

– If you lose your internet connection, you also lose access to your data and files. Which means lost productivity.

Not easily customizable

 – Cloud-based DAM solutions are not known for being easily customizable. Meaning, it is rare to get a ventor to add additional functionality for your organization's specific needs.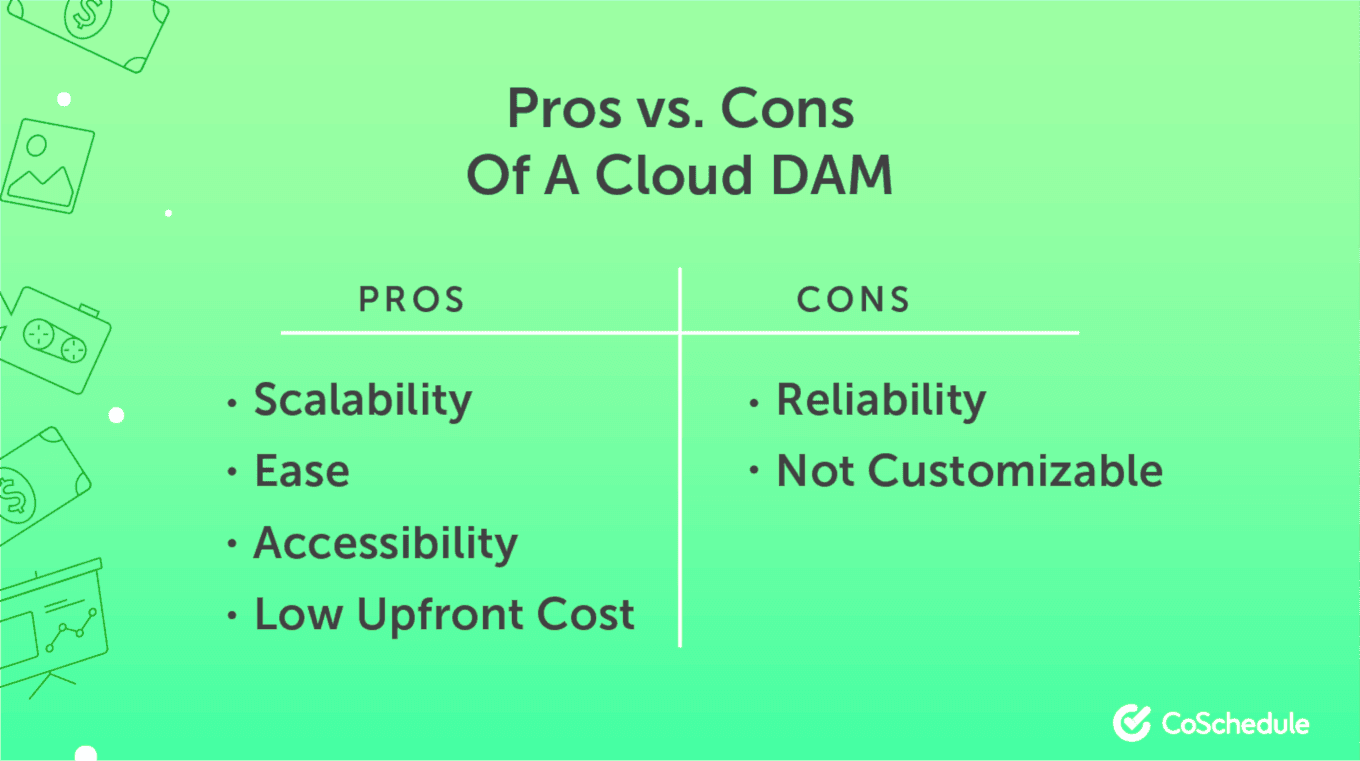 On-Premise DAMs
An on-premise DAM means that DAM software is installed and hosted directly on servers within the company. This typically means a large upfront cost, but less ongoing expenses since you won't be paying a subscription fee.
The pros for an on-premise DAM are:
The cons for an on-premise DAM are:
Lack availability

 – Remote teams and off-site workers will have trouble connecting to the solution.

Finite amount of space

 – These DAMs might be difficult to scale as your storage needs grow.

Large upfront cost

– The cost of implementing an on-premise DAM is very high as you need hardware and in-depth IT expertise.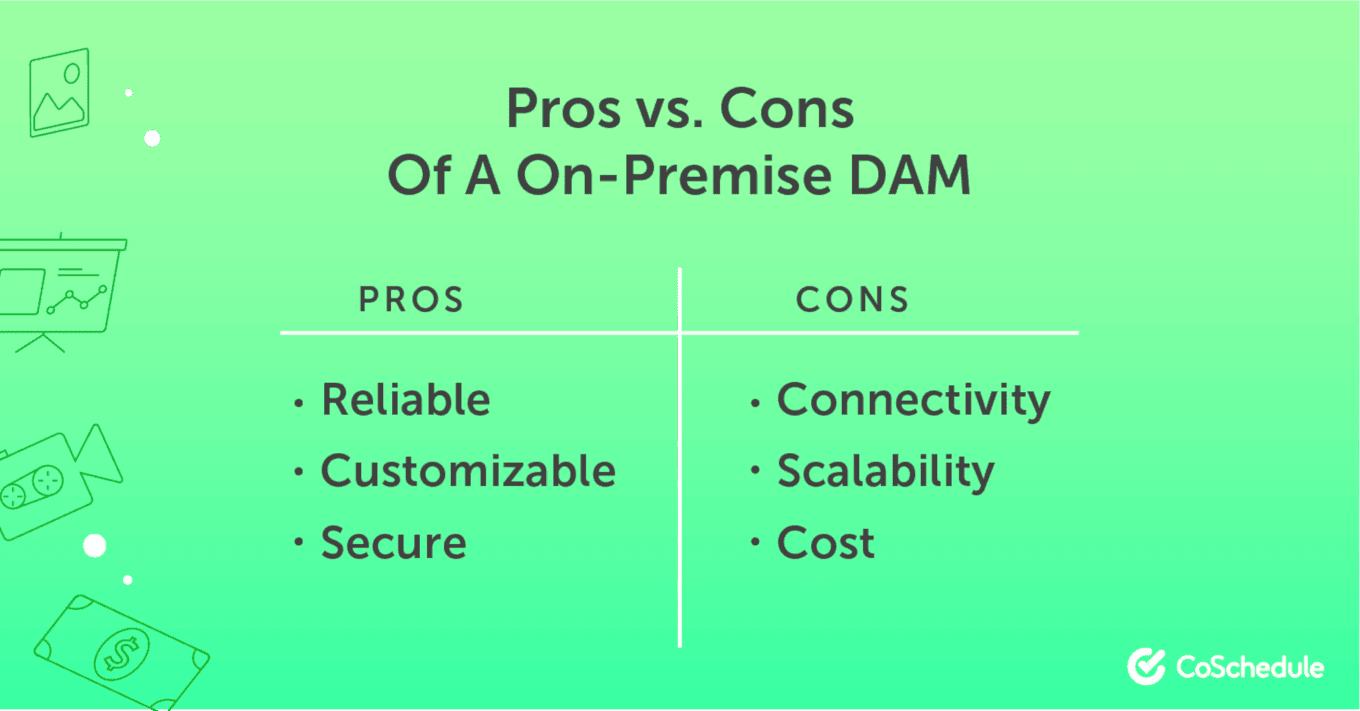 Do These Things Before Implementing a DAM Solution
Now that you know what a DAM is, who can benefit from one, and common features of these solutions, let's discuss the process of implementing one.
Step 1: Perform a Content Audit
Before you implement a digital asset management tool, you'll want to get a better understanding of what content you already have.
This helps you clear out outdated content, gives you a laundry list of things that need to be updated, and an idea of how to structure the metadata for your new DAM platform.
In the content upgrade above, you'll find a Content Audit Template Spreadsheet.
Here's how you use it:
Begin filling out the columns. Add the title of the document, who produced it, who it was produced form, etc.
Here's what it will look like as you start.
As you start your DAM content audit, be on the lookout for the following items:
Is the asset professional looking and on-brand?
Is it supporting your business objectives?
Does it need to be updated in anyway?
Step 2: Determine Your Stakeholders
It's important to identify early on in the DAM implementation process who your internal and external stakeholders are.
Ask them things like:
What functionality do they need?
What training or onboarding their teams might need?
What budget you are required to work within (if they manage the pocketbook)?
CTO/CIO/Head of Technology: You'll want the support of this person early on in your journey to implementing a DAM platform. They're privy to  tech specs and security features of enterprise software, as well as the additional requirements your organization might need.
CFO/Head of Finance/CMO: These individuals often are the keepers of the budgets when it comes to implementing new software.
The CFO will want to know the details of the investment, like implementation costs and operational expenses. It would be worthwhile to track the cost of time wasted using your current system to help explain the long-term cost benefits of using a DAM.
Calculate The ROI of Using a Digital Asset Management Tool
Asset re-creation/duplication – Digital assets are often duplicated or re-created due to the inability of users to find what they are looking for. This wastes precious time and resources.
Here's how to calculate the cost of duplicating work:
Say you have 5,000 assets and 5% of them on average are re-created or duplicated due to inefficient file storage.
This means that every year, approximately 250 resources are unnecessarily duplicated.
Now let's say that your designer's salary broken down to an hourly wage is about $25/hour and it takes them approximately 2 hours to re-create assets.
This amounts to $12,500 lost per year.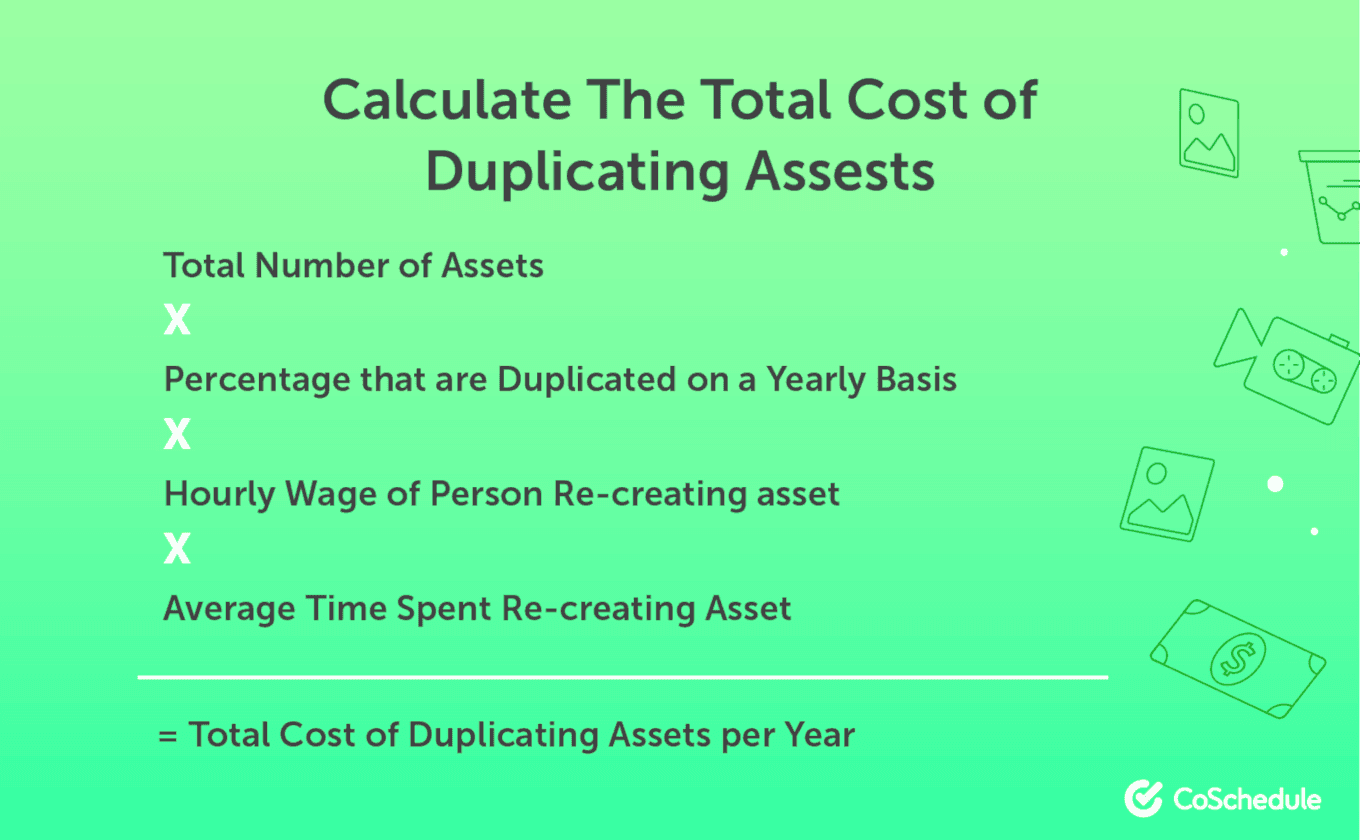 Time Wasted Searching for Documents – Team members spend a huge amount of time each day searching for information. When they can't find what they're looking for, they interrupt someone else to help them which wastes additional resources.
Here's how to calculate those costs:
Say you have 20 users who need to find assets and it takes them 10 minutes per day trying to find what they're looking for.
This means the team spends approx 16 hours per week looking for things. This is 832 hours per year or about 41 hours per person per year. That's a full week of work wasted every year.
Now let's say that the average hourly wage of that team of 20 is $20/hour.
This amounts to $16,640  lost per year.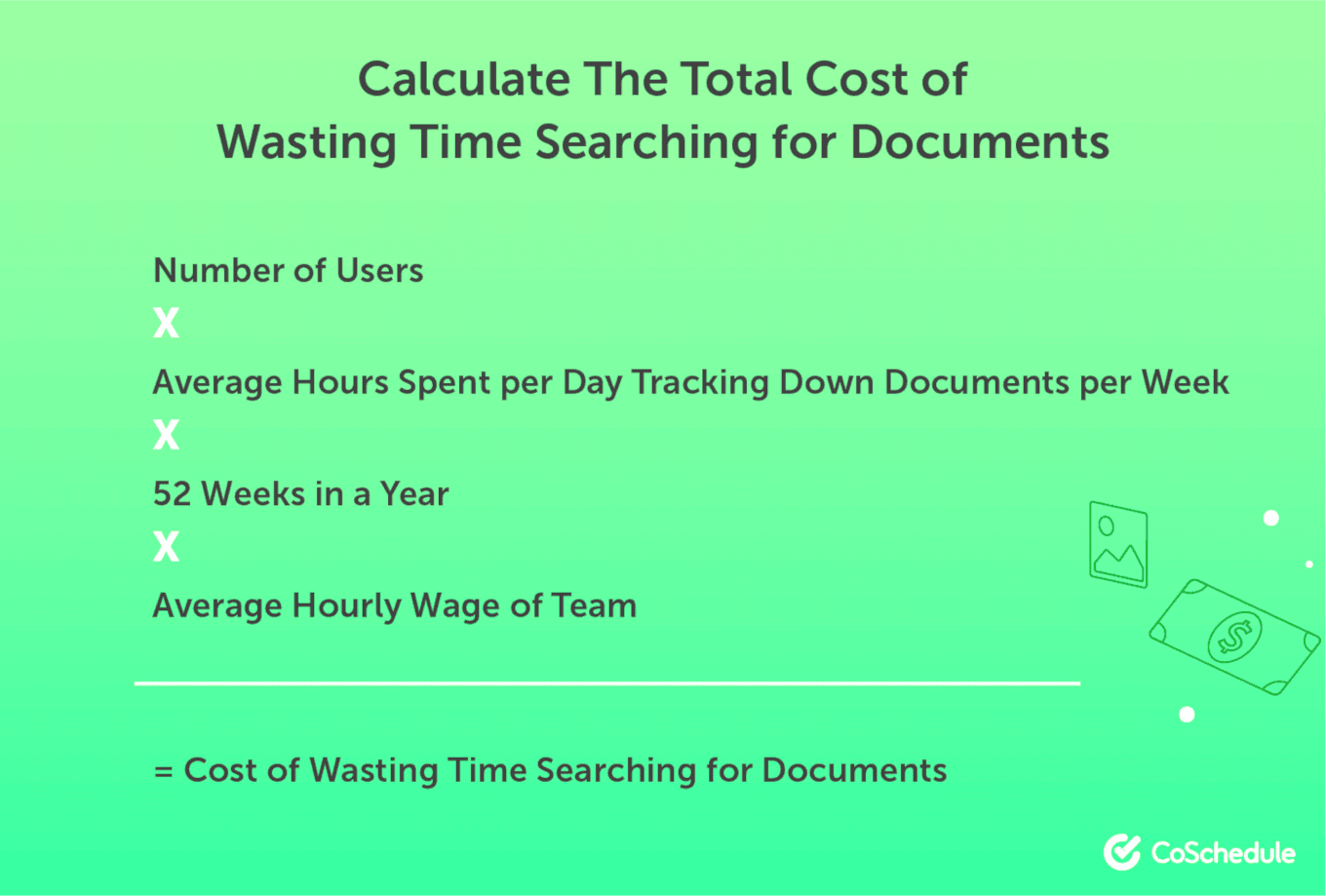 With just these two things alone, the example company will save over $29,000/year. That's not to mention the additional productivity created through time-saving.
Questions to Ask DAM Vendors
Choosing a DAM software is a big deal. There are a ton of things to think about and it can get a little overwhelming.
Understanding your requirements and what features each DAM service provides can help the process run smoothly. Here are some items to make sure you check off in the early, exploratory stages.
DAM UX Questions
How does the tool enable teams to accomplish their work?
Regarding user adoption, is it intuitive to find what you're looking for?
Does the software offer a familiar and useful search experience?
DAM File Type Questions
What file types does the system support?
Do all file types have previews?
DAM User Questions
How many users are included?
Does the system limit the number of each type of user you can have?
Does the provider charge for additional users? If so, how much?
DAM Storage Questions
How much storage in included standard?
Can we add more as needed?
What is the cost of adding additional storage capabilities?
How does the system handle version history?
DAM Metadata Questions
Can we add customized metadata?
What type of metadata is standard?
Does metadata reside in the asset file?
How do search methods and capabilities work?
DAM Onboarding Questions
Do you provide training and support?
What channels do you provide support?
Will we have a specific support contact?
The

 

Best

 

Marketing

 

Platform

 

Now

 

H

as 

a

 

DAM

 

Built

 

Right

 

I

n
Why pay out the wazoo for a separate DAM platform when CoSchedule has one built right in? Now you can get all your marketing projects organized AND make sure that all your assets are being utilized by the right people in your organization directly in CoSchedule.