Make Yourself at Home: How Marketing Team Members Should Navigate CoSchedule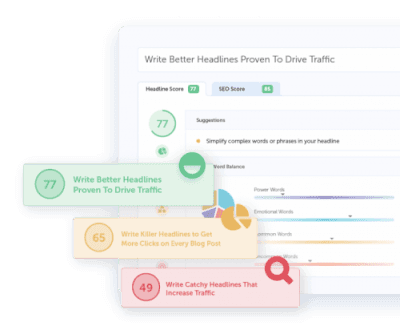 As with any new tool, it can feel a little intimidating to find your way around. This blog post aims to help marketing team members learn their way around CoSchedule.
What Is This Guide? This guide will walk you through the different areas of CoSchedule to help you feel comfortable navigating the tool.
Who's This Guide For? New CoSchedule users that are on a marketing team.
What You'll Learn:
How to navigate your calendar.
How to use your home dashboard.
How to customize your notification preferences.
Why You Should Read This Guide? This guide will help you learn how to quickly navigate CoSchedule, so you can feel comfortable getting your work done in the tool.
Table of Contents
The Calendar View
CoSchedule is the only marketing software that allows you to see everything you have scheduled in a calendar view.
Let's explore its features to help you navigate your calendar.
Hamburger menu:

This is where you will find your calendar settings, email preferences, and profile information.

Breadcrumb menu – feature selection:

 Quickly navigate to different features of CoSchedule. Here you will find things like your analytics & reports, social media conversations, ReQueue, and the Kanban board.

Breadcrumb menu – saved view selection:

 Choose specific saved views of your calendar to filter out the info you don't need.

Date navigation:

 Choose specific months/years or navigate forward/backward through your calendar. For example, use this to easily see what you delivered last month.

Search:

 Find past or future marketing projects on your calendar using keywords. For example, if a recently published blog post needs an edit, search the title to find it.

Create a read-only link/PDF:

 

Need to share your projects with someone who doesn't have a CoSchedule login? Use this button to create a read-only link or printable PDF

Create:

 Add projects to your calendar like new blog posts, social media messages, and newsletters.

Ideas:

 The ideas bin is where all project ideas live. When the project is ready to be scheduled, it can be dragged to the calendar. Tip: Use this to see projects that will be coming down the pipeline.

Support center & notifications:

 Use the question mark icon to get best practice advice or message the CoSchedule support desk. Use the bell icon to see notifications, recent projects, and favorites.

Create a project on a specific date:

 Know the date you want to schedule a project? Add items to specific days using the plus sign on a date.
The Home Dashboard
The Home Dashboard in CoSchedule gives you a snapshot of all your tasks and helps you quickly find projects on your calendar.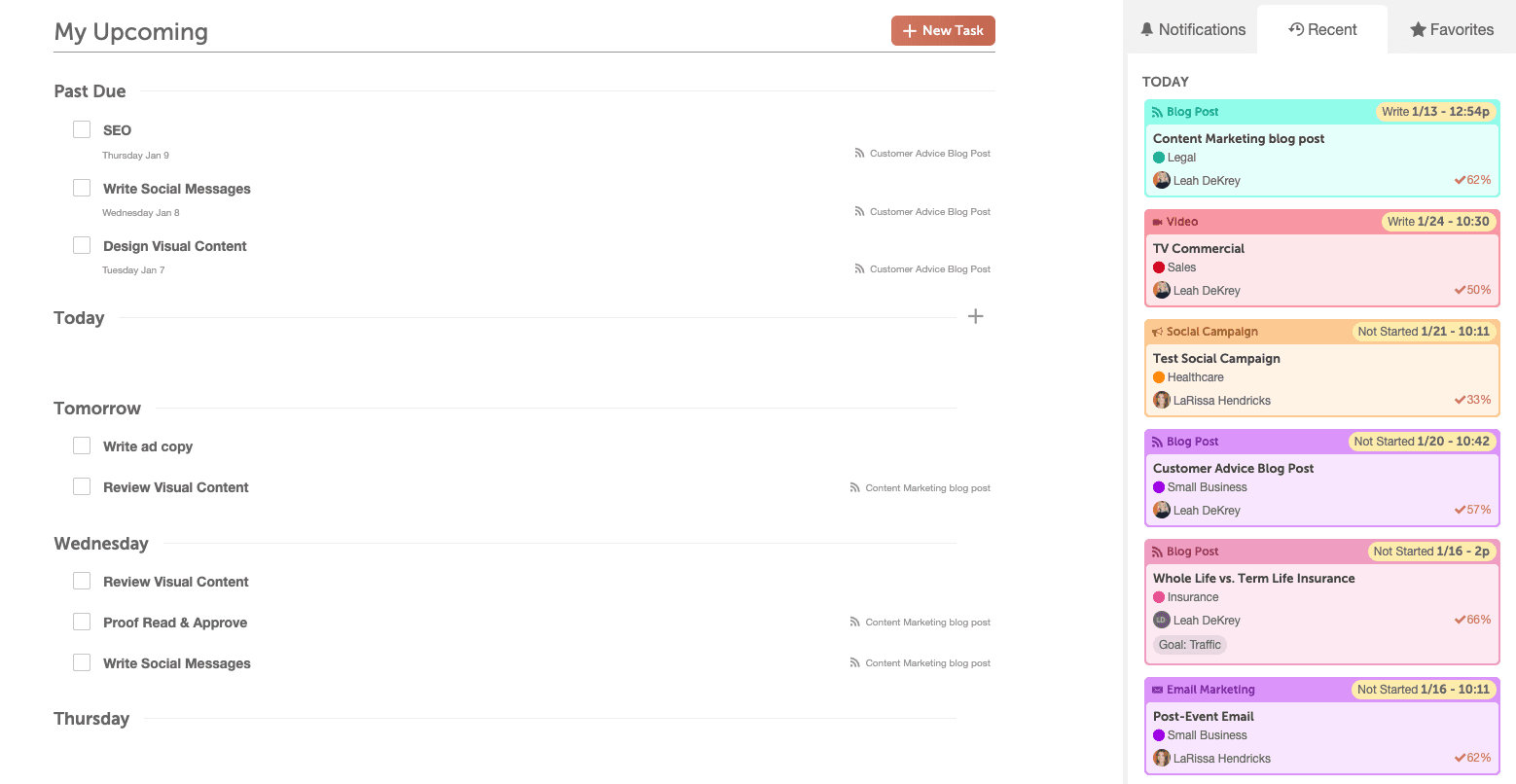 My upcoming list:

 Find a list of all your daily priorities.

Add task:

 Quickly add a task to your to-do list. Tip: Add personal tasks to remind yourself about emails that need responding to or one-off items that cannot be forgotten.

Notifications:

 Find items that need your attention like new CoSchedule functionality announcements or new discussions with team members.

Recent:

 A list of all the projects you've recently been working on. This makes it quick to jump in where you left off.

Favorites:

  A list of all the projects you've marked as your favorites. Tip: Have a recurring project that you need to quickly duplicate on a regular basis? Add it to your favorites to save time searching the calendar.
Customizing Your Notification Preferences
Notifications are a powerful way to stay up-to-date on relevant discussions and get notified when you're about to miss a deadline.
BUT, too many messages make it difficult to catch the most important things for your role.
CoSchedule lets you customize your notifications so you have the right info at the right time.
To set your notifications, toggle down your name in the top left-hand corner and choose notification preferences.
If you're a visual learner who would rather learn this in a how-to video, see below.👇
Want to learn even more? Head over to the Getting Started Guide to dive even deeper into CoSchedule.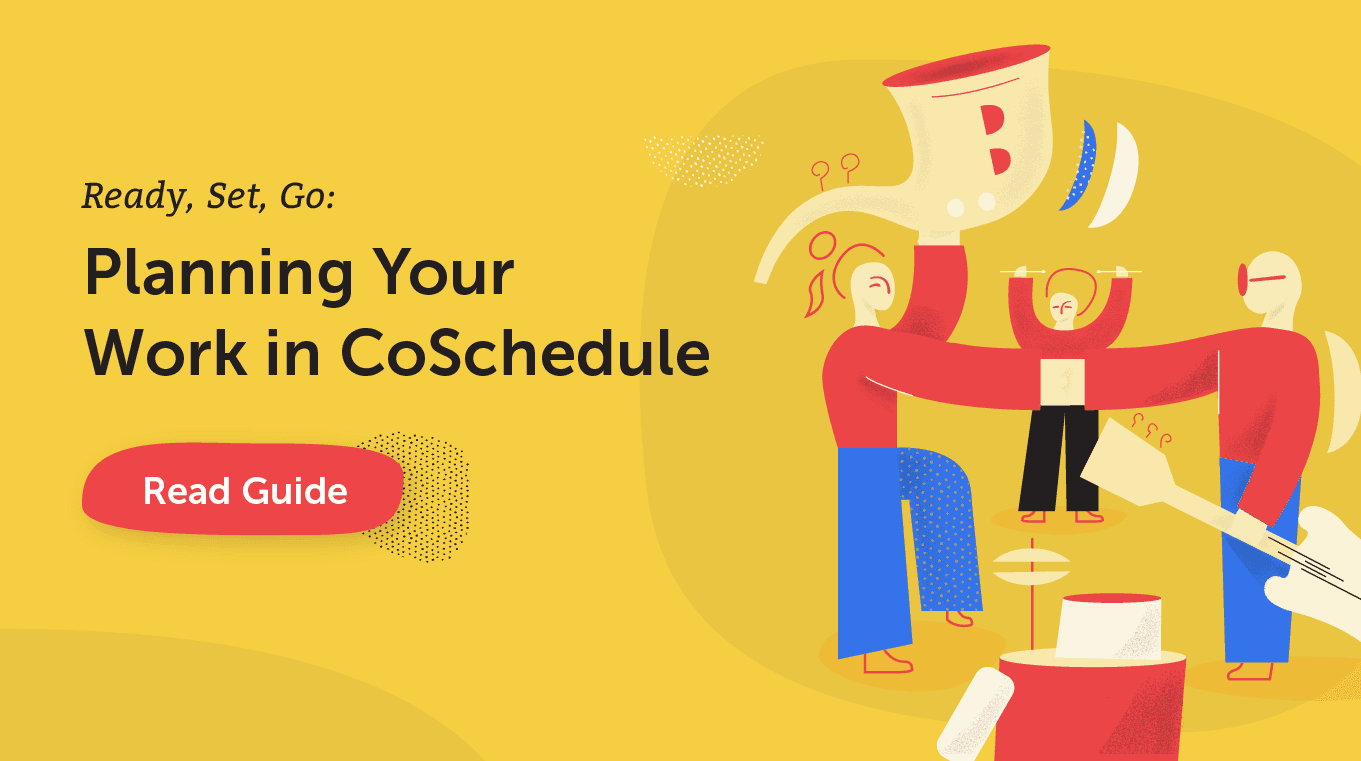 December 6, 2019