The Best Marketing Trends to Watch for in 2019 74
Headline Analyzer
The blog post headline analyzer will score your overall headline quality and rate its ability to result in social shares, increased traffic, and SEO value.
Test every headline before you publish. Try the Headline Analyzer »
Marketing has existed in one form or another since the dawn of capitalism itself. And it'll exist as long as there are products and services for sale.
That said, it does evolve and adapt to the world around it. Billboards and signage were followed by radio ads, which led to television spots, and finally, to the digital marketing we see today.
The ad men of the 50s and 60s might not recognize the form, but the goal remains the same: right product, right person, right time.
Marketing is nothing if not able to go with the flow. So what's next for it as we enter 2019? Here are three trends to keep an eye on in the coming year.
2019 Templates to get Organized
Before we dig into trends, download these 2019 tools to get organized in the new year.
You'll get:
Marketing Plan Outline Template (Word): Document your entire 2019 marketing plan.
Marketing Strategy Template (Excel): Plan every part of your strategy.
Content Marketing Strategy Template (PowerPoint): Plan tactics and channels to complement your strategy.
Email Marketing Strategy Template (PowerPoint): Email is a big part of marketing in 2019; use this template to get it right.
Social Media Strategy Template (PowerPoint): Start the year off right with a clear social media roadmap.
Audience Persona Template (Word): Finally get all your user personas on track for the year.
Marketing Budget Template (Excel):  New year, new budget!
The Arrival of Voice Search
Voice search is taking over in a big, big way, and there's no reason to believe it'll slow down anytime soon.
Popular digital assistants like Siri, Cortana, and Google Assistant have fundamentally changed the way we interact with our mobile devices, to say nothing of how we search and consume information.
Then, of course, we also have the prevalence of smart speaker systems like Amazon's Echo, Google's Home, and Apple's Homepod. It's no stretch to think that we may say 'goodbye' to manual data entry entirely in the not-too-distant future.
Consider: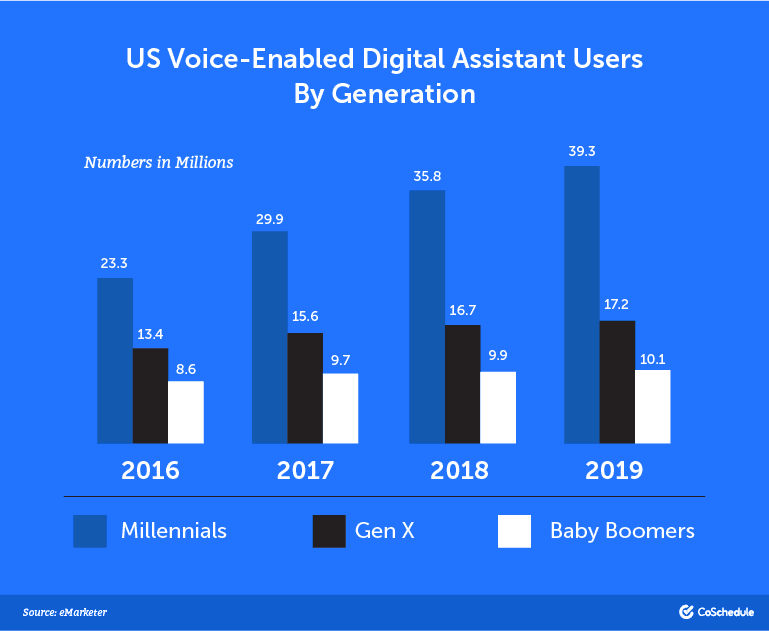 The writing is on the wall, or more accurately, being spoken aloud: voice search is here to stay.
What does that mean for you and your marketing? Plenty.
Kenneth Burke, Marketing Director at Text Request, says that "Google and other search engines have already been tailoring search results to match speech, meaning conversational writing and SEO is increasingly more effective than keyword-targeted writing."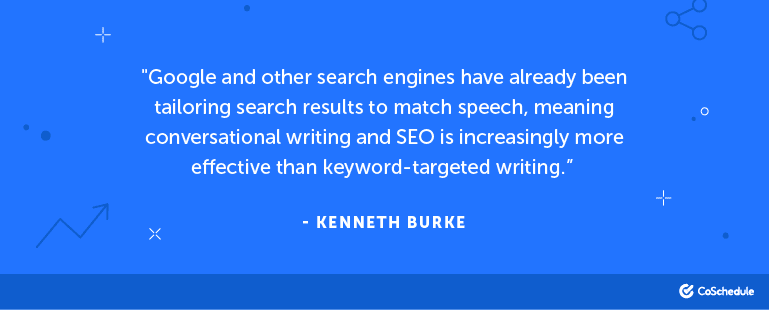 Consider your own interaction with Google or Siri for a moment. We don't ask for information the same way we would type it, opting to say 'Hey Siri, where's the nearest coffee shop?' whereas we might have typed 'coffee shops Seattle'.
That switch in tone and structure needs to be reflected in your marketing copy. It'll need to be written conversationally so the voice-enabled assistants can read it aloud and present results the way people talk.
Furthermore, Burke believes there will be "a continual focus on search intent rather than word choice, and my bet is this will play an even more significant role in 2019." What do people want, and how do they ask for it?
Likewise, Associate Content Manager Karla Renée of Lucidpress sees a very literal change coming to the idea of brand voice.
"Certain aspects of your brand – voice, tone, personality – will soon become real in ways they never have before. You'll find yourself having to answer the question 'What does my brand sound like?' quite literally. Marketers will have to write copy that sounds good spoken out loud, often in the form of answering users' questions. It'll become important to include voice-optimized content on web pages and in ad copy. Product descriptions, social media posts, chatbot dialog ... all of these can be optimized for voice. It's a new frontier for brand marketers, and I'm excited to see how it develops in the next year."
Can you answer that question? Does your content catalog lend itself to being read out loud? That's where we're heading. Renée recommends looking to your chatbot if you already use one – which is designed to be conversational by default – for guidance on the future of consumer interaction.
A few things to keep in mind as you optimize for voice:
Voice searches are typically longer than text ones
Voice searches usually take the form of a question
Think and optimize for local
Voice search SEO is a different beast in many ways, so read up on it and take steps to be ready for the voice revolution – because it's already here.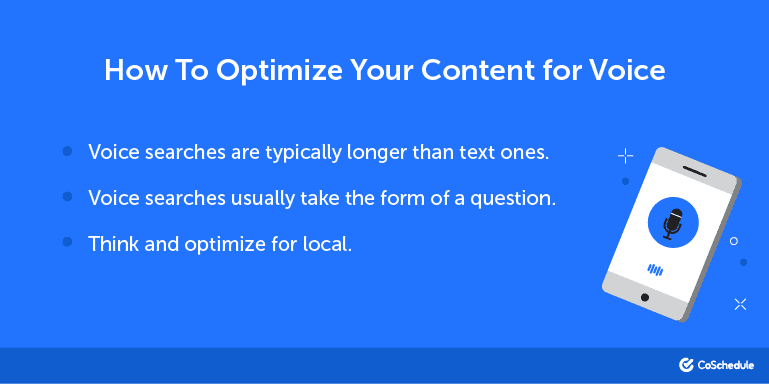 The Increasing Importance of Video
It shouldn't come as a surprise to anyone that we love watching videos, be they cat hijinks on YouTube, product tutorials on Amazon, or live streams on Facebook. Videos rule the roost. Cisco predicts video will be responsible for 80% of all internet traffic by 2021.
This is not news. But we've reached a tipping point of sorts in 2018, according to the CEO of Yum Yum Video, Victor Blasco. "We've been saying it for a while: Video marketing is on an upward trend that shows no signs of slowing down," says Blasco. And he's right:
Marketers that include video generates 66% more qualified leads per year
Use of video in email jumped from 36% to 46% this year
On landing pages, a video can improve conversion rates by 80%
86% of surveyed businesses include videos on their website, and 77% share videos on their social media profiles
Video is used to inform, engage, and convert to great success, with 70% of marketers listing it as the best tactic for conversion
Marketers who include video in their efforts produce 41% more traffic from search than those that do not, and 52% believe video has the best ROI
Just using the word 'video' in a subject line can boost open rates by 19%
Social videos get 1200% more shares than text and images

combined

90% of consumers say video helps them make a buying decision, while 64% state that watching a video on a product or service makes them more likely to buy it
Businesses are investing in a wide variety of videos, including product videos, demos, explainer videos, webinars, and more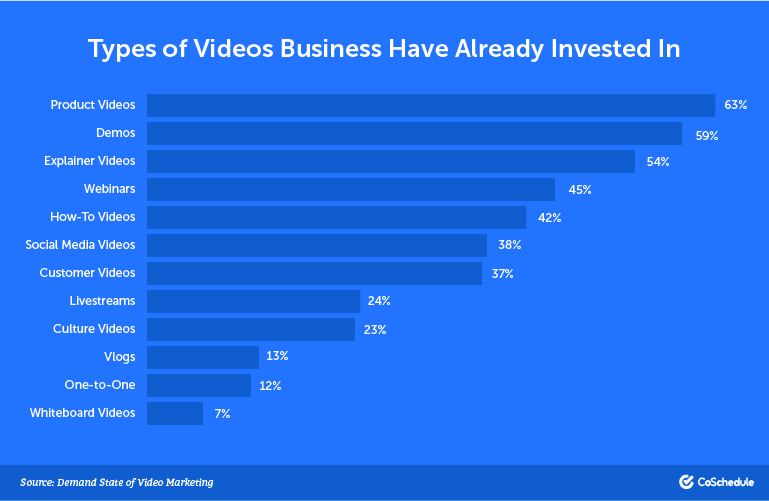 Blasco believes it's only going to continue, saying "81% of businesses are using video today as part of their strategy – up from 63% in 2017 – a rate of adoption that evidences its effectiveness. Going into 2019, it's clear that to stay ahead of the marketing game, video content is your play."
That bears repeating: Video is your play.
Include pre-recorded video and live streaming as mainstays in your marketing efforts on your website, in your email, and on social platforms like Facebook, Instagram, and Linkedin.
As an added bonus, you don't even need to invest in new or fancy equipment, according to Burke, who says "We've heard the stats – video's huge. But now brands get it. They see how video content is helping other businesses, and they've learned how to create their own videos with just a smartphone or basic camera."
The Individual Digital Journey
The customer's digital journey and user experience (UX) have always been important, but now they're paramount if you want to succeed in 2019 and beyond.
But what exactly does that entail? While we could devote an entire series of blog posts to that question, it boils down to delivering an exceptional experience at every stage of their journey, from prospect to advocate.
It means delivering the right message at the right time to the right person in the right place. It means exceeding their expectations and wants.
That might include, for example, the speed of your site, as it falls under the umbrella of UX.
"One thing that Google has been focusing on this past year and will continue pushing into 2019 is SPEED," says Amber Ooley of Thrive Agency. "How fast is your website and can it be faster? We want answers, and we want them now. The reality is, if you can't solve a problem within a few seconds of a user's search query, then you may be out a customer. Whether that's your page speed, mobile friendliness, or maybe you just need to write a helpful blog post answering an FAQ – take a look at your website and make sure you're providing a fast and friendly experience for your visitors. I love testing websites with this tool."
It most definitely includes segmentation and personalization to deliver a customized experience for each individual. No one wants to be bombarded with generic, irrelevant content anymore. In fact, they simply won't tolerate it.
"The segmentation of your audience was a hot trend a few years ago, yet the internet is still full of generic content and repetitive advice," says Matej Kukucka, Senior Growth Marketer at LiveAgent.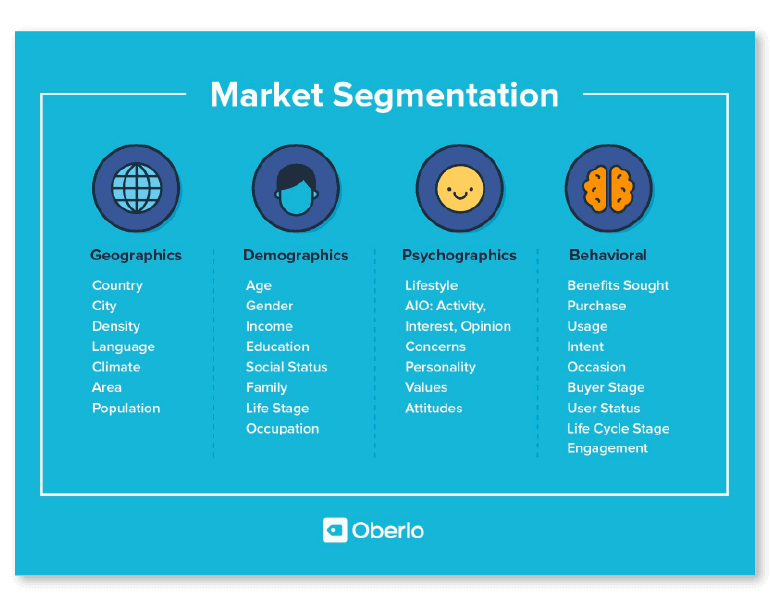 You need to define small groups and make your messaging and benefits ultra-specific to them. As Kukucka puts it: "Simply stop being generic."
Email will continue to dominate the marketing in 2019, but you'll need to change your email playbook if you expect to be successful at it.
That goes for your content, too.
Erica Stritch, VP of Marketing at RAIN Group, sees a continued "trend towards personalized content. With all the content out there, it's hard for buyers to sift through and find the nuggets of information that are most applicable and helpful for them. In fact, 67% of buyers want content that is 100% customized to their specific situation. This content is perceived as more valuable and can break through the noise to capture your buyer's attention."

Far from just a 'good' idea, this personalization is poised to become crucial. Nearly two-thirds of consumers are annoyed by generic campaigns, while 80% are more likely to do business with brands that personalize their message, and 90% find it appealing.
Better to be liked than detested. Personalized and segmented campaigns allow you to connect on a deeper level, target better, and ultimately improve sales and conversions.
Consumers want to be recognized. They want to connect. Or as Jonathan Bass, Content Marketing Manager at RevenueWell puts it, "So, whether it's more quick-shot videos, (actual) live chat features, true two-way texting (not the pro forma stuff), or something else, expect businesses and brands to speak more personally to the consumer. The market is ripe for companies to really educate and demonstrate their core values."
Are you doing that? 2019 is going to demand it.
And these are just three of the hot trends for 2019. It's an exciting time to be a marketer in the digital realm, but only if you're willing to look forward and adapt to the changing landscape.
January 3, 2019