Anyone with a Google account can use Google Analytics. However, if you have a need for extra insight, there is also a paid version.
Google Analytics tracks:
How users got to your site
How long someone was on your site
How many pages a user was on
Bounce rate
Where your audience is geographically
How engaged your audience is
Because Google Analytics can measure so much, marketers use it to gather campaign ideas and measure success. Below shows what a Google Analytics report can look like.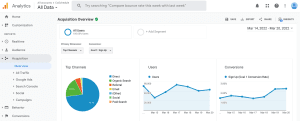 You can choose what data you want to look at on the left. In the top right corner, you can choose which timeframe you want data from.