Below are details about a feature or functionality that is no longer offered in new subscriptions starting after January 13, 2021.
Use the Top Messages Report to identify your top-performing social messages for each of your social profiles. The types of social profiles supported in this report are Facebook Pages and Groups, Twitter, Pinterest, Instagram Business, and LinkedIn Company Pages.
---
To view your Top Messages Report, open the left-hand menu in CoSchedule and go to Analytics > Top Messages Report.
To begin, choose the social profile(s) that you want to apply to your report. You can choose multiple social profiles to view in your report.
CoSchedule currently allows Top Messages Reports for the networks whose engagement we track:
Facebook Pages and Groups
Twitter
Instagram Business
LinkedIn Company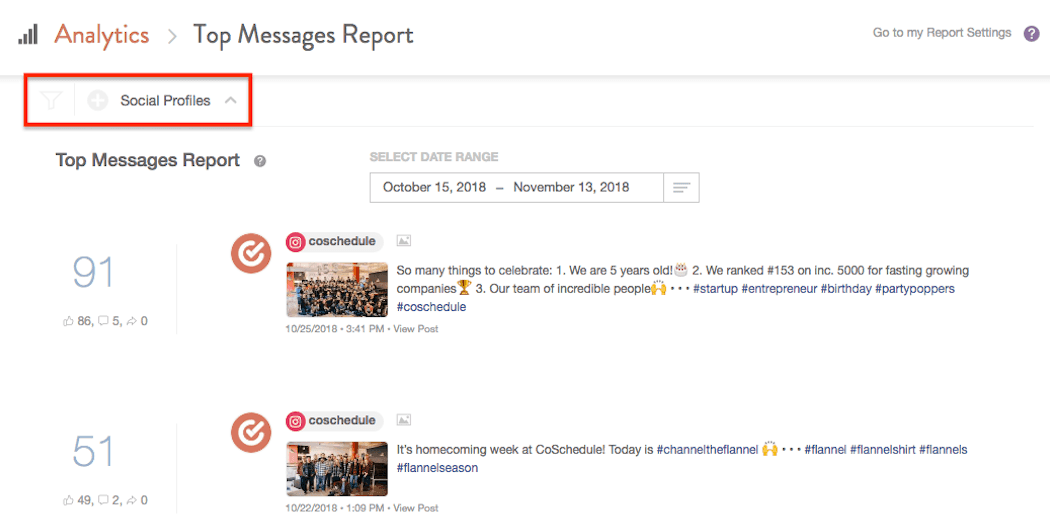 You can also select a date range by either choosing one of the predefined ranges (such as "Last 30 days" or "Last 3 months") or specific dates by clicking on the dates shown in the fields.

View the social messages with the most engagement over the duration of your report. Also, view how many times the post has been sent by ReQueue.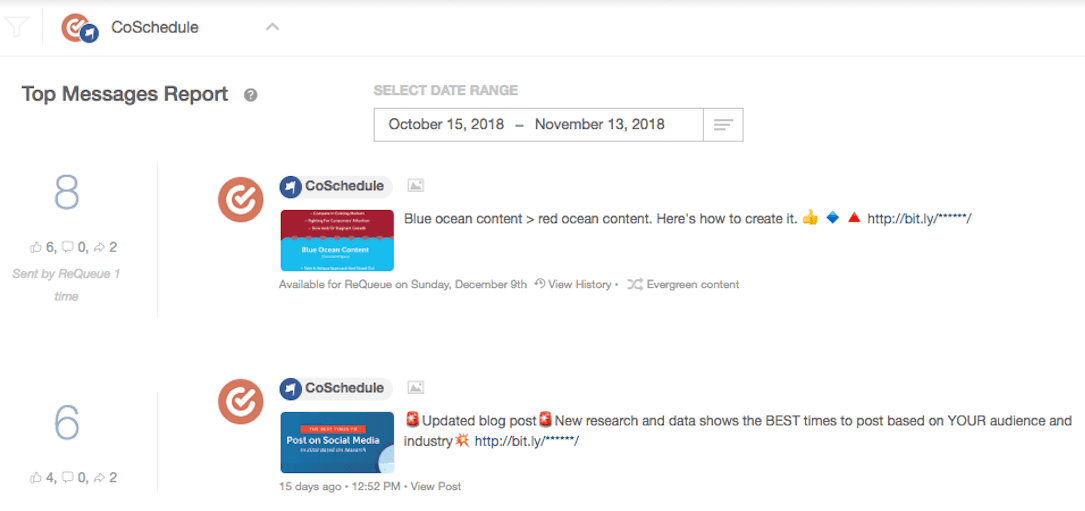 If in the selected time, ReQueue sends out a message multiple times, the Top Messages report will display the total engagement of the message for every time it was published
---
Frequently Asked Questions
How do you calculate engagement rate? 
In our reporting, the social engagement rate is calculated by the total number of engagements (likes, comments, shares) divided by the total number of messages sent.
How do you define engagement? 
CoSchedule defines "engagement" for social networks as follows:
Facebook Pages & Groups: number of likes, comments, and shares for each Facebook social profile

Twitter: number of likes, replies, and retweets for each Twitter social profile

LinkedIn Company Page: number of likes, comments, and clicks for each LinkedIn social profile

Instagram Business: number of likes and comments for each Instagram social profile
---
Learn More
Do you have any specific feedback for us?
We appreciate any feedback you're willing to share.