How to Manage the Idea Bin
The Idea Bin is a place to store ideas for projects and social messages before they get scheduled on your Marketing Calendar.
---
Create New Ideas
To create a new idea:
Open the Idea Bin by clicking Ideas.
Create a project or social message by clicking "+" in the upper right corner.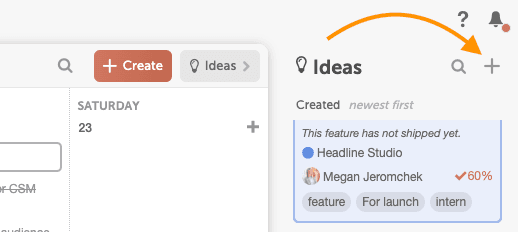 Every project or social message created in the Idea Bin will be unscheduled.
---
Sort, Filter, & Search Ideas
Sort the Idea Bin
Inside the Idea Bin, projects can be sorted by date (created or modified) or in alphabetical order.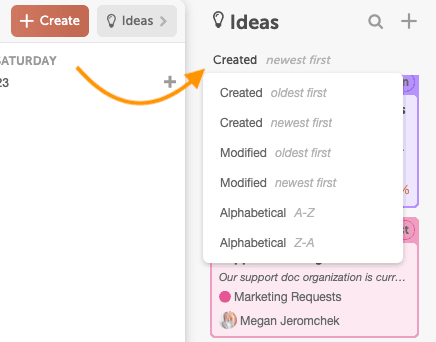 Use the search symbol to search for any idea by the title of the project.
Filter the Idea Bin
The Idea Bin filtering works in conjunction with your Calendar filtering. However your Calendar is filtered, that same filtering will apply to your Idea Bin. For example, if you filter by tag, only ideas with that tag will show in the Idea Bin. You can also use 
saved calendar views
to filter. When you apply a saved calendar view on the calendar, this will also filter the Idea Bin. You can override filters by using a search to find any project.
---
Schedule Ideas
To schedule any idea, either:
Drag the project to a specific date on the calendar.
Click into the project and select a scheduled date.
---
Learn More