Content Distribution Plan: How to Conquer Declining Organic Reach
Headline Analyzer
The blog post headline analyzer will score your overall headline quality and rate its ability to result in social shares, increased traffic, and SEO value.
Test every headline before you publish. Try the Headline Analyzer »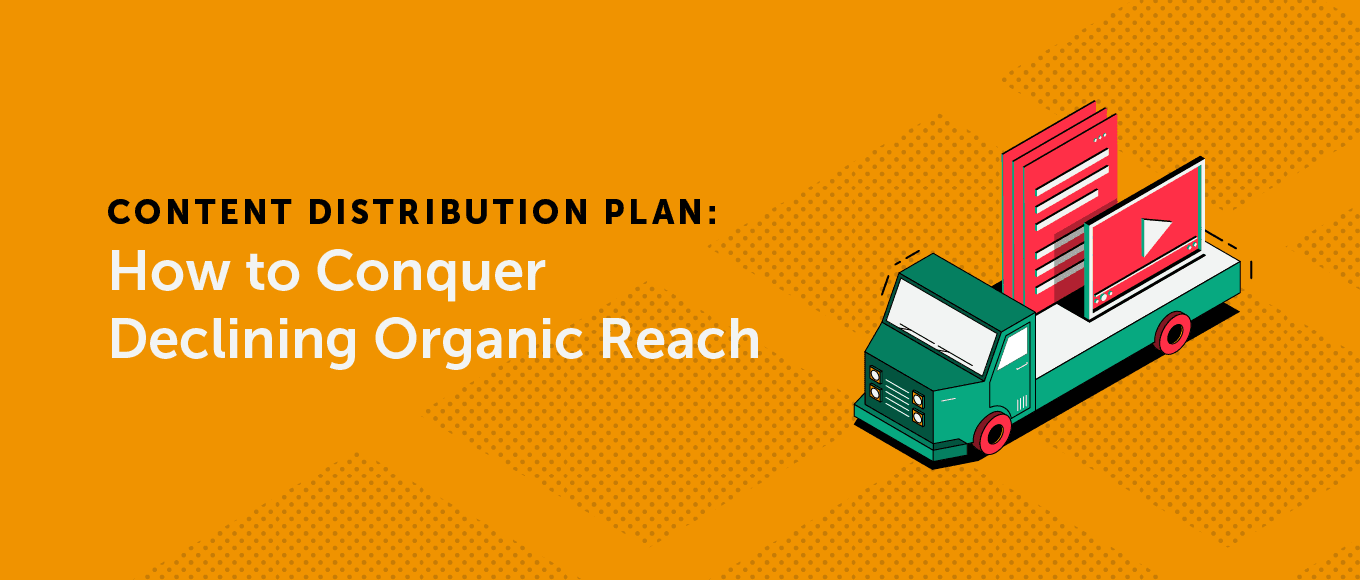 The average blog post takes over 3 hours to write. We're told that videos need to be 10-18 minutes in length to keep someone's attention, and the typical duration of a podcast comes in at more than 43 minutes.
…Not to mention the extra time you'll spend editing each type of content to make them publish-ready.
Yet with so much time being invested in content creation, we seem to be forgetting about promotion.
After all, if anyone doesn't see your content, was it really worth creating?
You need a content distribution plan that makes sure your content—be that a video, podcast, or something entirely different—is seen by your target customers. That's the only way to get a return on your content investment.
What is Content Distribution?
Here's a simple definition we can work with:
Content distribution is the method you use to get your content in front of your target audience—potential customers who will be interested in what you have to say.
This video from Ross Simmonds does an excellent job breaking down the topic (and providing a solid checklist):
But before we go any further, it's worth clarifying that "content" doesn't always mean written text. You can follow the same distribution tactics to any type of content, including video, podcasts, or slideshows.
The Importance of Content Distribution
Did you know that fewer than 6% of a Facebook Page's followers will see an organic post?
No matter how long you've spent building a Page, it likely won't be seen by as many followers as you'd expect. That's due to the decline of organic reach on social media—especially on Twitter and Facebook.
Social media sites are pushing brands towards their advertising platform since that's where they money is for them. They don't earn any money from organic posting. They're making up for it by limiting how many people can see a brand's free content.
To reach all of your Page's followers, you'll need to boost the post—something which will set you back a minimum of $1 per day. But even then, you're not guaranteed to reach all of your followers.
Here's what that means in blatant terms: If you don't pay to promote your content on social media, it probably won't be seen by the audience you've spent so long building
…Even if thousands of people have already chosen to see content from you in their feed.
Organize Your Content Distribution With This Marketing Calendar Bundle
How can you make sure each piece of content you publish is effectively distributed? Start by planning all your distribution tactics on a marketing calendar. This kit includes several calendar templates for planning content marketing, social media campaigns, email sends, and more. If you're doing to do something, put on the calendar:
3 Main Content Distribution Channels to Pick From
Luckily, there is a way to combat declining organic reach. It starts by expanding how you distribute your content—and not just relying on social media sites to show-off your work.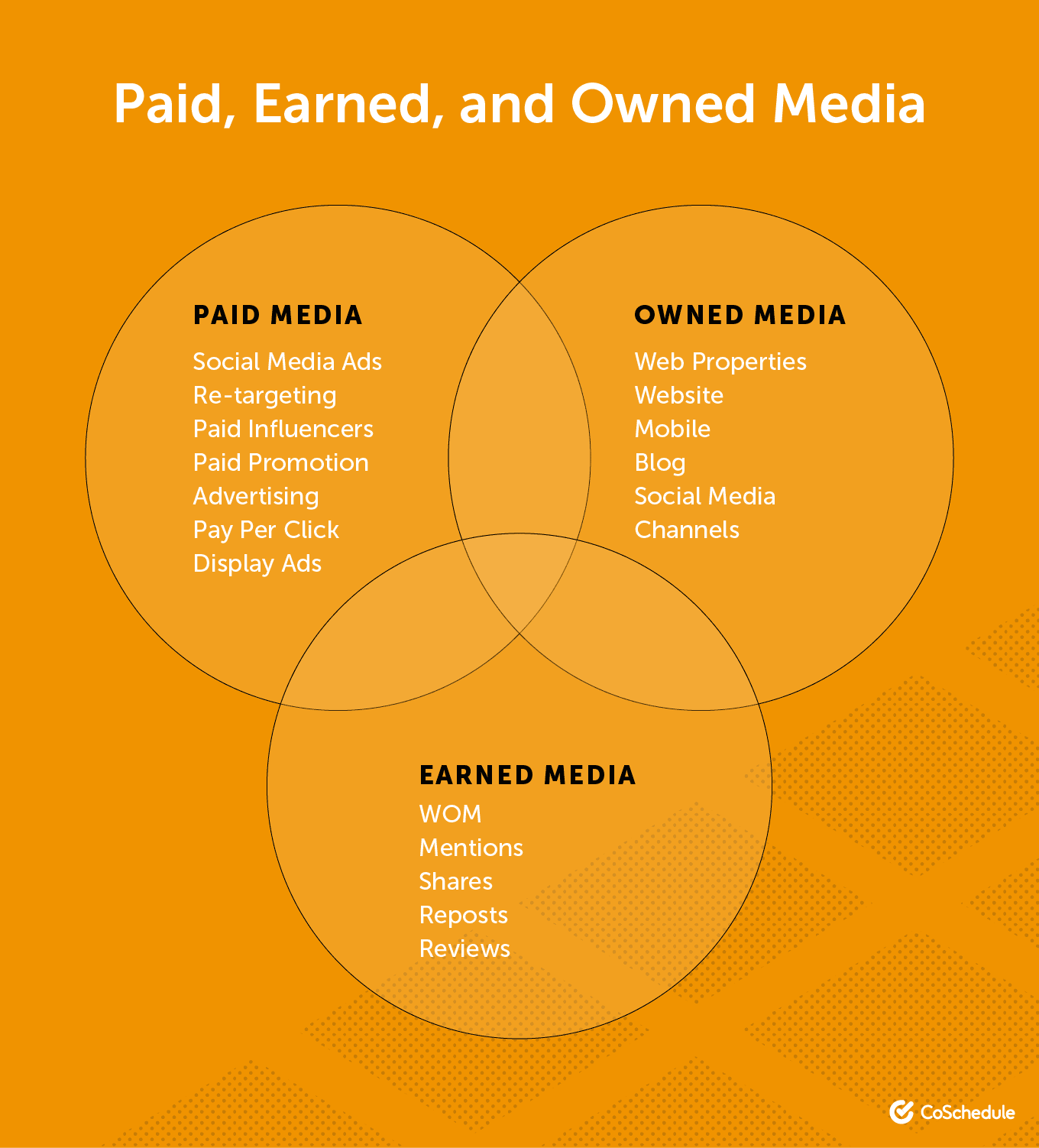 To do this, you'll need to use three distribution channels:
Owned Distribution
Owned channels are platforms you have complete control over. Nobody can take your audience away from you; it's yours to do what you wish with once you've built it.
This can include:
Email
RSS
LinkedIn/Facebook Groups
You'll need to put in some upfront work to build and "own" a content distribution channel. So, you might not see any real results from distributing your content for a while.
But it's one of the most reliable—nobody can take it away from you.
Earned Distribution
In the case of earned distribution channels, someone else essentially controls it, but you've put in the work to earn an audience there. Some examples include:
The downside? You're at the mercy of somebody else, which means there's always a risk that this distribution channel could worsen or suffer—like Facebook's organic reach situation. We can see this in-action with Google's algorithm updates. Sites can lose more than half of their organic traffic overnight after years of investing in SEO.
Paid Distribution
This distribution channel is pretty self-explanatory; you give cash in return for reaching an audience owned by someone else. That might include:
Paid social
Google Ads
Content curation submission sites like Quuu Promote or Zest
The biggest advantage of using paid distribution channels is that you're almost guaranteed to reach your target audience. You'll match your targeting criteria to your ideal customer, and advertising algorithms will show your content for them.
However, paid distribution can be a money pit. It's easy to get addicted to giving cash in return for eyeballs on your content, but it's not sustainable—and could dramatically reduce the return you're getting on your content marketing investment.
How to Develop an Effective Content Distribution Plan
Are you ready to start maximizing the value of each distribution channel?
Before driving tons of new visitors to your content, you'll need to piece together a content distribution plan that shows the right content to the right people.
Determine What You'll Be Creating
Most people think of distribution after they've created the content. It's like creating a square (white paper), then trying to push it into a circle-shaped distribution hole (forums). It just won't fit.
You need to start by thinking about who would want to consume your content, and how they want to consume it.
Failing to do that might mean you can drive new people to your content, but when they get there, the format isn't what they want to see. They hit the exit button and send performance metrics like pages per session and average session duration into a freefall.
As we mentioned earlier, the format of your content can take many forms (not just written text.) That includes:
Blog posts
Landing pages
White papers
Videos
Podcast episodes
Webinars
eBooks
Original research
Let's put that into practice and say you're putting together a 'how-to' guide. People want to see how to do something, so the best format might be a video. This impacts your distribution channel because you'll want to focus on visual-heavy channels.
Similarly, a general piece of advice might be better suited as a blog post. A survey write-up would likely suit an original research report; an interview with an influencer can be published as a podcast.
The best way to find the ideal format is to ask your customers, dig through your site's analytics, and look at what your competitors are doing. Make a note of which topics use which formats.
...Then Determine How it Might Best Be Promoted
Determining the type of content comes first because once you have it, you can look to see where you can promote it.
Here's how to do this:
1. Make a Master List of "Typical" Content Formats for Each Channel
You've figured out which type of content is most appropriate for your topic.
Next, you'll need to research which distribution channel suits that format. This is important because you want to replicate the top-performing content format shared on that website. If not, your content won't be seen—especially if it's an upvoting website like Reddit or Growth Hackers. They're just less likely to do so if it's a format not popular on the site.
Keep track of these matches by creating a spreadsheet of each type of content we've listed above (or the formats you create.)
Then, go through each distribution channel—be that email, SEO, or paid advertising—and see what type of content is typically shared or performs well there.
For example: You've decided that a video is the best format for a piece of content you're creating. YouTube is an obvious distribution channel, but after research, you find it's the most-shared type of content in a relevant Reddit group:
It makes sense to distribute your content on both channels where video is already popular, right?
2. Map Your Content Format to the Distribution Channel
By this point, you'll have two lists:
A list of topics matched with their ideal format (e.g. "How to…" = videos or webinars)
A list of distribution channels with their ideal format (e.g. videos = YouTube or Reddit)
This should leave you with a distribution plan that takes you from topic idea, right the way through to ideal distribution channels: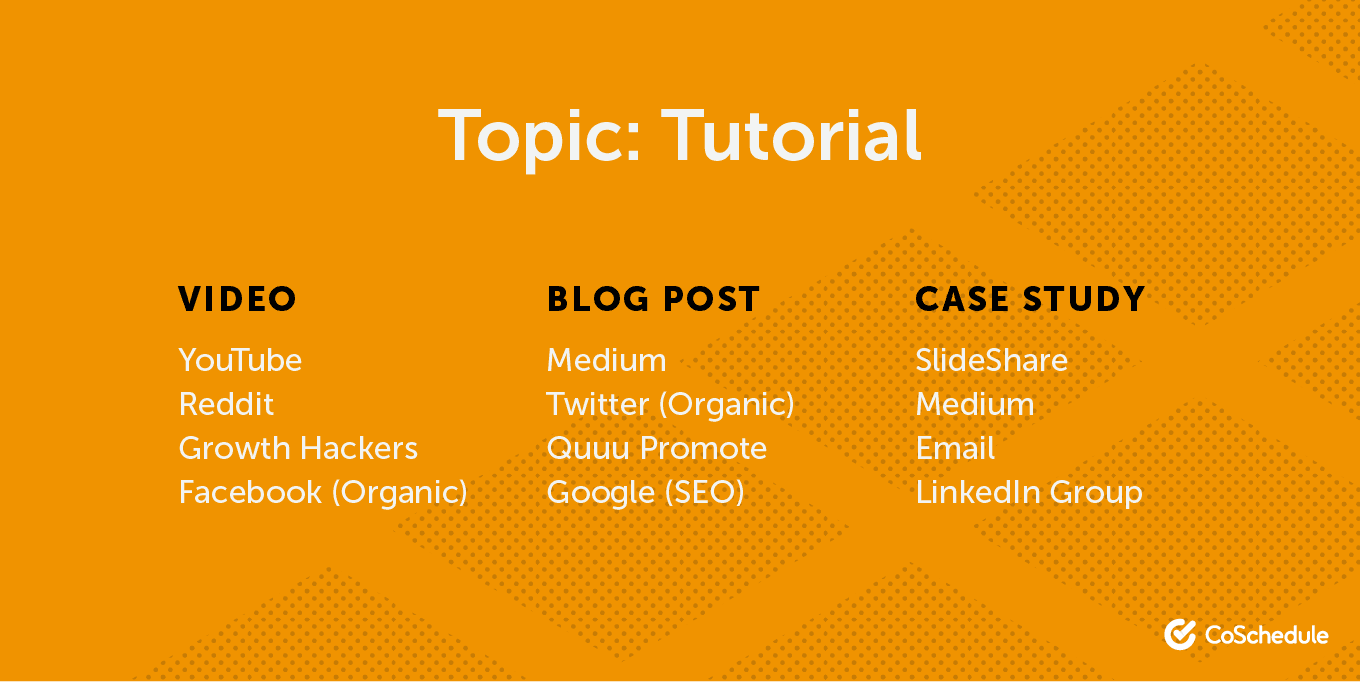 Next, begin distributing that content to the ideal channel—but don't neglect it. You should constantly be monitoring whether the "best fits" you've listed are true, because some distribution channels can change their preferred content.
(Facebook is another example of this in-action. They've been pushing video in the News Feed; beforehand they preferred text-based content.)
It's also worth split-testing various content formats if you've got a handful of channels that fit.
Let's say you've got a video you want to promote. Your research shows that video performs best on Facebook and YouTube. So, use both channels to distribute the content. Which gets better engagement? The most link clicks? The highest number of conversions?
As you start to collect data, you'll refine your "best practice" list even further, and build a concrete distribution plan that's unique (and accurate) for your site.
That's gold dust for any marketing team.
3. Repurpose Content for Other Distribution Channels
Let's go back to the list of ideal content formats for the topics you're writing about.
You'll probably have noticed that one topic can be presented in multiple formats—like a how to guide, which can be a blog post, webinar, or eBook.
Each format has another list of best practices for distribution. So, for the examples above, you could share an eBook with your email list, but a video likely wouldn't perform as well.
Who says you have to settle with one?
You can repurpose your content into various other formats, which can then be distributed by a wider variety of channels. (That's probably why almost 90% of content marketers who repurpose their content think it's a better way to spend their time.)
Let's put that into action by saying you've created a "how to" guide, packaged in a blog post format. You use distribution channels that fit a text-based format like SEO and email. However, your text-heavy content can't be posted on YouTube, social media, or advertising networks.
So, you repurpose the content and create:
Images that you can repurpose on social media
Introductory copy you can reuse on email
Copy you can use within paid ads
A presentation you can upload to SlideShare
An answer to a question asked on Quora/Reddit
The end result: five more channels you can use to distribute your content—all of which have a unique bunch of people you're able to reach.
How to Turn Content Promotion Into Customers
Now you've got a content distribution plan that drives people to your website, you should start to see a spike in your website traffic.
But if you're not actively working to turn those new visitors into paying customers, your ROI and on-site conversion rate can suffer.
Here's how to prevent that.
1. Identify the Channels Your Ideal C
ustomer

 Uses

It's all well and good to take the list of distribution channels we've shared here, and push forward with promoting your content there.

But remember what we said about delivering the right content to the right person, at the right time? You need to be confident that your target customers are using those distribution channels—not just people with a vague interest in hearing what you've got to say.

Let's take you, for example. You're reading this post which means you're likely a B2B marketer. You probably spend time reading long-form guides, and find new content from your Twitter feed or the Growth Hackers forum. Those are two great places for us to distribute this post.

So, how do you find the channels your target customer uses? There are two simple tactics:
Ask them

: Put together a quick survey that asks questions like "which sites do you spend the most time on?" You might find they spend time on sites or forums you didn't know existed. (Bear in mind that we want to find people similar to those who've purchased before; only ask your existing customers.)

Dive into research

: You can take a look at generic demographic research that shows where different people spend the most time. For example: The largest group of Facebook users is men aged 25-34, whereas Tumblr, Instagram, and Pinterest are the most popular sharing platforms for millennials.
Take anything you find into consideration when building your content distribution plan.
Remember: We want the people we're driving to our website to be super-relevant, so we need to meet them on distribution channels our target customers are already using.
That massively impacts how much ROI you'll get from each piece of content.
2. Use Distribution to Build an Email List
The vast majority (96%) of visitors who come to your website aren't ready to buy.
That's why content marketing is known for having a poor conversion rate. Visitors aren't ready to hand over their credit card information at their first point of contact with your website—no matter which type of content we're using to drive them there.
...But that doesn't mean you have to suck it up and deal with it.
You can use distribution channels like social media, ads, and SEO and gated content to build an email list. Then, you can constantly engage with them in a place your competitors might not be: their inbox. (And we all know how precious that place is.)
Do this by adding a piece of gated content, or a content upgrade, to the original piece you're distributing. This asks for their email address in return for access, like this example in Shopify's blog post:
3. Use Email Marketing to Nurture Leads Into Customers
Once you have a reader's email, they're engaged—and you can nurture them towards a sale.
This could be more lucrative than you think; research has found that targeting leads with content relevant to their stage in the buying funnel results in 72% higher conversion rates. (Meaning, if you can deliver more content via your email list, you can build trust that leads to the sale.)
Fancy even better news? Most of this can be done automatically using software like MailChimp or ConvertKit.
Simply create automations that add a tag to subscribers. Those tags should tell you:
The

type of content

 they signed up for (e.g. webinar)
The

topic

 (e.g. blogging tips)
The

channel

 they used to find you (e.g. a tweet you posted)
You can use this information to send them similar content to the stuff they've already shown an interest in. With the example above, you might want to send your new lead a series of emails that invite them to other webinars, or blogging-related advice.
So long as your content is about a topic they'd genuinely be interested in, those touchpoints will go a long way in building trust—something that every customer wants to tick off their pre-purchase list.
Bonus

: 3 Ways to Manage Your Content Distribution Plan

You've got a solid content distribution plan and are starting to see a steady stream of new faces (or names) added to your subscriber list.

But as you increase the volume of content you're putting out there, it's easy for your distribution plans to get muddled up.

Here's how you can manage that plan and keep everything on-track.
Plan Your Content on a Calendar
You don't want to push your content down everyone's throat—especially if you have a handful of people following you on several distribution channels. It's frustrating, but the end result could be more serious: they might block or report you for spam if it's too extreme.
How do you find the right balance between under- and over-promotion?
The easiest way is to visualize your content on a marketing calendar.
You can see the times, dates, and channels being used for each piece of content you're promoting, making it easier to spot when your posts look too overwhelming:
Adding your content distribution plan to a marketing calendar helps your team, too.
There's no "I didn't know if anyone was posting it to Twitter so Jess, Eve, and I did it," which results in three repetitive (and annoying) tweets on your profile.
Everyone has access to the calendar so they can avoid oversharing or spamming.
Create a Checklist Template for Your Distribution Tasks
You'll likely have the same content distribution plan for each content format you create.
Don't waste time creating a new task for this in your project management tool. Instead, create a template of how you distribute each type of content.
Assign a person and timescale for each task, such as:
Anna optimizes for SEO before publishing
Joe posts to Twitter immediately after publishing
Lucy schedules 4 more Twitter posts to go out over the next week
Save this template and duplicate it for each new piece of content you create. It's bound to save you time, and prevent steps in your distribution plan from being missed out. CoSchedule customers can use Task Templates to create reusable checklists for promotion tasks.
Automate (or Outsource) Your Distribution
Research from Content Marketing Institute found that 31% of B2B companies outsource content distribution; it's the second-most popular activity to delegate.
Why not automate or outsource your content distribution?
It can be time-consuming, and some tasks don't need much attention. It's probably more cost-effective to automate or outsource that task, rather than pay your content marketer their $16.27 average hourly rate to do it.
For example: You could hire a freelance videographer to turn a podcast you've recorded into an animated video for YouTube. You won't need to pay the add-on costs you'd need to pay for a salaried employee to do it; you just pay for the end result: the video.
Or, you can use CoSchedule's social media scheduling tool to post the 4 follow-on social media posts (instead of relying on Lucy to set reminders to post them in real-time.)
Finally, take a look at the integrations on offer with your marketing calendar. You might find ways to cut time—and costs—you're spending on content distribution admin.
Ready to Conquer Poor Organic Reach?
Facebook is the largest social media platform to actively reduce the reach an organic post has, but it won't be the last.
Use these tips to vary your content distribution strategy. Since you're not just relying on one channel, there's less risk of your website sounding like crickets when another platform decides to follow in Facebook's footsteps.
March 18, 2020