The Best Way to Get Organized With a Content Marketing Editorial Calendar (Template)
Headline Analyzer
The blog post headline analyzer will score your overall headline quality and rate its ability to result in social shares, increased traffic, and SEO value.
Test every headline before you publish. Try the Headline Analyzer »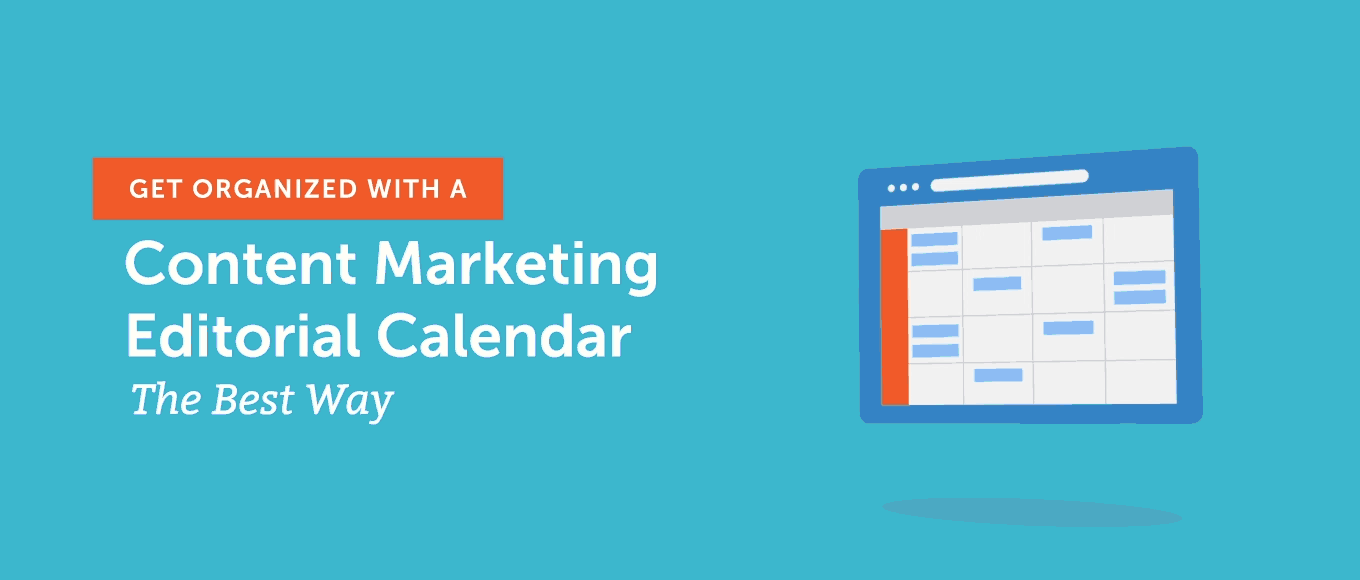 Using a content marketing editorial calendar sounds like a great idea, but do they really help?
When it comes to content marketing, many companies that struggle with consistency have found an editorial calendar to be the perfect solution. Even those who don't have that problem have been using a content marketing editorial calendar for years.
What about your organization?
Could you benefit from adding an editorial calendar to your content marketing plan?
Most of us know that the answer to that question is "yes". We know that the number one way to get traffic is through the very habits that an editorial calendar will help us develop —organization and consistency.
However, a lot of marketers still struggle with knowing exactly how to set up and use a calendar to achieve their goals.
If that sounds like you, it's time to learn what journalists have known for decades: editorial calendars are essential for maintaining busy, successful publishing schedules.
First, Download Your Editorial Calendar Template
Planning is an essential step to finding success within your content — in both efficiency and relevancy.
Creating better content more consistently goes hand in hand with the strategic use of an editorial calendar.
If you don't have one yet, you're in the right place.
You can build one quickly with this Excel-based template. When you're ready to upgrade, consider an alternative, like CoSchedule.
Optimize your content with the best steps to seamless organization. This template bundle includes:
Two content marketing editorial calendar templates
Social media calendar template
Email calendar template
Printable calendar template
What is a Content Marketing Editorial Calendar?
A traditional editorial calendar helps visualize content publishing on a calendar-like interface, but how does that differ from a content marketing editorial calendar?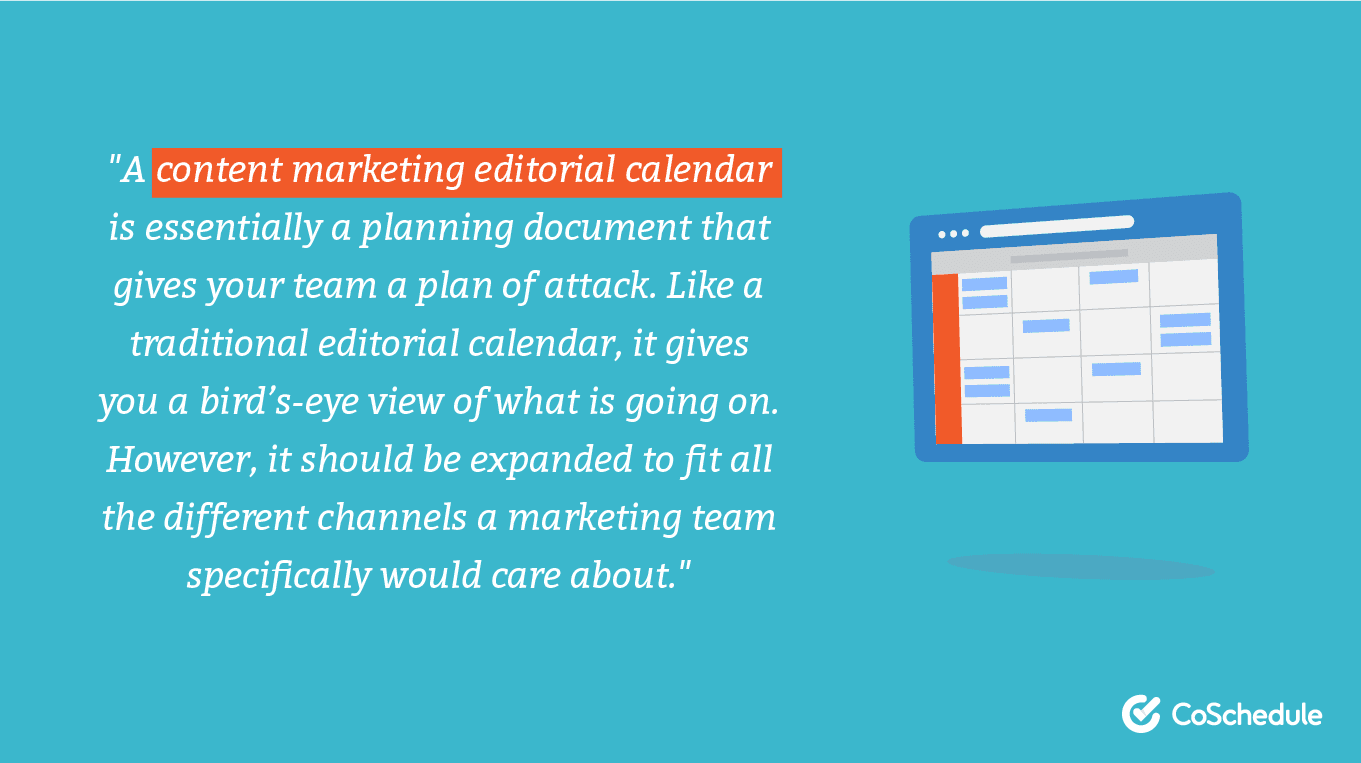 Content marketing is highly strategic.
That means you need to understand your audience, what motivates them, and what they need to hear to make a connection with your brand.
A content marketing editorial calendar is essentially a planning document that gives your team a plan of attack. Like a traditional editorial calendar, it gives you a bird's-eye view of what is going on. However, it should be expanded to fit all the different marketing team channels.
Overall, it should:
Provide a place to generate post ideas and key topics.
Assign writing and other editorial tasks to key members of your team.
Create a publishing schedule that helps you maintain a consistent presence.
Allow you to make in-process adjustments with drag-and-drop ease.
Visualize your marketing strategy in a way that everyone can understand.
Act as a communication point to team members.
A content marketing editorial calendar gives you and your team a framework for building trust with your audience. In part, it is a strategic marketing tool, but it's also a place to keep your team organized and on top of things.
What You Need to Start a Content Marketing Editorial Calendar
There is no shortage of templates available for creating your editorial calendar. Some are digital or written out on paper, but none are more prepared for the modern age than the fully digital options.
The best part about using a paper editorial calendar is that it can help you start the habit of using one to plan your content marketing. Eventually, you'll need bigger and better tools, but this is a great way to start out without making a major financial investment.
No More Spreadsheets: The Digital Content Marketing Editorial Calendar
When you're ready to upgrade, a tool like CoSchedule can provide a fully-digital solution — connecting your content calendar directly to your WordPress blog and social media networks. This powerful tool combines social media and content marketing scheduling with a robust productivity tool that will allow you to share tasks with your team and leave comments or critiques on their work. You can also schedule your blog posts with a drag-and-drop ease.
Start a 14-day trial or schedule a demo now.
Why Should Content Marketers Use an Editorial Calendar?
Journalists and news publishers understand the value of editorial calendars.
They're essential tools for planning ahead and sticking to deadlines. Without them, it's extremely difficult to plan content around centralized themes (think how magazines target themes each issue), or to even know who's doing what, and when.
In other words, creating content consistently without a calendar is like driving a car without a steering wheel.
It doesn't work.
Smart content marketers understand this, too. However, even if you know why you need editorial calendar software, it's possible your boss is tougher to convince. This may be especially true if the person holding the credit card isn't actually a marketer.
If this situation sounds familiar, stick with us through this post. We're going to show exactly what you can accomplish with editorial calendar software.
If you want to create great content consistently, it pays to know what you're going to do before you do it. As we like to say at CoSchedule, "Plan your work, then work your plan."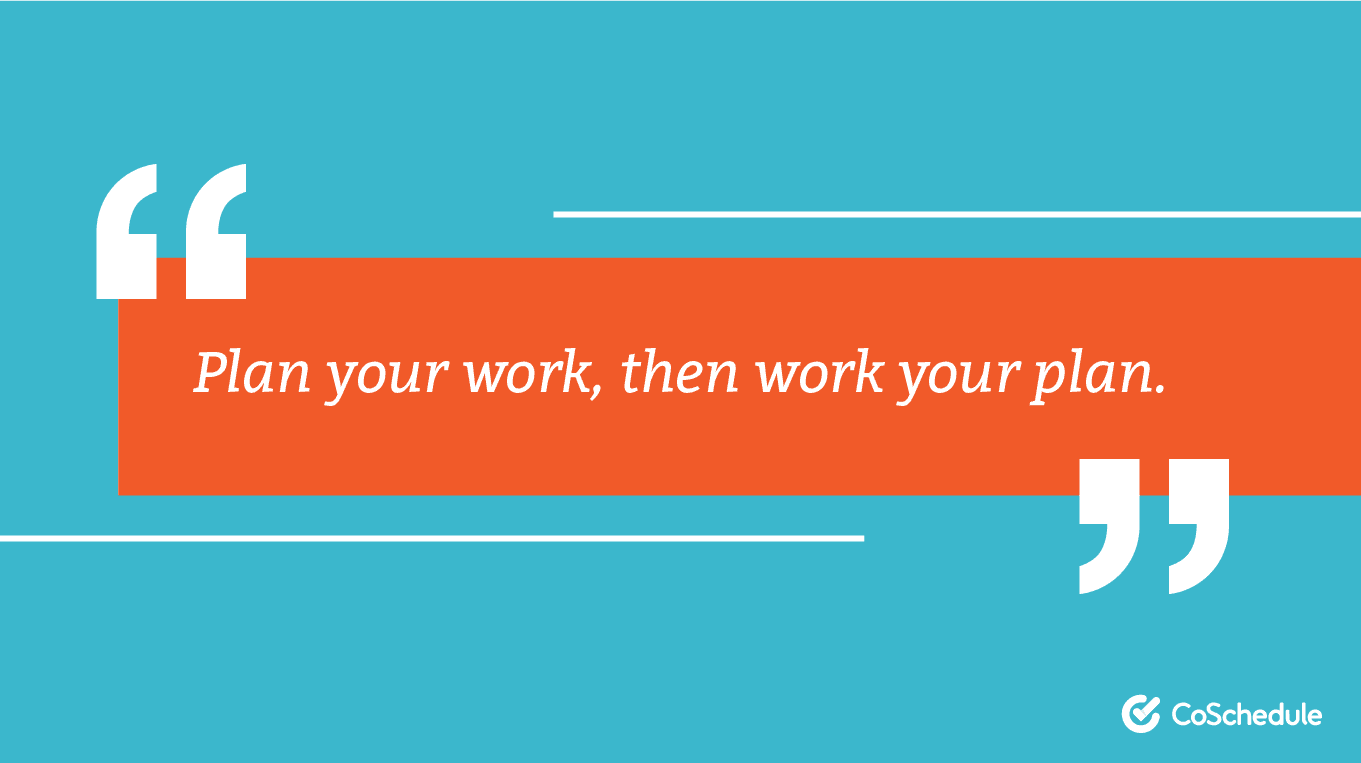 When it comes to planning, too many content marketers just wing it.
"Winging it" isn't a real editorial strategy, though. It leads to creating directionless content that doesn't produce results. Deadlines get missed, projects get planned haphazardly, and teams waste time spinning their wheels.
An editorial calendar helps create order out of chaos. It provides a simple planning tool for laying out:
What content you'll create.
Why you're creating that content.
Who will create each piece of content.
When that content will be due.
That sums up the basic functionality of a content calendar. Take things a step further with editorial calendar software like CoSchedule, and you can also achieve the following:
Successfully plan out coordinated content campaigns and themes.
Lay out your content publishing schedule alongside your social media promotion.
Manage your team member's workflow.
That's just scratching the surface. Let's dig deeper and see what an editorial calendar app can do for you.
Keep All Your Content Ideas and Projects Organized
Having a great idea, only to forget it later, is frustrating.
Having a great idea and simply not executing on it may be even worse.
At CoSchedule, when we have a great content idea, it goes straight on our editorial calendar. That way, nothing gets forgotten, and those ideas get turned directly into actionable content that helps our audience and makes us more successful.
Stop Missing Deadlines and Get More Stuff Done
According to Parkinson's Law, "Work expands to fill the time available for its completion." Without constraints, people take as much time as they have to get their work done. This isn't necessarily because they're lazy, but because it's built into the way humans operate.
This is why we also often feel like we get more done under pressure. When deadlines are fast approaching, we're more motivated to get the work done. With a clear content calendar to keep track of your deadlines, it's a lot harder to forget when things are due.
Clear deadlines, combined with a tool for ensuring they're enforced, results in more content getting created. It's as simple as that.
Two Types of Editorial Calendars: Spreadsheets Vs. Software
Spreadsheets are a common editorial calendar solution, and they're flexible. If you're just getting started, they're better than using nothing.
However, they do have some downsides:
Lack of automation. There's no way to automate publishing or content promotion via spreadsheet.
Disconnected workflows. The calendar is separate from social networks and email platforms used to promote content.
Communication is missing. Without commenting functionality, teams must rely on outside communication tools.
Fortunately, there's a solution.
Why Use Editorial Calendar Software?
Technically, you can use spreadsheets to build editorial calendars. They work well enough, and they're cost-effective. However, their functionality is fairly limited, they can be time-consuming to maintain, and ultimately, they aren't a ton of fun to use.
Using an app instead can turn your content calendar from something you have to use, to something you actually want to use.
See Everything in One Place
The value of seeing your entire editorial strategy in one place can't be overstated.
With CoSchedule, you can see all your content in one place. This includes blog posts, social media messages (which can be toggled on/off), and anything else you're working on. You can also connect your Google Calendar, so events and meeting times can be synced on your CoSchedule calendar.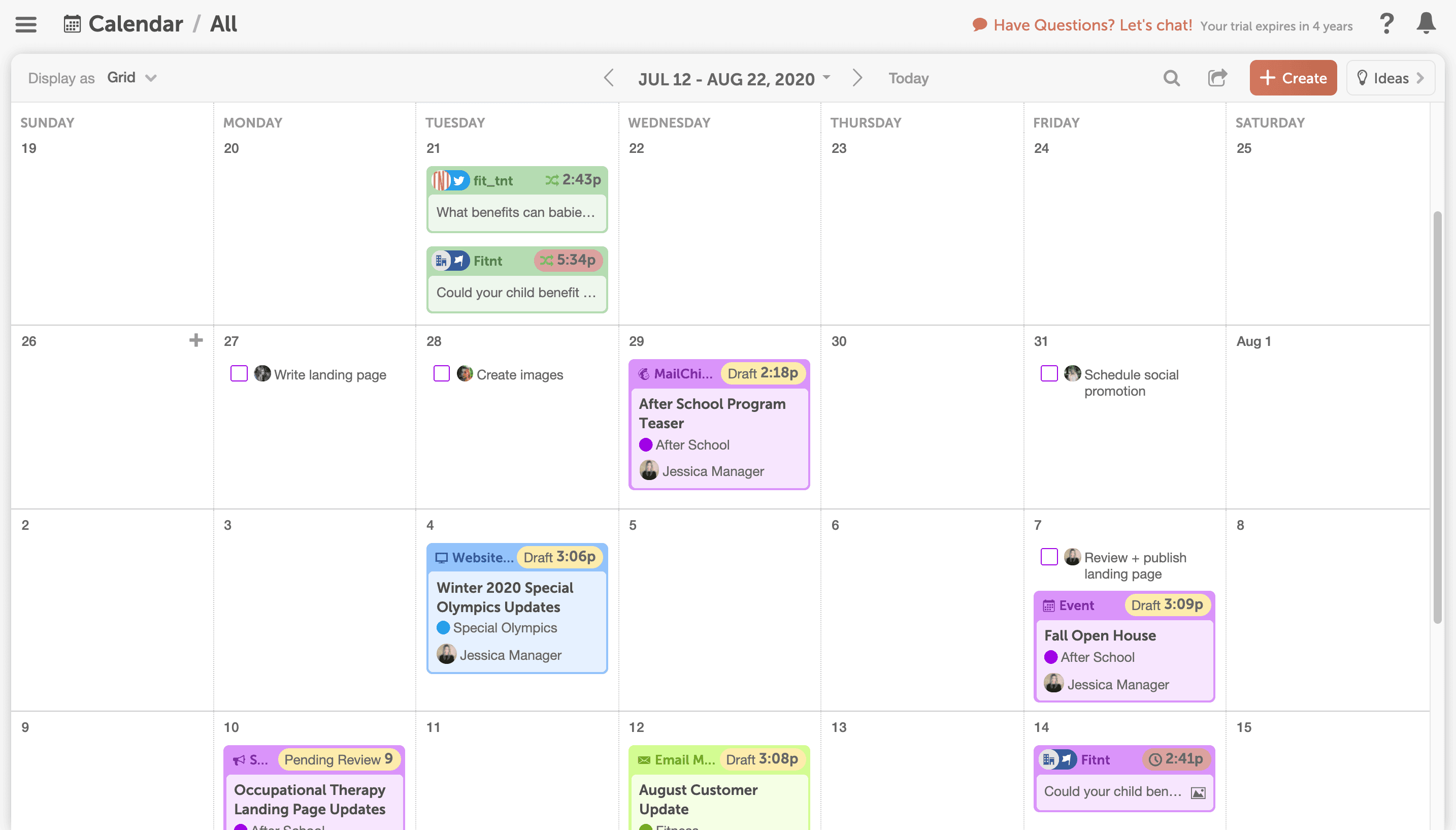 Drag-and-Drop Convenience
If you want to move something on a spreadsheet, you have to copy and paste it. When you have a lot of stuff on your content calendar, this can be a pain. With CoSchedule, you can drag-and-drop content anywhere you want on the calendar. This makes adjusting your calendar to reflect shifting priorities easy.
Collaborate in One Place
With spreadsheets, your calendar and communication tools are separate. As a result, discussion around projects can easily get lost. That's why collaboration features are built directly into CoSchedule.

Integrate With All Your Other Tools
CoSchedule connects with other tools you're likely using to help you get more organized and save more time. Its integrations include:
WordPress
Social Networks (Facebook, Twitter, LinkedIn, Pinterest, Tumblr, and Instagram)
Email Service Providers (MailChimp, Active Campaign, Campaign Monitor, and Constant Contact)
Evernote
Google Docs / Office 365
Google Drive / Dropbox / OneDrive
And more.
Convenient Color-Coding
It seems like a small detail. However, if you're used to planning content in spreadsheets, you probably have elaborate color-coding schemes set up to make them easier to understand.
You don't have to lose this when moving up to CoSchedule. Every item you place on your calendar can easily be color-coded for quick recognition.

Store Drafts for Later and Never Lose an Idea Again
Have an idea for a post you don't want to lose, or do you have something in progress you won't be able to finish until a later date? No problem. Just add it to the Idea Board:

Plan How You'll Actually Do This
Once you know why you're doing content marketing and how you're going to be successful, you can finally start planning your actual content schedule.
Though we're really talking about content marketing editorial calendars here and only just getting started, skipping to this point without understanding how you'll be successful in the first place is kind of a waste of time.
You need to have awesome ideas to plan awesome content, and that comes from knowing your goals and your audience.
Find the Best Ideas For Your Content
Start by simply finding the best ideas to plan them as content with your editorial calendar.
The challenge is to find ideas that you already know are going to connect with your audience. You can do that by searching for socially-inspired ideas, planning them in your editorial calendar, and writing to connect with your audience.
By socially-inspired content, I mean really listening to your audience. These content ideas are based on what your audience actually needs help with, then writing content to help them out — building the trust you set out to create in the first place.
This way, you start planning content that revolves around a problem or challenge your audience is facing.
Easy, right? Here are some quick things you can look into to find your audience's biggest problems:
I'm sure you could think of dozens of other ways to understand your audience's biggest challenges.
Figure Out How You'll Tell Your Story
By this point, you probably have a bajillion ideas you could write about. Now is the best time to plan the best way to write those ideas, so one piece of content carries on the story where another left off.
Your blog posts are like chapters in a book. They should make sense together, so you can build your audience around a central topic — the biggest challenge they face.
You need to find patterns to plan them in an ideal chronological order. That'll help you publish your content in the best order possible for your unique story.
Get the Entire Marketing Team On Board
Let me be clear on this from the get-go, you just need to get the right people on board.
Sure, getting buy-in from the higher-ups is something that definitely needs to happen, but you only need to understand what resources you have available to you to create the content you're planning.
You need to know who can help you out with strategy, text, graphics, editing, and social media. Maybe that's all up to you, or maybe there are some other awesome folks who can help you out.
These are the main roles you'll need to fill to build a successful team that creates awesome content, and one very busy person could do a ton of these on their own:
You could probably think of a dozen more roles that might work better for your business. The point is, find out what works for you and plan how your team will work together to publish the content you need to create.
Once you know how many hands you have to help you out, you can plan a realistic publishing frequency the entire team can handle.
Plan a Realistic Publishing Schedule.
You have a ton of ideas; you could try to publish a new blog post every day of the week to tell your story.
Is that really possible with the resources you have available? Is that much content in a week really necessary?
People don't wake up one day and run a marathon. Runners build up their ability to run long distances over time. They start small and plan for the large races.
Content marketers and bloggers have to do the same thing. For someone brand new to the game, this is a great plan for your first six months to help you build up your content marketing endurance.
Your publishing frequency is really dependent on the resources you can dedicate to content marketing objectives.
Use your editorial calendar to set up a content schedule that you and your team can handle. Follow it. Decide how many blog posts you'll publish each week, your social media post frequency, and how many larger pieces of content you'll do each month/year (i.e. videos, ebooks, white papers, etc.).
Schedules do a couple of amazing things. They force you to not let writers block win, and they guard against content gaps.
Your Organization's Email Marketing Schedule
You're most likely sending marketing emails either daily or weekly per list segment. Here are the best times to send those emails (according to 10 studies):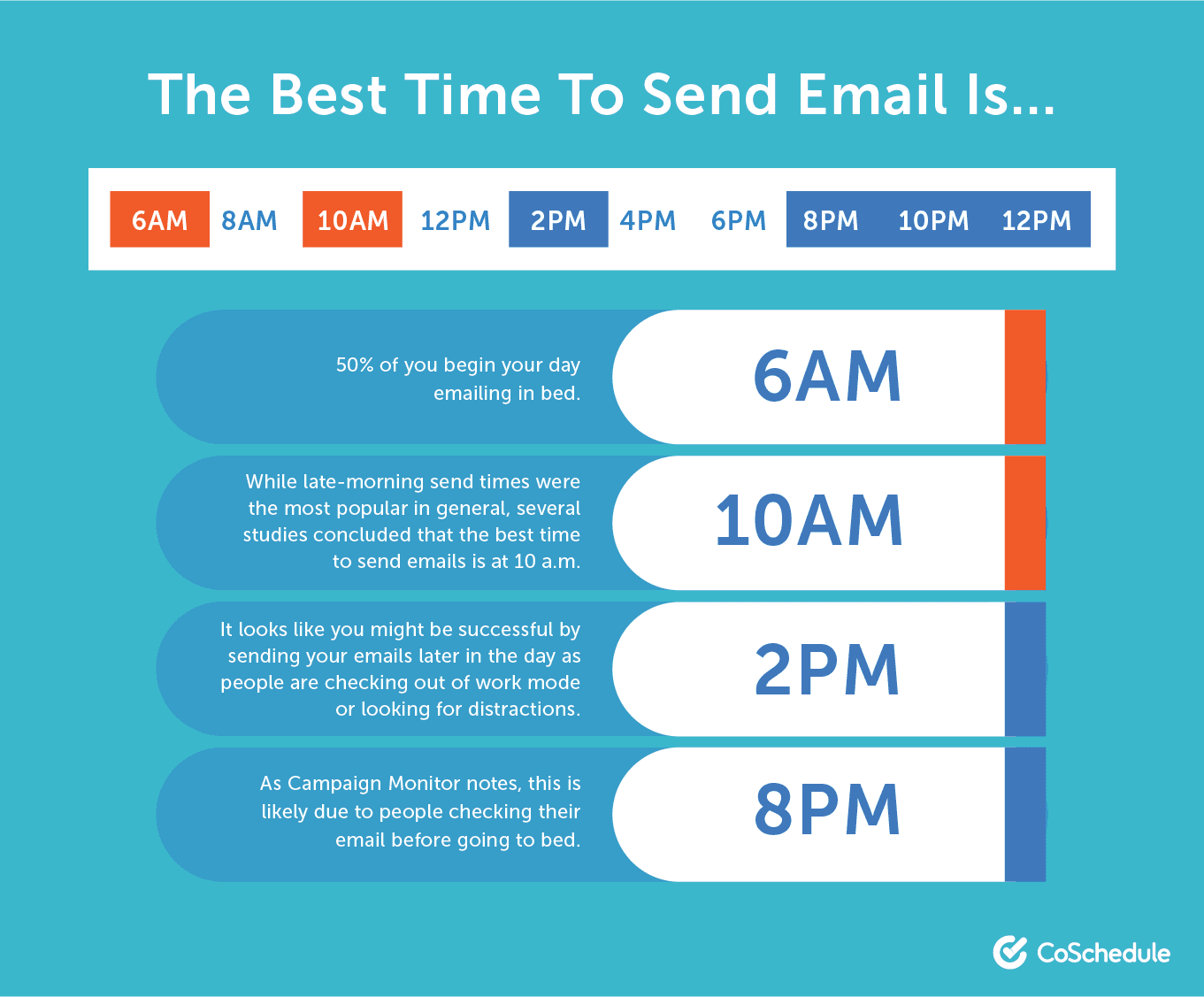 Getting Started With Your Editorial Calendar Strategy
If you're going to try and implement an editorial calendar with your team, you will need to express how it will help you grow your traffic and improve your business. This will take you right back to some of the things we discussed earlier in the guide about the business value of content marketing as a whole.
Here are some key benefits to communicate:
Better visibility across projects and campaigns. Everyone knows when each piece is publishing and who is responsible for it.
Ability to finally get organized. Disorganization leads to frustration and lack of productivity.
Reducing the number of missed deadlines. No one likes missing deadlines; without a calendar to track them, it happens.
Spending less time planning and more time executing. Spending time planning and getting organized eventually saves time.
Those are some strong benefits that any marketing team could get behind.
Understand Who You're Talking to With Personas
It's cliché to say that you need to understand who your audience is, but it couldn't be more true. Not only do you need to make sure that you understand your audience, but so does your team.
A good place to get started would be with some basic customer profiles or audience personas.
Take an Inventory of Your Team
Who's on your team, and how will each of them be contributing to the end product? This may sound simple, but it's an important question. If there is only one of you on your team, this step may be better spent writing down some of the required tasks, in the order in which you will do them.
Here are some roles that'll likely be working off your calendar:
Writers
Designers
Project Managers
SEO Specialists
Content Strategists
If they're on your marketing team, they can get value from your editorial calendar.
Develop a Basic Channel Strategy
Not all content is equal, so you should decide what yours will look like. The basic starting point is usually a WordPress blog, but you might have other channels, like:
Social media (broken down by network)
Video platforms
Landing pages
Webinars
Courses
The world of content marketing is vast, and all of it can be planned on your calendar.
Find Your Content Core
The content core is the intersection between your brand's purpose and your customer's interests.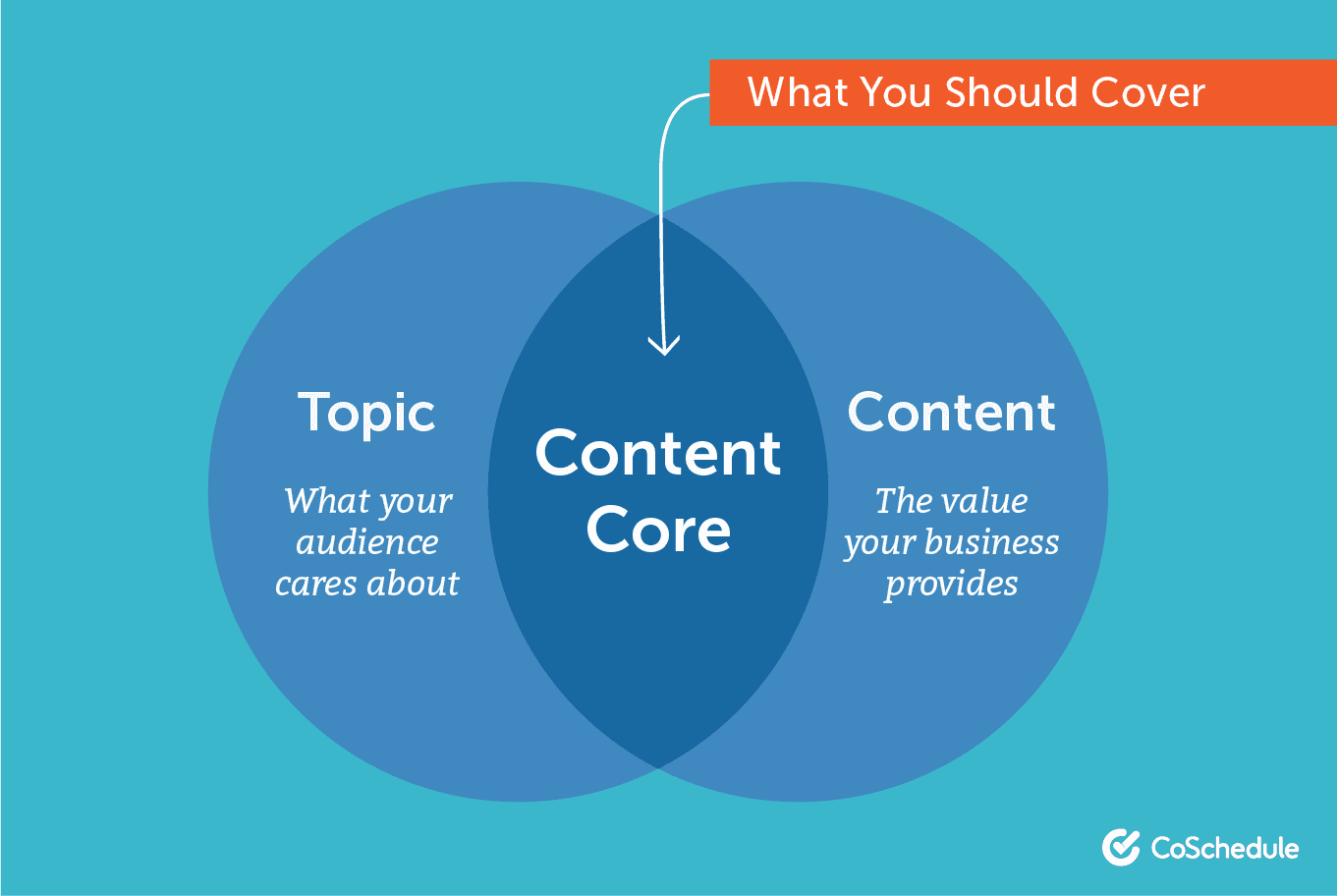 Understanding this will help you plan content that's both:
Relevant to your audience. What do they want from you?
Delivers results for your business. How will it attract the right audience to your company?
How Will You Plan?
Most teams that use content marketing editorial calendars like to have regularly scheduled meetings to plan out their content. Decide if you'll do one of the following:
Run group brainstorming meetings. Great ideas can come from anywhere.
Leave content planning to an editor or strategist. These folks are closest to the data that will guide you to success.
A mix of both. This way, you can take advantage of the pros for each approach.
Execute Your Plan With Your Content Marketing Editorial Calendar
One of the hardest things to do is change. Really, humans are inherently adverse to change.
One of the first things you need to do is develop effective habits with your content marketing editorial calendar.
You — and I really mean you since you're the one who looked up this post and is reading it — can't be the only one on your team who uses your editorial calendar.
These things are a million times better when everyone who's involved uses the same tool to create your content. You need to be the person who helps your team use your editorial calendar.
Here's a look at how you can help them develop effective habits:
A great way to develop effective habits is with a recommended-reading-defined workflow.
Use a Workflow That Actually Works
It's one thing to throw a post on your editorial calendar. It's another to assign specific tasks that need to be completed to make sure that post gets published. Remember, content marketing is a team effort.
That's your workflow, and your entire team needs to pitch in to help make it a reality.
A clearly defined workflow will help your team communicate more efficiently, and it gives everyone something to be accountable for. You'll all know exactly what you need to do to create awesome content.
Sounds complex, right? Thankfully, your marketing team's workflow doesn't have to be super difficult. A solid workflow helps you and your entire team:
To implement a workflow that actually works, you and your team need to:
Remember that you need to start with a realistic publishing frequency. If someone messes up the first couple of times, that's fine! That's why you're there to help them build effective habits for creating content. Work slow to begin with, then ramp up your content creation machine.
Start By Brainstorming Topics and Campaigns
Before you can use your calendar, it needs content. One simple process that's worked well at CoSchedule is to run a 30-minute content planning session.
Here's how the process works:
Spend ten minutes writing down ideas. Have each team member jot down ideas on Post-It notes (one idea per note).
Spend ten minutes scoring those ideas. Put those ideas up on a board. Read each one out loud. Then, have each team member score them on a three-point scale (3 = Awesome, 2 = Meh, 1 = Dud). You'll end up with ideas that fall into all three categories, and that's okay. This isn't about shaming anyone.
Spend ten minutes selecting the very best topics. Take all your ideas that scored mostly 3's, and decide which are the very best. These will go on your calendar.
This video offers a more detailed breakdown on how this process works:
Then, Establish Clear Checklist-Based Workflows to Execute Your Ideas
Figure out which steps are required to create a single piece of content. Then, determine how long each step should take.
You can do this easily by first figuring out what needs to be done. Create a list:
That's a hypothetical checklist for a single piece. Next, figure out who is responsible for each step. Now, this list might look like this:
These don't necessarily need to be assigned to specific job titles; just tasks or roles different team members may fill, depending on your team size and structure.
Now, figure out how long each step should take. Having your team use a time tracking app, like Toggl, can help you estimate this more accurately. To get started, determine how long each task usually takes right now, per step.
At this point, the list might look like this:
These times are completely hypothetical, for example purposes only. Next, determine how many work days this entire workflow will fill. Then, add two weeks. That's how far out in advance your content should be placed on your calendar.
Finally, map this all out to a checklist your team can use. If you're a CoSchedule customer, this can be done with Task Templates. These are reusable checklist templates that can be added to each piece of content on the calendar.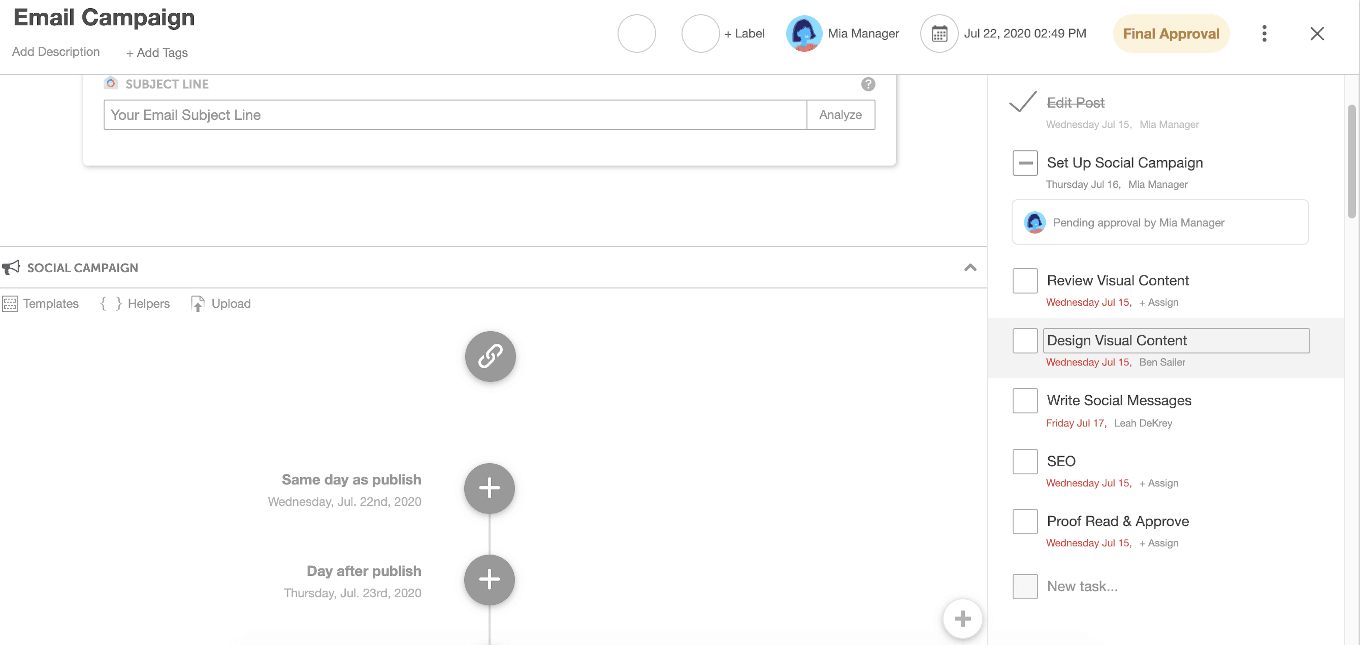 When you click each task, it'll show the whole team that step is complete. This will be reflected by the completion percentage on the calendar.

Write, Design, and Edit Your Content
There are some things your content writer, designer, and proofreader should keep in mind when they create and publish your content.
1. Talk About Your Expertise.
What you know best is your expertise.
You don't have to be the expert, but it's likely you know more than the average person about your niche topic — otherwise you wouldn't be in business. Therefore, you're an expert. Let's put feelings of inferiority aside, or you'll never write a sentence worth anything to your customers.
The beauty of you talking about what you know best is that you create value around your product or service.
Would you rather hire a plumber who confidently talks about all things plumbing on his blog, or the guy who just has a website that says, "I'm a plumber. Hire me."?
2. Speak Your Customer's Language
If you have any empathy for your fellow human beings, leave the jargon at the door, please!
If you're selling light bulbs, you don't talk about ohms and electrical resistance and how many electric trade associations in which you are a member; you talk about how long the lightbulb will last.
Remember, no more corporate voice, meet your audience's needs — these core concepts ought to prevent you from using jargon or purposefully trying to shame, confuse, or impress a customer with industry language, but it's so easy to forget! You rattle off features when you could be telling them about the benefits.
You're not looking to be the industry expert — unless your audience is business-to-business — but an expert for your customer.
3. Just Focus on the Bennies
People don't buy a toaster based on how hot the heating elements can get, but that it gets their toast done pretty fast in the morning, so they aren't late for work. Heating element = feature, fast toast = benefit.
When you write your content, talk about benefits, not features.
People connect to benefits, because they tell them how your product meets their needs. Features only interest the sellers because they make an impressive list for those in the industry.
The content you create has to find a way to translate those awesome features into real-world benefits so your audience can say, "Oh, yes, that would be helpful for me."
4. Yes, You Can Talk About That
There's a lot of peripheral content connected to what you think is your main focus. Yes, you can talk about that.
Let's say you sell running shoes. You could blog all day about the new shoe styles, shoe sales, shoe trends — you could be very shoe-centric. After all, that's your gig, but think about your customer. The guy buying those shoes is... a runner. As a runner, he is interested in more than just shoes.
He wants to know about running events, training options, the latest running mobile apps, outdoor trails, hydration, knee health… Wouldn't you sell more shoes if you wrote about all of the things runners are interested in?
Your content should definitely include your core content (in this case, the shoes), but also write about connected content (that other stuff). That's what your audience wants.
Promote Your Content on Social Media
"Complete social media content marketing in just an hour a day!" Sounds gimmicky, but it's not off. Do you really want to be spending more than an hour on tweets and Facebook posts? No. This plan is a tricky one, but returns great results when you get it right.
Start by figuring out what your audience wants on each network. For example, five tweets an hour might be too much, and no tweeting after 6 p.m. Don't give them an excuse to unfollow you. Know your audience, know the social network's unwritten etiquette, and use that as your guide.
Then, find social media marketing tools that shave time off of your plan. Time is money. Use one or two scheduling tools instead of five and an extra hour. Find good tools and spend the money. They're going to be a workhorse for you, and you won't regret an excellent tool that makes this easier.
With your plan in place, you now know what happens when a blog post is published. It might go something like this: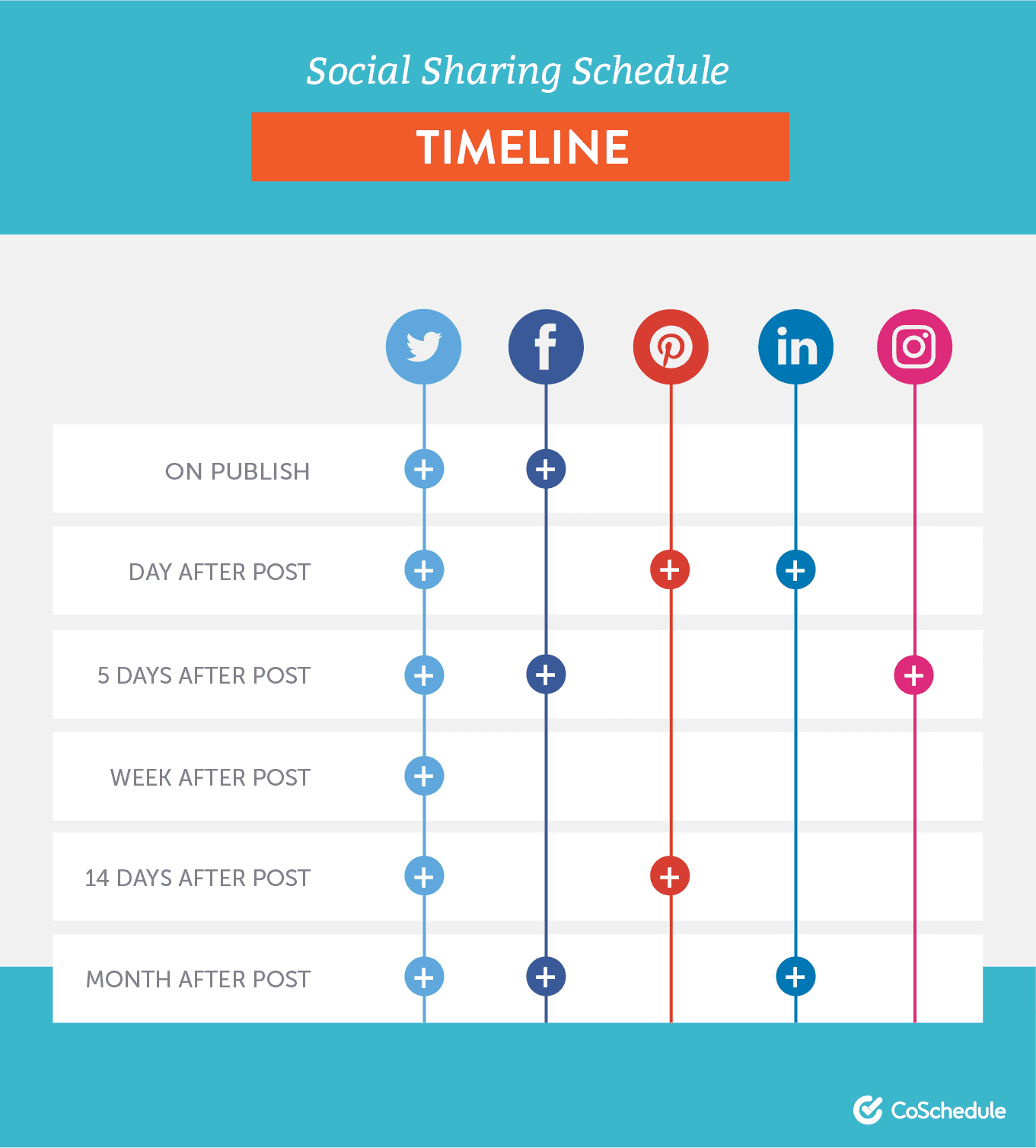 Publish
If you're using CoSchedule with the WordPress integration, your post will automatically publish at your specified date and time. If you have social media campaigns and email newsletters promoting your content, you can create and manage those in CoSchedule, too.
For those using spreadsheets, you'll need to make sure everything is lined up in your Excel or Google Sheets calendar, your social scheduling tool, and email platform.
Managing Your Content Marketing Editorial Calendar
You've decided to take the plunge and start using an editorial calendar for your content marketing.
You've made the right call.
Not only will you find yourself producing better content, but you'll also become more consistent with your publishing. In turn, it should lead to a steady increase in traffic.
As you go, there are six things that you are going to need to keep an eye on at all times.
1. What's Happening This Week? What's Happening Next Week?
If you are doing it right, you should have an answer to these questions at all times. How does your calendar make this easier?
2. Does Your Team Know What to Do?
Tools like CoSchedule allow you to assign tasks to each member on your team, making communication easier than ever. Everyone should know what they are supposed to do and when they are supposed to do it.
3. Is There Healthy Communication?
Discussion about a new piece of content and how to make it better should be a normal part of the process. You should have something in place that allows you to have discussions and share thoughts with your team.
4. What About the Assets?
Images and graphics can be important elements for great content marketing. Who will be responsible for them, and how will they be assigned? Again, CoSchedule makes this pretty easy with simple tasks that can be assigned to each team member.
5. Implementing Editorial Review
At our office, we use a peer review process to improve the quality of our work. Gathering feedback from our peers is a low-cost way to constantly improve the content that we create. Your calendar and editorial plan should accommodate for a step like this.
6. Reschedule as Needed
One tip for users of a paper editorial calendar is to use colored sticky-notes rather that just writing on the paper calendar itself. This gives you the same drag-and-drop flexibility that you will find in a tool like CoSchedule.
Start Creating More Consistent Content Now
Content marketing editorial calendars aren't necessarily new, but you might be surprised at how many people choose to not use them. That's their loss and your advantage. The content marketers who dedicate themselves to great planning and content creation will always come out ahead.
Good luck!
Ready to manage your marketing with CoSchedule? Start a 14-day trial or schedule a demo now.
This post was originally published on June 4, 2018. It was updated and republished on July 21, 2020.
July 21, 2020