How To Organize Your Content Marketing Team 71
Headline Analyzer
The blog post headline analyzer will score your overall headline quality and rate its ability to result in social shares, increased traffic, and SEO value.
Test every headline before you publish. Try the Headline Analyzer »
It is no secret that we have been studying content marketing teams while we have been designing and building CoSchedule. In order to build the world's best editorial calendar (yep!), we need to understand how modern blogging teams work. So we called, emailed, and Googled our way to understanding. The results are valuable.
Editorial teams are diverse, but after our research we concluded that there are really only two major types of team structures, and then two minor ones that branch off from there. Understanding the strengths and weaknesses of these teams make a huge difference in how we manage and organize our own writing team.
Understanding these structures will help you improve team workflow and communication so that you can ultimately publish more content at a higher quality than ever before. Let's run through the major team structures, highlighting some of the unique needs that they all possess. You'll see how we're building CoSchedule to accomodate what we've discovered.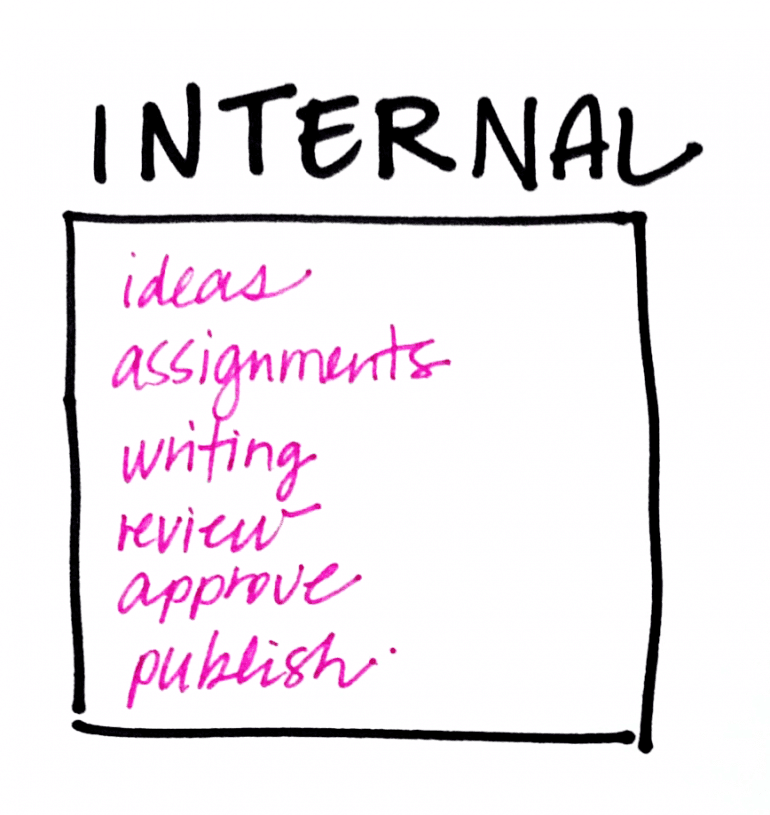 The Internal Team
The most familiar type of type of team at Todaymade is the internal team. Internal teams are usually defined by an internal self-contained team that handles the blogging process from top to bottom. There are usually several roles, including an editor (or two) and writers. The purpose of these kinds of team blogs is one of marketing or promotional purposes. They are message-driven, and not looking to make money specifically on the blog itself.
Typical Workflow:
Idea Generation / Brainstorming (team meeting)
Assignments
Writing
Editor Review (may lead back to step 3)
Approval
Publishing / Scheduling
Unique Needs: 
Internal communication is important. Often these teams rely heavily on email, or they employ a wide variety of random tools to "make it happen."
These teams are very process-driven, and can have difficulty adapting to new methods. Once it works, it works!
Writers are often not writers at all, but rather professionals with the right topical knowledge for the job. This may require extra love and care from the editors.
They need tools that can adapt to their unique workflow, and tend to resist processes enforced by others.
How CoSchedule Will Help:
Most tools make major assumptions about how teams should be organized and need to work. With CoSchedule, we are making as few assumptions about this as we can, meaning we are hoping to make a flexible tool that can adapt to the unique situations that internal teams bring. We believe that you should be able to use CoSchedule to execute your current (or slightly modified) workflow instead of one that we created and forced on you.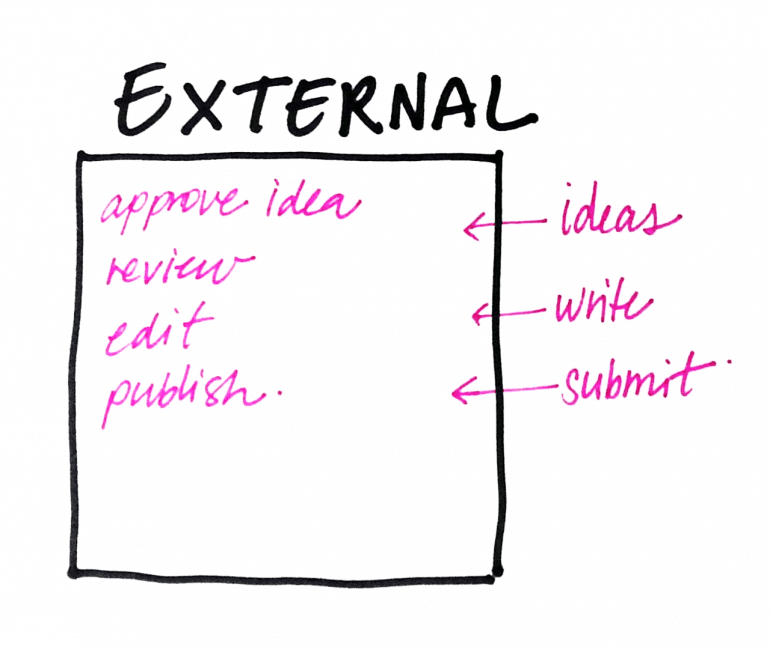 The External Team
The external team is primarily composed of an internal editing staff with many external writers. Unlike the internal team where everything is handled in-house, the external team can be spread out. These teams are usually a "for-profit" venture, meaning they work to make money with their blog rather than simply promote an idea or concept.
Typical Workflow:
External Ideas / Pitch
Internal Approval of Planning / Pitch
External Write / Submission
Internal Review / Approval
Internal Edit / Write
Publish / Schedule
Unique Needs:
Communication is always at the top of the list for external teams. They are often spread out, and rarely working at the same time of day. This makes a central point of communication a necessity.
External teams often have a wide variety of roles and unique permissions needs. They work to accommodate each external contributor in unique ways.
Often they have a fast-paced workflow and tend to move quickly. Today matters most.
Editors of external blogs are usually a bit more flexible when it comes to workflow. Because there are more variables, they tend to "roll with the punches" better than others.
External blogs are run like a business, and usually quite focused on traffic and revenue.
They have heavy social media needs. This is an important aspect of their business
How CoSchedule Will Help:
We plan to make CoSchedule the central point of communication for writing teams, meaning that everything about a specific post will be documented and collected in one place. Comments, tasks, and major status chances will be collected in one place for easy organization. Internal communication tools will also help facilitate a clean workflow for the team with a lot of variety.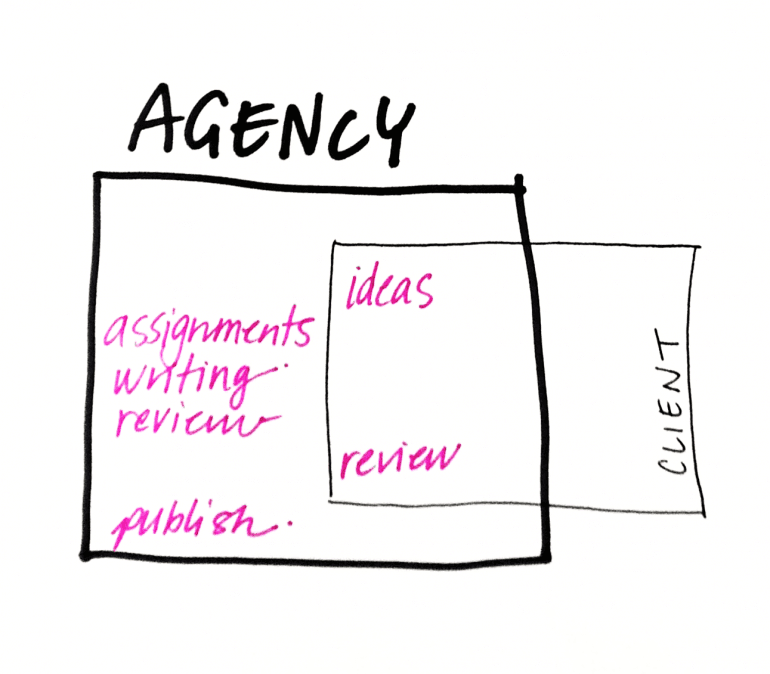 The Agency Team
An agency team falls somewhere in-between the internal and external team. It usually contains a small group of internal and editors, but adds the external component of client review and editing. Often, clients behave in a somewhat "executive editor" role.
Typical Workflow:
Idea Generation (with client interaction)
Assignments (internal)
Writing
Editor Review / Approval
Client Review / Approval
Publish / Schedule
Unique Needs: 
There is a combined internal and external workflow with the addition of final client approval.
Writing efforts are combined with additional client work, so the process may vary.
Strategic planning and mapping is the key to this group. They tend to be more strategy-focused that other teams.
The addition of clients will add many unique needs. Processes may vary!
How CoSchedule Will Help:
Agencies are often left out of the mix when it comes to online publishing tools. Their unique combination of internal/external teams makes permissions very important, and a huge need that most tools fail to make. CoSchedule will have cascading permissions that will scale for both internal and client needs.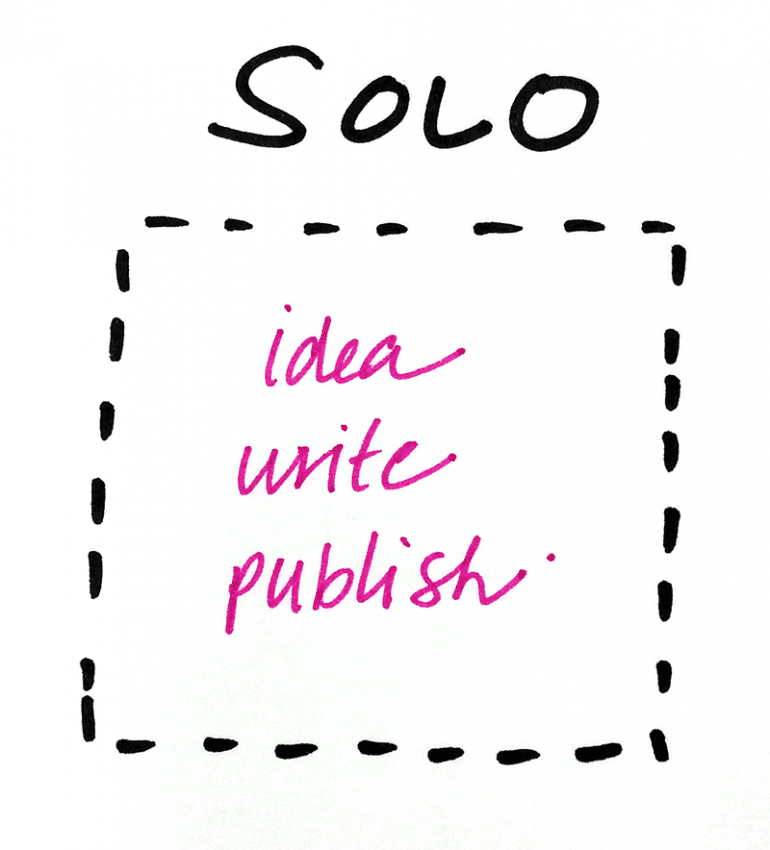 The Solo Team
Not to be forgotten is the "solo" blogging team, usually comprised of one or two people with a less structured process. This team offers the greatest variety, and the greatest volatility. Many solo bloggers are in it for the fun, but may blog for self promotional purposes, or even some profit.
Typical Workflow:
Idea
Writing
Publish
Unique Needs:
Speed and efficiency are very important to this group. They need to get in and get out.
Scheduling needs are fairly basic. They tend to use that calendar as a way to motivate themselves to write.
How CoSchedule Will Help:
The simple act of planning out your future can help you achieve it. For many solo bloggers, this will be one of the primary benefits of CoSchedule. By plotting a course and sticking to it, solo bloggers should become more successful bloggers. In reality, isn't this what we want for all of our users?
So, Where Do You Fit?
So, what kind of team are you? Is our description accurate? Maybe you have never really thought about what kind of team you are, but it is actually quite important. Once we understood some of the unique needs that our team had, we were able to diagnose and fix the problems. This makes for better teams, and better blogs, in the long run.
What does your publishing team look like?
September 5, 2013