Be a Smarter Marketer: Announcing Year-Round Marketing Courses From CoSchedule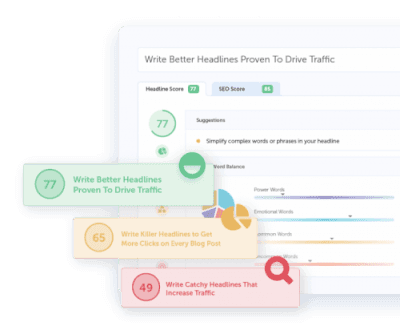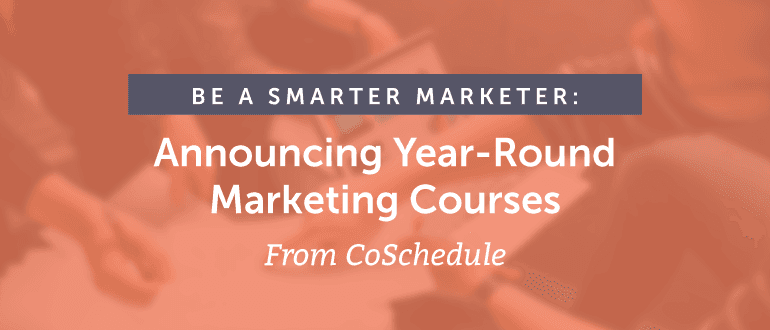 12,193 students later, it's finally here.
We're launching BOTH CoSchedule top-tier marketing courses at the same time… And for FREE.
Just head to The Actionable Marketing Institute and take your pick. The only question you need to answer is do you wanna master Marketing Strategy or Social Media Marketing first?
(Seriously… You don't need to read another word to become a marketing wizard ? who gets better results and therefore starts making more money ?)
That's right, you can register for either the Social Media Strategy Course or the Marketing Strategy Course.
Or ya know… You could also turn yourself into a marketing legend and enroll in both.
Our free marketing courses will help you 10X your growth, laser-focus your strategy, and grow your social media audience in just two weeks!
Each course is exploding with over $5,000 worth value, and contains:
5+ Lessons & Quizzes
3 Video Workshops
Opportunity to apply for industry-recognized certification
Marketing project templates
Custom analytics reports
Access to original (and exclusive) research
Not bad, eh?
Now, here's a quick overview of what you'll find on the other side…
But if you've made up your mind, click to check out our Marketing Courses. Or enroll in either the Marketing Strategy Certification Course or the Social Media Marketing Strategy Certification Course.
A word of caution, however… These courses are for real. They're no walk in the park.
So if you don't put the work in, you'll be getting a visit from this guy…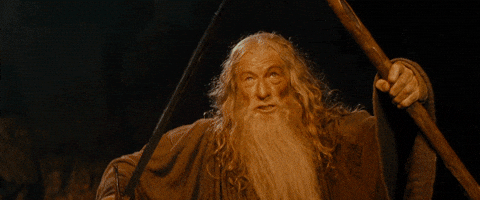 But if you show up and put in the work, you'll not only pass, you'll revolutionize your marketing in just two weeks.
Now here's the info you want.
Social Media Strategy Certification Course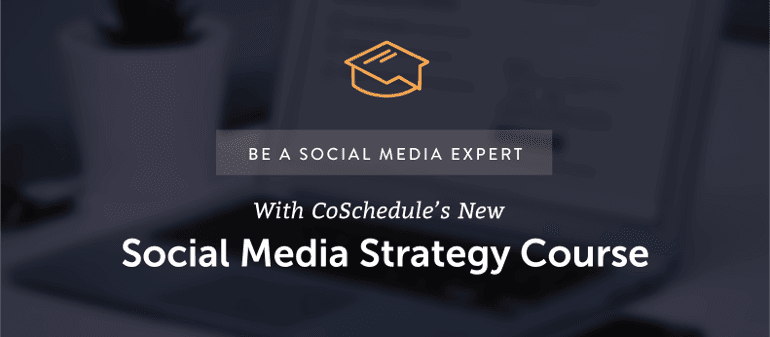 I'll be the first to say it.
Social media is time-consuming.
Doing it right is even more time-consuming, meaning you and your team need to make the most of the time you devote to it.
Not to mention, the ever changing landscape of social media networks and channels is hard.
What do you keep, and what do you ignore?
Don't even get me started on trying to keep it all organized.
So how do you begin to tackle the beast that is social media?
The key is being fast, efficient, and staying on top of your company's expectations and needs for social, which is what you'll learn with our new Social Media Strategy Certification Course.
So Why Should You Bother With This Course?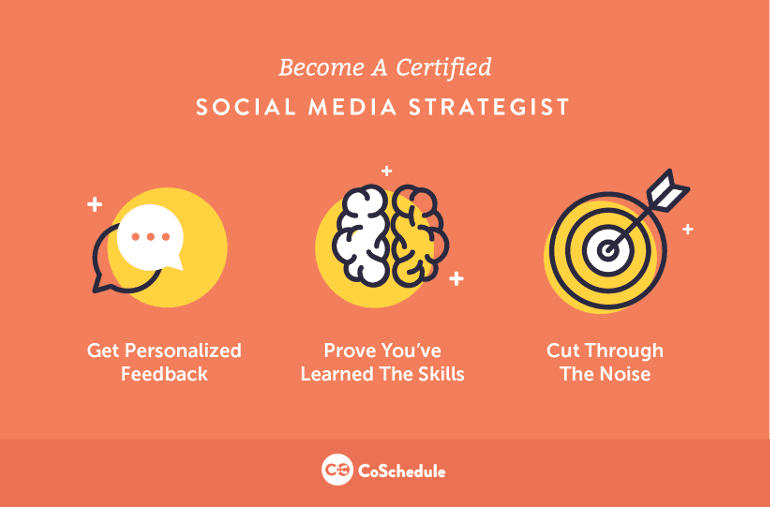 We know your schedule is already jammed packed, and here we are trying to fill it even more.
However, this course is worth your time. Not only do we have it packed full of up-to-date information, theories, and tactics, you'll learn everything you need to know in two weeks.
If that doesn't convince you, maybe the following will:
Learn the actual how: No more of the general best practices, we're gonna show you how to do this yourself.
Be the first: This is the first time CoSchedule has offered our Social Media Strategy Certification course. Make your claim to fame by saying you're part of our first group!
Get up to date fast: This course ditches the fluff, so you get actual actionable information. You'll have the knowledge and the plan within two weeks. Seriously.
Certify your skills: At the end of our course, you'll get the chance to become a Certified Social Media Strategist by CoSchedule!
Social Media Strategy Course Overview
So maybe I've got you convinced.
But now you're wondering, what exactly am I going to get out of this course?
Well when you sign up for this course, you'll get $5,000 worth of education for FREE with:
Six in-depth lessons that will walk you through some of your most talked about social media questions.
Three workshops that will help guide you to create your strategy in two weeks.
A chance to stand out by becoming a Certified Social Media Strategist by CoSchedule.
A free template with every lesson that will help you complete a full social media content strategy, letting you publish better content faster.
What are you waiting for? Go sign up! Then come back here and I'll break down what you'll be learning in each lesson of this course.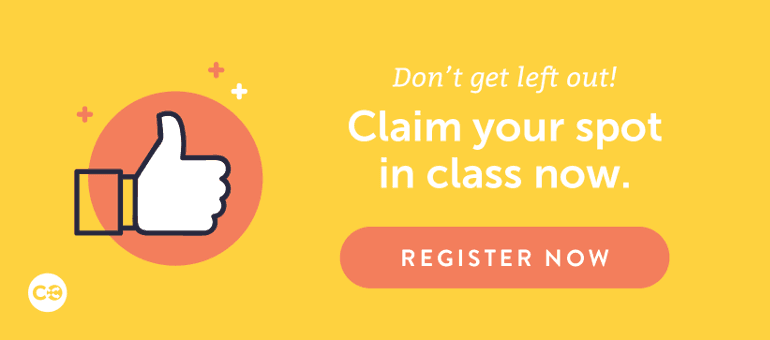 Or you can keep reading first. Up to you.
Become A Certified Social Media Strategist By CoSchedule
The strategy + knowledge you gain from the course (all $5,000 worth) is completely free.
You learn it. You put it into practice. You boost your results.
For just $89, a CoSchedule expert will review your strategy, provide actionable feedback to help you crush it, and certify you as a Social Media Strategist!
Or…
Buy a yearly CoSchedule calendar (any Marketing, Team Pro, or Multi-Calendar plan billed annually) and become a Certified Marketing Strategist for FREE!
You're planning to #win at social media… and CoSchedule is the best way to execute that plan more efficiently than ever.
When you decide to become a Certified Social Media Strategist, you'll…
Get Personalized Feedback From A Social Media Expert
When you get Certified, a CoSchedule social media strategy expert reviews your game plan to give you actionable advice that will help you succeed. It's like getting an exclusive, personalized consultation to improve your strategy.
Prove You've Learned The Skills
Taking this course is no small task. It's intense. It requires you to put what you learn into practice in two weeks. And it forces you to focus. Your Social Media Strategy Certification proves you've got what it takes to strategize, execute, and analyze.
Cut Through The Noise
You'll know how to get 3,150% bigger results than your peers. By becoming a Certified Social Media Strategist, you show the world you're not just one of those people who adds social as a skill to your resume. Instead… you're the strategist who delivers.
So become the Certified Social Media Strategist who gets:
Printed certification
CoSchedule swag
Electronic badges
…and did I mention bragging rights?
What Are Your Waiting For?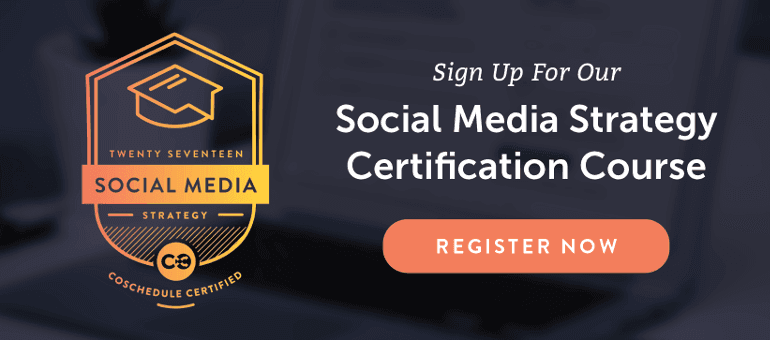 You're getting all of this and the chance to officially certify your skills and become CoSchedule Certified!
Don't miss out on your chance and sign up for our Social Media Strategy Certification course today.
Marketing Strategy Certification Course

Building new, effective habits can be hard.
That's because we naturally resist change. Instead of going to the gym, we binge-watch TV shows. Rather than eat a salad, we raid the office candy supply.
Despite our best intentions, these are the sorts of patterns we tend to fall into.
Why?
Goals worth achieving are typically difficult to attain. That's part of the issue. Another is we sometimes lack the knowledge and tools required to help make new habits feel automatic.
The key is finding ways to do things easier and automatically, until our old habits become distant memories.
This principle is key to getting organized (and staying that way for the long haul). And that's exactly what you'll learn to do when you join the Marketing Strategy Certification course by CoSchedule.
So, What Is This Marketing Strategy Certification Course All About?
The course is broken up into five lessons, each covering a different part of the long-term planning process.
Each lesson includes a worksheet (plus free bonus guides and templates) to help you plan a lean and actionable marketing strategy. When you're finished, you'll have a fluff-free documented content strategy and marketing calendar to keep you focused and organized for an entire year.
By the end of this FREE two-week course, you'll have learned the following:
How to set overarching marketing goals that your content efforts will support.
How to plan which types of content you'll create (and never run out of ideas).
How to keep it all organized on one calendar throughout the year.
You'll also get access to the following:

Get Started Free!
You're getting all of this and the chance to officially certify your skills and become CoSchedule Certified!
You can try out our Free Marketing Plan course to get started.
Or sign up for the Actionable Marketing Institute Pro – including access to 25+ courses including both Marketing Certification Courses today.
January 5, 2018