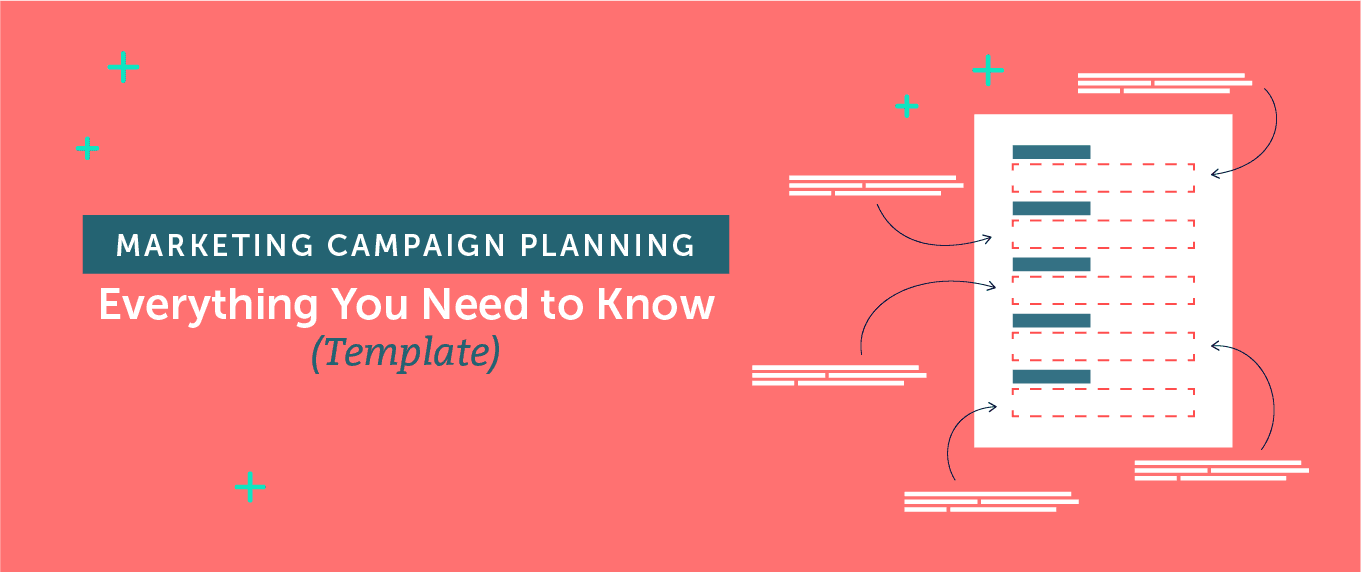 Marketing campaign planning is a complex process. Delivering one consistent message across multiple channels to reach your audience isn't easy. Without smart strategy and sound processes in place, it can quickly become a disorganized mess.
In this post, you'll learn how to map out successful marketing campaigns. From planning to execution, you'll keep everything on track to guide your organization or client toward success.
First, we'll walk through how to build a marketing campaign creative brief, outlining your strategy for client or supervisor approval. Then, we'll show you how to map out a marketing project timeline for your campaign.
Plus, you'll get two templates to make sure you have the tools to put this advice into practice. Grab 'em both!
Why Spend Time on Marketing Campaign Planning?
Quality creative work doesn't happen by accident. If you're churning out nothing but ad hoc projects or skipping strategy sessions, then your work is unlikely to impact the bottom line. That leads to budget cuts for your department, making success even more difficult to achieve.
When they're planned the right way, successful marketing campaigns do the following:
They connect with your target audience

. You should know who you want to reach, and how you want to reach them.

They move the needle on your KPIs

. You should be producing real results you can measure with actual numbers.

They grow your business

. Attracting leads and raising revenue are what this is all about.
Execution without a plan is just busywork. Busywork doesn't build businesses or make meaningful careers.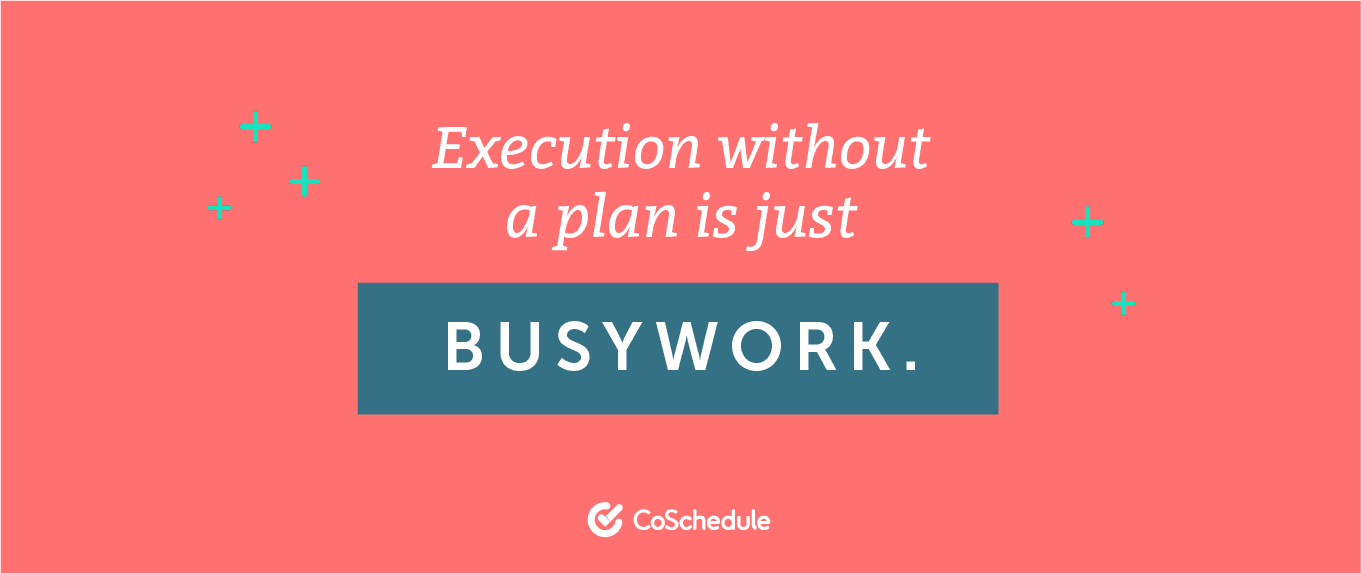 Pitching Your Campaign: Preparing a Creative Brief
Once you know what you'll do, how you'll do it, and who you'll do it for, it's time to pitch your campaign to your stakeholders. For in-house (or client-side) marketers, that could mean your boss (or their boss). If you're at an agency, that'll mean your clients.
One of the best ways to do this is with a well-prepared campaign brief. Here's what yours should include:
Download the marketing campaign template kit that complements this blog posts to fill in the Word document: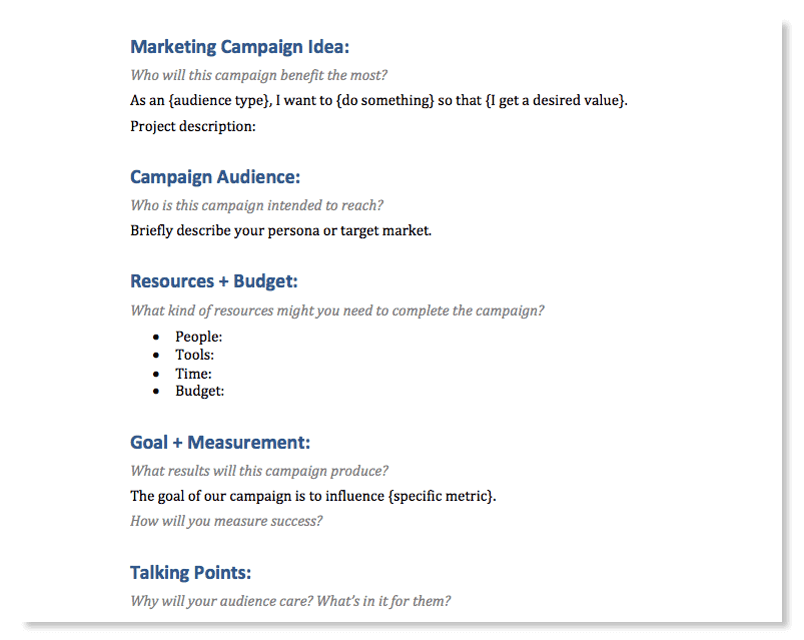 Focusing on 10X Goals: Start By Stating Your Objective
Without a clear objective, you risk producing directionless work that doesn't deliver measurable results. You end up spinning your wheels, working hard toward nothing in particular, which is a recipe for burnout and frustration.
That's why every campaign should start with a goal in mind.
Our team at CoSchedule focuses on what we call 10X goals. If you've spent much time reading marketing blogs recently, this is an idea you've probably heard about.
What it means is we prioritize projects that can increase our success ten times over, rather than making incremental 10% gains.
In your marketing campaign launch brief template, enter your goal here:

Know Who You're Talking To: Establish Your Target Audience
Marketing that appeals to everyone often appeals to no one.
The best campaigns talk to a specific audience, creating a sense of delight by delivering messaging that's unexpectedly insightful.Your audience wants to feel as though you're speaking directly to their unique needs.
Here are three ways to nail your target audience:
Next, include a brief summary of your target audience in your campaign brief template:

Developing Creative Campaign Concepts: Give It a Clear Theme
Your marketing campaign should have an overarching theme that ties everything together.
It's what David Ogilvy called having a "Big Idea":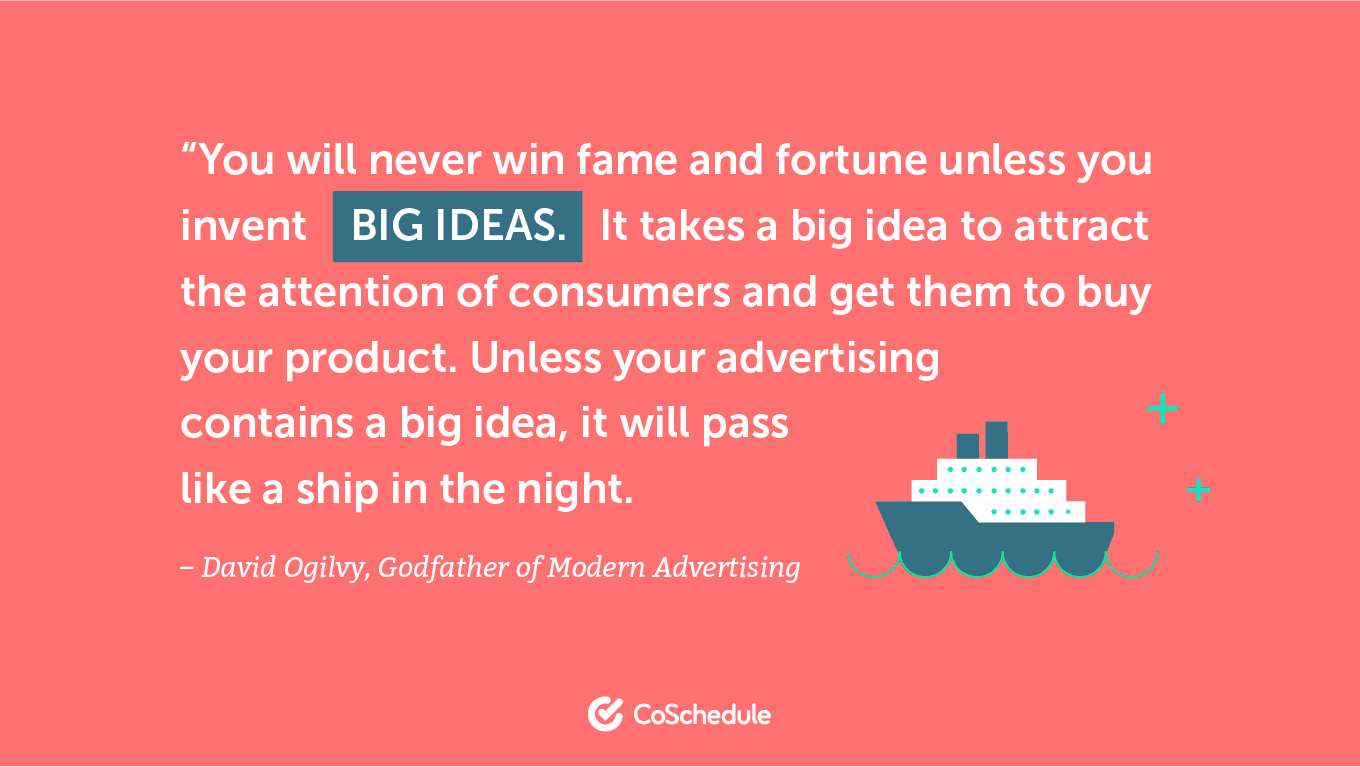 So, how exactly do you come up with an idea or theme for your campaign?
Start with this simple process:
Know what you're going to promote.

What is your campaign going to push out into the world? Follow along with this post to determine what kind of campaign you're going to create. Use the checklist to make sure you don't miss a step throughout your planning process, too.

Think about your audience's interests and pain points

. What problems do they face and what will hook their attention?

Find the overlap between your brand and your audience's interests

. Portent CEO Ian Lurie put together one of our favorite slide decks on how to do this. It's long (over 150 slides), but worth taking the time to read through:
For further reading, here are three resources for generating strong ideas and themes:
Get inspired with this post on

generating campaign ideas. It's focused on social media, but the concepts and techniques it discusses can be broadly applied to all areas of marketing campaign planning.
This post on social media campaign planning

 digs into the nuts and bolts of building an executable strategy

. Again, it's focused on social media, but the general ideas presented can apply to whatever you're working on.
Brainstorm Ideas
When we need to brainstorm ideas at CoSchedule, we often use a simple three-step process. If you've followed our blog for a while now, you might have heard how it works before. If not, let's walk through the steps.
Get your team together in a room

. Then, have everyone spend ten minutes writing down as many ideas as they can. Don't worry about the quality of those ideas yet.

Next, spend ten minutes reading each idea aloud

. Have each team member score every idea on a three-point scale. Three's are ideas you think are home runs, two's are average, and one's are no-go's. Expect a mix of all three.

Third, spend ten more minutes reviewing each idea that everyone agrees is a three

. These are your best ideas and the ones you should go with.
By following this process, you can wrap up your campaign brainstorming in half-hour to an hour (depending on how much time you spend discussing ideas at the end).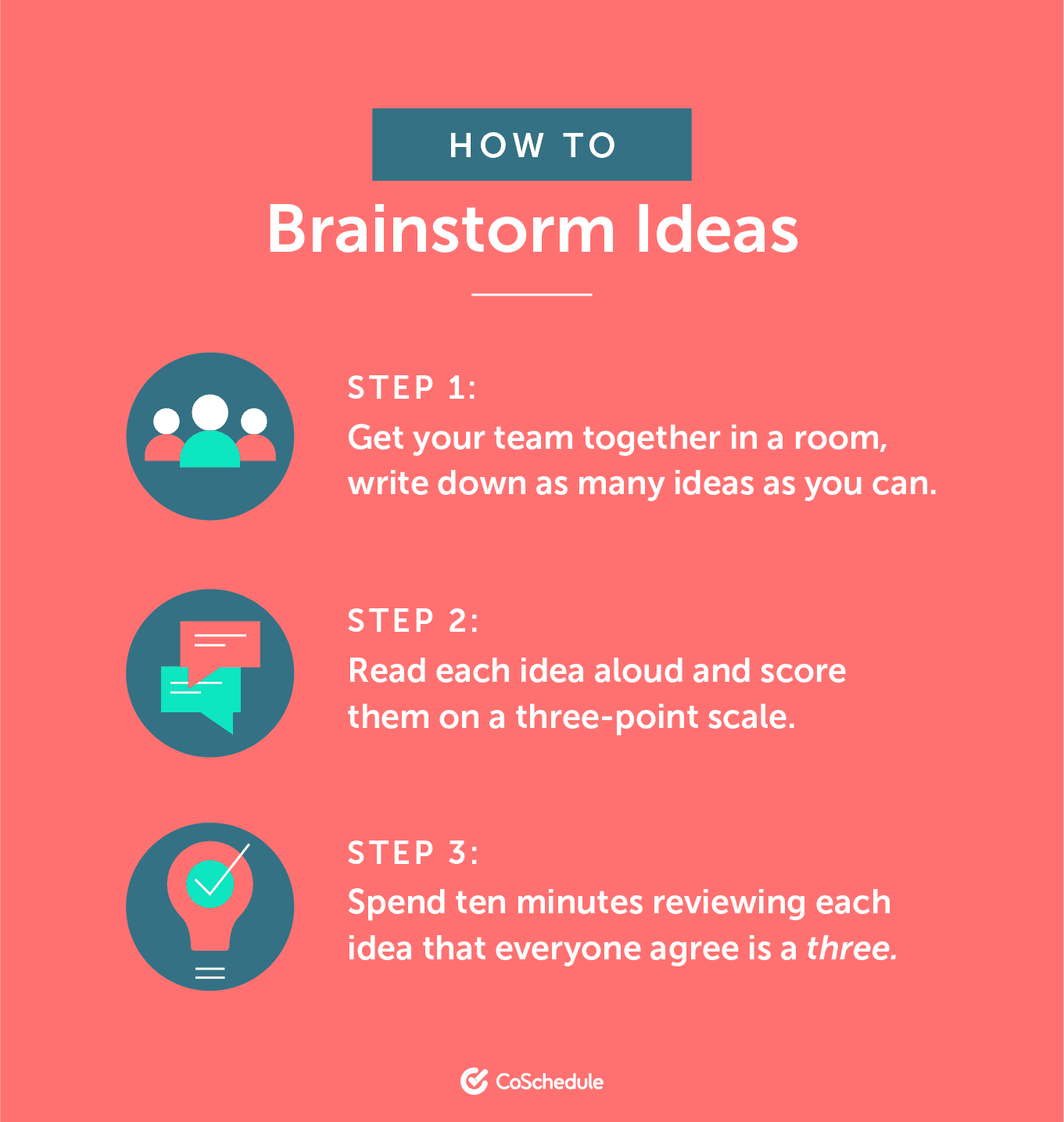 Gather Resources: Assemble Your Team + Know Your Budget
Having an awesome creative concept matters little if you can't actually execute it. So, understanding your available resources is key for ensuring you don't over-promise and under-deliver.
Follow these three steps:
Determine who you'll need on your team

. This includes writers, designers, project managers, and anyone else who will be responsible for executing your campaign. If you're an agency working with a client, be mindful of your budget. An account manager will likely negotiate this amount for you.

Determine which tools you have at your disposal

. If you don't have the right resources to effectively execute your ideas, consider proposing getting them.

Be realistic

. Figure out what you can do within the parameters of your available resources. What has done well for you in the past? How can you stretch your resources to achieve more than you have before?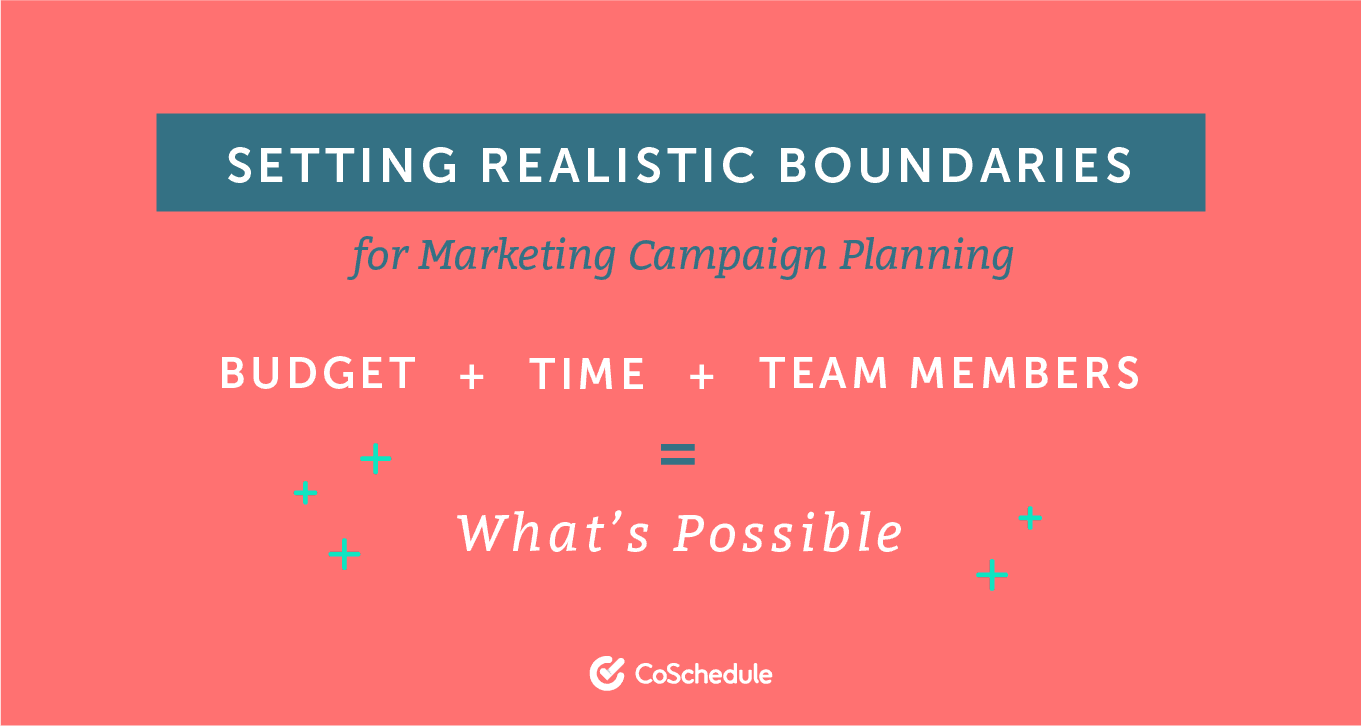 Then, in your campaign brief, list the resources you'll require to execute your campaign:

Goals & Metrics: Determine How You'll Measure Success
Producing content for its own sake is a waste of time and money. And if you want your department or agency to maintain positive cash flow, you'll need to show how your efforts are making a measurable impact.
Start by choosing KPIs (key performance indicators) and metrics wisely.
To do this right, keep the following points in mind:
Have one overarching goal for your campaign.

Ex: increasing leads, raising revenue, driving brand awareness, etc.

Choose metrics to monitor for every channel

. That means having unique KPIs for social media, email, blog posts, and so forth.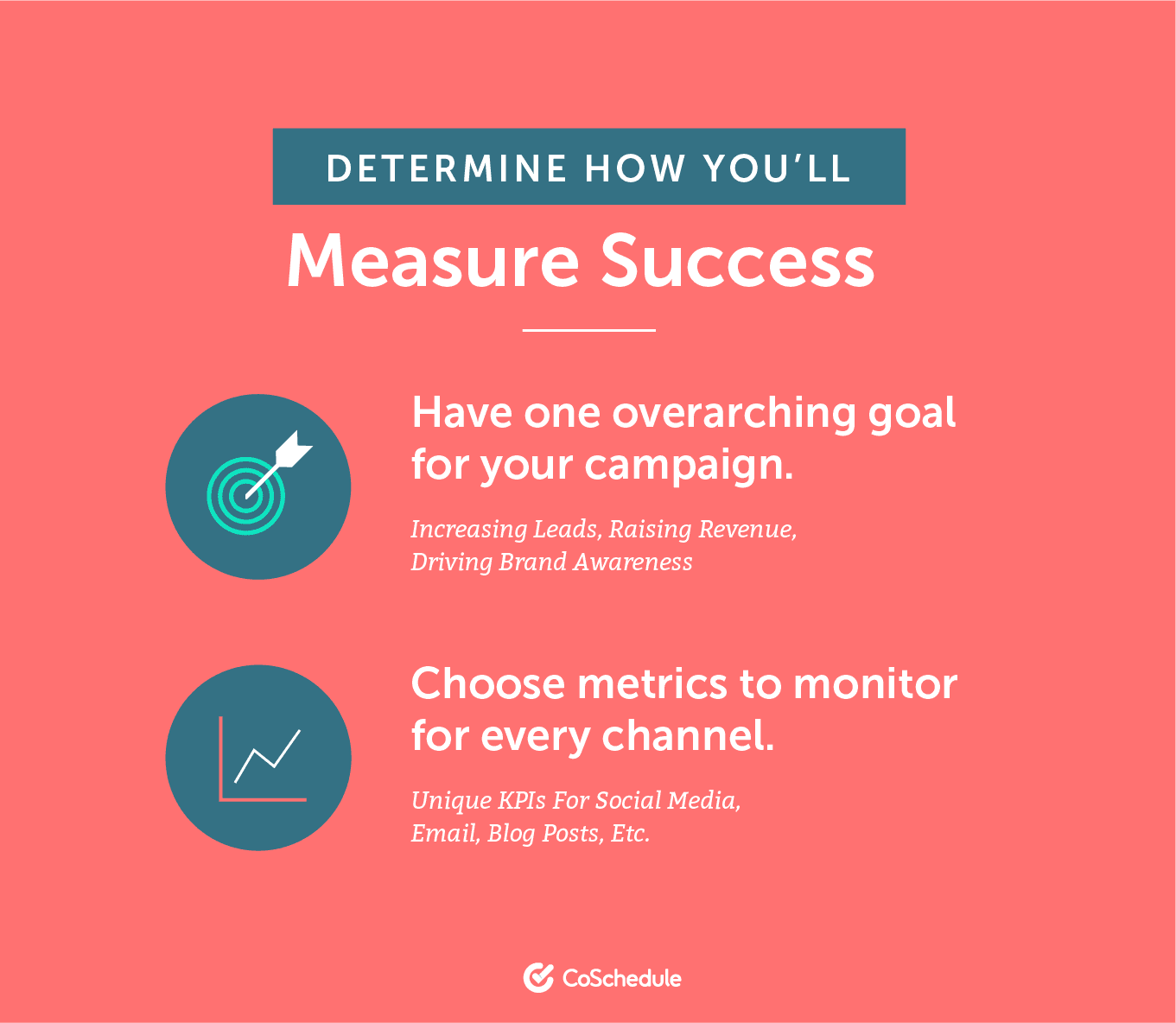 Understanding marketing measurement and analytics could take several blog posts in itself. Here are a few we recommend starting with:
Once you have your goals and metrics established, complete the following section in your campaign brief:

Develop Your Talking Points
Your campaign should drive home a clear and consistent message across every channel it touches. However, you'll likely have different team members working on different pieces of your execution.
How can you make sure every piece of the puzzle fits together into one, cohesive campaign?
The answer starts with developing clear talking points. Strong talking points help keep everyone on message. Put them together in a shared internal document your team can reference.
Your talking points should:
Identify the main message behind your campaign

. This should be your first bullet point and the most important message you want to drive home.

Anticipate questions you're likely to be asked

. What should your audience know about what you're promoting? Get in front of questions they're likely to ask up front.

Convey clear benefits

. What's going to make people care about your campaign?
Write out your key talking points in your campaign brief:

Channel Selection: Be in the Right Places, at the Right Time
You know what you want to achieve. You've determined the customers you're trying to reach (and developed messaging to reach them). Now, you need to figure out how and where you'll deliver your marketing messages.
In real-world terms, this means knowing the best places to create and share content where your audience will see it. Here are a few questions to ask:
Are there channels where we've traditionally done well?

Go where you know your people are.

Are there channels where we need to develop a larger audience?

It might be worth planning campaigns around weak channels to build them into better resources for your brand.

Are there constraints on our time and resources?

 If you don't have enough money for a TV spot, social media campaign, and magazine ad, you'll need to scale back what you can do. Stick within your budget.
The Hub-And-Spoke Model
There are multiple different ways you can line up your channel selection. One common approach is called the hub-and-spoke model. This entails creating one central asset (like a landing page) where you direct traffic from other sources.
For one example, you might create one landing page with an opt-in form, and then promote it via social media and email. The landing page would be your hub, and your social media posts and email newsletters are its spokes.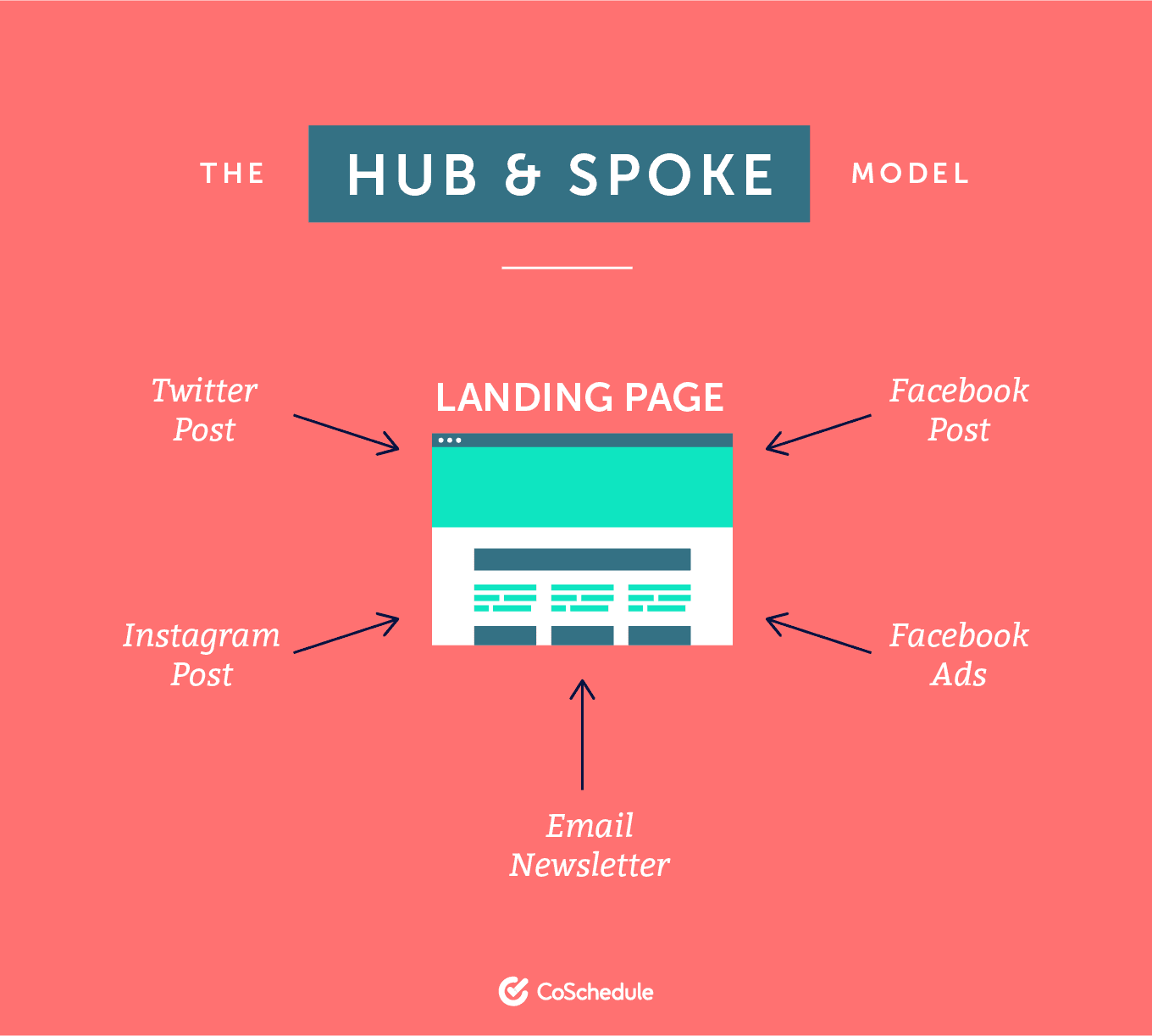 Single Channel Campaign
You could also decide to focus on just one channel for your campaign. It could even be as simple as a series of related social posts on one network, or an email series directing back to a particular web page.
The main takeaway here is this: Your campaign doesn't have to be complicated. Just do what will help you achieve your goals.
Which Channels Make the Most Sense For This Campaign?
Ultimately, your goals should drive your channel selection.
For example, if your aim is to increase brand awareness, visual platforms like Instagram might be the way to go. However, if your goal is to generate leads, you'll likely apply some combination of SEO, PPC, email marketing, and social media to direct traffic to a custom landing page.
You can figure this out by asking two questions:
What do I want my customer to do?

 Ultimately, what's your desired outcome for your audience?

How can I get them to take that action?

 Think about how you can take your customer from point A (discovering your product or service through a piece of campaign collateral) to point B (completing your conversion step).
Use your marketing campaign brief template to plan this out:

Mapping Out Campaign Execution
Once you have your plan in place, it's time to map out the execution for your campaign. This entails laying out a detailed workflow for each piece of your campaign, from start to finish.
Let's complete this step using the marketing campaign timeline template included in this post.
Here's what your template should look like: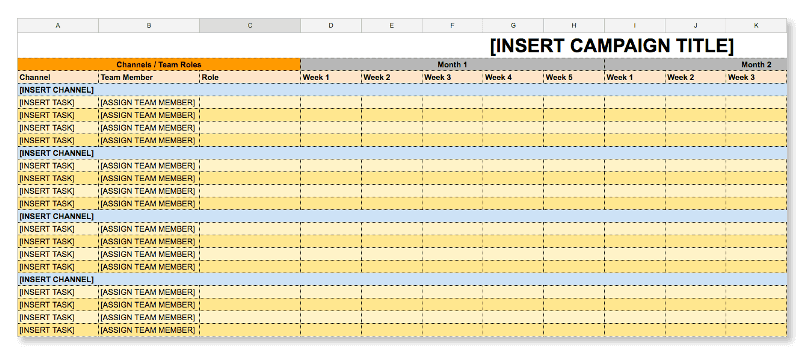 Complete it by filling in the following:
Each channel that'll be part of your marketing campaign

. For example, this could include PPC ads, landing pages, blog posts, social media posts, and so forth.

Each team member responsible for completing each piece of your campaign

.

Each team member's role

. Ex: writer, designer, project manager, etc.

Due dates

. In the Weeks fields, note when each project will be published. This will give you a clear overview of what your campaign's execution will look like.
By the time you're done, you'll have built a complete timeline.
Organizing Marketing Campaigns in CoSchedule
We know that managing all the moving pieces of a large integrated campaign can be challenging.
That's why we built Marketing Campaigns into CoSchedule. It's a feature that allows you to easily organize every component of every campaign, all on one marketing calendar.
Here's how it works:
First, create your campaign, add a color label, and select your start and end dates.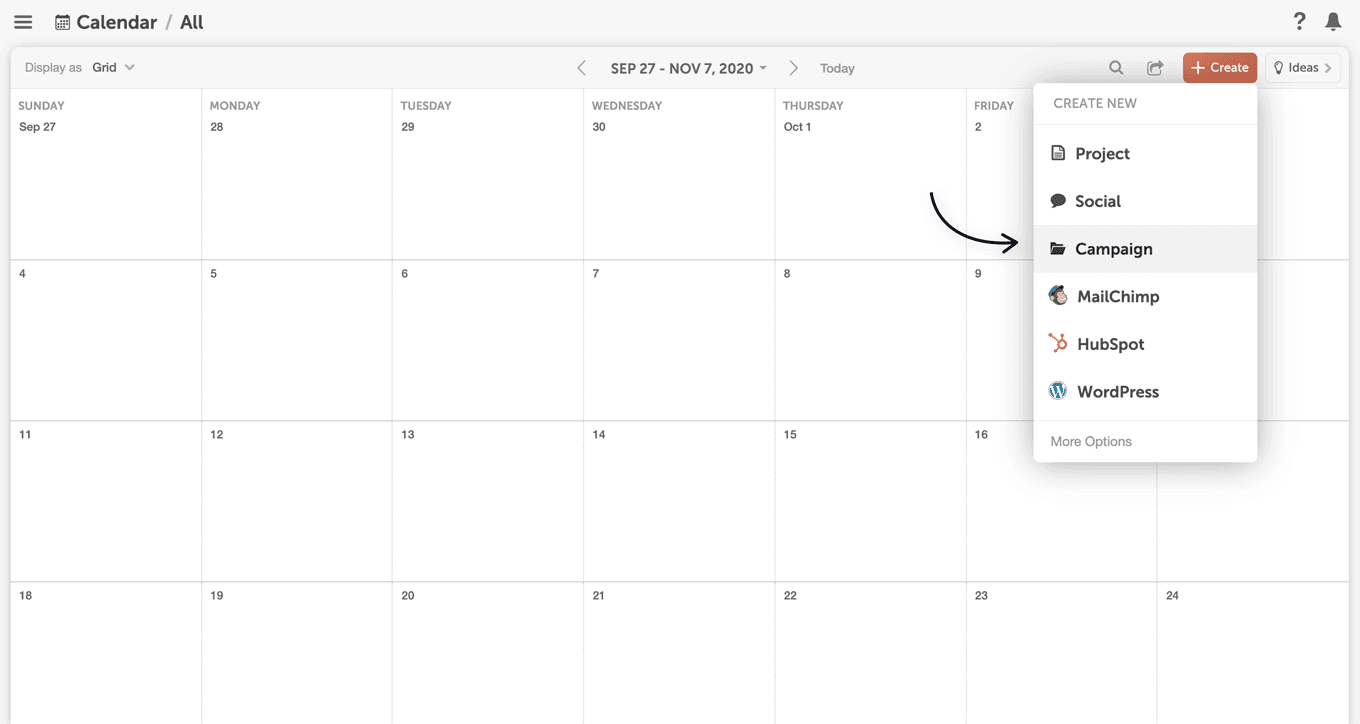 Next, add each individual project that will make up your marketing campaign. You can add things like blog posts, infographics, social media campaigns, webinars… the list goes on.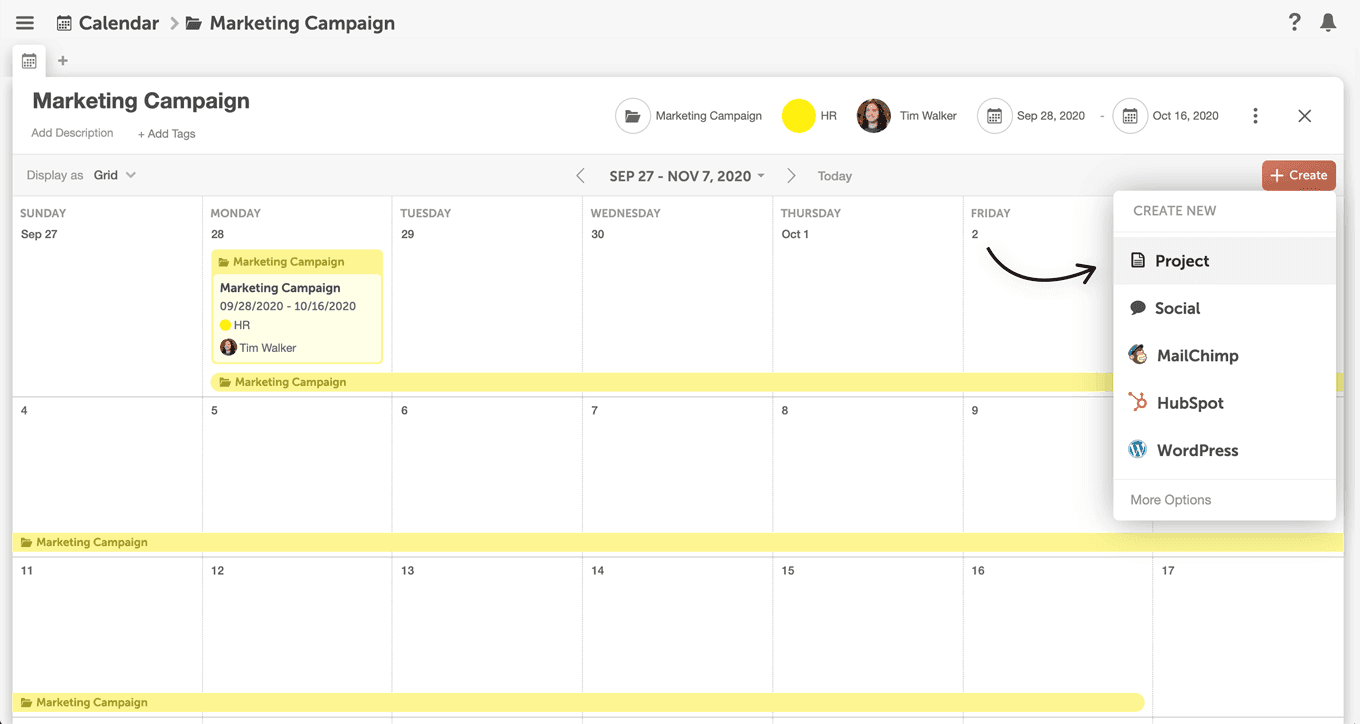 When adding a new project to your marketing campaign, you can create a custom task list for everyone on the team to know what to do and when.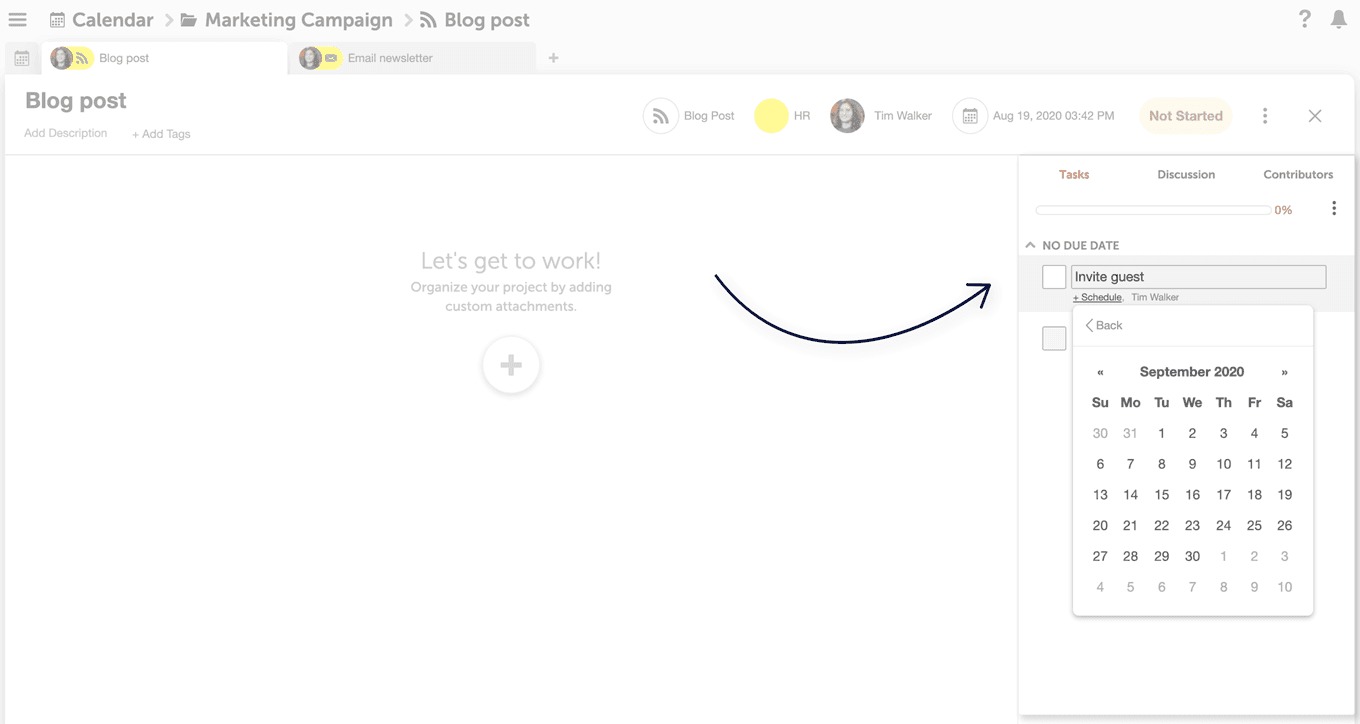 Now Plan Your Next Marketing Campaign
You've got the tools and the knowledge you need to plan detailed marketing campaigns. Now, it's time to get down to work.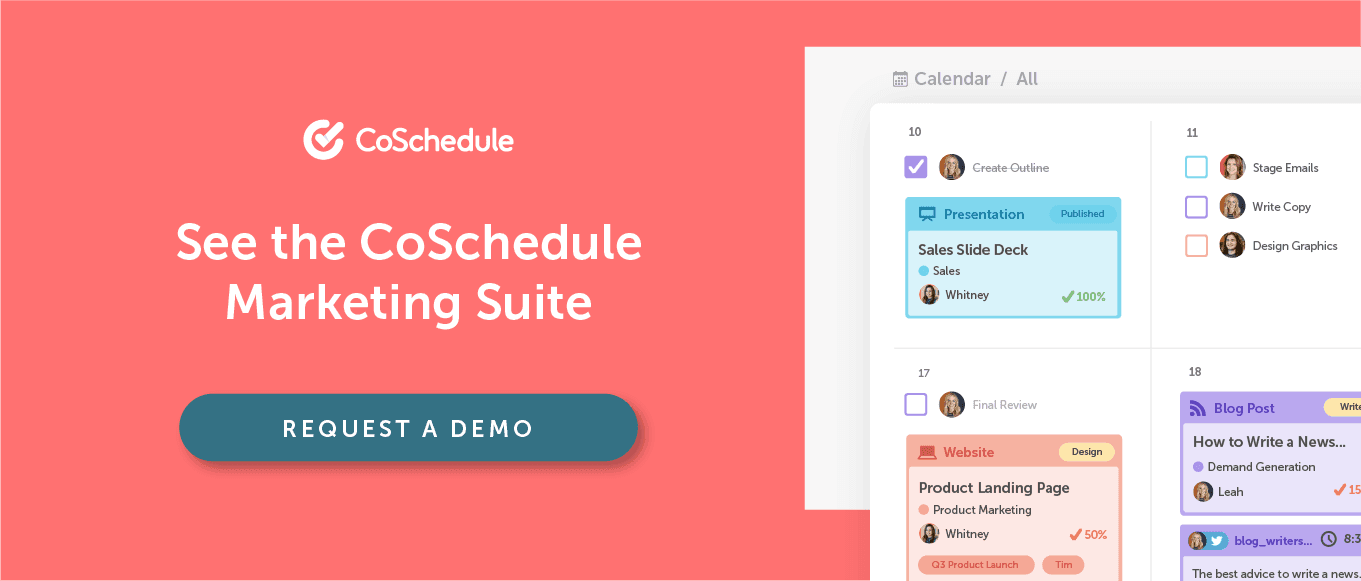 This blog post was originally published on June 1, 2017. It was updated and republished on August 26, 2020.

August 26, 2020