19 of the Best Project Management Training Opportunities for Marketers
Like it or not… Project management is a skill
a lot
 of marketers need. From
campaign planning
 to budgeting and tracking, marketing managers need to have acute project management skills to get their projects off the ground. Problem is, many marketing managers are so bogged down wrangling tasks and chasing down status updates that they have little or no time to do *real* work that moves the ball forward. Having a clear
project management process
is an important element for both your sanity AND your marketing ROI… Why? You ask... For starters, a clear project management process ensures everyone knows what they're doing and when. So you're not stuck herding cats all day.
AND
Having an organized process means your marketing campaigns are more likely to be successful. In fact,
86% of employees
 and managers cite ineffective communication as the main contributor to project failures. Better project management = better communication. Thing is… Many marketing managers don't have any formal project management training. Fear not, trusty marketers. This post breaks down (almost) every type of project management style and the best training opportunities to help you make sure your PM skills are up to snuff.
Every type of project management training to up the ROI on your next project.
Click To Tweet
Not Sure What Project Management Approach You Should Implement?
"Ok. Cool", you're thinking... You might be ready to jump into an awesome project management course, but you're not really sure which approach to take. Download our Agile Marketing Guide to learn more about if Agile is right for you. It's one of the better project management approaches for marketers. The guide will give you an in-depth understanding of exactly how marketers can organize their teams (and projects) with an Agile methodology.
Traditional Project Management
Traditional project management is what most people think of when they hear the words "project management". Just like all project management processes, the traditional approach is used for planning, estimating, and controlling a project's activities. Traditional project management is a great process if your project's activities can be completed in a set sequence without deviations or changes to the project. All projects that follow the traditional approach go through the same lifecycle: initiating, planning, executing, controlling, and closing.
Traditional Project Management Training
Training in traditional project management techniques covers skills such as managing tasks and timelines, but also how to navigate deviations that arise. Courses cover skills like resourcing, strategic thinking, problem-solving, influencing, communication, and decision making.
University of California Irvine: Introduction to Project Management Principles
This hands-on course aims to give you the skills to ensure your projects are completed on time and on budget. This
course
 covers the basics of project management such as, the ability to manage product scope, create a project plan, build a budget, define and allocate resources, and manage risks.
Course cost:$49 USD/month
LinkedIn Learning: Project Management Foundations
In this
course
, participants will learn the fundamentals of project management. This includes defining the problem, establishing project goals and objectives, and building a project plan. You'll also gain best practice tips for reporting on project performance and keeping a project on track.
Course cost: $29.99 USD/month
Rochester Institute of Technology: Project Management Life Cycle
This
course
 teaches you about the project life cycle from initiation to closing. It addresses methods, tools, and techniques for the initiation, planning, execution, and closing of projects. You'll learn:
The roles and responsibilities of a project manager
Project initiation and planning
Project execution
Project closing Project management tools and techniques
Course cost: Free Certification cost: $150 USD
Agile Project Management
In traditional project management, phases happen in sequence – one thing can't be done until the previous is completed. This has a snowball effect for mistakes because you can't build a great house on a faulty foundation. Likewise, if something in phase one encounters roadblocks, your timeline will easily be shattered. Agile project management is in stark contrast to traditional project management. It's built on the concepts of expected change, incremental development, and frequent releases. Rather than a project plan that is set in stone, Agile expects that change will happen and is, therefore, better able to respond and adapt to changes. This makes Agile great for marketing teams as you are always responding to change – most of which is outside of your control.
Agile Project Management Training
Training in Agile project management will give you the skills to lead a team according to principals in the
Agile Manifesto
. In addition to those skills, your team will become more productive, collaborate better, and have more time to spend producing great work, rather than managing tools and processes.
PMI: Adopting an Agile Approach to Project Management
This
course
 provides guidance on how to take steps towards adopting an Agile project management approach. It discusses how project leaders can develop an Agile way of thinking, and successfully transition their team to Agile. The course also provides guidelines for obtaining buy-in from stakeholders and change management to increase the likelihood of a successful transition.
Course cost:$130 USD
Lynda: Become an Agile Project Manager
This
course
 teaches how you can deliver projects with higher levels of performance and quality using Agile methods. The learning path helps you build knowledge around leading and motivating Agile teams, how to develop user stories, and set project goals.
Course cost: $29.99/month USD
University of Maryland: Professional Certificate in Agile Project Management
Learn scrum techniques
 and how to translate other Agile frameworks for your team's future project. This course is a full professional certification and covers all areas of Agile project management. You'll learn how Agile techniques address faults in traditional project management techniques, the pros and cons of Agile, and how to best apply Agile to maximize value to the organization. Engineers, marketers, designers, and writers can all benefit from learning Agile principles in this course.
Course cost: $625 USD
AgileSherpas: Agile Training for Marketers
AgileSherpas
 is a company that helps marketing teams implement Agile methodologies. They offer both in-person training and online courses. If you're keen to go Agile with your marketing team, but are concerned with the change management process and/or how it will actually be implemented, AgileSherpas might be the best path.
Course cost: $99 USD
CoSchedule = The Best Agile Project Management Software for Marketers
So you've decided that Agile is the best way forward for your marketing team, but you need a little help from a project management tool. Well, CoSchedule has some awesome features specifically designed to make your marketing life easier. Check out the team management feature - it's basically your daily scrum meeting in a dashboard. You can see every task your team is working on that day.
And easily drag and drop tasks to re-assign based on workload.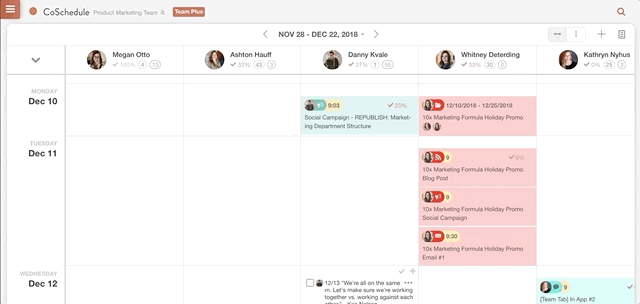 See it in action here:
Waterfall Project Management
Waterfall is a project management approach that is very similar to traditional project management. Projects are completed in set stages and move from step-to-step until the project is completed. You typically create a big plan on the front-end and then execute it. All while crossing your fingers that no changes pop-up. No phase can begin until the prior phase is complete, and the completion of each phase is final — meaning the Waterfall approach does not allow you to return to a previous phase.
Waterfall Project Management Training
Waterfall project management training aims to teach participants how to outline all of the project's steps from the beginning. If you spend more time planning on the front-end, then the execution phase will be fast and smooth, flowing like... well... a waterfall.
Lynda: Learning Gantt Charts
Gantt charts are an important part of the Waterfall approach. They help project team leaders track what parts of the project are happening and when.
This course from Lynda
aims to explain how Gantt charts work to plan resources, monitor progress, access risk, and predict project spend.
Course cost: $29.99 USD/month
Simplilearn: Project Management Expert
This platform has a range of
courses
 for Waterfall project management training. Most of these courses are for those seeking a
PMP certification
, but Simplilearn also has intro courses for those looking to gain a high-level understanding of project management essentials.
Course cost: $99 USD
Learning Tree: Project Time and Cost Management
This course from
Learning Tree
 aims to give individuals the skills to overcome two of the biggest problems with managing a project: time and cost overrun. You'll gain the skills to define work and calculate a realistic timeline. Establishing a budget, allocating resources, and quantifying risk are also covered by this course.
Course cost: Unknown
Kanban Project Management
Kanban is a specific method that helps you organize, plan, and visualize, by categorizing tasks according to status on a visual board. Kanban shows where bottlenecks form and allows project managers to easily stay up-to-date on project tasks. This improves productivity and helps team members to complete their tasks more efficiently. Kanban allows teams to "stop starting and start finishing". With that in mind, Kanban is one of the of the simplest and most effective tools to manage projects.
Kanban Project Management Training
Kanban training teaches participants how to implement and organize project tasks using the Kanban board.
Udemy: Kanban Fundamentals – How to Become Insanely Productive
Udemy's
Kanban course
 teaches essential lean principles and helps participants understand how a Kanban board helps teams prioritize more effectively. Topics include how to set up a board, optimize flow, lean principles, and much more.
Course cost: $19.00 USD
Pluralsight: Kanban Fundamentals
In this
course
, you'll learn the basic principles and concepts of Kanban, as well as how to apply them across your team.
Course cost: $35 USD/month
Global Knowledge: Complete Kanban Training
Get a jump on your Kanban journey with this course from
Global Knowledge
. It helps you to understand how Kanban can benefit organizations and how it differs from other project management methods. After this course, you will have the skills to apply Kanban methods within your own team.
Course cost: $1,395 USD
CoSchedule: Kanban for Marketers
The Kanban Project Dashboard in CoSchedule gives marketing managers a bird's eye view of the status of every project. No more chasing down status updates with endless email threads. Just open your Kanban dashboard and get on with your day. You can even customize the statuses to fit your team's specific workflow. ? Have a look at how easy it is:
Lean Project Management
The goal of Lean project management revolves around maximizing value while minimizing waste. In essence, it aims to create more value for customers with the least amount of resources. Although the process was originally for manufacturing, industries from healthcare to finance are realizing its benefits. Lean is a popular project management process as many organizations are looking to do more with less – especially for marketing teams who are always dealing with tight budgets and time constraints. The Lean principles focus on creating value and maximizing it through continuous improvement and waste elimination. Lean is considered more of a theme, than a strict methodology that spells out specific tactics to accomplish a project. The theme addresses three hurdles that create waste; Muda, Mura, and Muri. Once these are overcome, your team will accomplish more with less.
Muda is about removing anything that's not adding value to the customer. In the world of marketing, this could be eliminating multiple rounds of blog revisions.
Mura is about eliminating variations – it's about creating a standard way of working to eliminate the overhead that deviations create. For marketers, this could mean standardizing creative briefs or workflows.
Muri is about removing workload – according to Lean, the optimal capacity is 60-70%; any more than that actually slows productivity. Marketing teams can apply this by limiting work-in-progress through a Kanban board.
Lean Project Management Training
Lean project management training teaches you how to prioritize, standardize and work at an optimal level to ensure that your output creates the maximum value for customers. Rather than just checking off a laundry list of project, Lean training will help you choose the
right
 things to be working on.
Udemy: Lean Project Management Training
This
course
 teaches you how to run projects that deliver real customer value rather than just completing a laundry list of to-dos. Following this course, you'll have the knowledge to apply the principles of Lean thinking to your projects and increase the likelihood that your projects are maximizing business value.
Course cost: $119.99 USD
Simplilearn: Lean Management Certification Training
This
Lean training
 will help you optimize processes, increase quality and deliver better value to your customers. You'll learn to create utilize fewer resources, reduce unwanted activities and implement small changes for big payouts.
Course cost: $199 USD
Stacksocial: Project Management Lean Process Certified
By focusing on prioritizing tasks, this
course
 helps project managers learn to boost productivity and meet goals. This course also offers a certification to prove that you've mastered Lean project management fundamentals.
Course cost: $199 USD
Critical Chain/Path Project Management
While Waterfall and Agile focus on process and tasks, Critical Chain/Path aims to solve resource issues. It is best suited for teams who have flexible skill sets and can move within the project fluidly. Each project begins by setting out a chain of items that are fundamental to the project (the critical chain/path). Then, milestones and completion dates are estimated based on the critical path/chain. After the critical path has been determined you can figure out what the least amount of time is necessary to complete a task. In other words, the critical path is the longest amount of time it will take to complete the project's tasks. Here's an example of what the critical path for making breakfast would look like.
Source:
Tim Tyler
Critical Path/Chain is all about what the earliest date tasks can start, the latest they can finish, and dependencies that are present.
Critical Path/Chain Project Management Training
Critical Path/Chain is very helpful when you have to plan large projects, map complex resources, and know who is available for what part of the project and when. However, it isn't great for small-scale projects that require a fast turnaround. Courses in Critical Path/Chain will help you understand how to use the process to plan your resources better and increase ROI on your projects.
Lynda: What is the Critical Path?
This short
course
 from Lynda discusses how the Critical Path works in relation to your project. In this video lesson, you will learn more about what the critical path represents and why it's important to the success of your project.
Course cost: $29.99 USD/month
Study.com: Critical Path Method in Project Planning
This course is a perfect starting
 introduction to the Critical Path method
 and how to use this project management tool to create better plans and schedules in all your projects. You will learn about how to implement the organize projects according to the fundamentals of the Critical Path method.
Course cost: $39.99 USD/month
ASCE: Principles of Critical Path Scheduling
This course from ASCE takes a deep-dive into all things Critical Path. It teaches the fundamentals of the Critical Path Method (CPM). Although this course is tailored to construction projects, project managers of all industries will likely find value in learning how to implement a Critical Path for their specific project.
Course cost: $745 USD
PM Tools + PM Training = Better ROI
Now that you know how to get the right project management training, take a test drive of CoSchedule. It's the best tool to get (and keep) your marketing projects organized.